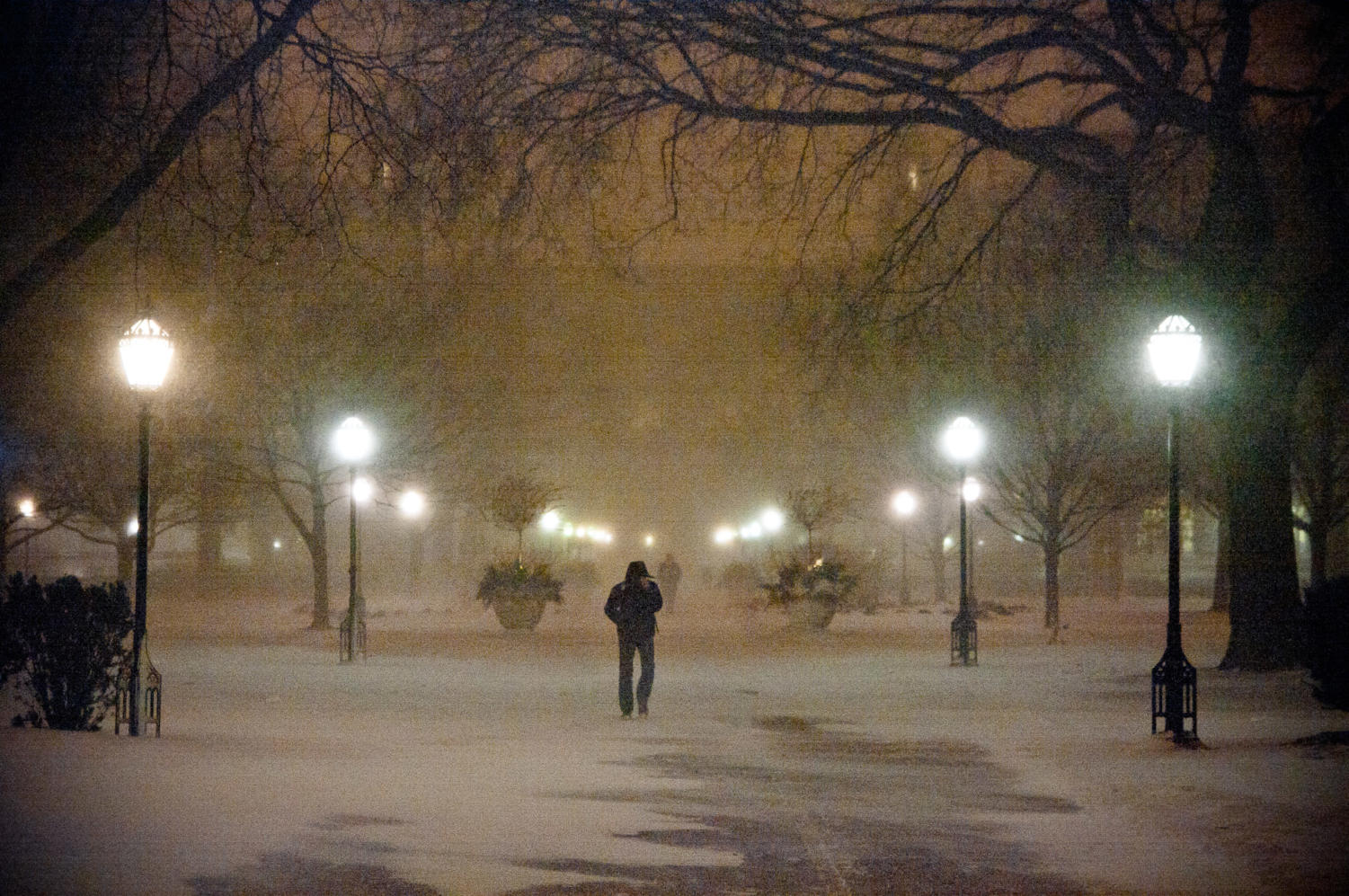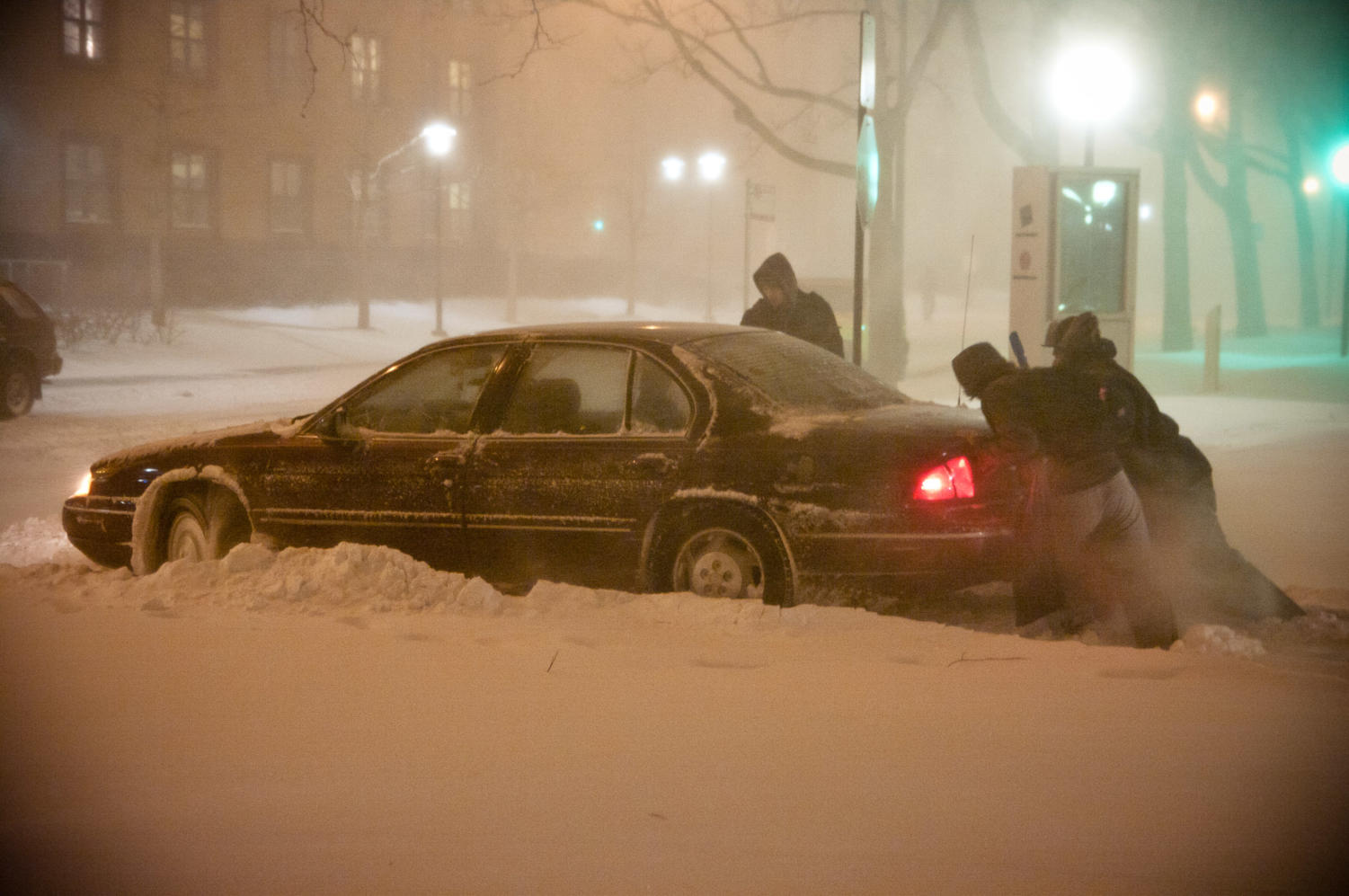 Even as buildings reopen and classes resume, unplowed side streets have suspended SafeRide service until Monday. The University shuttle system will operate on a temporary, single route over the weekend.
University administrators decided to cancel all classes Wednesday, and again on Thursday, after the campus shuttle service ceased operation at 9 p.m. on Tuesday night. At least four buses were not able to complete their routes, and at least two were involved in accidents.
Vice President for Safety and Security Marlon Lynch sent out a campus-wide e-mail at 11 p.m. Tuesday night warning students to seek shelter and call the police if stranded. "High winds, blinding snow and cold make walking dangerous," Lynch wrote, asking people not to go outside.
Around 100 students were stuck in campus buildings after the shuttles had been cancelled, according to University spokesperson Steve Kloehn. University of Chicago Police Department patrol SUVs were used to transport students home, and campus buildings were cleared by around 1 a.m.
No injuries related to the blizzard were reported in the campus community.
Class dismissed
Four hours after Lynch's email, Vice President for Campus Life Kimberly Goff-Crews and Vice President for Administration Nim Chinniah sent out another e-mail informing students that Wednesday's classes and non-essential events were cancelled.
"It is extraordinarily rare for University of Chicago classes to be cancelled," Kloehn said. The last time classes were cancelled was in 1999, when a blizzard of similar intensity hit the Midwest.
The decision to cancel all classes came after Fermilab, Argonne, the Booth School of Business, the Law School, and Laboratory Schools declared their own snow days. Chicago Public Schools also closed for the first time in more than a decade.
The e-mail added that key services like police, campus dining, and some library facilities would remain active.
Regenstein Library ran with adjusted hours, closing at 4 p.m. on Wednesday and Thursday. Henry Crown and Ratner gymnasiums closed.
All three dining halls remained open for regular hours. Bart Mart and Midway Market closed at 12 a.m. on Wednesday night and remained open for regular hours on Thursday, but with Reynolds Club closed, C-Shop and Hutchinson Commons stayed closed as well.
The dining halls were mostly staffed by managers that stayed in I-House overnight and by local employees, some of whom were picked up in trucks to ensure adequate operation.
"I-House has a number of guest rooms and unoccupied rooms that were converted into guest rooms for the emergency," Kloehn said. "They were used for Medical Center staff and facilities employees."
Some residential halls allowed maintenance staff to stay the night in designated common rooms and vacant dorm rooms.
Though several hundred computer accounts had trouble logging into the UChicago-secure network Tuesday morning, an IT Services spokesman said the trouble was technical and not related to the blizzard. The network was fixed later that afternoon.
Administrators had a large-scale conference call at 7 p.m. Tuesday and continued to plan from then on until the decision to cancel classes was made, Kloehn said. Another emergency management meeting was held at 4 p.m. Wednesday, and the decision to cancel Thursday classes was made two hours later.
Students had actively urged the administration to cancel classes well before Tuesday's 2 a.m. announcement. A Facebook group called "Our very own Snow Day" was made by third-year Liz Bedi after Kim Goff-Crews said a snow day would be a "highly unlikely event" in a Monday e-mail. The event has over 1,300 attendees.
Second-year undergraduate liaison to the Board of Trustees Frank Alarcon said he contacted the administration once he heard they were holding meetings to decide if classes would be cancelled.
"I think the safety and convenience concerns are very serious, and holding classes [would have] stoked anger among students toward the administration," he said.
Snow days
Sigma Phi Epsilon organized a "snowball fight to end all snowball fights" on the Main Quad Wednesday afternoon. Several hundred students used it as a chance to get outside and enjoy the third-highest snowfall in Chicago's history and take a break from midterm week.
"It was pretty unprecedented for UChicago. It was nice to see everyone come together and have fun," second-year Jon Lee said.
Others trekked down east to have a once-in-a-lifetime chance to walk along Lake Shore Drive, which was closed from 8 p.m. Tuesday night to early Thursday morning.
Weather stations called for 25-foot waves, but Lake Michigan and the adjacent Lake Shore Drive was covered in heavy snow. At least 1,500 vehicles were stranded, according to Chicago media.
"We walked across Lake Shore Drive and stood in the lake because it was frozen on top," second-year Brian Wille said, who was able to run on part of the Drive during the Chicago Marathon in October.
"Everything looked like tundra, you could just see tons of people walking in the middle of the street like something crazy happened," he said.
Wille, a member of the cross country team, said the team helped push cars out of the snow Tuesday night during an outside cool-down run after practice.