UT's reworked Orpheus myth spotlights tragic Eurydice
While students prepare to say goodbye to campus life for a few months or for the rest of their lives, Eurydice serves as a reminder of the sorrow of loss—and offers hope of reconnection through love.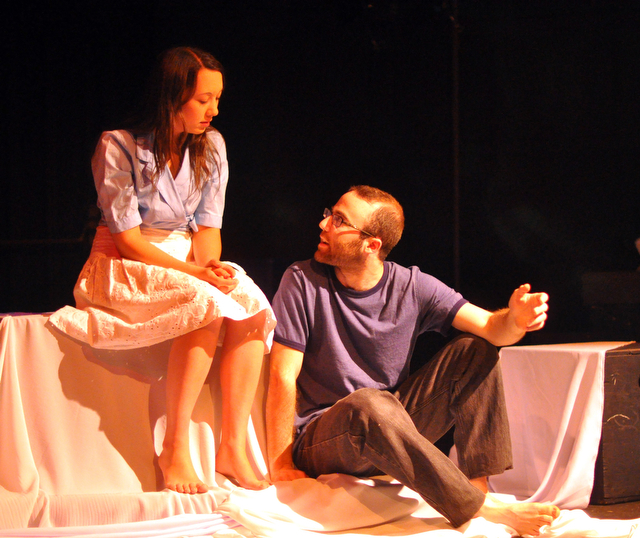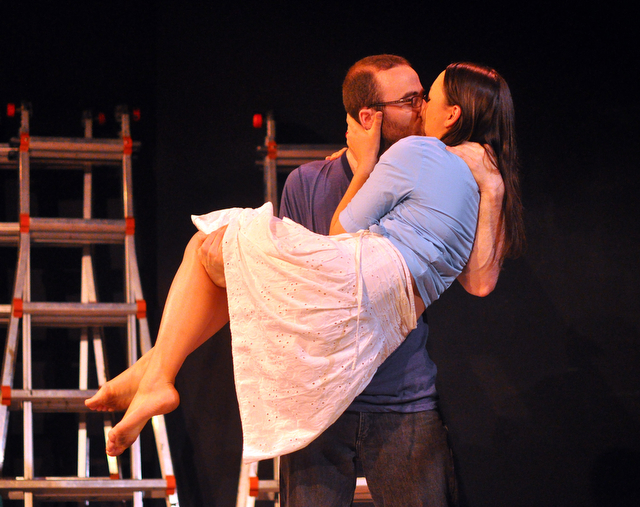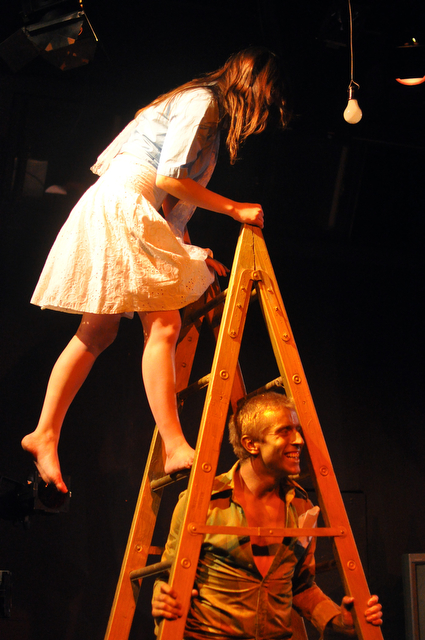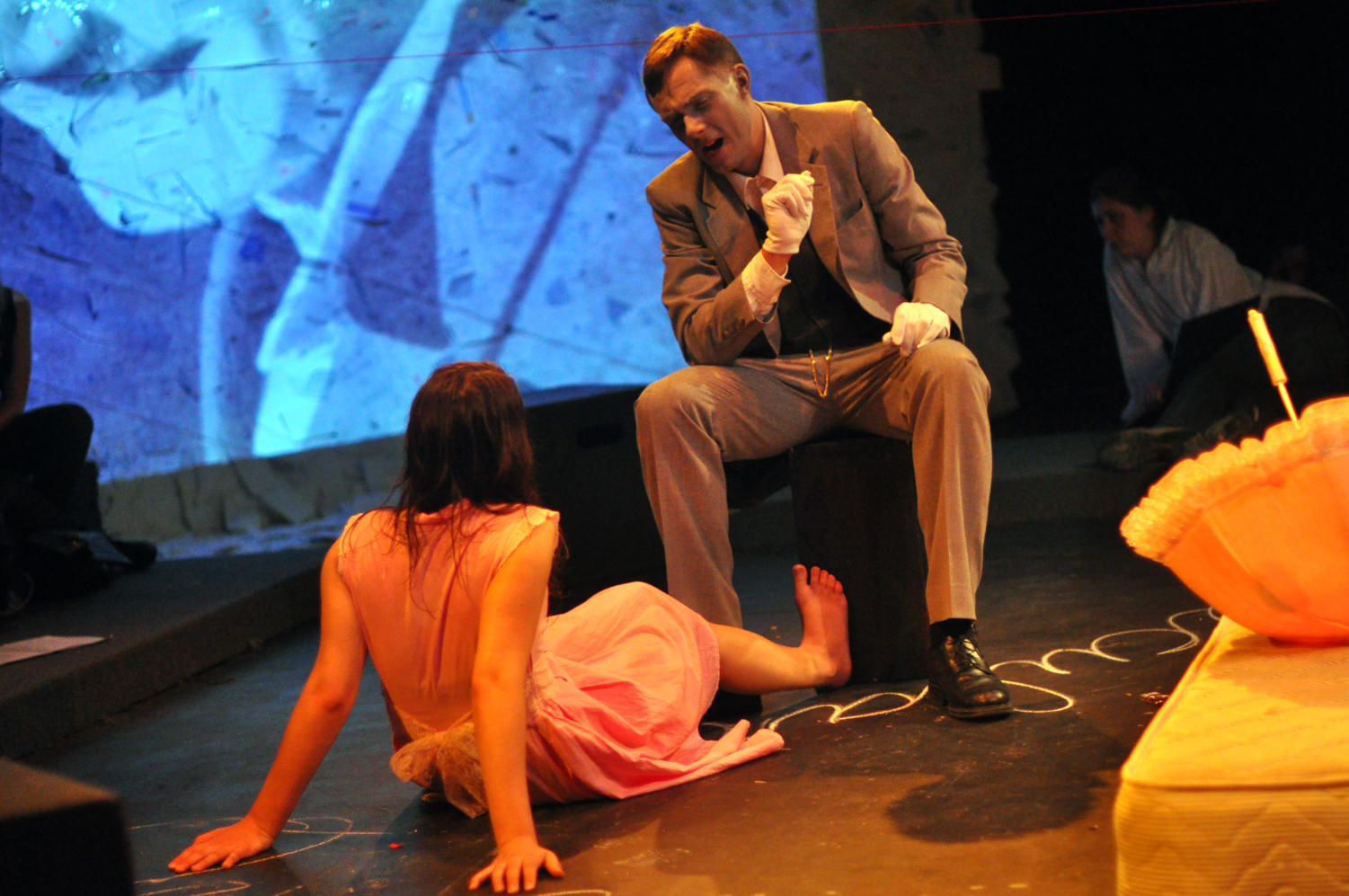 As the school year comes to an end, goodbyes to friends and lovers—whether temporary or not—approach ever faster. That makes UT's production of Sarah Ruhl's Eurydice, directed by Evelyn DeHais, particularly relevant. Exploring the themes of loss, re-connection, and love through a medley of music, film, and theater, UT's production offers a thoughtful and bittersweet end to the school year.
Eurydice retells the story of Orpheus (David Nagel, A.B. '08) from his wife Eurydice's (second-year Meg Brooks) perspective. Instead of focusing on Orpheus's journey to the Underworld to retrieve his bride, the play revolves around Eurydice's initial descent into Hades. Eurydice opens with Orpheus and Eurydice's wedding celebration. Fascinated by her, A-Nasty-But-Interesting Man (fourth-year Ryland Barton) lures Eurydice to his very high home by claiming he has a letter from her dead father (physics graduate student Thomas Weisgarber). Eurydice falls from his house and dies, leading to a reunion with her father. When Orpheus comes to rescue her from Hades, Eurydice is forced to decide between staying with her father or returning to life with her husband. Critics might note that the story often deviates from the myth or find the modern setting disconcerting, but these are integral parts of Ruhl's vision that UT's production carries off admirably.
Just as Eurydice was granted a second chance at life, so was UT's production. UT wanted to produce the play a few years ago, but copyright restrictions prevented Eurydice from appearing on a UChicago stage. Fourth-year director Evelyn DeHais fell in love with the play when she was approached to design the set for UT's first attempt. The current production is the result of DeHais's desire "to share with the audience this really simple story about fathers and daughters, love, death, and the even worse things that follow: stunted development, a missed opportunity to live life to its fullest. Whimsical at times, but also heartbreaking and difficult."
While a thread of whimsy runs through the play, Eurydice is by and large a tragedy about the agony of parting with loved ones. One particularly touching moment comes when Orpheus tries to reach Eurydice after she dies by calling information and asking how to find her. The show also poignantly depicts the immensity of her father's love. Because the dead are dipped in the river Lethe, which causes them to forget everything about their past lives, Eurydice fails to recognize her father, mistaking him for a hotel porter. But, in an act of profound paternal love, he builds a house for her and helps rebuild her memory, anecdote by anecdote. It is difficult to watch the show without crying, and several audience members gave in to the urge. Happy times do spring up as Eurydice finds a home for herself—first with the living, then with the dead—and the contrast between these moments serve to make the play all the more moving.
Brooks' portrayal of Eurydice saves her from being a typical ingenue, making her a temperamental woman who does not always do what she should. Brooks shows that Eurydice's frustration at her inability to communicate with her loved ones is at the root of all of her actions. Although Orpheus is a quiet man, better at expressing himself through music than words, Nagel shows that his love for Eurydice is perpetually present in his mind. Weisgarber has a particularly sad part, but he brings unexpected humor to Eurydice's father. First-years Alex Chaney and Sam Schulte and third-year Ali Feenstra create a thoroughly otherworldly chorus as the Stones, guardians of the Underworld, acting at times human, at times monstrous, and always alien.
Eurydice incorporates several unusual elements into the production, including, most prominently, the inclusion of the audience in the play. Abandoning the traditional spatial divide between stage and seating, the set sprawls across the theater and audience members are invited to sit wherever they like. "[Eurydice] is not the kind of text that can be observed from a distance, but wants to engulf its audience," said DeHais. "In this production, I want to push the audience out of their normal experience of seeing theater, having them dive into and be enveloped in this world as collaborators rather than witnesses." First-year assistant costume designer Carolyn Bolger recommends that audience members "move around while watching the show. The best seat really does change depending on the scene, and it's way fun to see everything from different angles."
The production also relies on music and film to tell its story. Orpheus plays a guitar throughout the show. "The script itself does not demand any instrumental prowess of the actor playing Orpheus," said second-year Sasha Geffen, the show's stage manager. "We took advantage of the fact that Dave can play guitar by working songs into his monologue scenes." Nagel collaborated with Matthias Jamison-Koenig to compose the music for the show. The snippets of film used throughout the play sometimes serve as traditional backdrop, but more often give the audience additional insight into a character's emotional state or past. Although mixed media has the potential to overwhelm the audience, Eurydice doesn't let it divert attention away from the story.
The costumes are as fantastic and unreal as the story, consisting of everything from gold paint to teddy bears. No one dresses in entirely traditional garb, yet none of the costumes threaten to overpower the characters. "There was a lot of innovation in this play," said Bolger. "We didn't know exactly how to do a lot of it and there has been a bit of trial and error."
While students prepare to say goodbye to campus life for a few months or for the rest of their lives, Eurydice serves as a reminder of the sorrow of loss—and offers hope of reconnection through love.