Say hello to the Fabulous Five
One of the best recruiting classes in D-III history is set to take on the country at NCAAs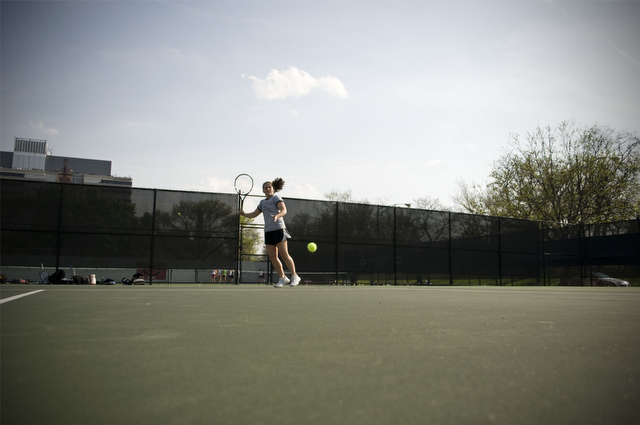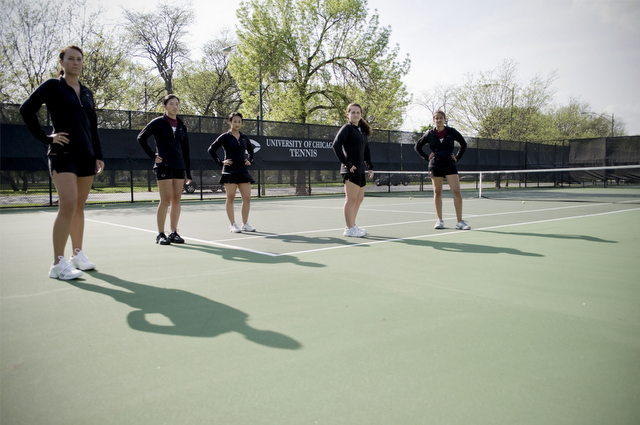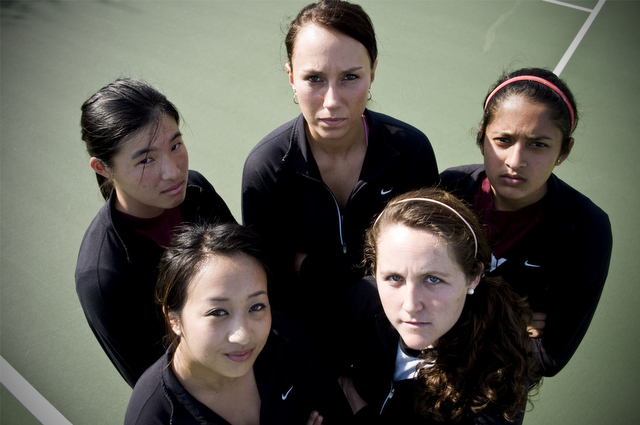 Stagg Field will be buzzing this weekend as the women's tennis team plays host to the NCAA D-III Regional Championships. The Maroons, who boast an impressive record of 17—3 in the regular season, are one of the favorites to win. Yet the journey to this landmark moment in their tennis careers started over four years ago, when five talented then-first-years were being recruited. Aptly nicknamed the "Fab Five," the lineup features Kendra Higgins, Carmen Vaca Guzman, Tiffany Nguyen, Jennifer Kung, and Aswini Krishnan. On the court, their feisty, aggressive attitudes have caused them to be revered as some of the top athletes in the nation. Off the court, their cheerful personalities have led to cherished friendships.
Just four years ago, the University of Chicago "Fab Five" was a dream of head coach Marty Perry that was seemingly never going to occur. Recruiting talent at a D-III institution can be difficult, especially at a school known for its academics rather than it's athletics. In fact, none of the current third-years had been interested in attending the University until the summer prior to their senior seasons in high school, when Perry contacted each of them. When they learned about the school, they were immediately attracted for different reasons.
For Nguyen, attending a university with academic prestige was top priority. Faced with a decision between Carnegie Mellon and Chicago, she decided to attend the school which gave her the most comfort.
"I liked Chicago better than Pittsburgh, and I felt that I meshed more with the existing team here than I did with Carnegie's team," she said.
In spite of being from Canada, Krishnan was excited after her visit to Chicago, and was looking forward to the thrill of living in a new country.
"The University of Chicago was the first school I visited, and I loved it. I really liked the students and coaches I met and the classes I sat in on. Plus, it offered everything I wanted in my university experience—located in a big city, the chance to play competitive tennis and be pushed academically," said Krishnan.
Vaca Guzman also planned on attending a university with academic rigor, but seeing as she was ranked one of the top 100 tennis players in the nation for her respective class, she wanted to play D-I tennis. However, her dad had other plans in mind.
"My dad grabbed the U.S. News and said, 'You can apply to any top-15 university. You can't apply to anything below," Vaca Guzman said.
Unfortunately for Vaca Guzman, her dream institution, Notre Dame, was below the top 15. However, she received emails from Perry, and upon checking Chicago's academic ranking according to the magazine, her family was ecstatic.
"It was ranked nine or eight," she said. "We were like, 'Oh my!'"
"I prospied here twice, visited the team, and I loved it!" Vaca Guzman enthusiastically said. "I wanted to come here ever since."
The decision was very tough for Kung. Also achieving a rank in the top 100 in the nation of her respective high school class, Kung could have chosen a D-I program as well. Yet, she enjoyed the very close team atmosphere of Chicago.
"I came here on a recruiting trip, and I really liked it," she said. "I knew Chrissy from junior tennis because I played her in high school tournaments, so I talked to her, and it seemed like a good fit."
Higgins had the same problem as Kung and Vaca Guzman. Ranked among the top 100 tennis players in the country for her class, Higgins was being recruited by Columbia, Tulane, and the Air Force Academy, with Chicago being the only D-III program she considered. To make her decision, Higgins looked to her sisters, who were student-athletes at the collegiate level.
"I had great role models in my two older sisters who played Division I sports at Princeton and Vanderbilt, so I always knew I wanted to find the best academic opportunity as well as athletic combination," she said.
Just as with the other four players, Higgins was convinced after she visited the school.
"After my visit in October to Chicago, and seeing what a great program it had to offer, I knew I wanted to be a part of it and make any contribution I could," she said.
So Perry's dream of successfully recruit ing five exceptional players became an unlikely reality. The talent of the five women did not go unnoticed.
"We had one of the best recruiting classes in the nation, including Division I schools," Vaca Guzman said.
"Our class of third-years is very rare, and many are unable to get such a great group of girls to come together like we have," Higgins added.
As the women were ready to begin the next course in their tennis careers, some, like Kung, were unsure about the caliber of D-III tennis compared to their respective calibers.
"I didn't know what to expect from Division III tennis because I didn't know that many people playing it," Kung said.
It certainly seemed early on that D-III tennis was below the caliber of Kung. In the first tournament of her collegiate career, the ITA Small College Championships, she was crowned singles champion. However, nerves got the best of her after the impressive title, as Kung felt she needed to win every match, despite being a first-year playing No. 1 singles.
"I felt I shouldn't lose to anybody," she said. "Because of that, I put too much pressure on myself, so I didn't do as well as I probably should have."
Perry then pursued a lineup change which, in the short-term and long-run, proved to be effective. After going 4—6 throughout the season in No. 1 singles action, Kung moved to No. 2 singles while Higgins moved to No. 1.
Higgins went on to be undefeated in regular season action at No. 1 singles, while Kung posted an 8­—4 record at No. 2. For their efforts, Higgins and Kung were All-UAA selections their first-year on the team—Higgins in first-team singles, and Kung in second-team singles. Higgins also put up a stellar 13—6 record in dual meets at No. 1 doubles with Hu, accounting for another first-team All-UAA selection. On top of that, she was named UAA MVP and UAA Rookie of the Year. Kung, at second doubles with then-fourth-year Vindya Dayananda, posed an impressive 12-5 record.
Higgins and Kung, however, were only part of the team's breakout season. Vaca Guzman and Nguyen played No. 3 doubles, and they knew they were well-suited for each other early into the season.
"Carmen and I turned out to be really good," Nguyen said. " is a harder hitter, and I'm more steady, so it worked out really well."
Yet, successful doubles partners do not complement each other only on the court; they complement each other off the court as well. This was exactly the case for Vaca Guzman and Nguyen.
"Tiffany and I were roommates at Pierce in this tiny room," Vaca Guzman said. "We were immediately best friends, and she's still my best friend here at this school now. We're actually really different in personality types, but we blend really well together."
Their complementing personalities and strengths rattled opponents off the courts. Posting an incredible undefeated record in D-III action, the duo was awarded first-team All-UAA status for doubles. For her impressive record of 15—3 at No. 3 singles, Vaca Guzman also garnered first-team All-UAA status in singles.
Nguyen and Krishnan shared the No. 6 singles position.
Cumulatively, the five take credit for turning around a subpar 10—9 record in the 2007—2008 season to a prolific 17—6 record in their first year, the 2008—2009 season.
However, critics of the women's team viewed their third place finish at the UAA Championships in 2009 as a sign of stagnation for the five, seeing as the result mirrored that of the past two years.
Yet, Chicago's dominance in dual meets throughout the regular season did not go unnoticed by the NCAA Division III selection committee, and the Maroons received an at-large bid to the national tournament. Their selection to the tournament was only the second occurence of the kind in Maroon history.
But the first-years on the team, for better or for worse, did not understand the scope of playing in the national tournament.
"I don't think any of us realized what was going on when we made NCAAs, because it was our first year," Nguyen said. "It's really rare that you make the national tournament like that. We worked hard to get there."
A blowout victory against Grinnell in the regional semifinal was one of the best results ever for the Maroons. However, they weren't done there. Chicago shut out two more teams until they were only barely bested in the national semifinal by Amherst, losing 5—4. With a 5—1 loss to Emory, the Maroons, led by the first-years, took home an unthinkable fourth-place.
"Even when we received that fourth-place trophy, I don't think any of us, except our lone senior Vindya , knew what we had accomplished," Vaca Guzman said. "It was a great feeling and one of my most memorable and enjoyable collegiate tennis experiences."
But the season did not end after the national team championships. Higgins and Kung played in the national individual championships about one week later. Higgins reached the quarterfinals in singles, but was crowned champion in doubles with Hu.
"Kendra and Chrissy , I don't even know where to start," Vaca Guzman said. "They complement each other so well and are so in sync on court, and it's truly very enjoyable to watch them, and I'm honored to call them my teammates."
The accomplishments of Higgins and Kung landed them "All-American" status.
The 2009—2010 and 2010—2011 seasons have brought similar success for the five. In 2009—2010, Chicago put up a 23—5 record while emphatically winning the UAA Championships for the first time in history.
"That was probably our team's happiest moment. I remember that final match against Emory being different because we started with singles first. It then came down to doubles play, and Aswini and Carmen won the deciding match. We then all ran down and embraced one another. We made history that day," Kung said.
The good record, combined with the UAA championship, accounted for seven All-UAA selections in singles and doubles for the five, which included one selection for Krishnan and two for Higgins, Vaca Guzman, and Kung, and a repeat UAA MVP in Higgins.
Even more impressive was the repeat of fourth place in the national team tournament and Higgins's repeat title in doubles for the national individual tournament.
This season, the women have continued their success with a 17—3 record and a second place finish at the UAA Championships. Kung, Vaca Guzman, Higgins, and Krishnan were All-UAA selections again.
Going into Saturday's regional semifinal, the third-years are optimistic about repeating as regional champions and ultimately winning the national team title.
"We really hope we can win it this year," Kung said. "We think we have a really big chance of winning it. We beat Williams earlier in the season, and they are the three-time defending national champions."
Win or lose, one thing is for certain: The experiences of the third-years, on and off the courts, have made them the best of friends.
Higgins believes that the similarities of the third-years, both in tennis and otherwise, have helped them get along very well throughout the past three years.
"What makes us such a close group is that we all have similar aspirations. Whether that be winning championships or studying in hopes for our dream job, we all try to be the best version of ourselves. That is why our class clicks so well, because we have the utmost respect for each other, and we always know that will never change even after graduating," Higgins said.
"We almost know everything about each other now," Kung added.
Vaca Guzman laments the fact that she only has one more year to spend with her second family.
"It's been such a great journey, and it's really sad to think we only have one year left," she said. "It's been amazing."
The third-years believe credit should be given to their loved ones for the success they have had.
"We're all really thankful for our parents pushing and supporting us throughout tennis and throughout junior competition, traveling everywhere," Vaca Guzman said. "Our coaches were great at recruiting us."
The success, the friendships, and the future of the University of Chicago "Fab Five" can all be summarized in the words of Nguyen.
"It's just special," she said. "It's a unique team, the five of us, and I just feel lucky to be a part of it and to be able to be recruited with them is a once in a lifetime thing. This is something we're going to remember forever."