At least 13 students, one professor, arrested in Occupy Chicago protests
The students and professor were arrested early Sunday morning when they refused to leave Grant Park as part of the ongoing Occupy Chicago protests.
More than a dozen students and a University professor were among the scores of people arrested and charged with a misdemeanor early Sunday morning while protesting in Grant Park as part of the Occupy Chicago demonstrations.
A total of 175 protesters were arrested when they refused to leave Grant Park after its 11 p.m. closing time—enough that the Chicago Police Department (CPD) had to appropriate CTA buses to transport them all to jail. An estimated 2,000 people marched in downtown Chicago on Saturday, while approximately 500 people set up tents in Grant Park.
Sociology Ph.D. student Peter Fugiel (A.B. '07) was one of the arrested protesters.
"What impressed me was that this was very much a premeditated act of civil disobedience," he said. "Unlike in New York, where they weren't anticipating such a massive arrest and the police reacted very harshly, the people who stayed in the encampment knew they were going to be arrested and were determined to follow through. That made the action particularly powerful."
Encounters between protesters and the police began last week, when CPD banned the collection bins that demonstrators had set up for donations on LaSalle Street, effectively preventing the protesters from staying in one place indefinitely, Fugiel said. The protesters chose Grant Park as a more permanent settlement during a Friday meeting of their general assembly.
Police first gave protesters the opportunity to leave Grant Park before arresting those who chose to remain, Fugiel said, calling the officers "respectful and very by-the-book."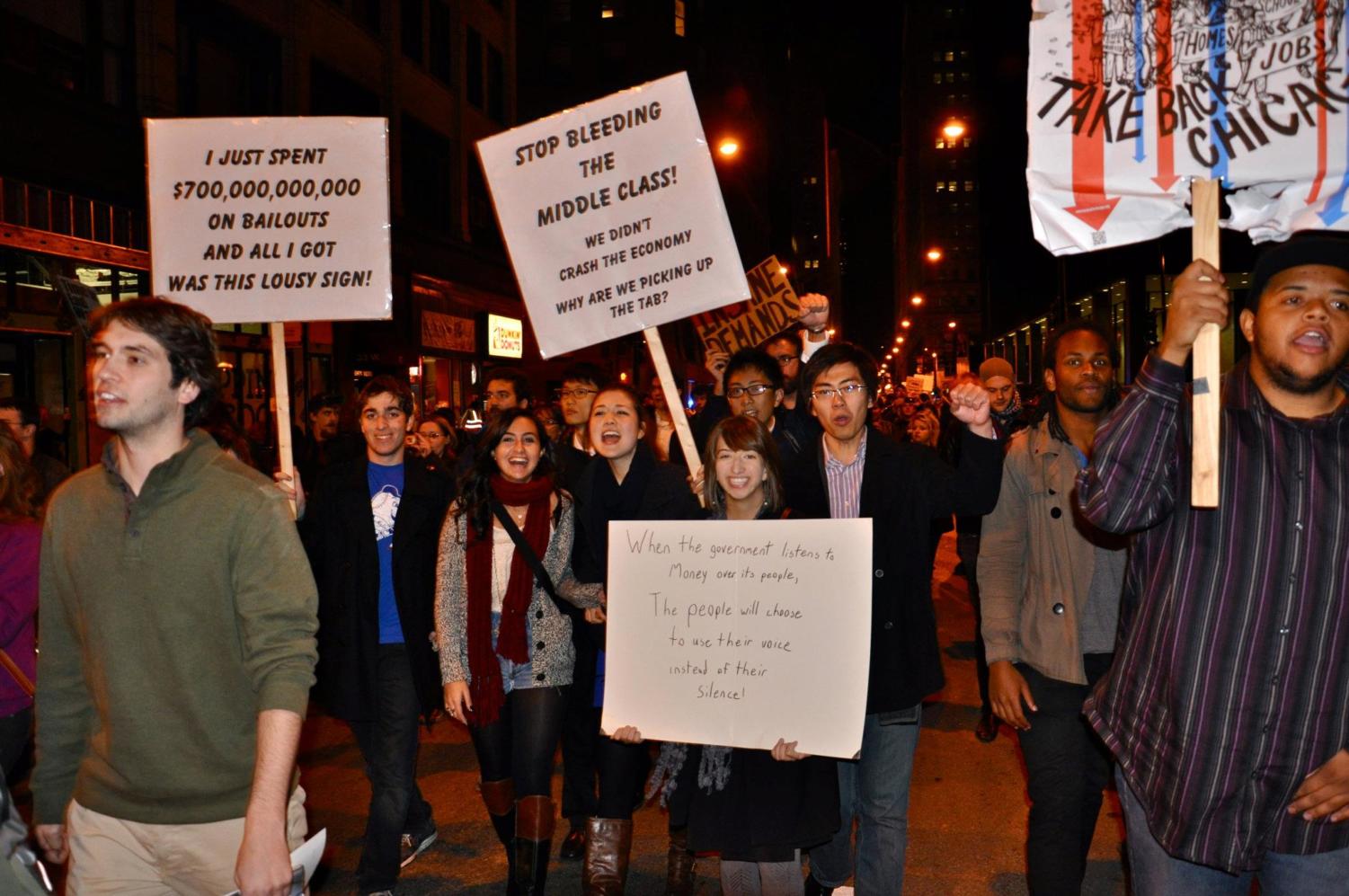 The fact that many of the protesters deliberately planned on being arrested was central to the movement's goals, according to fourth-year Jonathan Rodrigues, who was among those arrested.
"CPD didn't want the media attention. But that's what getting arrested does, that's what we needed to do—to show the injustice of not being able to protest," he said.
Fugiel described the mood of Saturday night and Sunday morning as "palpably enthusiastic" and said he heard protesters singing the Queen song "Bohemian Rhapsody" and Ben E. King's "Stand by Me" before the arrests occurred.
"It was a pleasant surprise: to have people cheering and standing in the rain to welcome people. It fit in with the general mood of the evening, which had been real camaraderie, almost celebratory. We would cheer and congratulate those who passed by the cells or even move into a different cell," Fugiel said.
Fourth-year Kelvin Ho, who was arrested at a demonstration on Tuesday, was impressed with the U of C turnout.
"I was surprised by the amount of people that came out from UChicago," he said. "It was a very big step, and I believe for most of them it was their first time, and it just goes to show you that people see that these issues are pertinent." Ho left the park when asked by CPD, in order to avoid his second arrest in a week.
Sunday's arrests were the first in Occupy Chicago's 24 days of demonstrations and marked the largest U of C involvement in the protests thus far. Fugiel and other protesters, who declined to be named, estimated at least 30 University students and affiliates participated.
First-year Colette Robicheaux, who was also arrested, said that students should at least observe the Occupy movement firsthand, regardless of political affiliation.
"Everyone should go down and have an open mind and see what they're talking about. It really is an exciting thing and it's the first thing I've done all year that I've felt proud of. The biggest issue is to increase awareness," Robicheaux said.
Fugiel said that people around the world were watching the protesters in Grant Park.
"What's remarkable about the Occupy movement is that it's drawn attention and captured imaginations in a way that larger demonstrations have not in the recent past. For our generation, this could be a turning point," Fugiel said.
Assistant Professor in Philosophy Anton Ford, who was also arrested and who teaches "Introduction to Marx," noted the historical significance of the protests.
"Lenin once said, 'There are decades in which nothing happens and then there are weeks when decades happen.' These last few weeks of Occupy, decades have happened," Ford said.
—Additional reporting by Will Fernandez