University students flock to Occupy after winter hiatus
Student supporters of Occupy Chicago joined rallies around the city to begin mobilizing for spring protests.
University students gathered alongside more than 1,000 activists at Saturday's kickoff of Chicago Spring, marking the return of the Occupy movement to its roots in street activism.
After a winter hibernation spent organizing indoors, Occupiers at neighborhood events convened at the movement's first base at Jackson Street and LaSalle Street and marched to Grant Park.
There, hundreds participated in an afternoon festival of workshops and discussions to mobilize against the North Atlantic Treaty Organization (NATO) summit on May 19­–21, which Occupy views as a symbol of the one percent's power.
"What we face in Chicago is serious. They're stealing our schools. They're stealing our clinics. They're stealing our free speech," Occupy Labor Committee member Andy Manos said in an opening speech. "These are revolutionary times. We must move forward by moving towards each other. Welcome to the Chicago Spring."
Hyde Park demonstrations earlier in the day included Occupy the Southside's Stop the American Genocide (StAG) campaign, a panel discussion led by Reverend Jesse Jackson Sr. at Rainbow PUSH Coalition headquarters in Kenwood, and a rally at the impending Becker Friedman Institute on East 58th Street and South University Avenue against the free market philosophy of Milton Friedman.
Sociology graduate student and UChicago Occupy member Peter Fugiel said that the University's mistreatment of facilities workers, shown in its decision to cut workers' hours rather than cut costs elsewhere, demonstrated the detrimental effects of Friedman's ideology.
"The University models itself as a private corporation, in the legacy of 'the market knows best.' This ideology is very contagious, and it gets into the avenues of society that are supposedly not about profits," he said.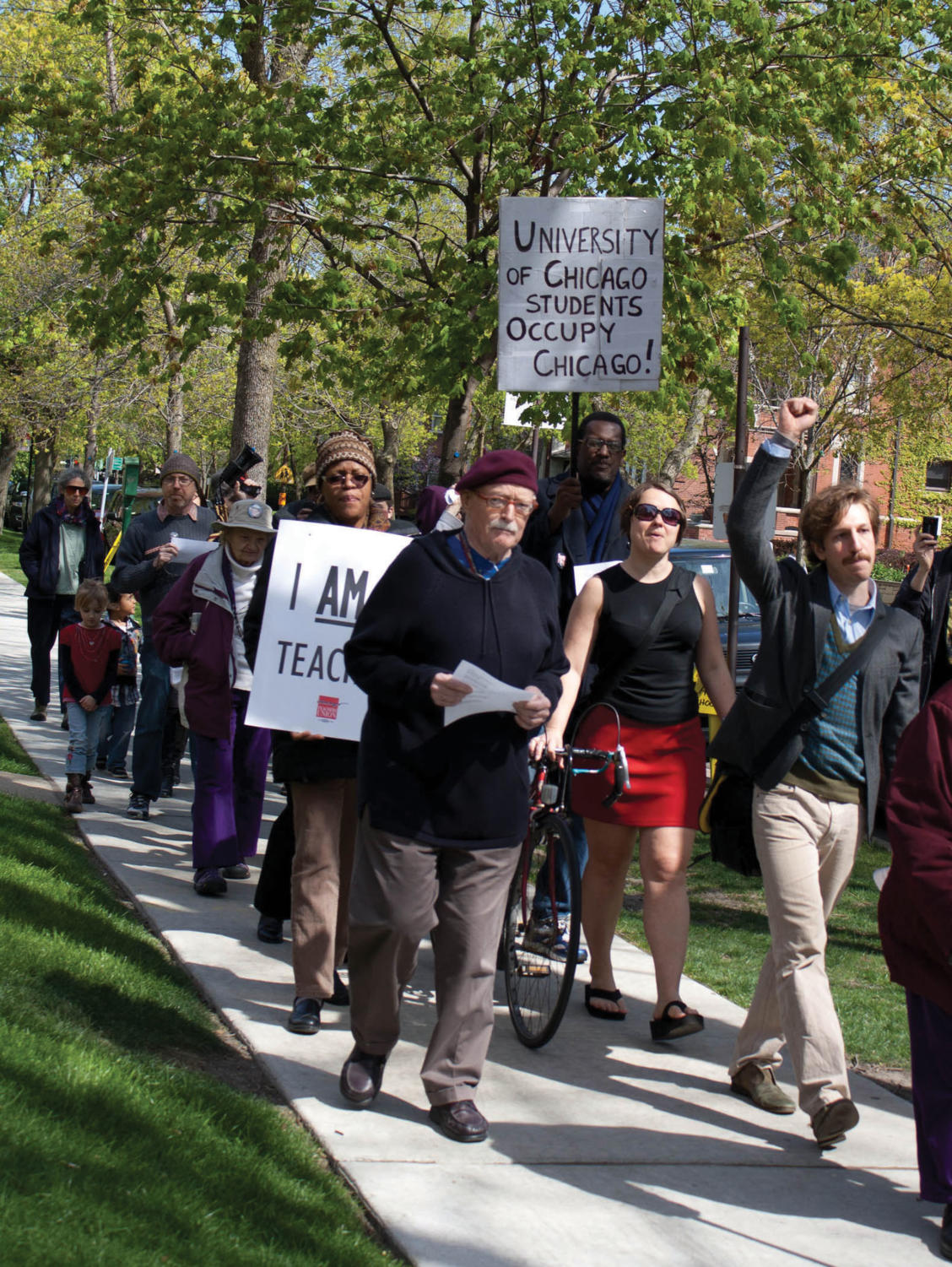 Though the movement previously objected to the naming of the Becker Friedman Institute, Saturday's Hyde Park rally was more a protest of Friedman's economic theories, according to Occupy organizer David Orlikoff.
"All morning actions in Chicago are protesting Milton Friedman, whether they say so directly or not, because his ideologies have become the best excuse for the terrible direction we've been going," he said.
Orlikoff, a U of C lab school graduate and Hyde Park resident, emphasized that solidarity was the larger purpose behind Chicago Spring and the Hyde Park rally, where community activists presented local movements, such as that surrounding the University of Chicago Medical Center's trauma center.
"The whole point of Occupy is taking back your community and taking back how you're governed," philosophy graduate student and Occupier Dasha Polzik said.
Occupy's main movement vacated the streets this winter for an office building in Pilsen. However, neighborhood occupations at Piccolo Elementary School, a foreclosed home on the South Side, and other locations kept protesters active.
A set of city ordinances, which critics call "Sit Down and Shut Up" laws, will tighten protest regulations, and law enforcement has purchased face shields and surveillance equipment in preparation for the Occupy's protests.
"I'm hoping that the police don't think that this is a nuisance, that they know it's on their behalf because they can't come down here," said Polzik. "There hasn't been that much talk about arrests but, at the same time, with the new regulations that the mayor has imposed, it's not precisely clear to me when I am and when I'm not following the law."
Demonstrators also hosted teach-ins on civil disobedience and NATO organizing. Chicago Spring will include action on Mayday, a People's Summit a week before NATO convenes, and demonstrations during the summits.
"We're in the streets again," first-year Occupier Brendan Leonard said. "Occupy's back."