Whitmore's all-American hopes dashed
At the NCAA Championships, Billy Whitmore finished 12th out of a field of 22 in the 10,000-meter in a time of 31:25.21.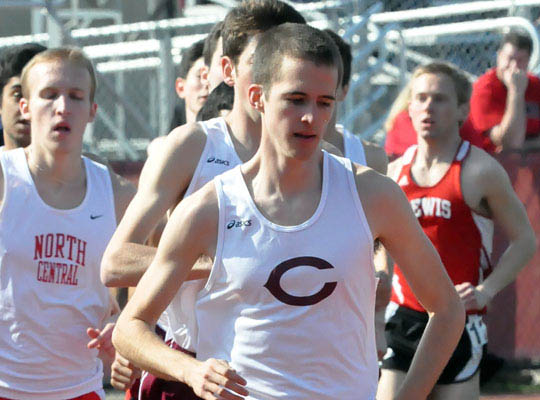 Third-year distance runner Billy Whitmore entered the NCAA Championships in Claremont, CA as the Maroons' only male representative. Despite lofty expectations, Whitmore was unable to replicate his impressive qualifying performance.
Whitmore finished 12th out of a field of 22 in last night's 10,000-meter competition in a time of 31:25.21. That 12th place finish was an improvement on his seed of 17th, but that was no consolation for Whitmore, who had his sights set on a top-eight finish and all-American honors.
In the lead up to the race, head coach Chris Hall was very clear about his runner's expectations.
"The last six weeks a lot of people have qualified and passed Billy performance-wise, but I think his expectations are to be an all-American," he said. "And I think he'd be really selling himself short if that wasn't his goal this coming weekend."
It's hard to argue with those expectations when you consider that Whitmore qualified for the event in a time of 30:18.56. Every race is different—some, even if the level of competition is better, end up being slower—but finishing over a minute behind his season's best would never have been in the script for Whitmore.
Whitmore qualified for the NCAA Championships almost two months ago at the Chicagoland Championship. In an endurance event like the 10,000-meter, that should have been ideal. Whitmore had taken it fairly easy, competitively speaking, since running his qualification time and wasn't forced to commit to another big performance since then. After running an impressive 5k at the NCC Dr. Keeler Invitational last week—good enough to leave him ranked 22nd in the country—it seemed Whitmore was in prime position to make the top eight last night.
It's impossible to say exactly what went wrong for Whitmore, as he wasn't available for comment after the race, but it must have raised a few eyebrows to see such a composed athlete fail to live up to his billing.
"Billy's very focused on what he wants to do out here this weekend, and I don't really think there's anything that would distract him or take him away from that," Hall said. "I expect him to run very well because that's what Billy does. He goes out and generally performs at a very high level."
Unfortunately for Whitmore and his coach, something just didn't go quite right at the decisive moment. The race started at a reasonable pace, and the pack remained fairly bunched-up for the first few laps. However, as UW–Stout's Tim Nelson, the eventual winner, broke away from the pack, the race quickly became stretched and runners were isolated. Whitmore, it seems, never recovered.
Perhaps the most difficult statistic for Whitmore to take will be that his personal best, a time he ran last month, would have been good enough to see him finish in second place. But it wasn't meant to be. Every race is different, and for Whitmore, this one went wrong.
If there is any consolation for Whitmore, it's that he will have another shot. He enters his final year of eligibility next year, and this experience will only add to his determination to make that year count. He has the talent—of that there can be no doubt—and he now has one more year to deliver. Don't bet against it.