Tang rebounds to take fifth at ITA National Championships
Second-year Megan Tang placed fifth out of eight competitors in a tournament that featured some of the top players in the nation.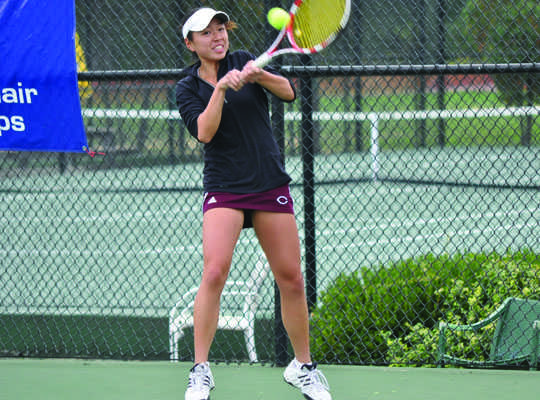 Chicago has gained national recognition the past four seasons.
Just last year, the Maroons earned second place at the DIII National Championships and clinched the UAA Championship.
And after losing five fourth-years and interim head coach Taka Bertrand, who accepted the head coaching position at DI St. John's University, this season looked to be a rebuilding year.
But second-year Megan Tang and head coach Jay Tee have shown early signs that the Maroons will continue to pose a national threat.
Tang, after qualifying for the ITA National Small College Championships by winning the regional tournament, placed fifth out of eight competitors in a tournament that featured some of the top players in the nation.
She credits part of her recent success to Tee.
"Everything, and I literally mean everything, Coach Tee has told me during my matches has helped tremendously in my wins," Tang said. "Even if he doesn't say much during the changeovers, what he does say is always spot on and helps me win crucial points."
But even Tee could not help Tang start the national tournament on a high as she lost 6–1, 6–0 to last year's NCAA DIII Individual Champion and No. 1 seed of the ITA Small College Championships, Emory's Gabrielle Clark.
"Gabrielle's very high level of play definitely put pressure on me to try and match her offensive style, but unfortunately that resulted in me making some errors due to my lack of practice in that area of my game," Tang said. "The combination of [her] high level and my lack of solidity in the offensive playing style was what ultimately led to my loss."
With low expectations set against Clark, Tang said she handled the loss well.
"I wasn't that upset or anything," Tang said. "I knew Gabrielle was going to be a tough opponent, and according to my No. 8 seeding at Regionals, I wasn't even expected to make it to Nationals."
Instead of being upset, Tang said she found the match to be a learning experience.
"To play at Gabrielle's caliber, I'll have to practice hitting offensively against offensive shots hit to me," she said. "My usual defensive shots will instead need to be offensive if I want to play a competitive match against someone like Gabrielle. Overall, my game will need to have more penetrating shots that are hit to the outer thirds of the court instead of down the middle."
While it will be a process for Tang to reach Clark's caliber, just one day later, in Friday's consolation semifinal match, she stifled Claremont-Mudd-Scripps's Crystal Lim 6–0 in the opening set.
"I simply played offensively and put pressure on Lim, which resulted in her making mistakes," Tang said.
The aggressive tactics put Tang up 4–1 in the second set.
Soon after, however, the pressure was pushed back toward the Chicago second-year when she played defensively, hoping to capitalize on Lim's errors.
"That didn't work, as she started stepping into my weaker shots and playing offensively, leading to me making mistakes," Tang said. "I began to get tight and not move my feet."
Five games later, and the set was tied at 5–5. At that point, Tang gained confidence and won the next two games to clinch a spot in Saturday morning's fifth-place match.
"I didn't feel tight anymore because the score was tied and there wasn't as much pressure, since I wasn't ahead," Tang said. "It was then that I began to start moving my feet more and playing aggressively."
Tang continued her aggressive trend on Saturday, clinching fifth-place with a 6–1, 6–0 victory over Grinnell's Laura Krull.
"I was able to execute shots that were more effective in ending the points, which made the match a bit easier," Tang said. "I made it my goal to not let up like I did in the previous match."
The fifth-place finish will give Tang confidence looking ahead to the season.
"Taking fifth as a sophomore has really put me on a high, that's for sure," Tang said. "Going into regionals, I had no idea that my hard work I put in this summer would result in me even getting past the quarterfinals. I still can't believe that I won regionals with the scores I had there, and that I would place fifth at Nationals."
With continued efforts on the court, Tang can help ensure that Chicago will stay on the map as a national contender.