In MCA's Exhibit, A, Macuga unites message and method
A Polish artist's dissimilar pieces ultimately harmonize through their consistent political leanings and, she says, "sincere" artistic intentions.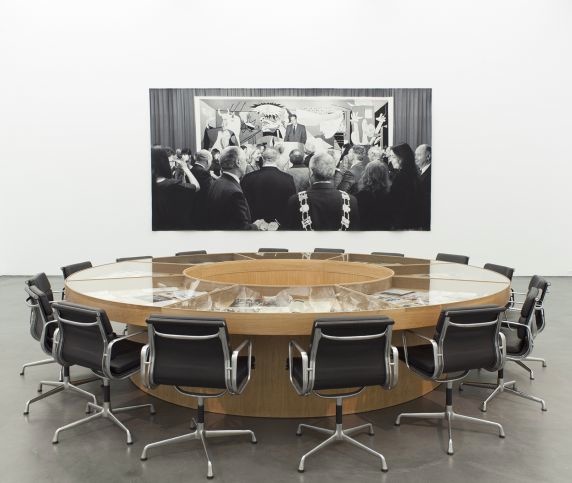 Most artists can be categorized into a specific movement based on their medium or style of choice. But it would be nearly impossible to place Goshka Macuga, a Polish London-based artist, whose exhibition Exhibit, A is currently showing at the Museum of Contemporary Art, into a specific area of contemporary art. This is the first U.S. retrospective of her work and a feat of curation. Her show consists of a diverse medley of sculpture, collage, design, photography, and tapestry pieces tied together by their art historical influences and an interest in creating a conversation between artistic practices and curating. Political messages, mainly dealing with freedom of speech, also unite the pieces.
Born in Poland in 1967, Macuga draws much of her inspiration from the ethos of censorship and fear in her native country during its transition from a communist regime to a democracy in the early '90s. A large open collage entitled "Notice Board" in the first room displays an extensive series of colorful, apparently inflammatory newspaper clippings, fliers, posters, and letters pinned onto notice board. Many refer to the censorship of other Polish artists of the turbulent era after the fall of the Soviet Union.
These boards, overflowing with written content and color, contrast sharply with the massive grey sculpture that looms high above patrons' heads in the center of the room. In "Model for a Sculpture (Family)" three large, faceless, crudely rendered figures sit solemnly on blocks atop one massive block. The work is a response to the censorship of a work by Argentinean artist Oscar Bony called "La Familia Obrera (Worker's Family)." Biny's "living sculpture" consisted of an actual family and showed at a gallery in Buenos Aires in 1968, but was shut down by the police for its potentially insurrectionary content. With or without knowledge of its brilliant reference to Biny's work, Macuga's giant solemn sculpture moves the viewer.
The two most impressive pieces in the show also draw on art historical references. A massive black and white tapestry (part of a diptych) called "Exhibit, A: Of what is, that it is; of what is not, that it is not 1" shows the bombed out Dural Aman Palace outside of Kabul, Afghanistan populated by a crowd of Afghans and foreign aid workers. The tapestry depicts a scene after the palace was destroyed in the U.S–Afghanistan War and was originally on display at a museum in Germany that was also left in ruins after World War II. The medium of the tapestry makes reference to the fallen glory of monarchs, as tapestries were once a popular medium among the European royalty. The other half of this diptych was previously on show at the Smart Museum of Art.
The other standout piece and one of Macuga's best known is "The Nature of the Beast." This installation incorporates a large photograph of a replica of Pablo Picasso's famed painting "Guernica," which was hung in a meeting room at the United Nations building as a message of pacifism. The replica was covered during a speech given by former Secretary of State Colin Powell in 2003 urging the U.S. to declare war on Iraq. And so, at the center of the room, Macuga has placed a round table, representative of the one where Colin Powell once urged the Security Council that Iraq was in possession of nuclear weapons. The table can be rented out for meetings.
Despite the apparent disconnect in the seemingly unrelated pieces, Exhibit, A and its references to political censorship throughout recent history are coherent and powerful as a whole. "From the beginning I haven't been interested in committing to a brand which would somehow specify my work…but I think that I have been quite sincere to a method," said Macuga in a video about the exhibition. Indeed, the pieces fit together not because they contain a specific signature style, but in that they all conjure a specific feeling in the viewer, creating a thought-provoking message about the possibilities of contemporary art.
Goshka Macuga: Exhibit, A will be open at the Museum of Contemporary Art Chicago through April 7.