First seed Tang finishes third at Small College Championships
Third-year Megan Tang represented the women's tennis team at the ITA Small College Championships, entering with the prestigious ranking of first seed.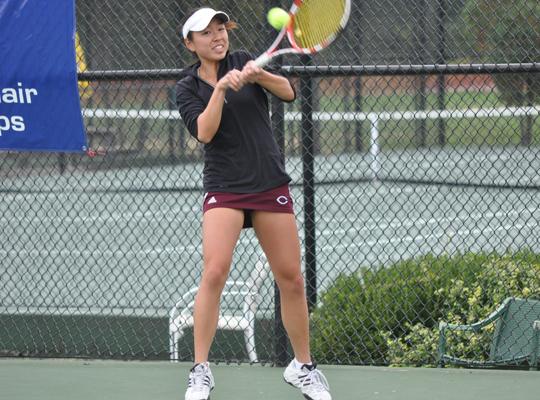 As the brisk autumn weather begins to settle over Chicago, one Maroon was able to soak up the last few rays of sun in Fort Myers, FL while competing in the ITA National Small College Championships.
Third-year Megan Tang represented the squad in the tournament, entering with the prestigious ranking of first seed.
As the first seed, Tang was granted the opportunity of facing an unseeded player, Megan Humphreys from UW–Whitewater.  Tang took control of the match from the outset, winning in straight sets 6–1, 6–0.
"We had very long rallies, but I was able to win because I made more shots and used my forehand to set up the points," Tang said on her match against Humphreys.
Tang also pointed out that Humphreys was a weaker player than Tang's second opponent, Michelle Satterfield from Emory University.  Tang would go on to lose the match against the fourth-seeded Satterfield 6–1, 6–1.
"Her shots were heavier," Tang said of Satterfield's play. "[S]he took control of the point whenever she could. I was not hitting the shots I wanted, and had some unforced errors due to the fact that I was trying to be on the offensive, as being on the defensive wasn't working."
As a result of the second-round loss, Tang was designated to compete in the third-place match against third seed Sofia Vega from Texas Lutheran.
"During my third match, especially when I was down 1–4 in the first set, I felt I had nothing to lose and started to go for my shots," Tang said. "I had the mentality that I wanted the match to go my way, no matter what the outcome was, so I began moving my feet more and being more patient. This definitely helped me play better and boosted my confidence."
The boost in confidence in her offensive approach showed as Tang came back to take the first set 7–5 and continued by winning the next set and the match with an overall line of 7–5, 6–3.
This final match was Tang's biggest challenge of the weekend, playing the highest-ranked player she would face.
"I wasn't moving my feet, setting up points, nor executing the shots I wanted to. Essentially, I was rushing points and not hitting enough penetrating shots," Tang said. "However, once I started to do the things I wasn't initially, as well as getting my first serve in, I was able to come back. When the season begins in January, I'll remember this match and know that I can always turn things around in a match when they're not going my way. It all begins with my footwork and first serves."
The Maroons will start their next season after winter break on January 24 at the University of Illinois at Urbana–Champaign.