In the Chatter's Box
Maggie Vaughn is a fourth-year middle blocker from Texas. We chatted with her to get some insider info on the life of a Maroon athlete.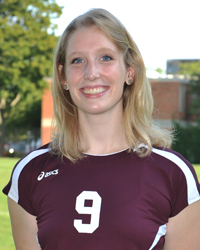 CM: Did you always envision yourself as a college athlete?
MV: Once I was set on attending a top-tier university, I used my skill in volleyball as a platform for acceptance… I worked hard to be good enough to get recruited here, on the court and in the classroom. I didn't realize until I got here that I wasn't even half the athlete I needed to be in order to contribute to the team here… I have been working for the past three years in the weight room, on the track, and to get my schoolwork managed so that I could be a positive force on the team and eventually be a starting middle. It sounds dramatic, but we are an incredibly good volleyball program, and being a member of the team is not easy. I spend so much energy on the court that performing in the classroom is a feat.
CM: What is it like to be a senior on the team now, having been with this squad for four years and heading into the very end of the season?
MV: This has been my one year to make an impact, and though that is a hard idea to cope with, I have enjoyed every single moment of it. Being a senior makes you realize that all of the work you put in over the years doesn't just make the team better: it builds a network of friends and allies around you due to the fact that you have sacrificed a part of yourself to something bigger. Coming to the end of season is sad, honestly, but I am excited to attack other aspects of life and new sports with the same passion that I have gained while playing for the University of Chicago.
CM: You're also involved in theater—how do you balance those two? What's it like to have those two interests coinciding?
MV: I can never audition for the fall shows! I have had people ask me if I would audition for them because they see me in a role, and I just have to cry and say no. I love theater and I always have, and I am definitely a performer in all aspects of my life, but boy, do I start missing the stage. In high school, I tried to direct during volleyball season, and it was so incredibly difficult I knew that wouldn't fly in college. So I just have to compartmentalize my life and personality. Now do you understand why I am so dramatic? However, I do forcedly maintain this extremely stealthy existence in the theater crowd, being that I only come around every so often to audition. I love being a clandestine [University Theater] member.
CM: You're a fourth-year. Will you keep playing volleyball after college?
MV: Of course… I also plan on picking up tap dancing, boxing, martial arts, high jump, biking, belly dancing, broomball, yoga, and cross training, because you know. I'll have the time.