In the Chatter's Box
Matt Veldman is a second-year on the swim team from Orland Park, Illinois. We chatted with him to get some insider info on the life of a Maroon athlete.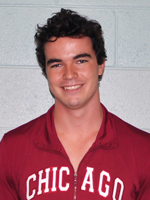 Chicago Maroon: How old were you when you began swimming?
Matt Veldman: My parents put me in swim lessons as a young kid and I joined a competitive team for a couple seasons when I was around eight, but I left swimming for other sports at around nine, maybe 10. It wasn't until freshman year of high school that I came back to it.
CM:  Did you always know you'd swim in college?
MV: For a long time I had no intention of swimming in college, and looking back I wonder if that hindered the recruiting process for me a bit. Swimming in college was an intimidating thing for guys from our high school team, where not many continued on through college and most who did quit after a season or two. So I didn't seriously consider it until somewhere during my senior year of high school. All that being said, I'm glad I ended up here at UChicago and I think it was a great fit for me.
CM: Did you ever play any other sports?
MV: I did. As mentioned above, I played other sports as a kid, which included baseball and basketball, and those took over my attention during those years in between swimming. However, once I came back to swimming freshman year, I dropped those two and focused on swimming. I also played water polo all through high school.
CM:  How would you compare your diet to Michael Phelps's?
MV: Hmm, that's tough. I definitely see a lot of similarities in the types of foods we eat­—omelets, egg sandwiches, lots of pasta—but there's no way I consume anywhere near that many calories….Eating that much honestly becomes a chore. I've tracked myself a couple times, and it's really difficult to pass the 4,000–5,000 calorie mark. I think most of us on the men's team, being swimmers and being guys, get competitive about how much we can eat and like to think we can eat more than we actually can because we think it's impressive. That said, shout out to first-year Matt Chen, who is about 130 pounds and eats more than anyone I know on the team.
CM:. Do you have a favorite professional swimmer?
MV: Phelps. It's hard not to love Phelps, I think. Swimmers my age grew up watching him at the Athens and Beijing—and Sydney if you're a diehard fan, when Phelps was only 15—Olympics, and for a young swimmer, watching him was just magical. I think part of the reason I started swimming again in high school—apart from following in my brother's footsteps—was watching the 2008 Olympics and Phelps.
CM: As a male and a University of Chicago student—life of the mind—what's your opinion on Ryan Lochte?
MV: …I sometimes wonder if he's as dumb as he makes himself out to be in his interviews. As a male University of Chicago student though let's just say he isn't the swimmer I aspire to be like. He's kind of just a ridiculous character, and not in a good way.