In the Chatter's Box
Charlie Hughes is a fourth-year on the basketball team from Perrysburg, OH. We chatted with him to get some insider info on the life of a Maroon athlete.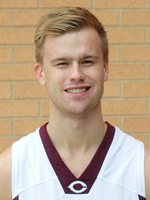 Chicago Maroon: How long have you been playing basketball?
Charlie Hughes: I've been playing since I was in fourth grade but didn't get serious about basketball until junior high, when I was 12 or 13.
CM: Do you follow the NBA? Who are your favorite players, from a personal point of view and/or from the standpoint of modeling your game after them?
CH: My roommates [and teammates] Sam Gage and Derrick Davis and I are as big of NBA fans as I know. I grew up rooting for the Phoenix Suns, but they've been so terrible lately that I'm sort of an adopted Bulls fan. My favorite players to watch are probably James Harden, Kevin Durant and Steph Curry, but there's probably twenty or so other guys whose games I really love. From a personality standpoint I have a lot of respect for Kevin Durant. He carries himself in such a humble manner, which is refreshing in a young, elite professional athlete. I don't really model my game after anyone in particular, but there have been times where I've seen a player make a certain move or do something in a way I wouldn't have thought of, and I'll try and go learn it or add it to my game.
CM: What's the best thing about being on this team? How does it compare to your high school team?
CH: I've been fortunate to play with a ton of great guys during my four years as a UChicago basketball player. This year we have a nice mix of youth and experience, and everyone gets along really well. All of the guys are good friends, which makes going to practice and traveling around together that much easier and more enjoyable. This team is a bit different from my high school team because all of the guys here are bonded in the shared experience of being a UChicago student-athlete, which I think brings us closer together.
CM: As a fourth-year on the team this year, do you have any additional goals? Things you want to impart to the younger players?
CH: Winning the UAA is my major goal for this year. We need to have a strong second half of the season, but I think it is very attainable. As far as the younger guys go, I try to set a good example by working hard and being a good teammate. Occasionally they'll have questions about school and other things outside of basketball, and I try and be helpful with that kind of stuff as well. Those guys are like little brothers to me and I always try my best to help them out when I can. When I was a freshman and sophomore, the older guys on the team were great and always looked out for me, so it's nice being able to pay it forward now as a senior.