HvZ: Holly Kassner's Last Stand
On Wednesday night, Alumna Holly Kassner stood by a door in Stuart Hall, contemplating her imminent death.
Kassner is something of a legend among HvZ players. She started playing HvZ in the Fall quarter of her first year. "I'd always wanted to see how long I'd survive," she said. "And then I started playing." She waves her hand into the air, as if to indicate there was no going back after that.
Now she is surrounded by a horde of zombies, with no hope of escape. She dons a handmade cape, bantering amicably. The cape reads "Victory or death" in ancient Greek. The phrase became an in-joke among her squad, Big Damn Heroes,  after a disastrous mission with a steep death toll.
A more successful adventure was the extraction of the 2014 Winter game. Extraction concludes the game — all remaining humans have a set amount of time to get into a safe zone guarded by zombies. If they manage it, they have survived the game. "This seemed to be the most planned out human extraction I've seen. We synced watches so that the Harper suicide squad would run out the second the final safe zone activated at 5:55 and ten seconds later both of our groups would charge, splitting the zombie horde into a manageable three instead of two or one," Kassner said over email. "It worked. We got out after a countdown, I slipped on ice, and proceeded to shoot zeds while on my back in a snow bank before getting up and running in the circle. Subsequent games have used a similar strategy but were never as organized or had as much success as that one."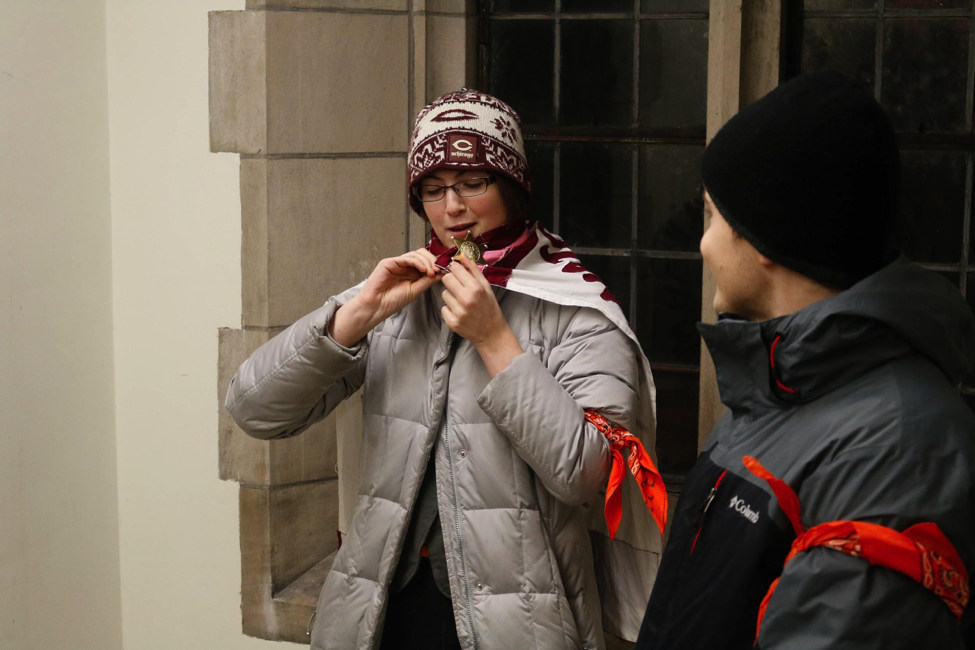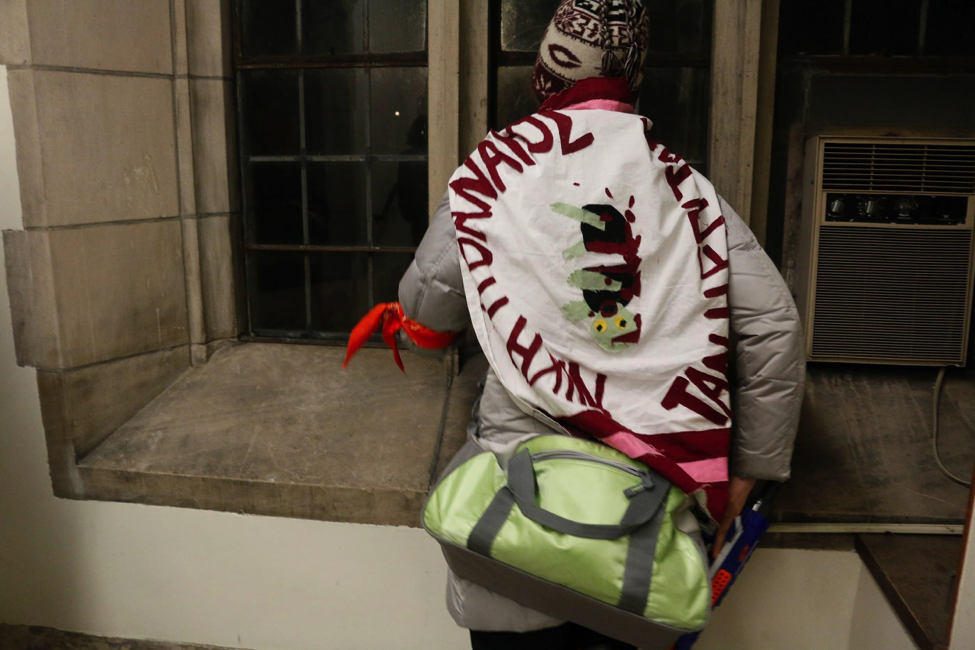 The showdown taking place tonight has cultural significance, according to HvZ player Stella Biderman. The anime club meets on Wednesday nights at Stuart Hall, and traditionally the club has contained an unusually high percentage of HvZ players. When the club lets out at 10:00, the zombies are ready.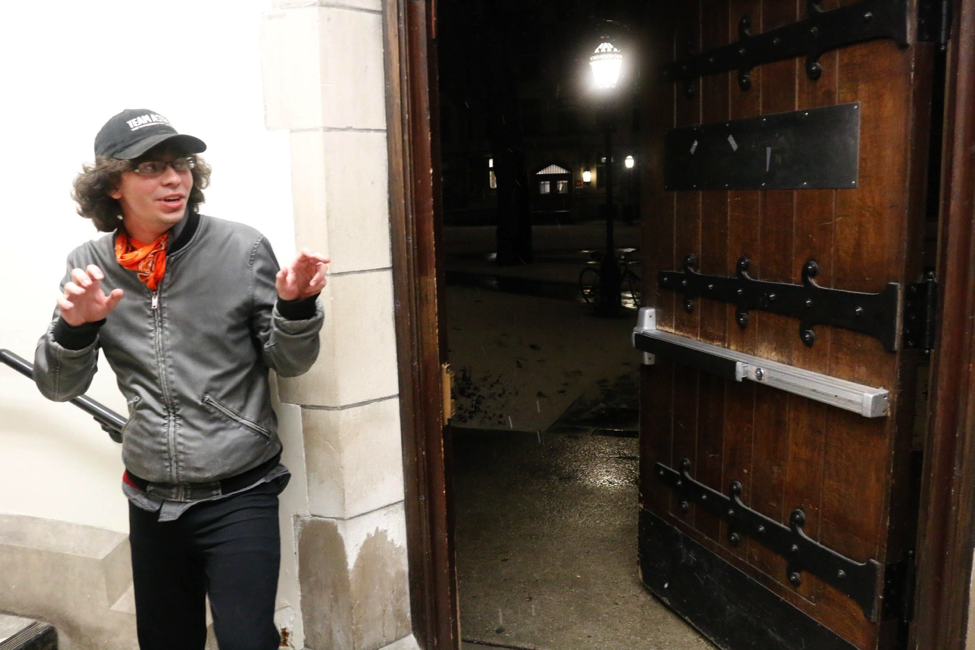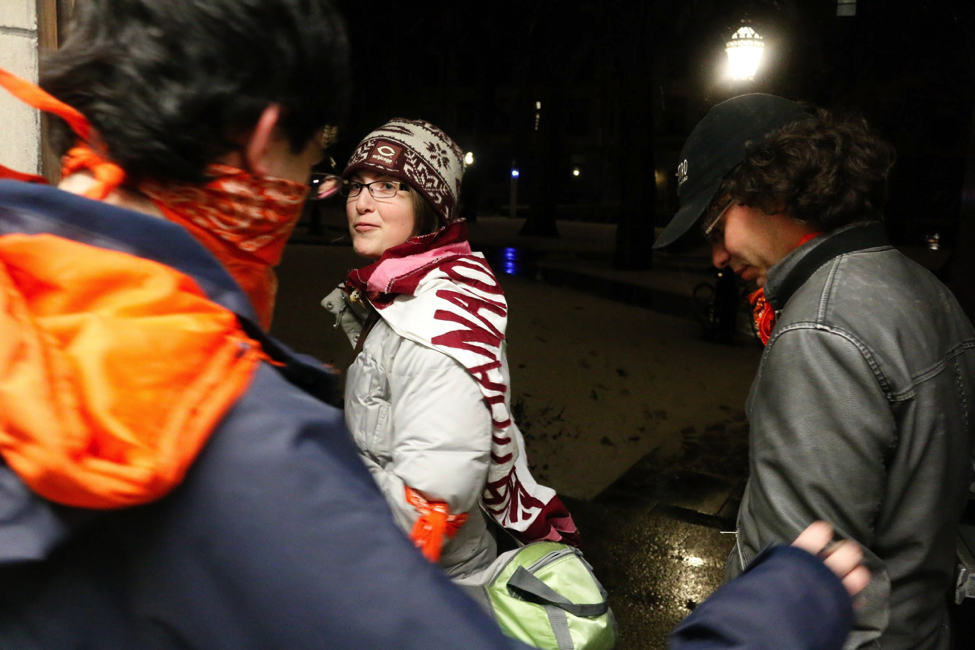 The humans made an early break for it this night, with Kassner providing the covering fire. She and two others are the only humans left in the building. As some of the zombies go off to look for another human, Kassner cautiously opens the door.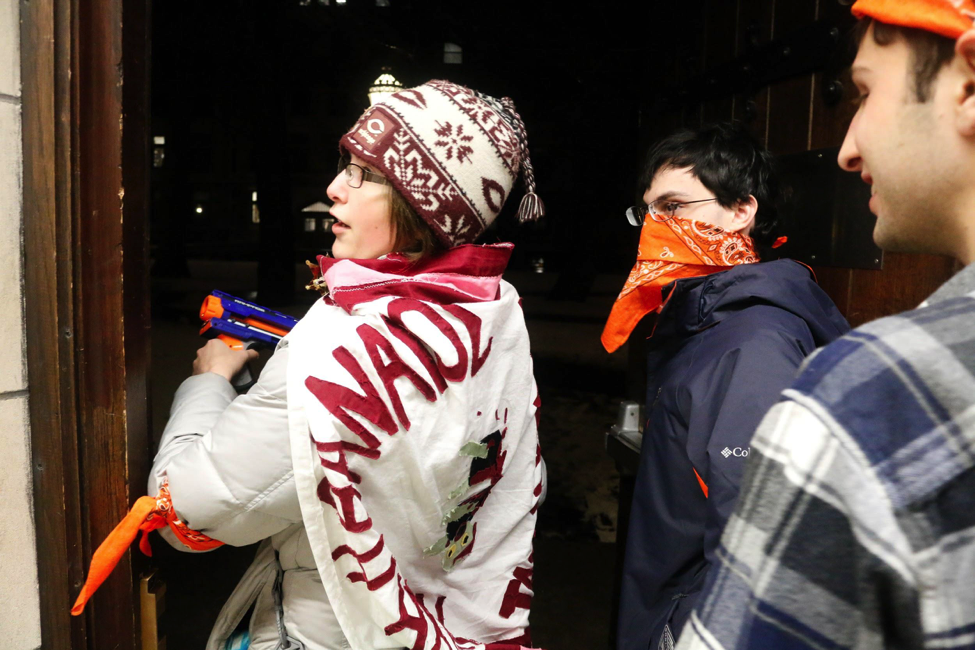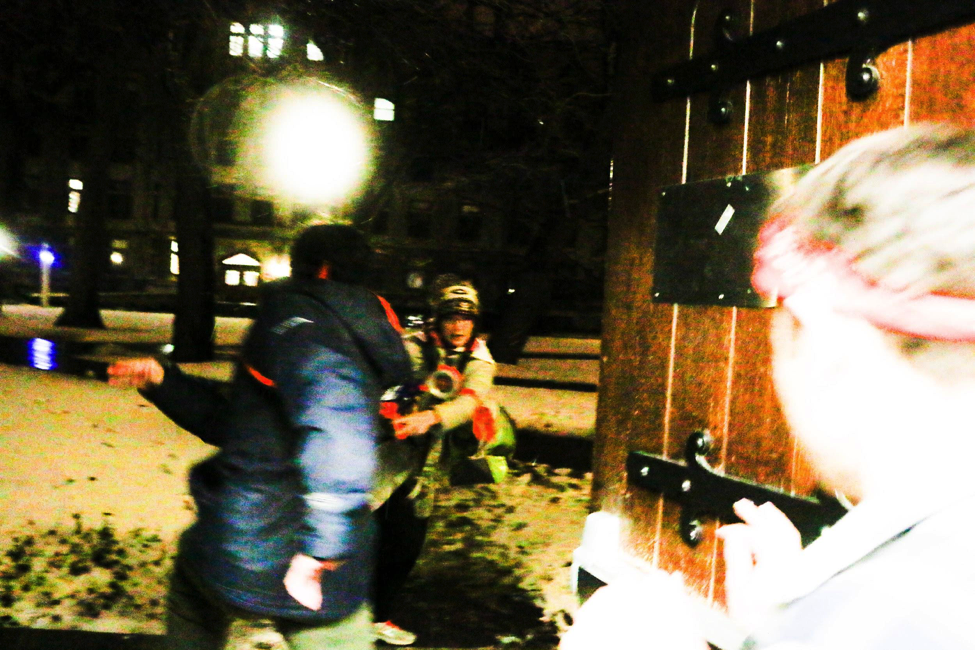 The zombies join her in commiserating about the anticlimax of her death. "When you play the door game, nobody wins," one zombie jokes.
They decide to do a thunderdome, where the zombies charge the human all together, with the human trying to shoot as many as possible before being tagged.
Kassner discussed her love of HvZ at length over email.
"I'm drawn to HvZ for all the crazy stories, the ridiculous things we do to survive and hunt, looking at campus in different ways (the Classics archway is my favorite archway being a Classics major but it's also a deathtrap or when dorms were unsafe the fact that going to the bathroom meant shooting through zombies), the memes and lore and myths and stories of the game (I love mythology so much), the flavor aspect in some games so we're participating in stakes that seem real (in our heads), the rush of outsmarting a horde of zombies, the rush into a circle of zeds, once telling a group of humans "come with me if you want to live" and making good on that promise, I love adventure stories and it gives me the chance to live out some in a very safe environment, and as cheesy as it sounds the friends I've met through this game since some ended up being some of my best friends in life. The game has given me a weird sort of confidence that's hard to describe."
See our previous reports on Humans vs. Zombies in Winter Quarter of 2016.