University to Freshmen: Don't Expect Safe Spaces or Trigger Warnings
"We do not support so-called 'trigger warnings,' we do not cancel invited speakers because their topics might prove controversial, and we do not condone the creation of intellectual 'safe spaces.'"
Incoming first-years received a letter from the College today making clear that the University of Chicago does not condone safe spaces or trigger warnings.
"Our commitment to academic freedom means that we do not support so-called 'trigger warnings,' we do not cancel invited speakers because their topics might prove controversial, and we do not condone the creation of intellectual 'safe spaces' where individuals can retreat from ideas and perspectives at odds with their own," reads the letter from Dean of Students Jay Ellison.
In May, Student Government (SG) passed on an opportunity to reaffirm the University's commitment to free speech when members voted to indefinitely table a resolution that would have condemned any student who "obstructs or disrupts" free speech.
The resolution, which was presented to SG by the president of the College Republicans club, second-year Matthew Foldi, came in the wake of three high-profile incidents in which speakers invited to campus were shut down or interrupted by protesters.
In February, Cook County State's Attorney Anita Alvarez had to leave the Institute of Politics (IOP) after she was confronted by Black Lives Matter protesters in the audience who held up signs started chanting.
The next day, the University of Chicago Police Department had to end an event with Bassem Eid, a Palestinian human rights activist and critic of the Boycott, Divest, and Sanctions movement, after protesters disrupted his speech.
Then in April members of the Armenian Students Association interrupted an eventwith a scholar who they say denies the Armenian Genocide.
After the Alvarez event was shut down, David Axelrod – Director of the Institute of Politics and CNN Senior Political Commentator – wrote a letter to the editor in The Maroon: "The great irony is that, through their actions, ensured no one would get the chance to ask Ms. Alvarez challenging questions."
Two students responded to Axelrod's piece with a letter to the editor their own: "Axelrod's response inadvertently indicates that this institution only recognizes young black people when we adhere to the bourgeois standards of decorum that often leave our questions and concerns unaddressed."
As the letter to freshmen began to circulate on discussion forums and social media, students and alumni praised the University's message on its commitment to free expression.
Other students criticized the letter, saying that the University disguises hate speech as "discourse."
In the letter, however, Dean of Students Jay Ellison wrote, "Freedom of expression does not mean the freedom to harass or threaten others."
View the full letter below: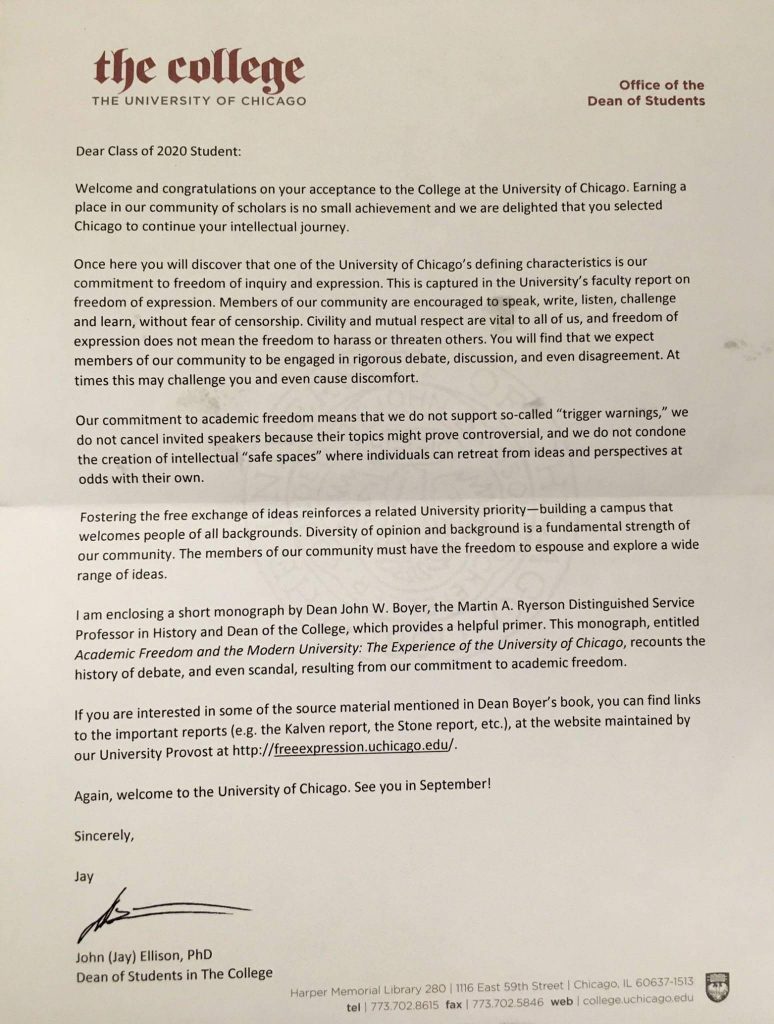 On June 2, 2016, former Provost Eric Isaacs announced the establishment of a faculty committee "to review and make recommendations about procedures for student disciplinary matters involving disruptive conduct, particularly interference with freedom of expression, inquiry and debate."
Isaacs tasked the committee to "address the range of disciplinary sanctions that may be imposed, and make recommendations for responses in the midst of any event that is being disrupted."
Isaacs is also asking for recommendations for "educational programming" to promote the importance of free expression.
The committee's recommendations are due on December 15, but committee members and the Provost's office were not immediately available for comment on whether the committee has convened.
The University of Chicago currently holds the highest "green-light" rating from the Foundation for Individual Rights in Education (FIRE), an organization that rates universities' speech policies.