Violence and Vandalism in Hyde Park Over Halloween Weekend
Message to Kenwood Academy parents warned of Hyde Park "Purge."
Hyde Park saw a rash of vandalism and violence after sunset last night as hundreds of teens gathered in the area around 53rd Street, attracting a substantial police response.
As one Kenwood Academy High School student put it, the crowd gathered to "do bad things." The student, who did not give his name before running off, said that the teens had organized a "purge" on Instagram.
Many people came wearing masks or face paint, and a few were seen wielding baseball bats and golf clubs.
Two nights before, many of the same individuals gathered in Hyde Park to cause mayhem.
Over the course of the two nights, teens smashed the window-front of a store, shot at passers-by with pellet and paintball guns, and threw eggs at police cars and officers.
Although teens only cited "the purge" when asked by The Maroon why they were out Monday night, anti-police sentiment was in the air—teens were constantly giving officers the finger and shouts of "Fuck 12!" rang through the night. "12" is a slang term for law enforcement.
The crowds mostly gathered on 53rd Street, as far west as Woodlawn Avenue and as far east as Lake Park Avenue.
As large crowds periodically formed on 53rd Street, officers used a variety of strategies to try to break them up. Police cruisers drove on the sidewalk to disperse the masses, lines of officers wielding batons and flashlights marched individuals in different directions, and officers shouted out over megaphones that they would start making arrests if individuals did not disperse.
This was at 7 p.m. CPD car on sidewalk to disperse crowd. pic.twitter.com/pSuza40yii

— Pete Grieve (@pete_grieve) November 1, 2016
Officers and dispatchers related information about arrests by radio transmission throughout the night.
Officers were able to temporarily break up crowds, but in a matter of minutes the teens congregated just down the block.
Scene in front of Boston Market at ~7pm pic.twitter.com/MnnoMfZaBi

— Pete Grieve (@pete_grieve) November 1, 2016
"We got calls of everything…anything and everything that could have happened tonight did," a Chicago Police Department (CPD) officer said about Saturday night.
In a Monday e-mail to parents and guardians, Kenwood Academy principal Gregory Jones warned that individuals were planning to "purge" in Hyde Park on Halloween. As early as 3:45 p.m. on Monday, Chicago Police, University of Chicago Police, campus security, and private security were stationed on nearly every intersection in the area.
A CPD officer said around 4 p.m. Monday that CPD had several large police vans standing by to transport arrested individuals "in case people start acting up."
On the 4900 block of Dorchester Avenue, a female minor was arrested Monday after hitting a victim in the back of the head, according to a CPD officer. A crowd of approximately 70 people dispersed southbound when police arrived, according to the scanner. Around 7:30 p.m., an ambulance was at the scene treating the victim and the minor was seen in handcuffs. CPD News Affairs did not immediately have information about the arrest.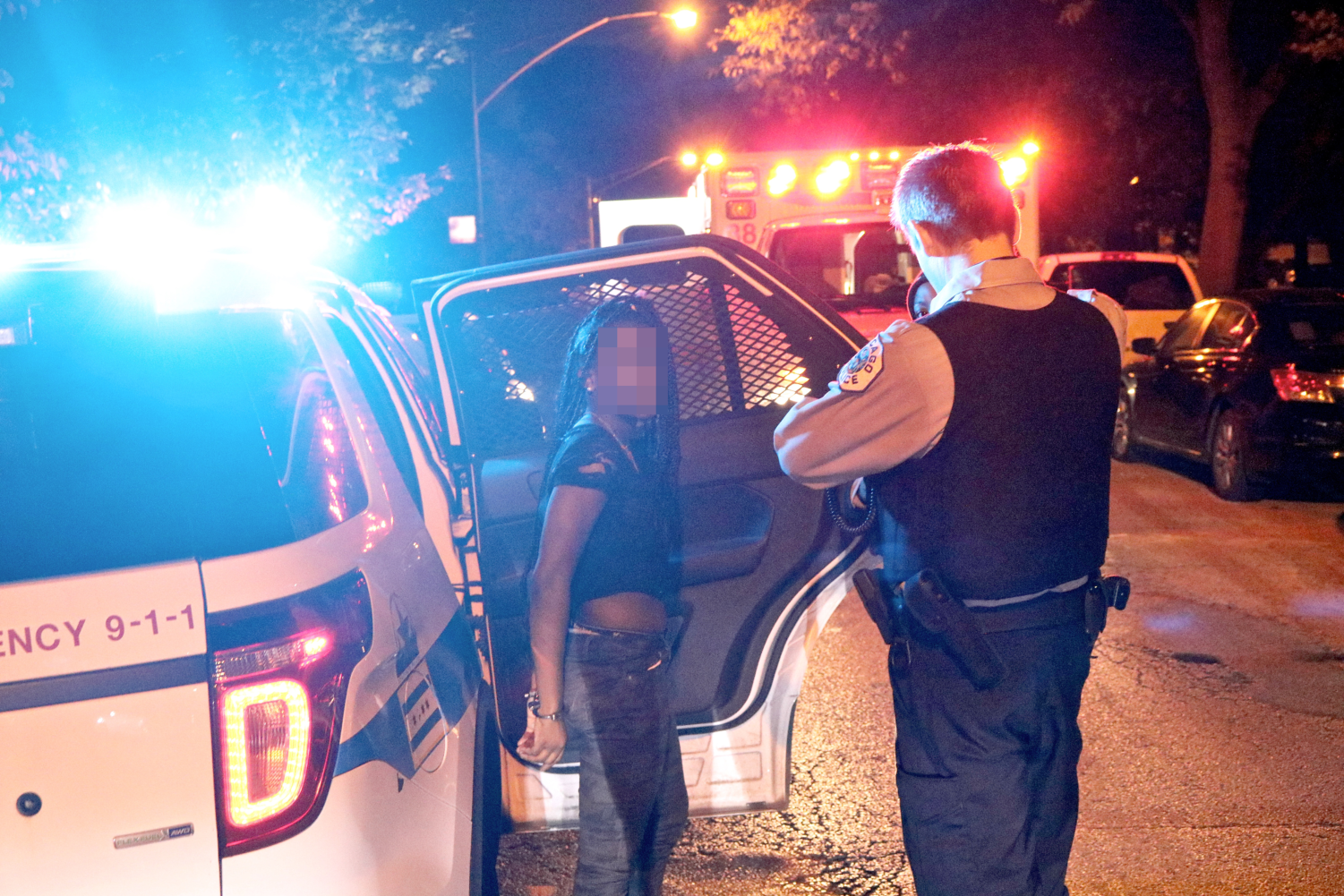 On Saturday, at least six people say they were struck with airsoft, BB, or paintball ammunition, according to interviews, Facebook posts and University of Chicago Police Department (UCPD) incident reports. One person was arrested for shooting a BB gun, according to a UCPD incident report. On Monday, there were scanner reports of weapons at 51st Street and Kimbark Avenue and at 52nd Street and Blackstone Avenue. At both locations, individuals also reportedly struck or jumped on cars.
At 12:55 a.m., third-year Aaron Cendan was shot with a paintball gun behind his left ear, according to him and a UCPD incident report. He was walking on 55th Street between Kimbark Avenue and Woodlawn Avenue when he felt a sharp pain behind his ear.
"I felt warm liquid running down the back of my head/neck and had honestly thought I'd been shot with something much worse than a paintball gun," Cendan said.
After being temporarily deafened in his left ear, Cendan notified the nearest University security guard. The impact of the paintball left a welt and bruise where he was hit.
"Nobody really wants to contemplate mortality on a Saturday night," Cendan said. He was not able to identify the vehicle.
On Saturday at 7:53 p.m., an individual walking on a sidewalk off-campus was struck on the left arm and hip by a missile fired from a paintball gun, according to a UCPD incident report. The suspect was chased on foot and arrested by UCPD.
First-year Tyler Raclin and second-year Jackson Mariotti were also shot at on Saturday night.
First-year Solomon Dworkin and second-years Sam David and Scott Wang were walking down 52nd Street near Greenwood Avenue when two men in a car pulled up beside them and began shooting metal pellets from what they think was a BB gun. At around 10:30 p.m., David was hit in the back, and Wang was hit in the back of the head, drawing some blood.
"We were incredibly fortunate that it had been a BB gun instead of a real pistol. It was traumatic when I brushed blood off my head," Wang said. "Moreover had we been shot in the opposite direction we could have sustained serious injuries to our eyes."
The police began to enforce an 11 p.m. curfew for minors under the age of 17 around 10:50 p.m. on Saturday night as they pushed the groups closer to the area of Lake Park Avenue. "You've got 15 minutes to leave the area," a police officer yelled out his cruiser window, "or your parents can pick you up at the station." When The Maroon asked for the officer's name, his car pulled away from the corner of 53rd Street and Lake Park Avenue.
Another patrol car was parked along Lake Park Avenue on Saturday. Officer Mendoza, the driver of the cruiser, cautioned University students who were out on the street. The Maroon asked Mendoza where students should stay away from. "Everywhere," he said. "You want a story here? Where are their parents?"
On Monday night, the front window of Jeffery Dollar Store at 1443 East 53rd Street was shattered, and the CPD police scanner mentioned that individuals were trying to "bust" into the unopened Target store on 53rd Street though no damage was reported or seen. There were also scanner reports of broken glass at 5230 South Lake Park Avenue. Damage to cars was also reported on the CPD scanner and seen on 53rd Street.
Broken front window at 1443 E. 53rd Street. pic.twitter.com/gZeYvuNkc4

— The Chicago Maroon (@ChicagoMaroon) November 1, 2016
Individuals got up on the Harper Court parking garage roof, according to police scanner reports, but by the time officers got to the scene they had dispersed. Officers were also seen removing a trashcan that had been placed on the roof of a car.
In the UCPD daily incident report for Saturday October 29, there is a report of a fight on 1452 East 53rd Street where the victim was treated by EMS on scene and declined further medical attention.
yall went all the way to hyde park to fight? lol what.

— Nyeemah❣ (@OhSheLightSkin) October 30, 2016
Flower pots were seen emptied on the sidewalk and broken eggs were splattered on the windows of Boston Market and Wingers on 53rd Street.
According to a cashier at Wingers, upwards of 40 people entered the restaurant to avoid the police and began to "play with napkins." When the cashier was unable to get them to leave, the police came and escorted out everyone who hadn't ordered anything.
According to an eyewitness report, McDonald's on 52nd Street and Lake Park Avenue was stormed by police officers twice on Saturday and an EMS was on scene. On Saturday and Monday, the McDonald's closed early based on recommendations by the CPD.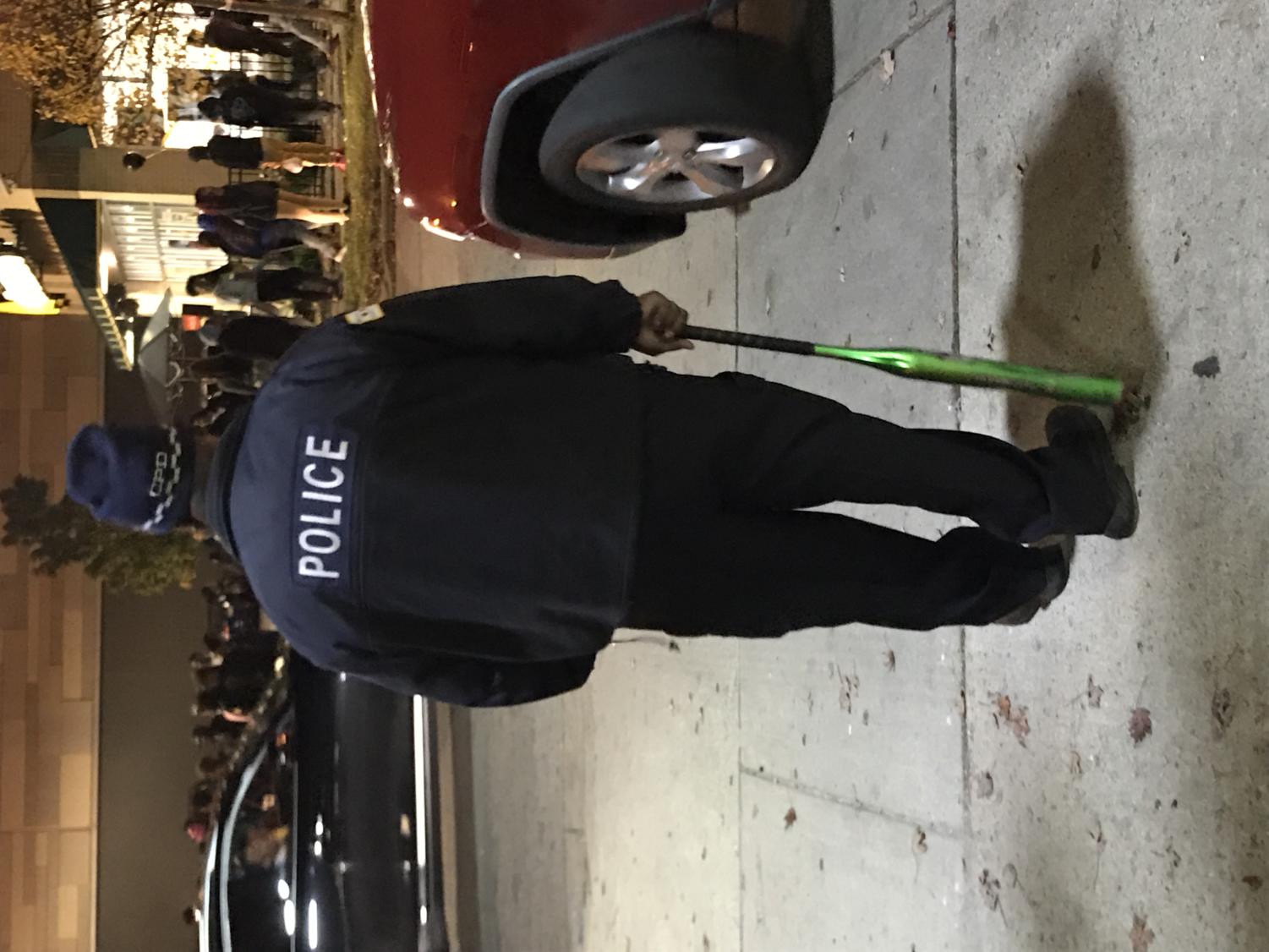 The manager at McDonald's declined to comment on the events that transpired and CPD could not be reached for comment on these particular incidents.
The UCPD and the University of Chicago News Office pointed The Maroon to the daily incident reports released for the days of the incidents. The situation at the McDonald's was reportedly under the jurisdiction of CPD.
LaKeisha Hamilton, Hyde Park resident and youth development practitioner, sat in her car on 53rd Street and watched events unfold around her on Saturday night.
"For years people have been dropped off by their parents in Hyde Park [on Halloween weekend]," Hamilton told The Maroon. "If we, the community, do not open doors and give them activities to engage in, what do we expect?"
Update (Tuesday, 1:00 p.m.): In an e-mail statement Tuesday morning, Chicago Police listed nine arrests near the 5200 block of Lake Park Avenue last night. "A large group of teenage (high school age) subjects were loitering in the streets. Officers gave several orders to disperse the area. Many of the subjects did disperse. A small group began to fight amongst each other and officer [sic] again gave orders to decease and disperse. When the subjects refused they were placed in custody."
Three teens were placed in custody for "disorderly conduct;" four young females were arrested for "reckless conduct;" one young man, who allegedly climbed into a police van and took a cell phone, was arrested for criminal trespass and theft; and a young woman, who allegedly pulled an officer's arm while he was placing one of the other juveniles in custody and also allegedly kicked an officer in the leg while she was being arrested, was placed in custody for aggravated battery to police.
Editor's note: Solomon Dworkin is a Maroon news contributor.