We gathered Tuesday to watch the election results roll in, in towering new dorms and off-campus apartments.
The course of the election, it seemed fair to assume, would be interesting, but the result was not particularly in doubt. The pundits and quants had spoken (the University has graduated a few of both in its time), with various degrees of confidence. Eight years after their contentious primary fight, the University's most famous former faculty member had strongly fallen in behind the Democratic nominee, and only a few months after his own grueling fight with Hillary Clinton, Bernie Sanders (A.B. '64), one of the University's most famous alumni, did so as well. Respectable opinion and empirical evidence seemed to be lining up behind her campaign.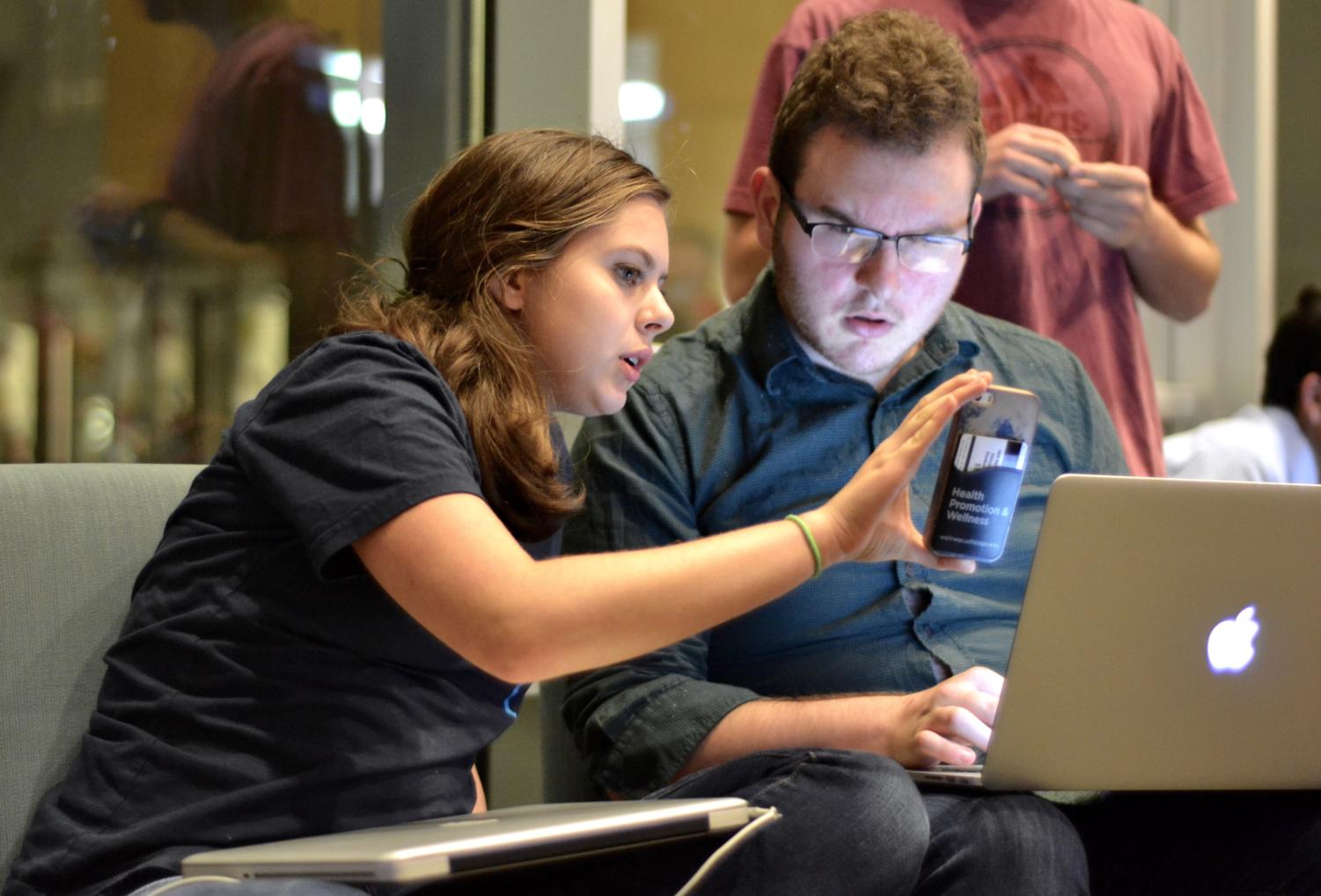 As one swing state after another fell to Donald Trump, the prevailing opinion on campus turned to shock. The student body has, of course, long been left-leaning, but this year felt different than past elections. Trump's candidacy somehow posed a threat, indicated that a whole slate of values central to the University's identity—respect for experts, openness to ideas, an aversion to emotional decision-making—were not, maybe, that widely shared.
At watch parties, students crowded around TVs, anxiously tallying up electoral totals and obsessively refreshing forecasts. As the night turned into one not worth celebrating for Clinton supporters, rooms got quiet as students tried to stomach the reality of "President-Elect Donald Trump." At one Hillary Clinton party, bottles of champagne were never popped. At others, the rate of alcohol consumption and Clinton's odds of victory were inversely correlated.
The Institute of Politics (IOP) decked out the Reynolds Club in red and blue stage lights, and an American flag made of balloons. Hundreds of students were energetic when the doors opened, but devastated when the party—scheduled to end at 11 p.m.—finally let out, just before 1 a.m.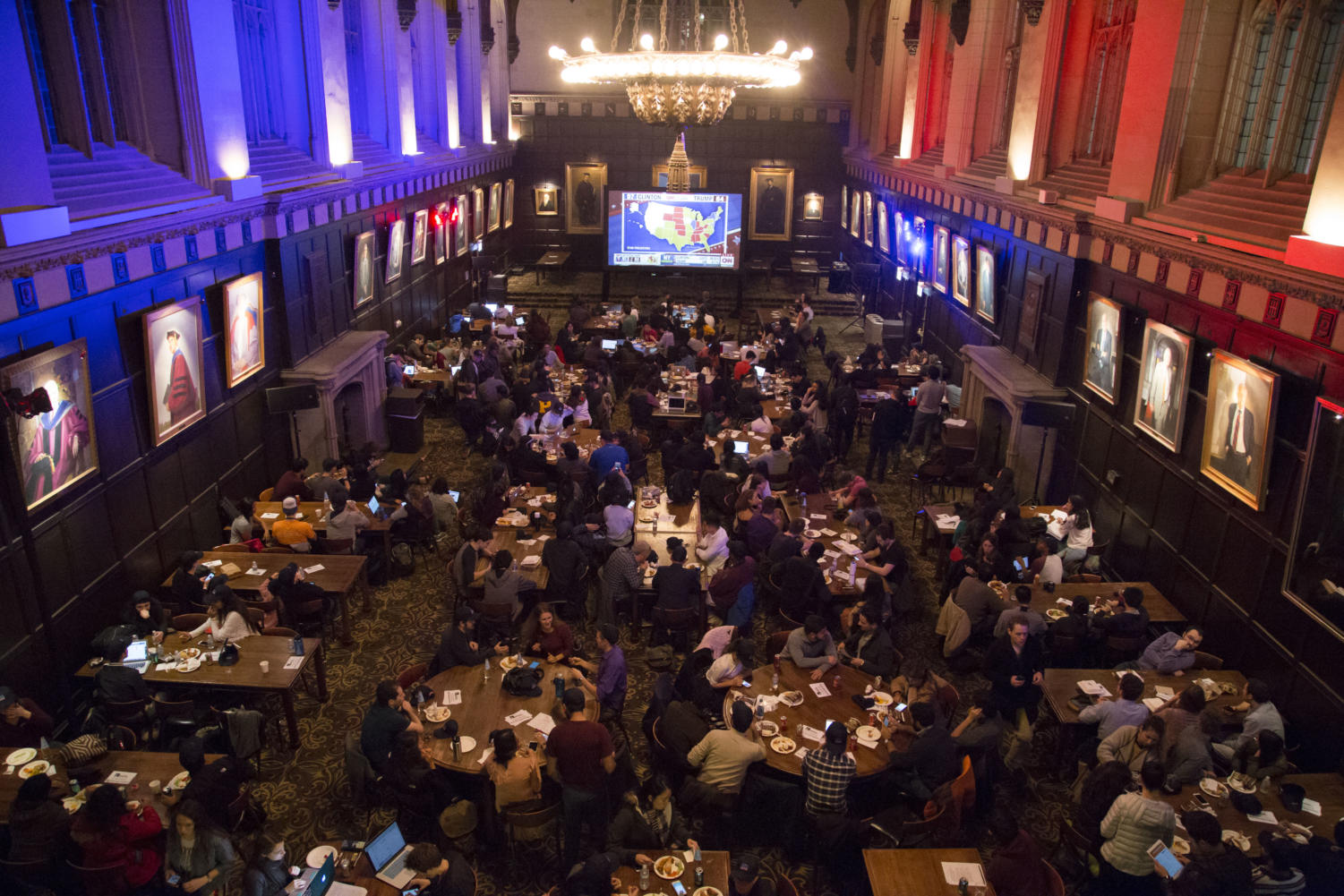 At midnight, nearly 300 students flocked to the quad for a collective "primal scream." Around the same time, several students lit a Trump banner on fire at the cheers and encouragement of the crowd, and chants of "Fuck Trump" returned in choruses. On the fringes, a student played a mournful national anthem on his trumpet.
Another wave of students arrived just after, carrying a large speaker. They played rapper YG's song "Fuck Donald Trump" on repeat and students sang along with the protest anthem.
"People might consider it a sort of hypocritical thing to do," said second-year Ben Donvan, who helped light the Trump banner on fire. "It's also free speech; it's been ruled that way by the Supreme Court…. People were angry enough about the outcome of this election that they would resort to those kinds of measures."
Pro-Trump messages that had been scribbled in chalk on the quad were crossed out or written over.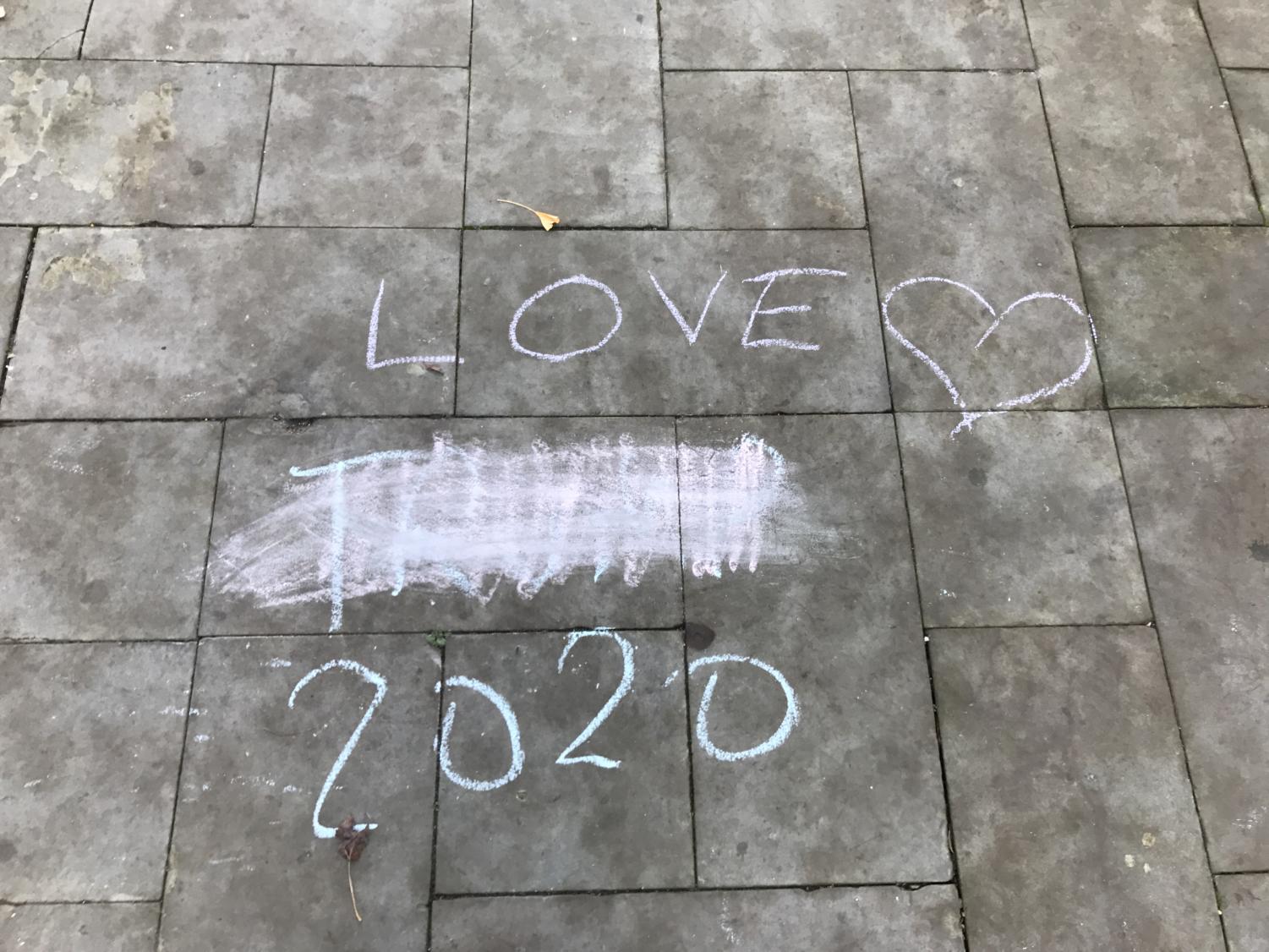 Come Wednesday morning, campus was noticeably quieter than usual. Several students were seen in tears. The Center for Identity and Inclusion had open drop-in hours for students to "process" the outcome. Some teachers postponed midterms and assignments—one Sosc professer offered extensions on an assignment to anyone who planned to attend an anti-Trump rally on Wednesday outside Trump Tower.
One professor described Trump's win to The Maroon as a "national tragedy."
"Trump and his congressional allies will deeply damage the Affordable Care Act, likely taking affordable health coverage from millions of people," said School of Social Service Administration professor and expert on public health issues Harold Pollack. "They may also block grant Medicaid, which will particularly strain services to the elderly and the disabled. I am heartbroken today."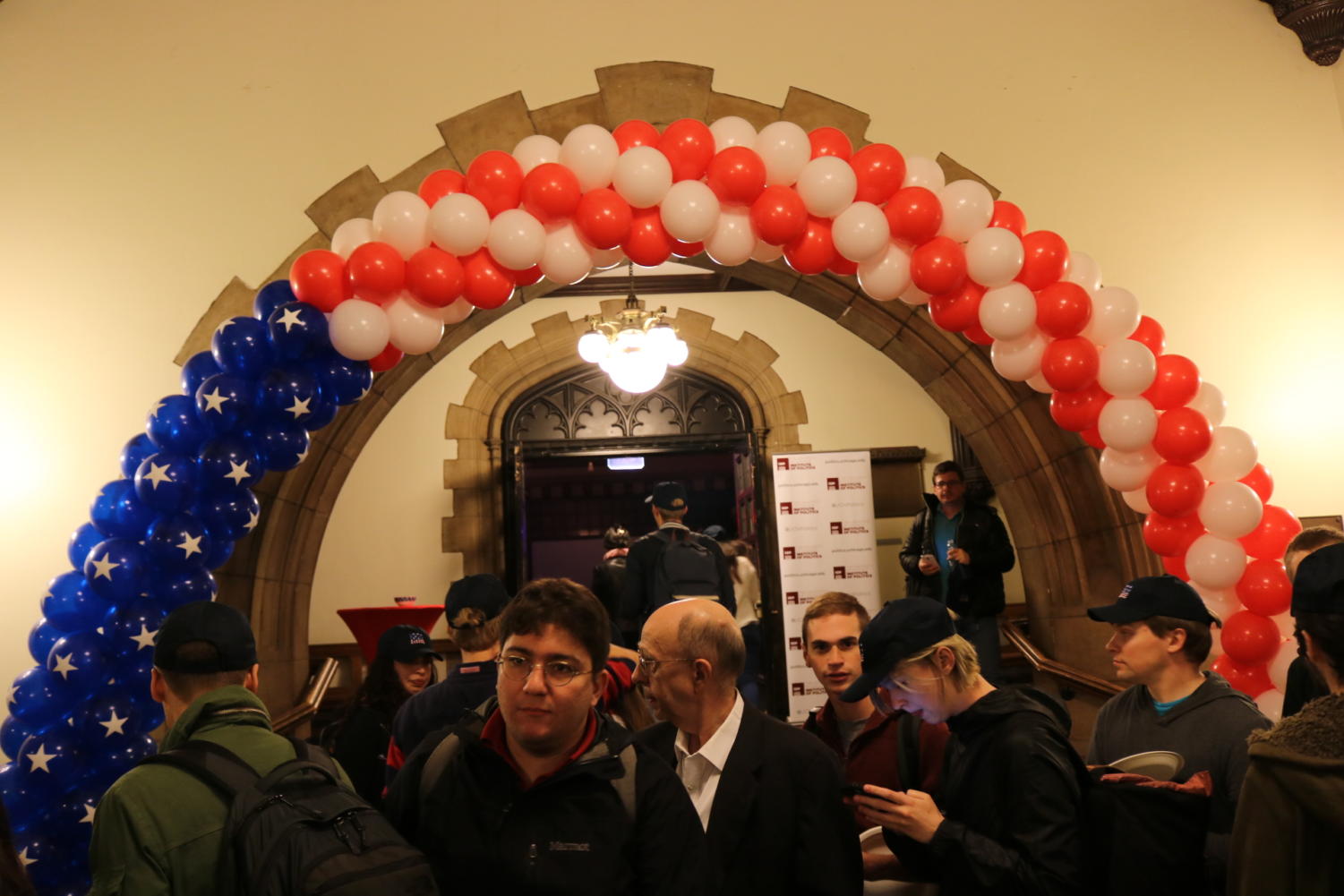 The Maroon talked to several Hillary Clinton supporters, including Student Government (SG) president Eric Holmberg; they had similarly grim outlooks.
But not everybody on campus reacted to Trump's win with shock and dismay.
One Trump supporter said that he knows a sizeable population of students on campus who supported Trump in private circles, but did not express their views publicly.
---
Illinois Director of Students for Trump, Josh Parks
Among those few students celebrating the election result was second-year Josh Parks. Parks worked on Trump campaigns in his home state of Michigan and in Illinois. He ran the Illinois branch of the Students for Trump movement. He also made calls to voters in Michigan, where Trump pulled off an upset that no one saw coming, before they went to the polls yesterday.
"Walking around campus today it's a special feeling. You can feel the air has been pumped out of the student base because they were so sure of their candidate's success."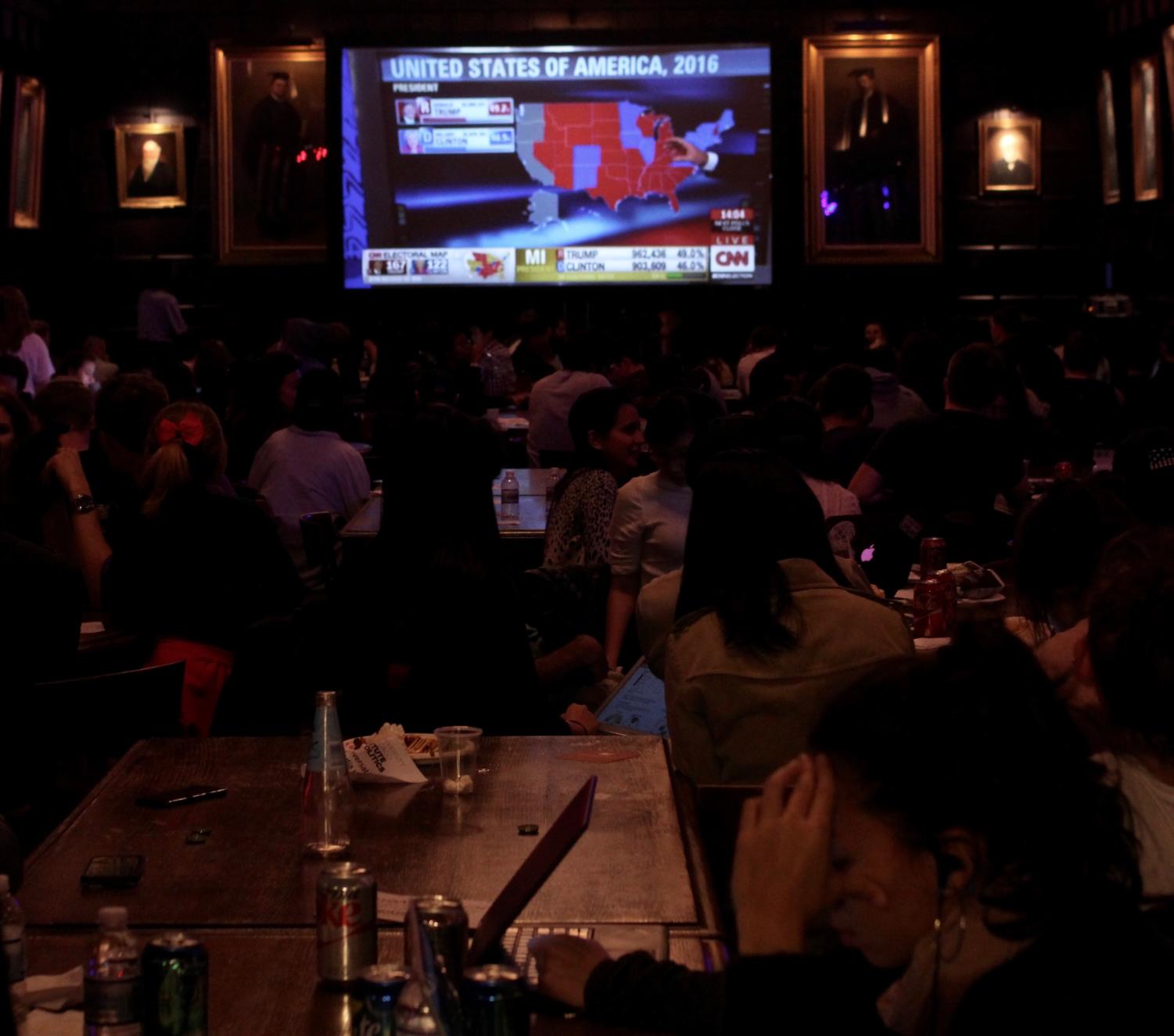 Parks went to the IOP party on Tuesday night unsure what the outcome would be. "I definitely tempered my excitement to begin with. If we didn't secure the presidency I prayed that we would secure the Senate," he said. "Going in, I knew that he had a chance and I knew that there was a specific path to victory he had to adhere to if he wanted to win."
Later on, he left the event to watch the rest of the election coverage and the results privately with his conservative friends.
Parks called Trump's win a "referendum" against Washington corruption and "overbearing liberal culture."
He called Trump's speech early Wednesday morning "beautiful," and cited tax reform and the economy as areas where he expects Trump to excel. "I think we will see an increased intensity in the campaign against [the Islamic State] in the Middle East," he said.
University of Chicago Students for Trump Leader, Patrick Mulkerin
Second-year Patrick Mulkerin also worked for the Students for Trump movement, as the University of Chicago leader. He said that his role was very limited due to the lack of support for the Republican nominee on campus. A "UChicago Students for Donald Trump" Facebook page was created last spring, but it has been inactive since March and only has 42 page likes.
Mulkerin said he made connections with about 20 other people on campus who were also Trump supporters.
"I think I made a lot of contacts with people who were happy to support in private but because of the overall mood on campus not that many people wanted to come out in public support," Mulkerin said.
He claims that he received a lot of negative reactions from his peers on campus who disagreed with his views. He recalled a time last year when a woman approached him in the dining hall and cursed at him for wearing a Trump hat.
Around midnight, Mulkerin went to the quad wearing Trump paraphernalia with some of his friends to celebrate the win and see other people's reactions.
"I was expecting negativity but I received outright hostility," Mulkerin said.
He alleged that a young woman came up to him, unprovoked, and slapped him across the face before running away. He said he could not identify the person.
"They were blaming me personally for every single mistake that will occur in the next four years," he said.
By Wednesday, he said the level of hostility seemed to have gone down. "I think that the initial reactions have passed and people realized they overreacted a little. People calmed down."
---
President of College Republicans and 5th Ward Republican Committeeman, Matthew Foldi
Third-year Matthew Foldi said that he was happy with the results of down-ballot elections, in Illinois and nationally, but did not explicitly say he supports the president-elect of his party. College Republicans did not endorse Donald Trump.
"The good news is that Democrats no longer have a supermajority in the state House which they've been using to basically block a lot of very important reforms that [Illinois Governor Bruce Rauner] wants to put through," Foldi said. "There was cause for concern and there was cause for rejoicing. Leslie Munger losing the Comptroller's race is very problematic for Illinois's fiscal future."
Foldi said he was shocked that Trump won the presidency.
"I was shocked at the results. I wasn't predicting it to turn out that way," Foldi said. "And it was a night that we all know will go down in history. It was interesting to witness it. We all know this is gonna be something that people are reading about, learning about decades from now, and we were all witness to it last night."
Foldi said that he is optimistic about Donald Trump's presidency and that he wishes Trump luck in January.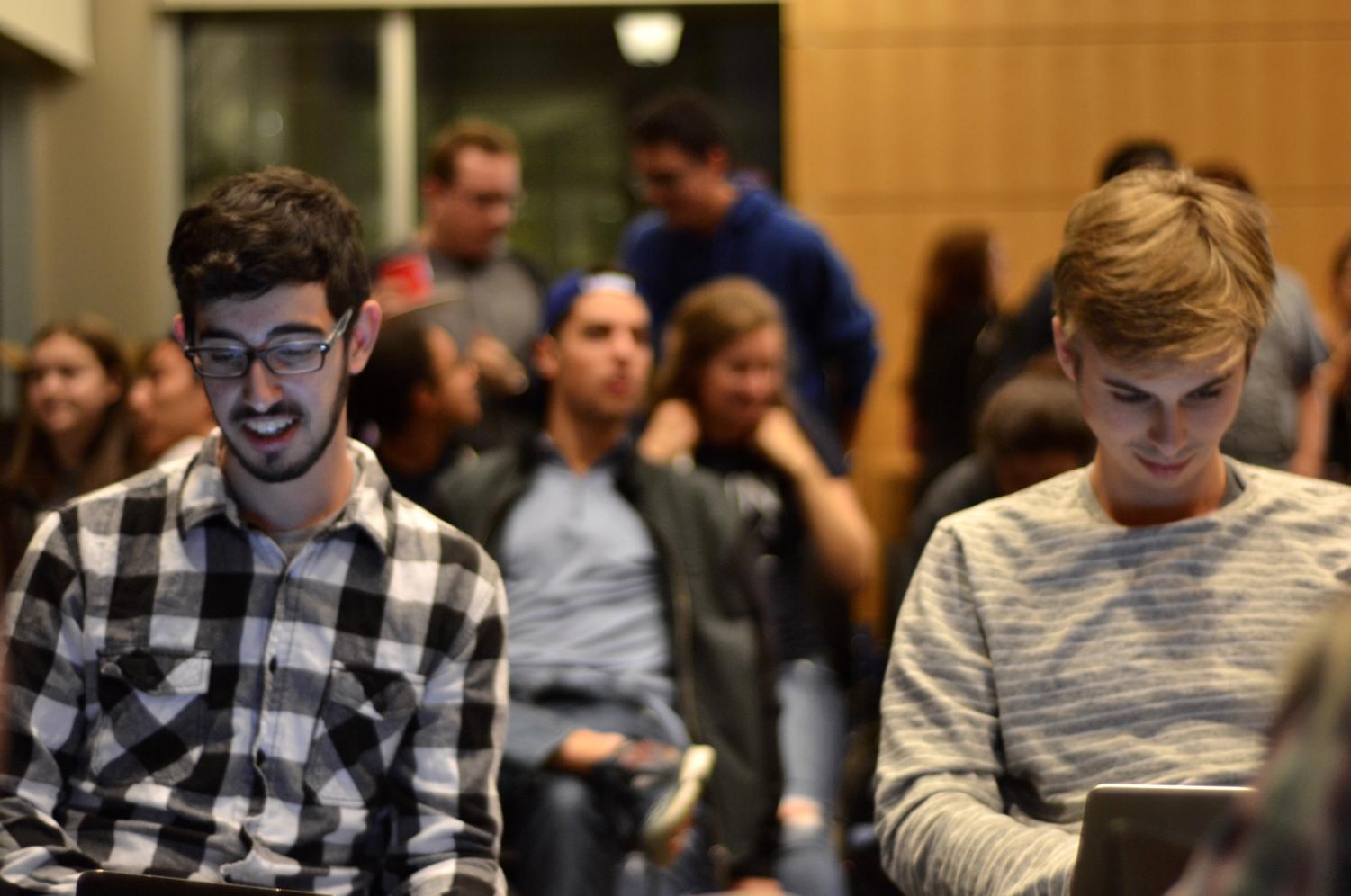 "I'm as optimistic for what will happen as I would be regardless of who would have won," he said. "I think that the president-elect deserves the benefit of the doubt…. I wish Trump as much luck as I would have wished Clinton…as much luck as I wished Obama."
He added that he was delighted by the Republicans' success in the Congressional elections.
"For the House and Senate we really exceeded everyone's expectations, and to me this bodes very well for [House Speaker] Paul Ryan's agenda that the House Republicans have been running on for the past couple of months. We had a historically large majority that we were defending and we hardly lost a single seat," Foldi said.
Despite her winning the popular vote, Foldi did not refrain from calling Clinton a uniquely flawed candidate.
"Something to keep in mind is that Trump got almost the same number of votes as Romney did in 2012. And do you know how many fewer votes Clinton got than Obama? I think it's 6.5 million. So, if we're retaining the same amount of people and the Dems shed almost 7 million people then you can't overlook how bad a candidate Clinton was in all of this. She failed to inspire any group she needed to do well with. I think there are a lot of problems with her that many people have wanted to overlook but the American people did not overlook at all," he said.
Foldi said that Trump now has to figure out how to unite a fractured country. "There's a lot of division. Whoever would have won the election had a lot of work ahead of them to unite the country," he said.
---
Among the disappointed majority were the activists and organizers who had been campaigning for Clinton all along.
UC Dems President, Rachel Neuburger
Rachel Neuburger, a third-year in the College and the president of UC Democrats, expressed dismay and concern over Donald Trump's victory on Tuesday.
"What happened nationally was really discouraging, and someone who shouldn't be trusted with any degree of power, someone who's openly advocated for rape and sexual assault. Someone who's said horrible things about every minority group in this country is now going to be in the Oval Office, and there are going to be few checks on him considering that the Senate and the House are both so Republican," Neuburger said in an e-mail.
However, she expressed resilience in the wake of Clinton's loss.
"We're taking this time to come together as a community and love each other and comfort each other. And give each other strength, and then we're going to devote the next two years to making sure that we protect and promote everyone who has now been attacked," Neuburger said.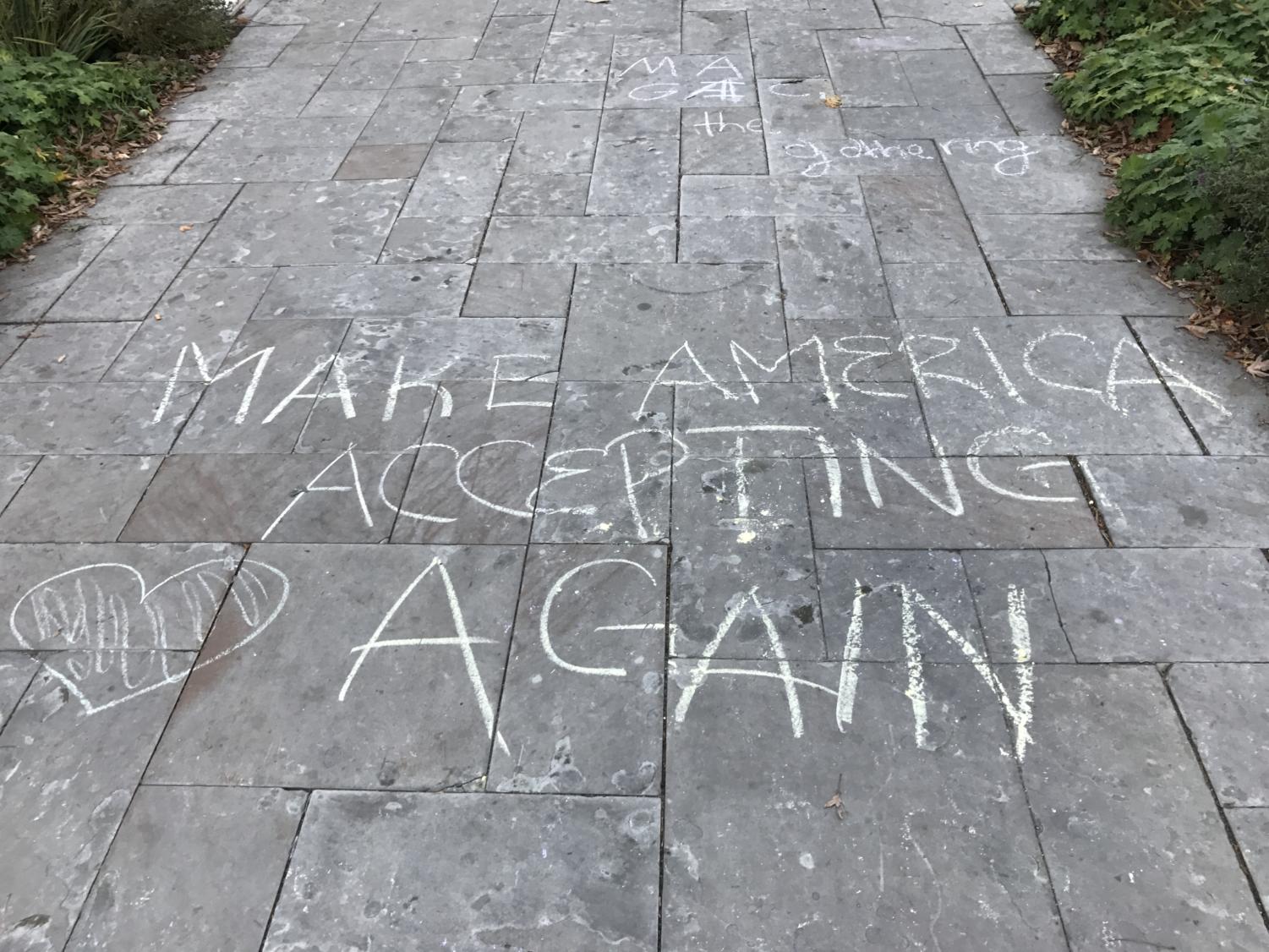 Neuburger also said that Democrats in Illinois performed well, and that she is proud of efforts made by UC Dems and other students groups.
"In Illinois, amazing things happened: Susana Mendoza, Tammy Duckworth, Brad Schneider. Really fantastic things happened, and I'm extremely proud of UC Dems, and members of Students for Hillary, and just other UChicago students who worked really hard to make that happen," Neuburger said.
Neuburger added that she thinks that stronger Democratic leadership is the best way to counter the culture of alarmism that she said Trump fostered in his campaign.
"I guess it's easier to be afraid and to submit to that fear than to be brave, and we need strong leadership to help us to be brave and to take the right path…. If it is that people have economic anxiety, if they're afraid of globalization and terrorism and other fears that come with the modern world, then I guess what we'd need to have is strong leadership on both sides, otherwise [Trump's win] is what happens," Neuburger said.
Hillary for America Fall Intern, Andrea Popova
Third-year Andrea Popova was deployed to Michigan for the last two weeks of the campaign. The state was perhaps Trump's most surprising upset.
"And at the end of the day, it became evident that the state I was so ambivalent about in the beginning ended up being a crucial state in Hillary's demise. If Michigan had gone blue, Hillary may have won. It was a difference of 10,000 votes," Popova said in an e-mail. Popova said she was not able to pull out of her driveway this morning without crying.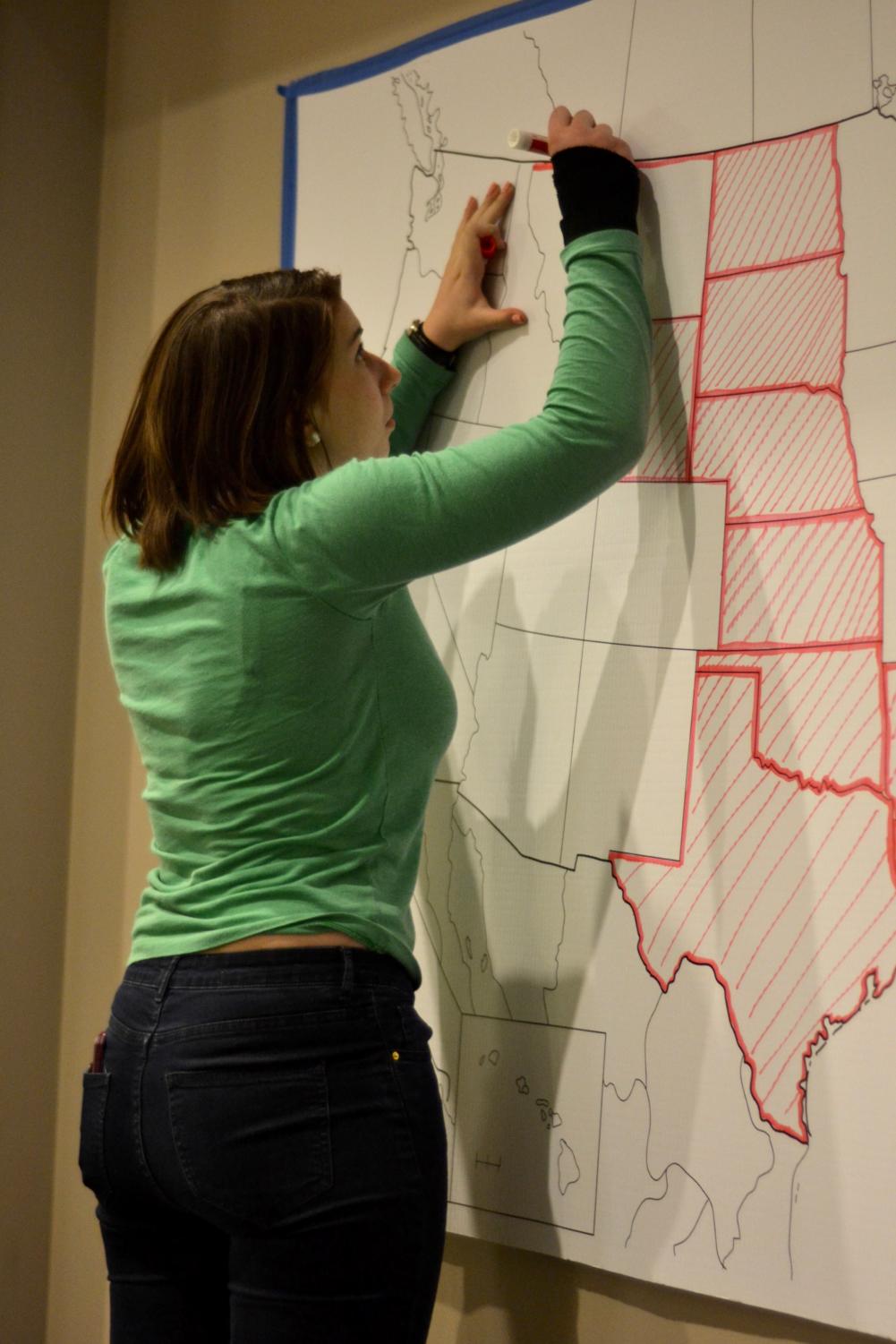 "There are so many things I want to yell about right now: how Trump could do so many incomparably bad things and still beat the most qualified candidate we've ever had…how the world can pretend that her gender didn't play a role in her loss."
"My first thought was: I should have done more. I should have knocked on more doors. I should have called more houses. I should have. But at the end of the day, what's done is done," she said.
Still, she said she was proud to cast her first presidential vote for Clinton.
"We certainly made history, but for the worse. This is our Brexit. I hope we can come out of this a stronger nation."
Hillary for America Intern, Alessandro Clark-Ansani
Second-year Alessandro Clark-Ansani also worked on the Clinton campaign. He said his words to The Maroon do not necessarily reflect the opinion of the campaign.
"As someone who worked on the campaign, I am naturally very upset by what happened last night," he said in an e-mail. "We had to opportunity to elect someone who built her career on helping other people…. We had this choice, and as a nation we chose…someone who bullied his way to the top."
"The resolve and dedication I saw in the people I had the privilege to work with this summer gives me hope for the future. We have to deal with Trump for at least four years, but House elections are just two years away, and I hope that the results of this election inspire people to become more engaged in the political process."
Hillary for America Finance Intern, Andrew Friedman
Second-year Andrew Friedman interned in the finance department at the Clinton campaign's headquarters in Brooklyn this summer.
"I came into last night hopeful and optimistic about Hillary Clinton's chances. As the results of the election came in throughout the night, they shocked and depressed me on every possible level. However, as much as Donald Trump and the values he stands for concern me greatly and stand contrary to my core beliefs, he will be our next president and we only have one; Hillary Clinton said it best in her concession speech, 'I hope that he will be a successful president for all Americans.' I too am rooting for President-Elect Trump to defy expectations and be a good and fair president as the future of America is at stake.
"With the threat that Donald Trump represents to civil rights, it is also necessary for us to increase our support of civil rights organizations such as the American Civil Liberties Union and the Human Rights Campaign. Organizations such as these can help us preserve our rights and the progress that America made over the past 80-plus years.
"Last night's loss was devastating and will only be exacerbated if we give into the values that Trump has presented and abandon the principles of our democracy," Friedman said in an e-mail.
Friedman said he is hopeful that people who voted against Donald Trump will continue to fight for Democratic values.
---
Student Government President, Eric Holmberg
Third-year Eric Holmberg, a progressive activist who campaigned for Bernie Sanders in the Democratic primary, told The Maroon that he is scared about the future of the country under a Donald Trump presidency.
"I expect that this election will also breed strong resistance that may also shape the future of our country in significant ways," he said in an e-mail. "Organizing in a moment of political upheaval is exciting and scary."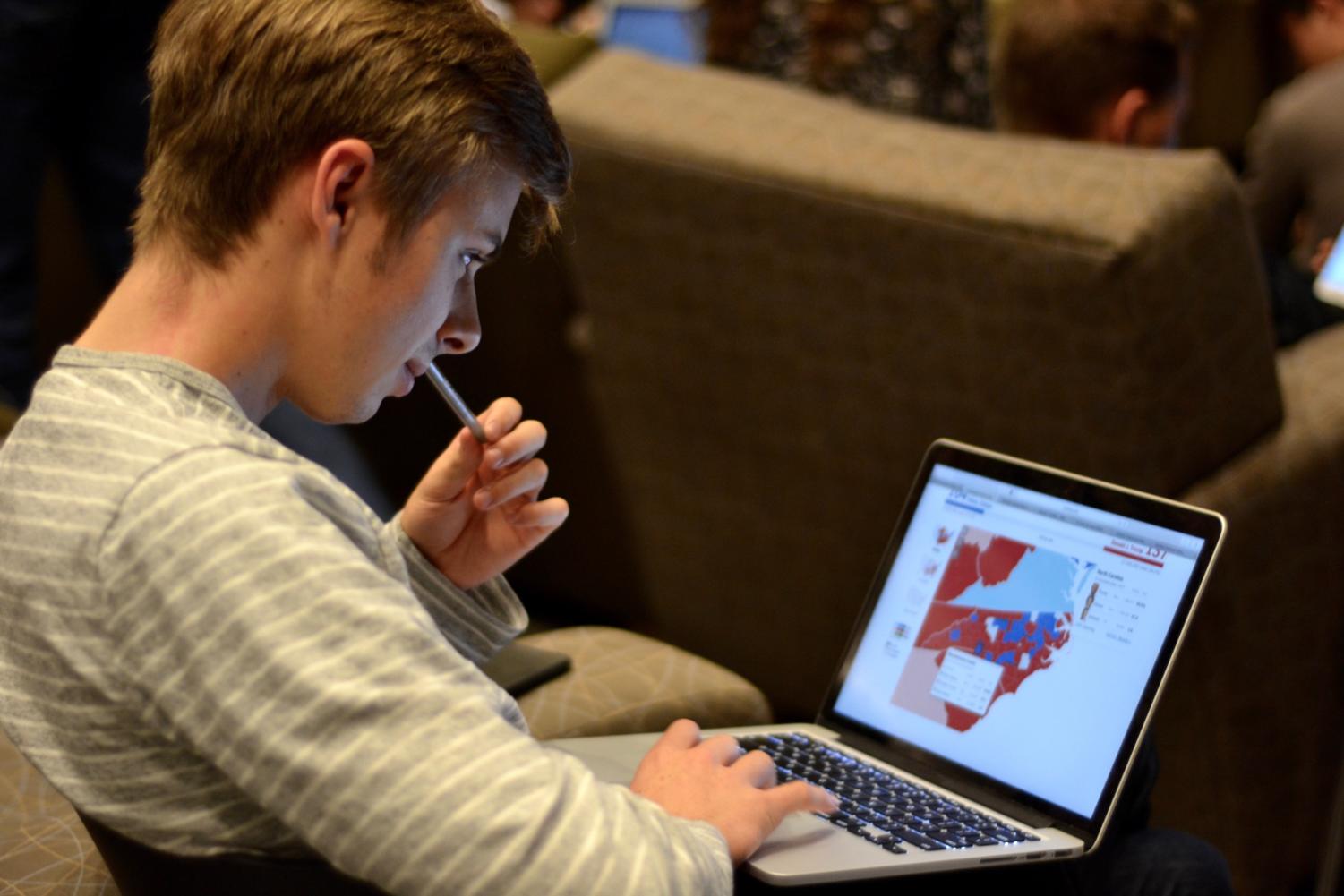 Holmberg expressed specific concern about Title IX. The Obama administration pushed colleges to adopt a "preponderance of evidence" standard for adjudicating allegations of sexual assault. That language calls for consideration of whether it is more likely than not that an allegation is true, as opposed to "clear and convincing" or "beyond a reasonable doubt" standards for adjudicating allegations. The 2016 Republican Party platform hopes to undo those efforts. It states that investigations by universities into allegations of sexual misconduct should be halted and dealt with at the law enforcement level.
"I am deeply worried about how a Trump administration would handle Title IX investigations and lawsuits. The Office of Civil Rights may look very different," Holmberg said.
Holmberg said that he has concerns about the future of access to higher education.
"As for the political climate on campus, I am hopeful that the election will spur students to take political action outside of the voting booth. For instance, the federal government will no longer address the climate crisis so institutions like UChicago need to lead on this issue. I hope students will take action to force the University to divest from fossil fuels and stop funding climate change, especially now. Young people have a lot to lose in the next four years, like health care under the Affordable Care Act, and it will take a strong student movement to fight back and create the future we deserve."
---
"Primal Scream," Ben Donvan
Second-year Ben Donvan, who participated in the primal scream, said that the collective expressions of disappointment and anger of Tuesday night were "cathartic."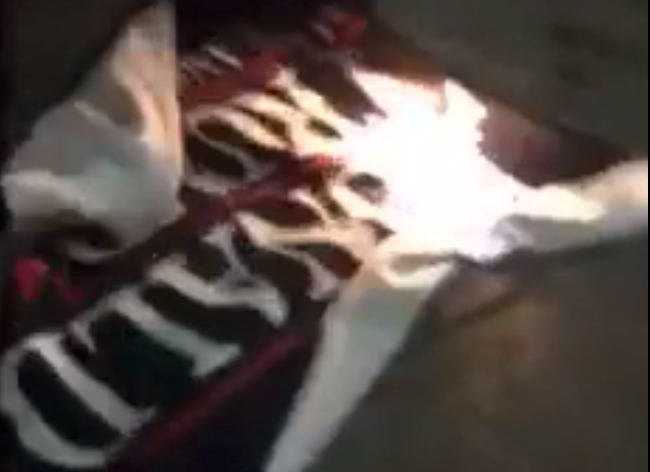 "[There was a] feeling of unity against the perceived threat of a Trump presidency. It was nice to see that there were other people who didn't really want it either," he said.
He also said that the burning of the Trump flag, while perhaps "sort of hypocritical," was an appropriate reaction.
"It's also free speech; it's been ruled that way by the Supreme Court," he said. "People were angry enough about the outcome of this election that they would resort to those kinds of measures."
---
Executive Director of the IOP, Steve Edwards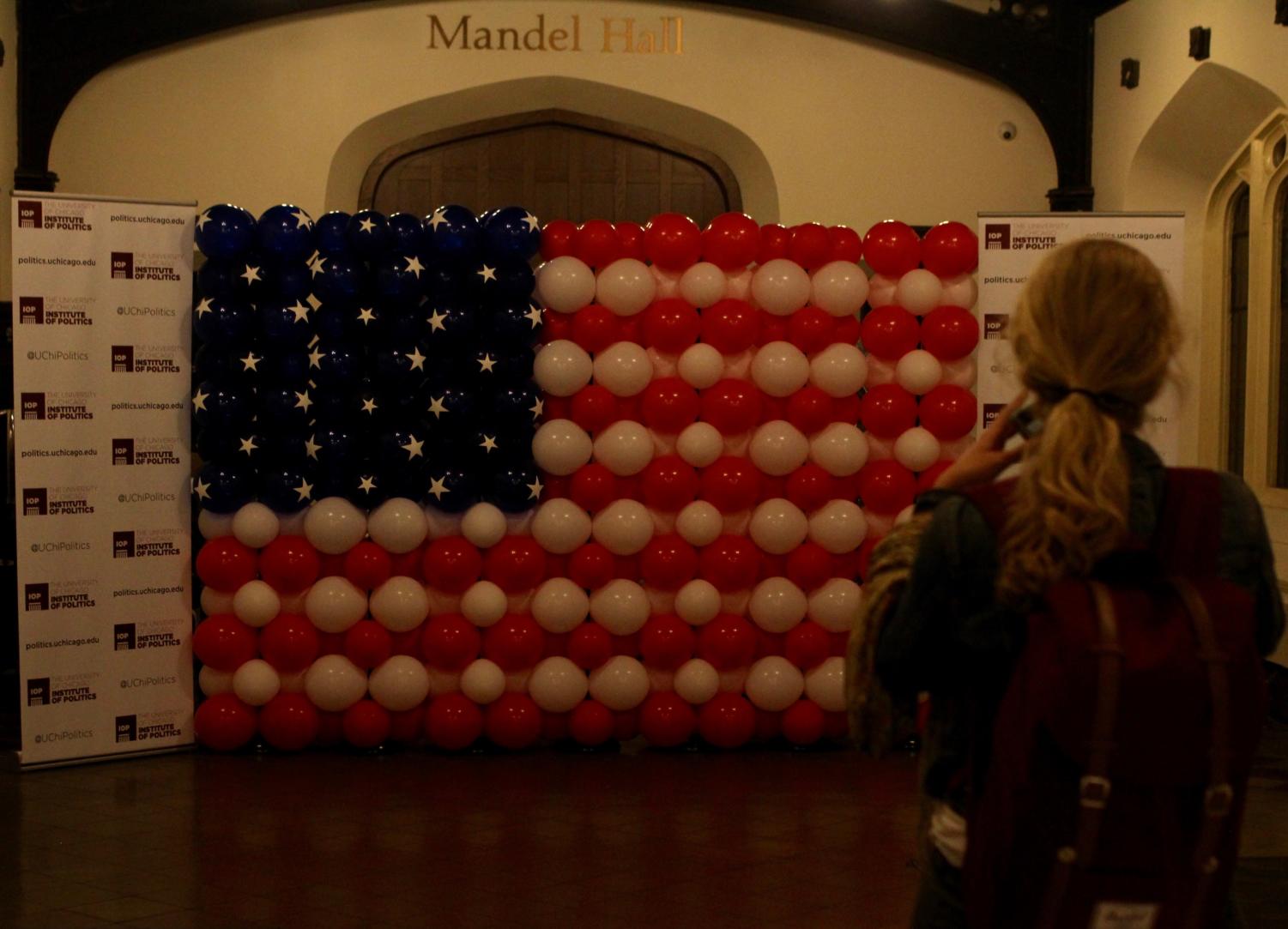 Steve Edwards, who joined The Maroon on Facebook Live last night, took a moment to reflect on the IOP's programming this election cycle.
"Since we only arrived on campus in 2012, this is the first time the IOP has had a chance to participate in the full arc of a presidential campaign," he said in an e-mail. "While we know that Tuesday's results surprised many and disappointed some, it's been truly inspiring to see the level and quality of our students' engagement throughout the campaign. Whether they're thrilled or upset by the outcome of this election, it's vital they continue to stay involved, be it as policy advocates, journalists, campaign staffers or even candidates themselves someday."