UChicago Manual of Style
The Maroon's fashion feature rigorously inquires: "Who are you wearing?"
AMINAH SALLAM / FOURTH-YEAR
I'm a bio major specializing in genetics from New York City but also Texas—it's a weird mix, I know—ethnically Egyptian, a coffee addict, and firmly team Kim/Kanye.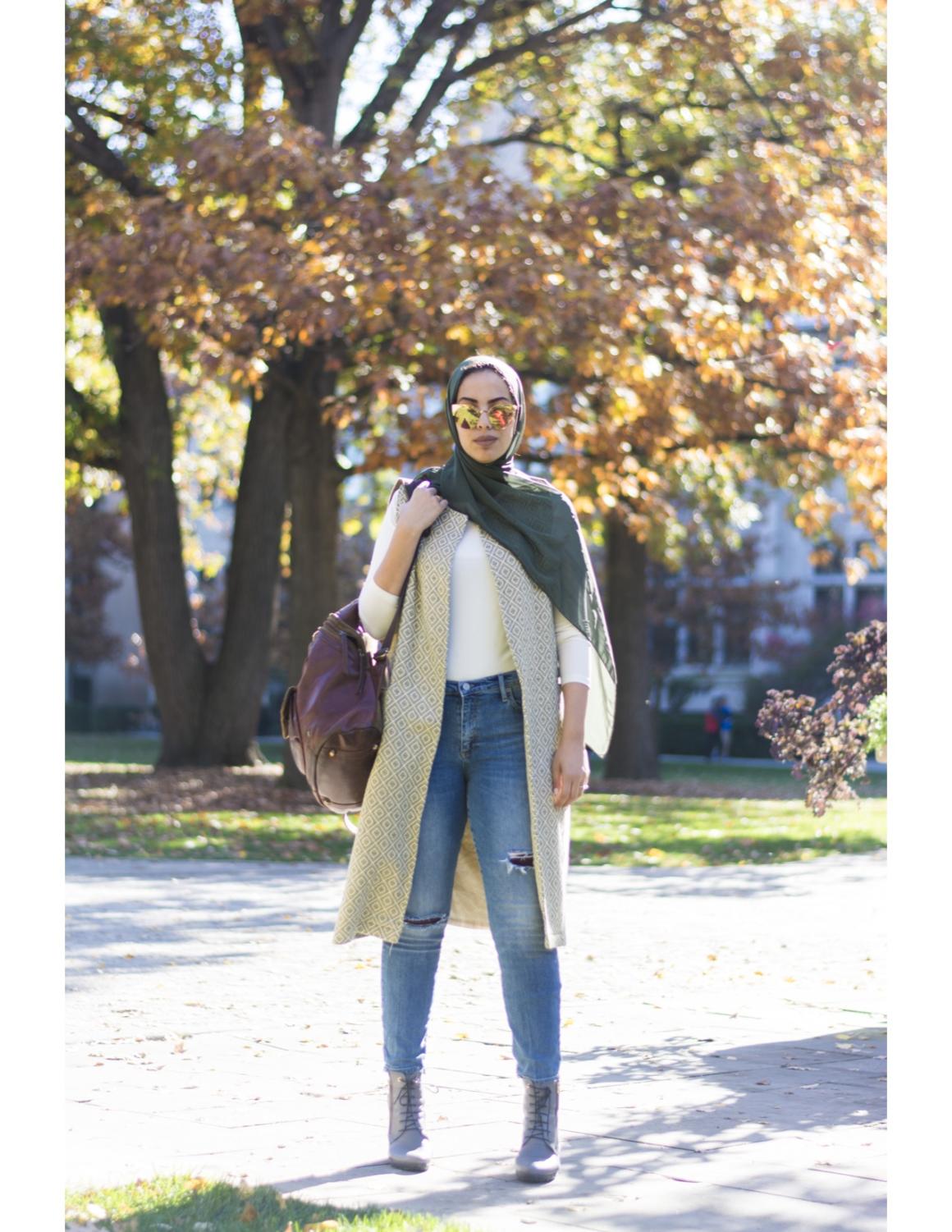 STYLE: I tend to dress in basics and then layer with statement pieces, i.e., a vest, embroidered jacket, a patterned scarf, or a statement bag. It's all about being comfortable, keeping things simple, and letting your clothes do the work for you.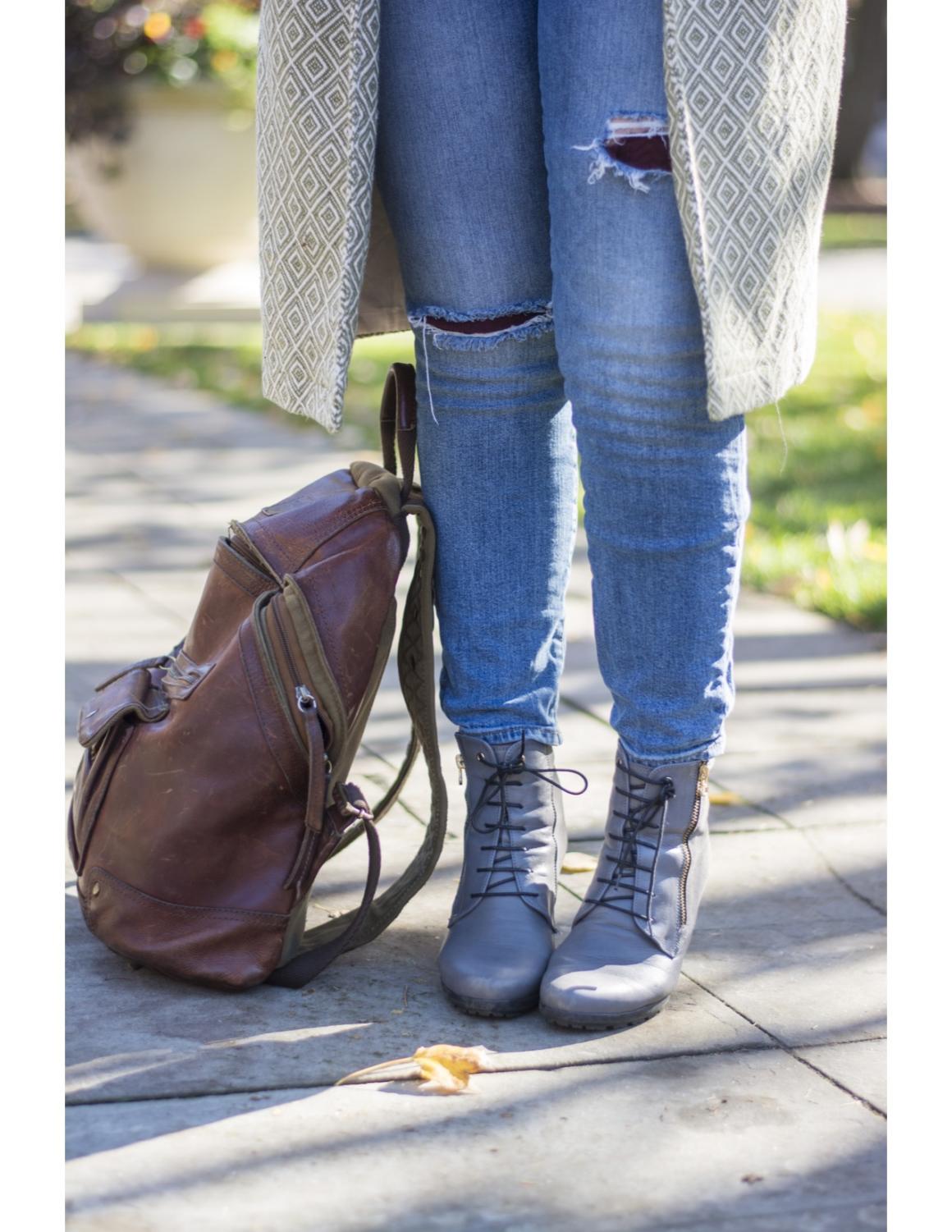 "I am obsessed with the vest—truly turns a basic outfit into something more dramatic."
INSPO: I have a bunch of religious requirements as to how I dress—headscarf, fully covered, generally modest—and it can sometimes be hard to keep up with trends and still ascribe to those requirements. I follow a bunch of Muslim girl bloggers, like Dina Tokio, feeeeya, and Hoda Katebi—she's my roommate and a UChicago alumna—who have really been working towards changing the fashion industry such that it is more accommodating for people of all faiths. They always give me new ideas on how to style what I wear/where to buy clothes.
OBSESSIONS: Over-the-knee boots—which I haven't been able to wear as much because it's still weirdly warm—anything metallic, and matte lipstick.

JASON DENG / FOURTH-YEAR
Hi! I'm Jason, a fourth-year bio major. If you spend any time in the Reg, you've probably seen me around since I'm literally always there. Otherwise, you may have seen me lifting in Ratner or skating (and falling) on my longboard!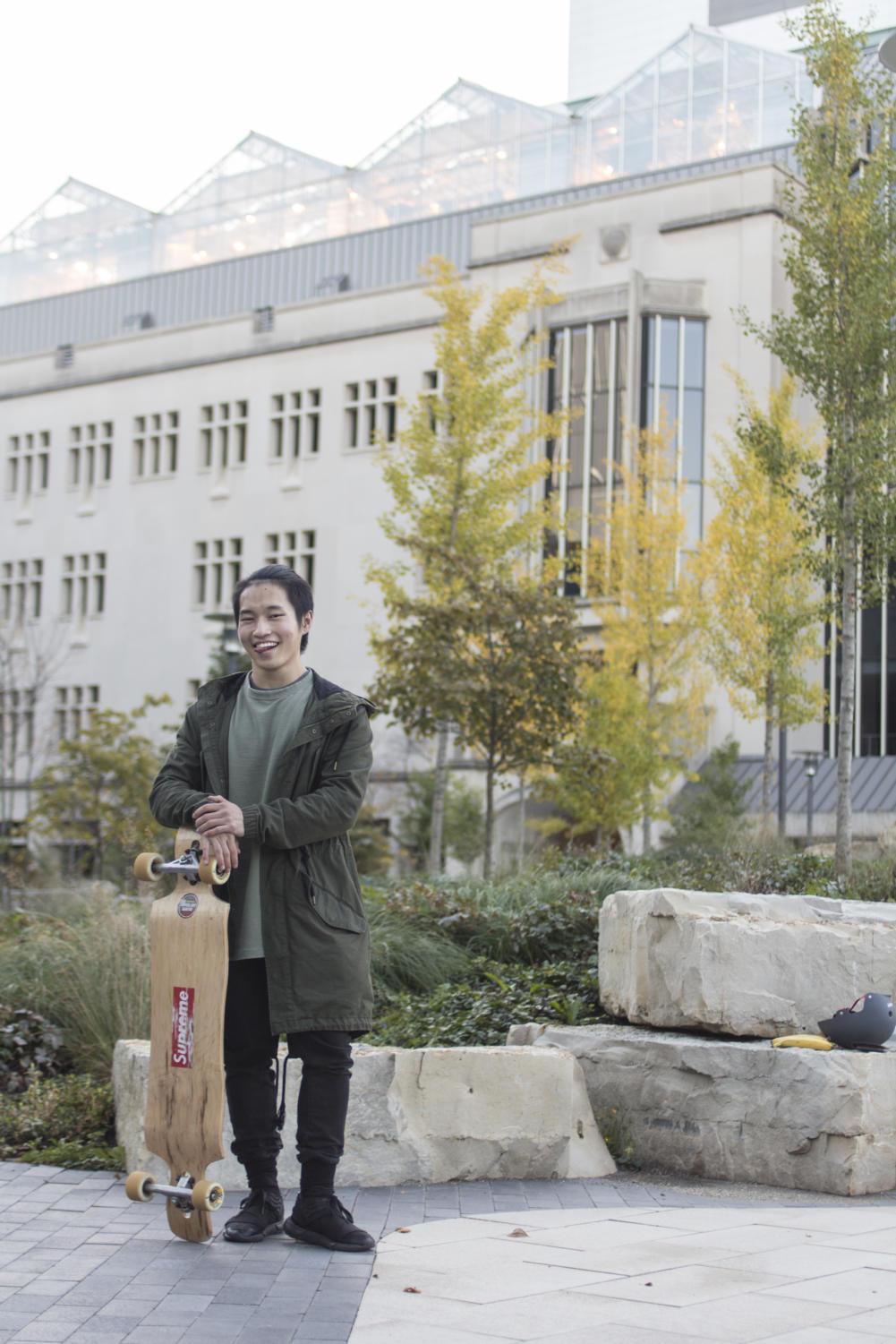 STYLE: Exaggerated! Androgynous. Blown-up proportions, elongated, dynamic, but also subdued, muted colors. I'm really into the current oversized trend and flowing silhouettes. Most of my outfits are heavily influenced by streetwear, so think layered hoodies, sweatshirts, denim jackets, stacked denim, joggers, and sneakers.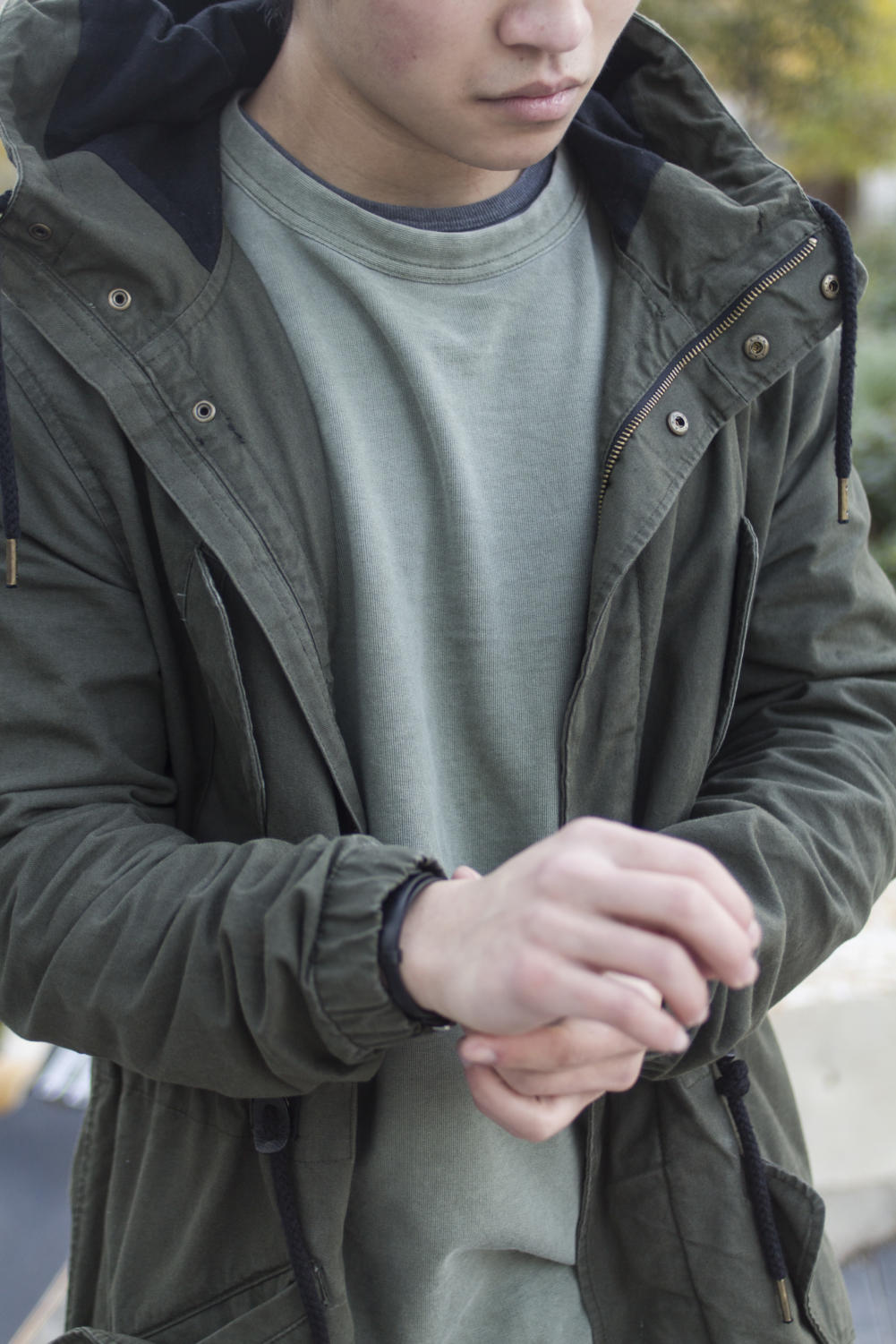 "My favorite piece from this outfit is definitely the Qasas for their silhouette. I feel like a ninja when I wear them."
INSPO: What really got me into fashion was a specific pair of shoes by Rick Owens: the tech runners, which were part of a collaboration with Adidas. I'd always been interested in fashion to some extent, but that was what got me really into it. Since then, I've been enamored with the Rick look (I've got three of his shoes now, if that says anything). It's one of my main inspirations, for sure.
I started getting into streetwear at a time when it was becoming increasingly synonymous with high fashion, in no small part because of Kanye's influence. I'd be remiss if I didn't credit him too! Though I have to say, Yeezy Season 3 was pretty weak.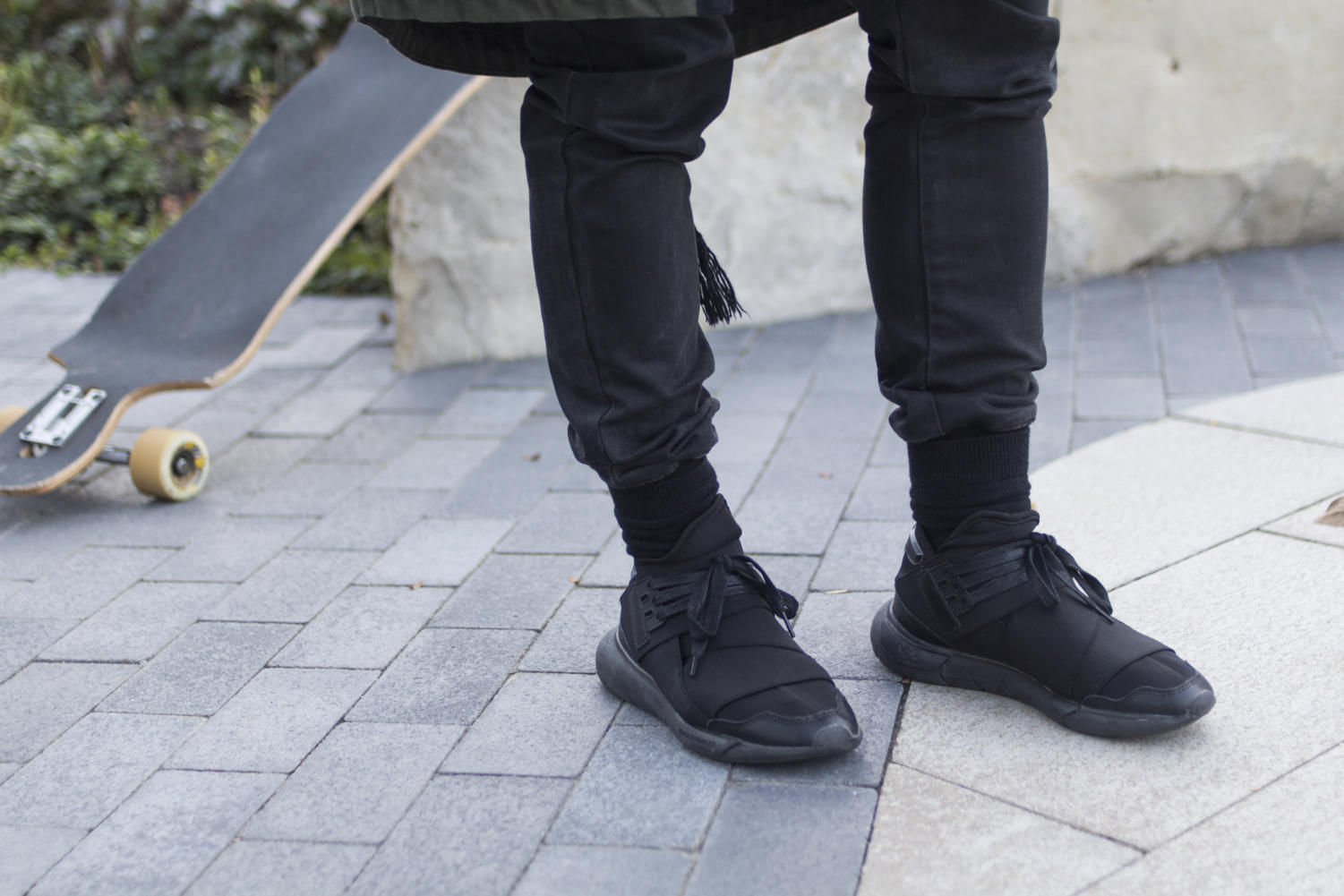 OBSESSIONS: Vetements, Vetements, Vetements. It's supposed to be a parody of fashion, or something like that. Something deep. Or maybe not. Maybe it's just phony. I don't know. Their stuff is so weird, but damn if it isn't eye-catching. I wouldn't wear a lot of their stuff (I'm looking at you, "Justin 4ever" sweatshirt) but I'm excited to see what they crank out. Another obsession: Alexander McQueen oversized sole sneakers. When you're my height, every inch counts.