UChicago Manual of Style
The Maroon's fashion feature rigorously inquires: "Who are you wearing?"
PRIYANKA SETHY / FOURTH-YEAR
My name is Priyanka and I'm a political science major originally from India. I'm involved with ChoMUN and MUNUC, and I'm in AOII as well.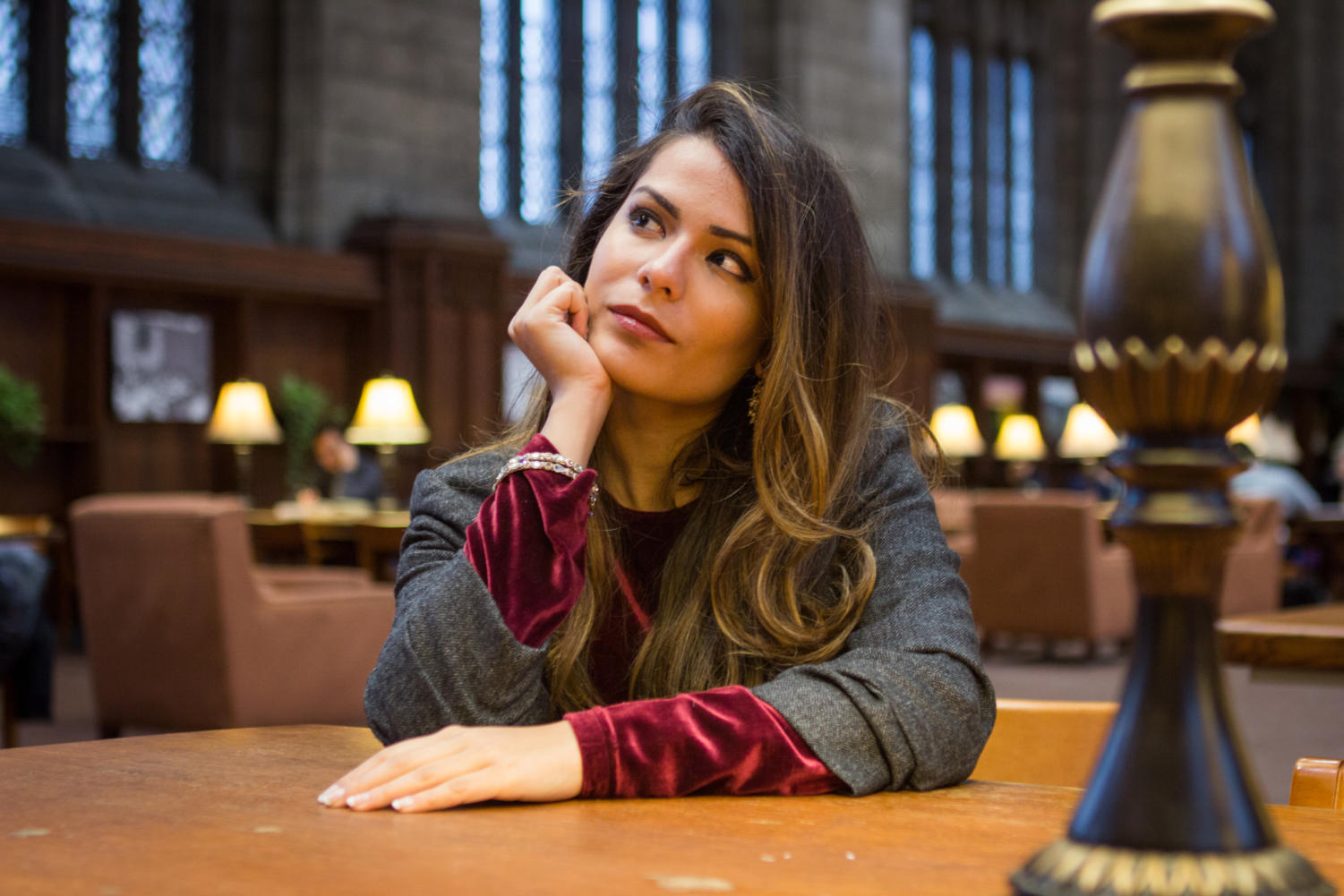 I think two basic aspects come to mind about the way I like to dress. One, I went to a school with a uniform. For sixteen years of my life I wore the same thing every day, and my school was very particular about the dress code. I still find it very weird to leave the house without a blazer. Two, growing up in India—around Indian fabrics, Indian clothes—influenced the way I think about silhouettes.
What I'm wearing now I wore as a student as well. The velvet top is actually from my mom. Velvet was big this season—it was also big when my mom was a teenager, so I raided her closet instead of buying a whole new wardrobe. The edges are similar to Indian kurtas with the slit and relaxed fit, which places more emphasis on the fabric. I could literally wear this with Indian clothes and it would look normal! I'm wearing a blazer as well—I had to wear one every single day to school. I feel naked without it.
"My general rule is that if I can wear it for work, I can wear it for life."
My style is pretty East-meets-West. Even if I'm dressing for work, I don't feel complete unless put on Indian earrings, for example. There has to be something that reminds me of my ancestry. When the West thinks about India, they think of saris, right? Growing up in India, you typically wear Western clothes as a kid and dress more Indian when you become an adult. Saris are not a big thing for younger people in Punjab, where I'm from: They're for when you get married. Young people wear salwar kameez—a longish shirt with slits up the side and loose pants—which the West doesn't really know about. The fashion in India right now is moving towards straight, flowing, almost skirt-like pants made of silk—I've started wearing them here with t-shirts and turtlenecks. The styles from northern India, and especially the silhouettes, influence the way I dress. I like to mix and match: The velvet top has a very Indian cut, and the skirt with tights is very Western.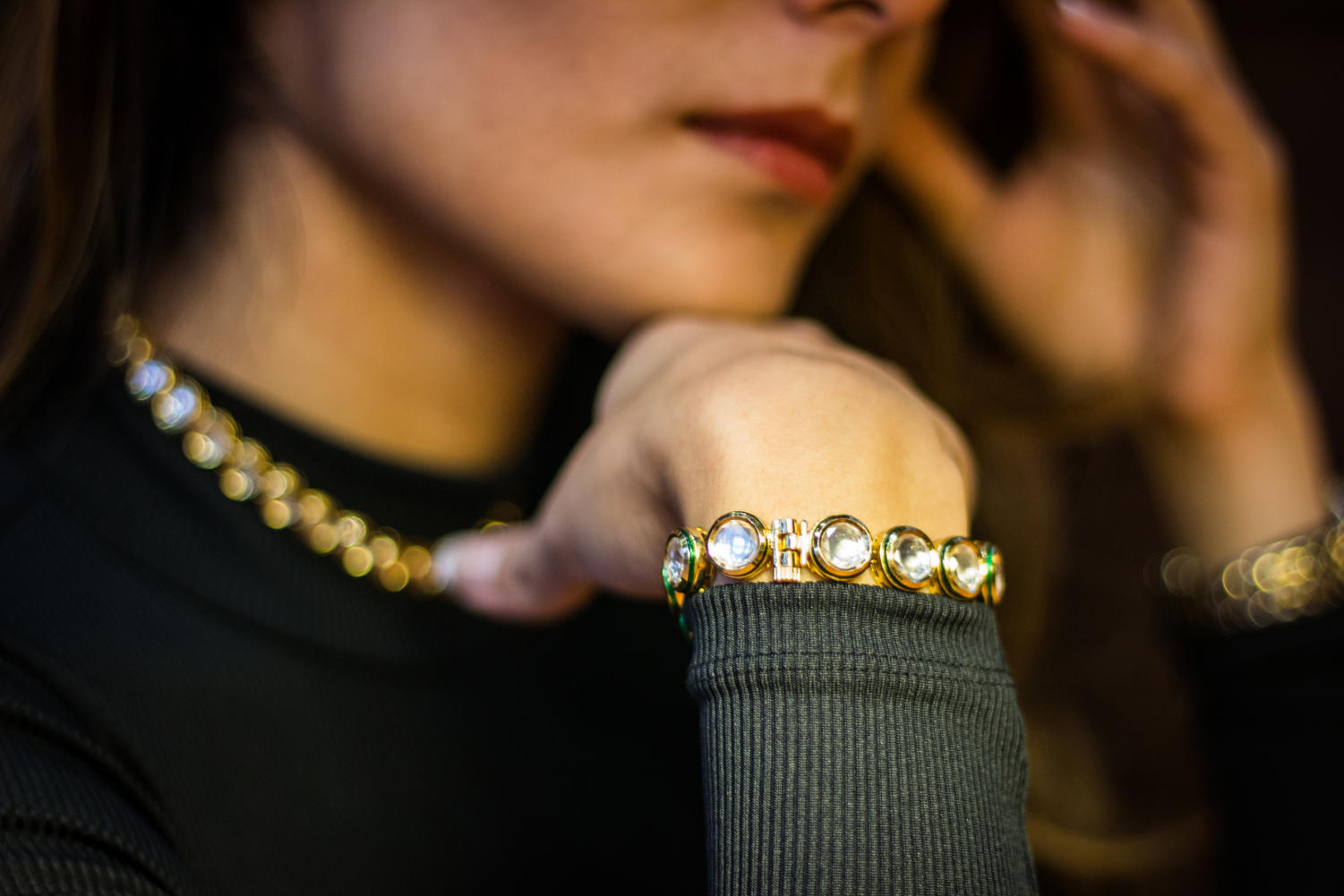 My general rule is if I can wear it for work, I can wear it for life—otherwise I just can't wear it. My basic color palette is very sober, mulled. But I always have one brightly colored piece with what I'm wearing—monochromatic grey or black doesn't feel right, given that my culture really values color and vibrancy. So I carry a lot of Indian silk scarves in bright blues, reds, purples, which I'll pair with my grey or black outfits.
Earrings are my preferred choice of statement. The good thing about living in the U.S. is that I can wear a lot of heavy Indian jewelry that would look out of place if worn as an everyday look in India. It's like wearing a tiara around—that would look very strange! But people here aren't familiar with what's normal in India, so I can exaggerate. I'll wear a lot of heavy jewelry that typically fits in with functions like weddings—but with a black dress or blazer.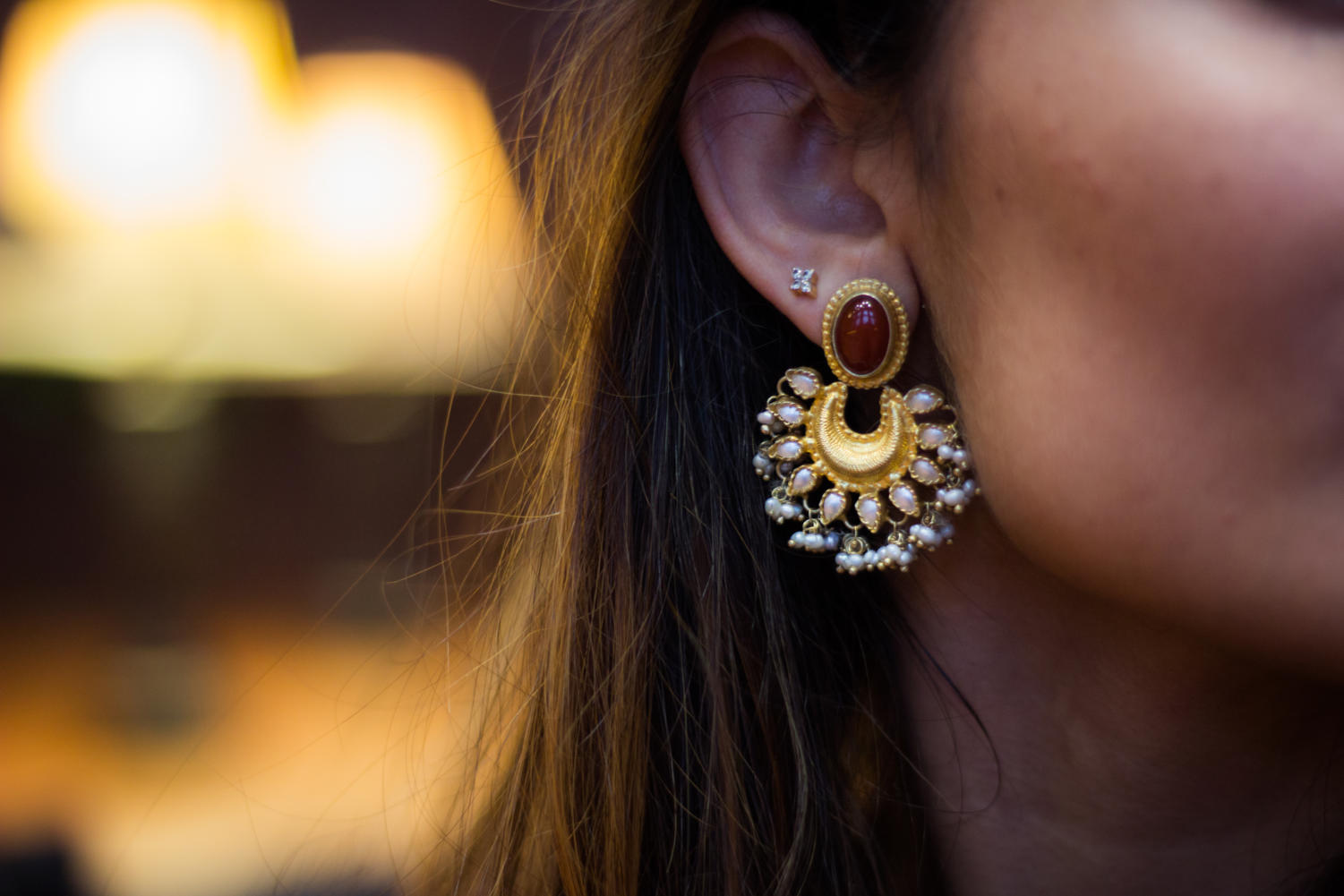 In India, jewelry with a lot semi-precious and imitation stones is popular. People keep their real jewelry at home unless you're going to a wedding. I really like kundan polki—kundan refers to uncut semi-precious stones set in a gold base, and polki is the same, with uncut diamonds. Of course, I'm not going to go around campus wearing diamonds! The necklace I'm wearing is a polki, but not the real stuff.
I'm going to back to India this weekend, actually, for a wedding. I'm super excited about what I'm wearing—I haven't seen it complete, because I did the fittings over winter break while it was still being made. It's a like a green crop top with traditional Kashmiri embroidery and a long, flowing skirt. Going back is really the one chance I get to wear Indian clothes—and I like wearing Indian clothes! There's usually a point where my parents tell me, "Stop dressing like a hobo or else we can't go out with you." But I really like the way it looks: A lot of it is silk, and I love the way silk falls. I can mix and match Indian and American stuff, but I can't walk out fully dressed in Indian clothes, so I enjoy doing that when I can. —PRIYANKA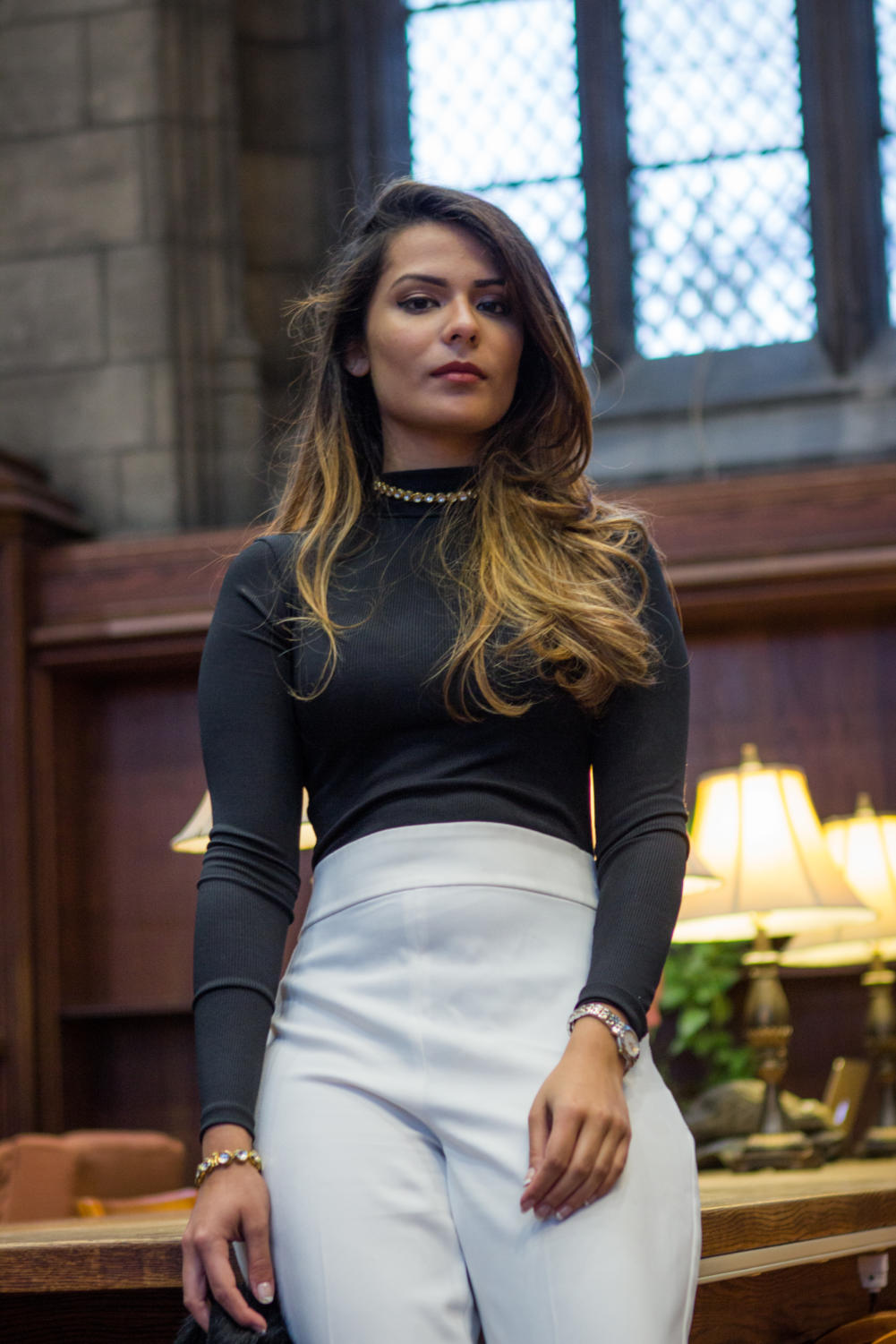 ---
SPENCER KAPLAN / FOURTH-YEAR
I'm Spencer, an international studies and economics major. I'm on the board of UCBA and Pareto Solutions, a campus consulting group.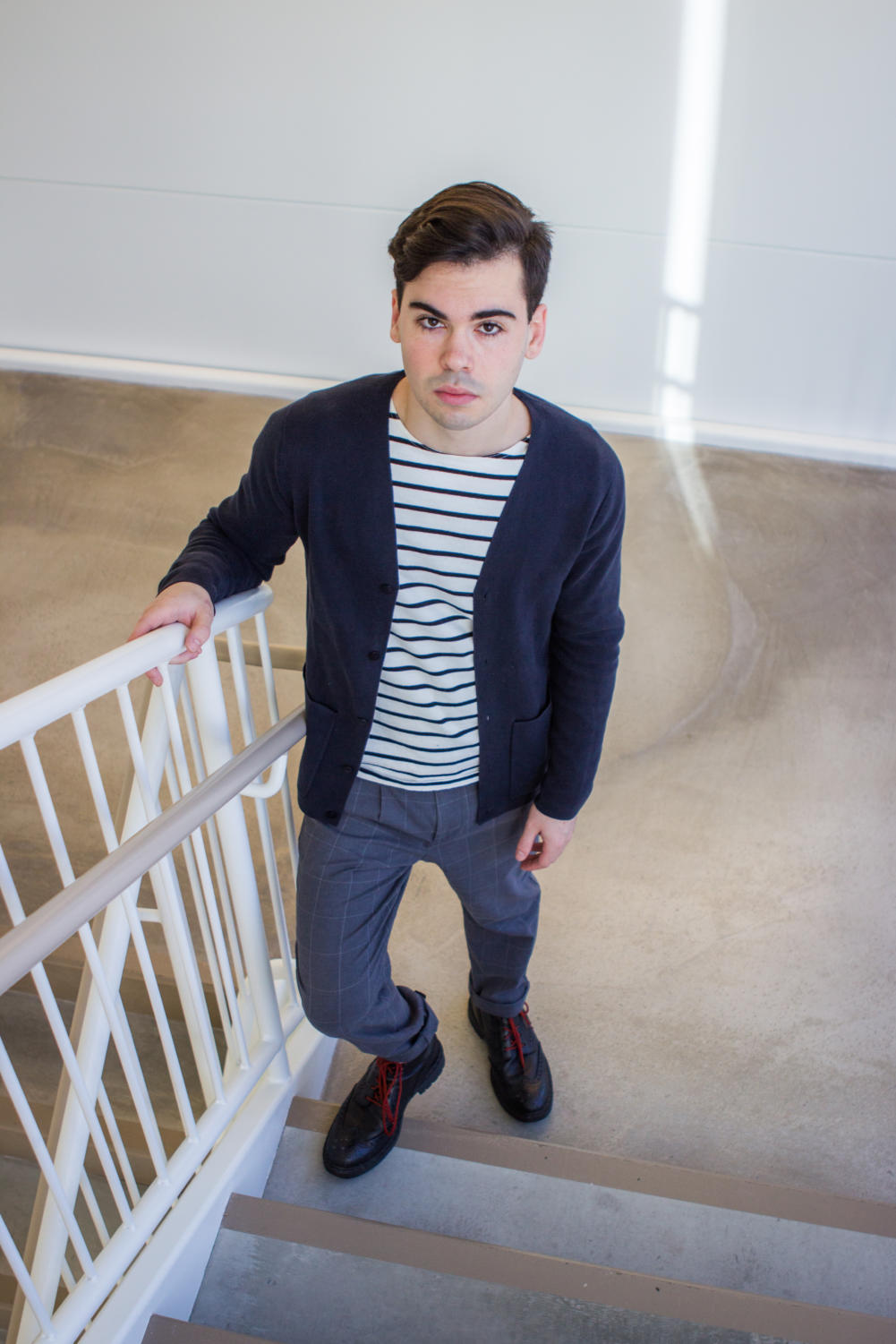 My outfits represent the very limited color palette of my wardrobe—I really only wear gray, black, cream, and navy. It places a lot of limitations on my style, which I like. I've been doing photography for many years now. In high school, I only did black-and-white film photography. That practice resonated with me because when you take out all the color, you get a lot more freedom to work with other aspects—say, pattern, form, shape, or line—within that limitation. With my style, I'll take out the colors and work in other dimensions to keep the outfits interesting.
For example, the textures that I pick. They all go together: very geometric and not too loud. In my first outfit, I'm wearing a Breton stripe tee and pants with a windowpane check—I don't think they clash because windowpane is just two sets of stripes at once.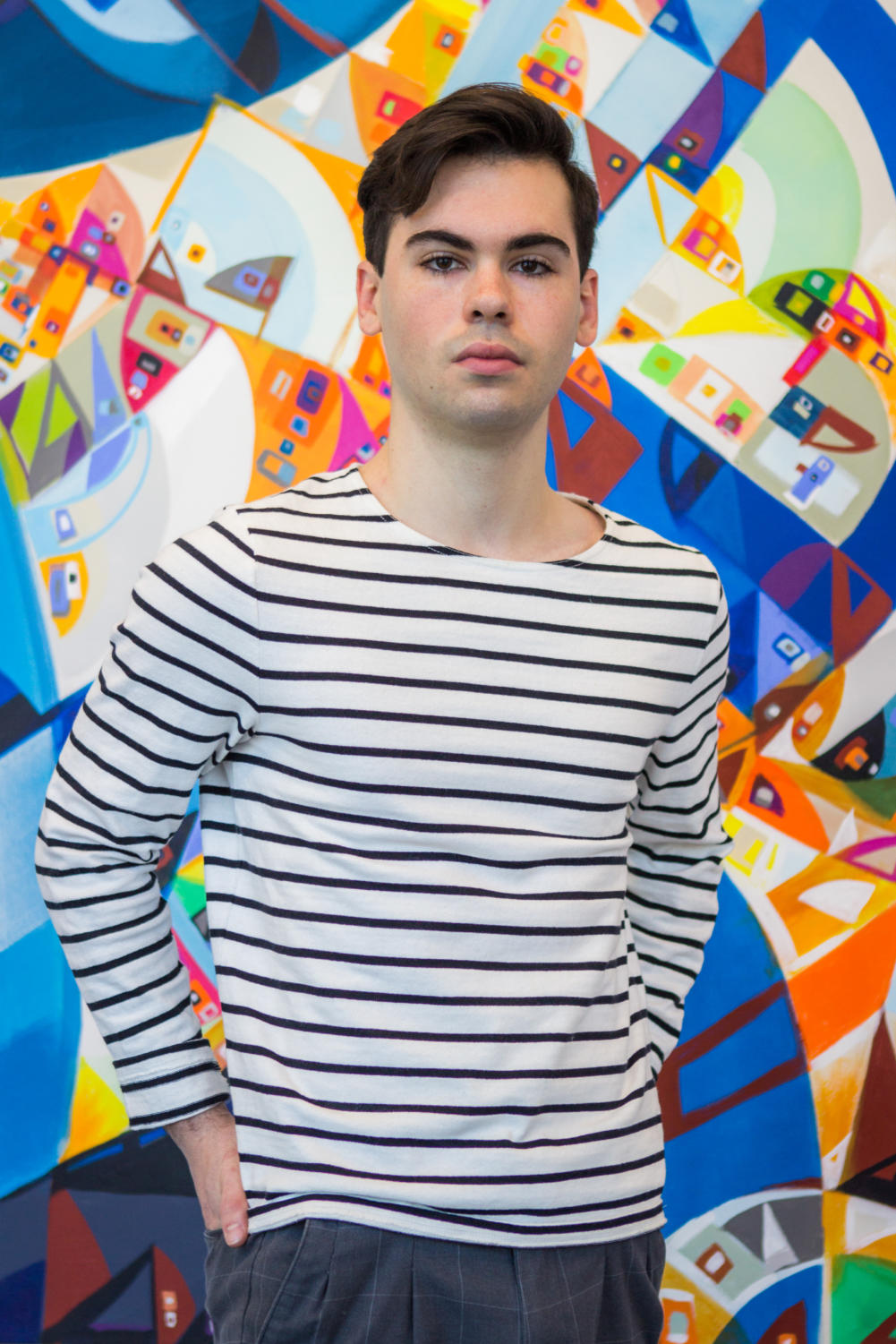 Material is another really interesting dimension I tend to think is overlooked by a lot of people. I'm very interested in architecture, especially modernist architecture which stresses material form versus embellishment. I think that characterizes my style pretty well. Instead of choosing clothing that speaks very loudly based on visual cues or details, I see the value of the clothing as something more holistic and intrinsic—a sense you get of how shapes, materials, and textures interact.
I think it's just a different way to look at clothing. My style isn't really a means for me to express myself; it's more of a private creative exercise where I'm not necessarily trying to show anyone anything. I'm trying to find myself in how I choose my clothing. It's more of a practice of self-discovery. I look at the same wardrobe every day—we all do—and the fun is making something new with it. Everything matches with everything else, since my clothes have no color! Maybe I'll put a knit cardigan and over a knit turtleneck and play with layering knits to make it interesting.
I like to work within a more rigid structure. If you have a lot of clothes that are very different, very embellished, you could put them together in wild new possibilities…but that feels too open for me. I'm more comfortable and productive if I set certain structures for myself—for example, sticking to neutrals. If I had all these wild pieces of clothing, then I feel like I would just gravitate toward the same combinations just out of habit. I'm taking out distractions, which gives me more focus.
"My style is more of a private creative exercise."
My hobbies inspire my dress. I mentioned photography before and how that's informed the sense of structure to my wardrobe. I make ceramics as well, which is all about form. Geographically I gravitate towards Scandinavian or northern French styles. The color palette is very similar across both—cloudy days, in a sense. I like cloudy days, and I dress for cloudy days.
That style feels more comfortable to me, especially with its relaxed, structured fits. Funny thing is, I'll go out in clothing I consider comfortable, and people will comment that I'm dressed so formally, even though I'm in a casual cotton sweater. I was at the dentist over winter break, and she asked me if I was going anywhere special after—apparently I overdress for the dentist's.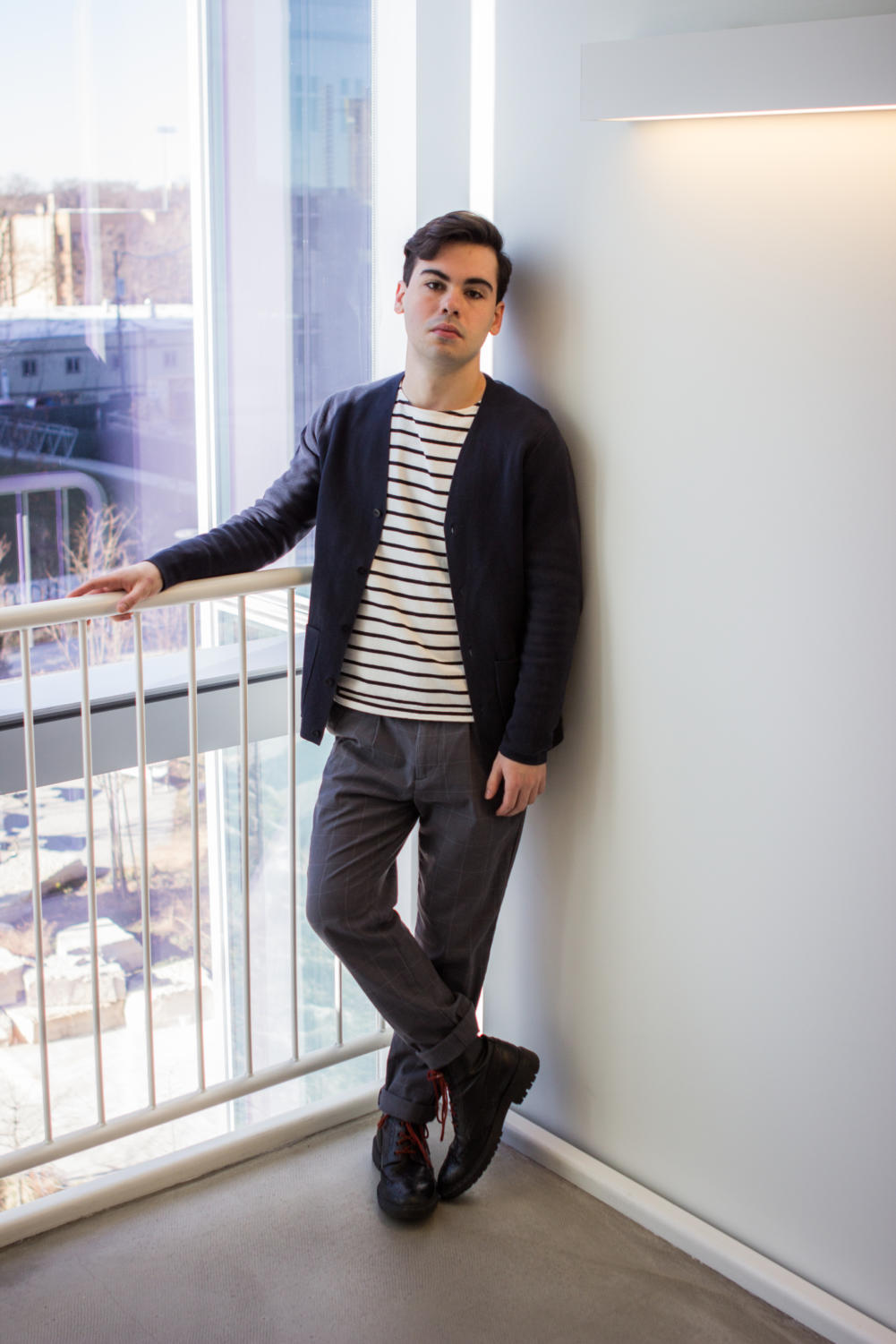 I'm also really inspired by Christophe Lemaire, the French designer. His clothes are very simple and capture what I like about form, innovating on traditional shapes or making clothes that look very comfortable to wear. I'm also into Issey Miyake. My interest in geometric prints comes from Japanese design. I love that he has a specific focus—fabric innovation—and all of his lines address how he works with fabrics differently. He's known for pleats…I think pleats are so cool! It's a pattern on clothing but in three dimensions, and it changes how the clothes sit on your body.
Speaking of pleats, I put these in myself [second outfit]. They didn't fit quite right when I got them from Uniqlo, so I practiced some of my new MODA designing skills and added pleats. I think that makes them unique and I like them more now. I'm not in a financial situation where I could buy all these custom-made clothes or clothing made in batches so small you can feel the aura of the designers. So, I am grounded financially in fast fashion, but I do try to pick pieces that I know will last a little longer. I want to be as responsible a consumer as I possibly can. I know that I have to buy clothes made in factories, probably made under poor conditions—but if I don't buy as often, if I buy for the long term, it feels more authentic to me. —SPENCER