Fans Flip Out Over Eclectic Twenty One Pilots Show
Twenty One Pilots brought backflips and "Blurryface" to Chicago last weekend.
He stood on the top of the piano, shirtless in bright red pants and a shock of lime green hair, heels hanging precariously over the edge. He pulsed to the song for a few moments before launching into a well-executed backflip, landing smoothly and heading back to the drum set. The crowd roared with excitement at what has become drummer Josh Dun's signature move in Twenty One Pilots' "Emotional Roadshow World Tour."
The stunt was one of many in a concert marked by its manic energy and dizzying visuals at the United Center on January 28, in which Twenty One Pilots mostly performed songs from its most recent album, Blurryface. Dun and lead vocalist Tyler Joseph regularly disappeared off the main stage to reappear halfway across the venue, or performed while being supported by the crowd in the pit, drum set and all. In a creative twist, Dun engaged in a furious percussion duel with himself—or rather, a pre-recorded video of himself blown up on the screen behind the stage. Towards the end of the set, Joseph challenged a fan to a game of Mario Kart on stage and broadcasted it to the entire venue (spoiler: he won, proudly proclaiming he was three-for-three on the tour so far). And throughout the concert, images on images of red-eyed rabbits dripping in blood, skull-faced ballerinas, giant pink roses, and black and white clips of books spiraling down a chute were juxtaposed over the musician's faces, playing out in the background.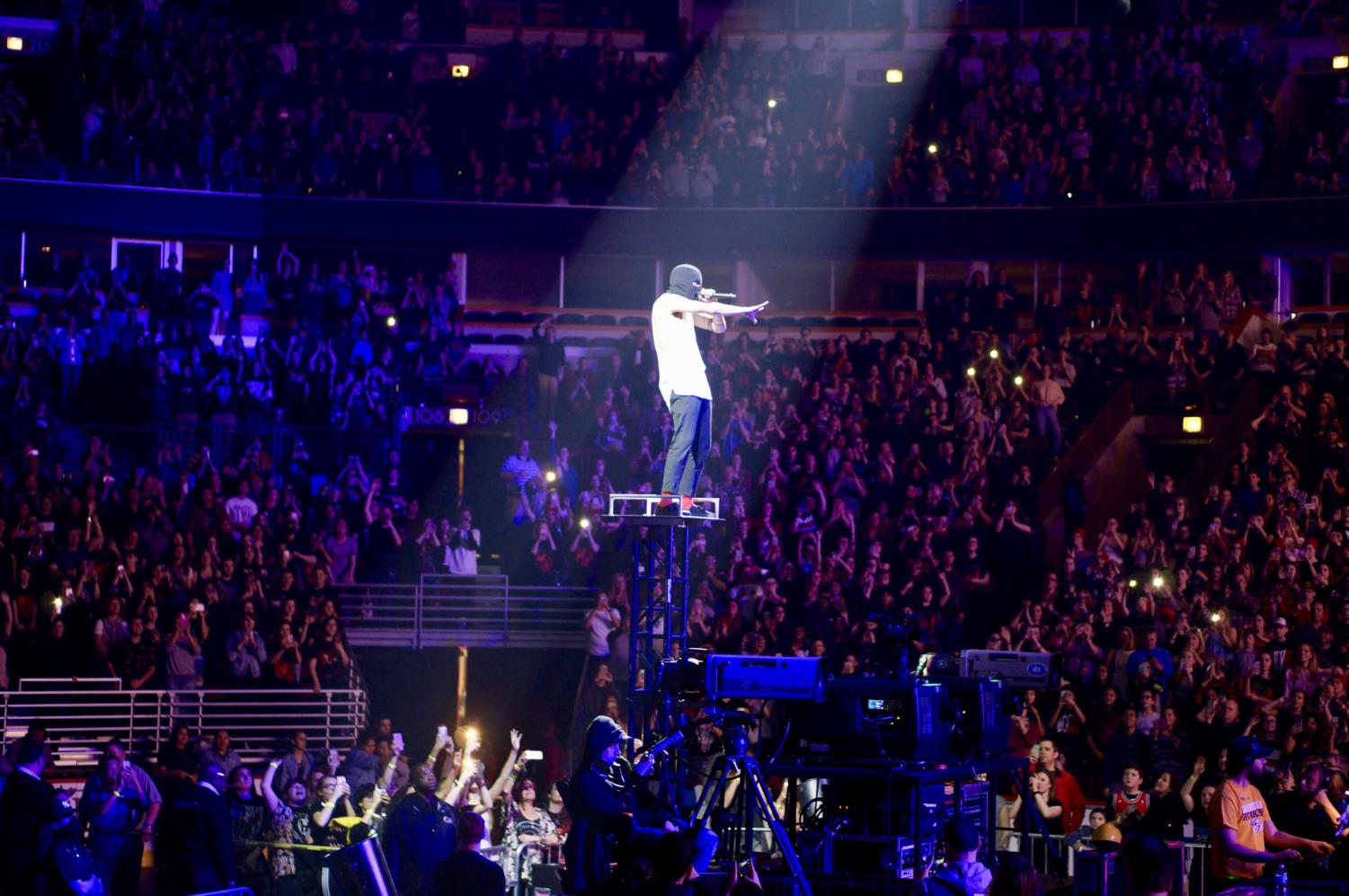 The pair began their set with a bang—quite literally. Bathed in sinister red light to match their red blazers and black ski masks, the first song, "Heavydirtysoul", came to a crashing conclusion with a gunshot noise and swiftly dimmed lights, the first of many bold unexpected moves by the duo. The effect was very much overgrown-prep-school-boy-meets-seasoned-burglar, thoroughly disconcerting but an attention-grabbing visual complement to the anxiety-tinged, no-fucks-given attitude of their music. This odd contrast permeated the show as the band careened between crashing, chest-thumping percussion, clear piano melodies and delicate ukulele strumming, slipping in and out of clipped rapid-fire rap verses, Steven Tyler-esque shrieks, and high-pitched crooning with ease. Joseph's outfits alternated between a floral kimono and ukulele, a look that was described to me as "Jason Mraz getting arrested for a DUI," and an all-black attire (complete with a shaved head, beanie, and tattoos) that better resembled an "addict skinhead at a 7/11 at 2 a.m."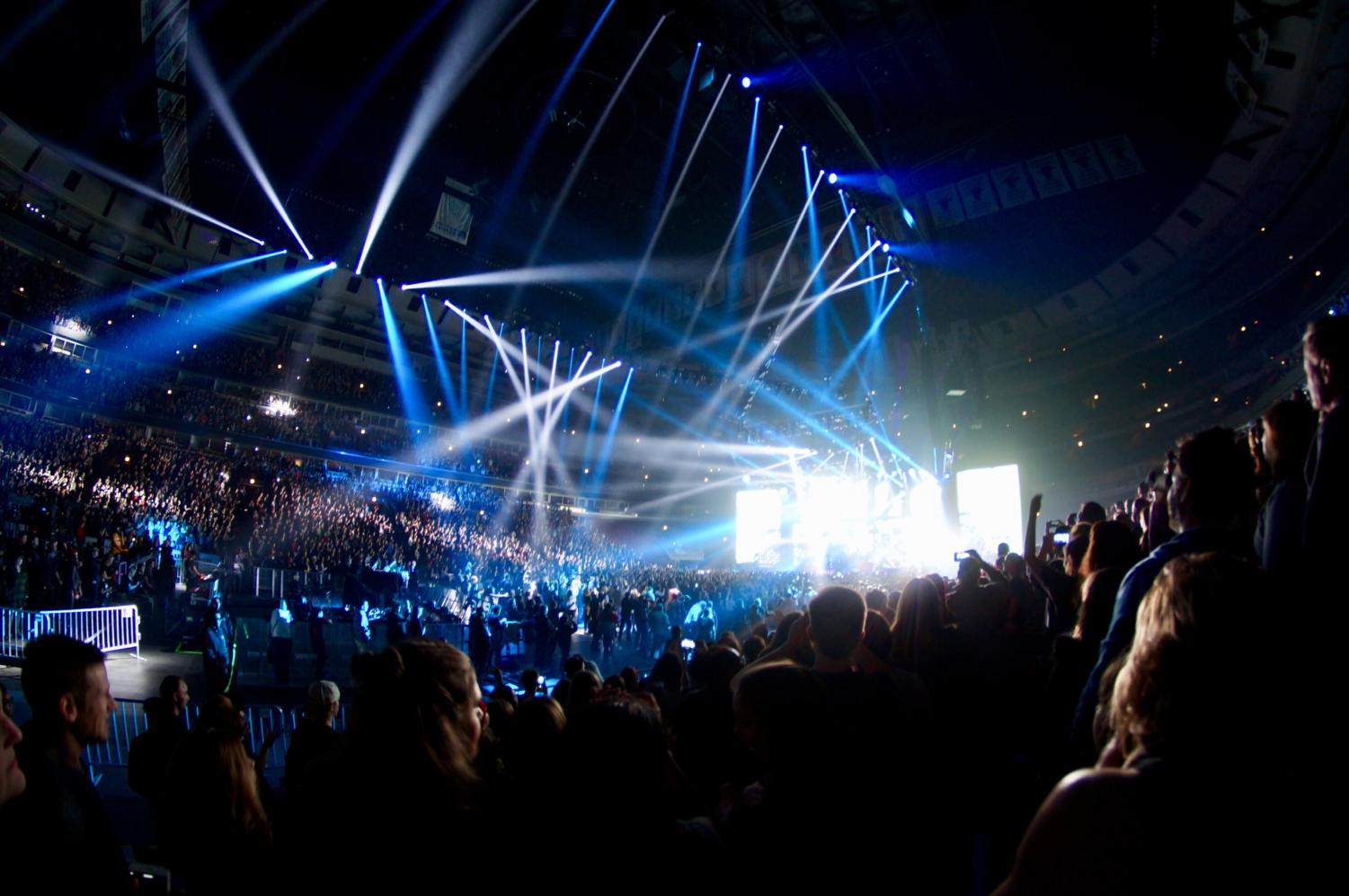 Performed live on stage, Joseph's rap took on a razor-sharp staccato edge, backed up by the furious intensity of Dun's drumming. A tense, rolling bassline that at times swelled to engulf the stadium occasionally gave way to plaintive fragile songs with quietly mournful piano melodies. A humming bassline added urgency to the soft anguish of "Cancer" as the audience swayed, iPhones aloft for a thoroughly twenty-first century concert experience. "Stressed Out," the biggest hit off their recent album, built up to a frantic crescendo, coming to an abrupt halt with another unexpected gunshot. The audience sang along nostalgically.
"Emotional Roadshow World Tour" marks the cap to a stratospheric year for Twenty One Pilots. They were nominated for five Grammys, released the top single for the highly anticipated Suicide Squad, and had two singles in the top five Billboard Hot 100 Chart at the same time—making them, along with Elvis and The Beatles, one of the only three rock acts to have ever accomplished that feat.
Exploring growing up, the confines of society, anxiety, and living up to expectations, Blurryface has been described as "schizophrenic pop" for its genre-defying sound. Spanning reggae, hip hop, rock and electropop, the album's amorphous nature resonated with the varied makeup of the audience: teenage girls bickering over whether the cute blonde across the aisle was "big on social media or something," middle schoolers with fuschia mohawks and beanie-topped shaggy skater boy cuts accompanied by their bemused looking parents, and 20-somethings who drunkenly sang along to the opening act's set.
Borne aloft by furious energy and sheer overwhelming stage presence, Twenty One Pilots puts on one hell of a show, skipping between genres and tempos like Dun's piano flip—with unexpected ease and daring, but always landing smoothly before launching the next stunt.