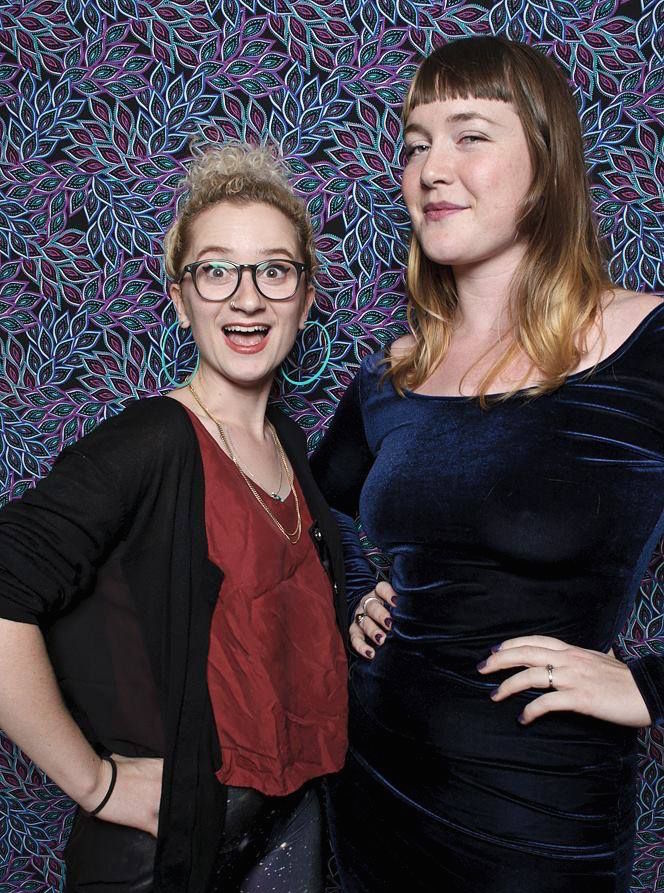 On Tuesday, the Museum of Contemporary Art (MCA) hosted a screening event for Open TV—a production platform for independent visual artists—featuring premieres and first looks at new series and seasons, followed by Q&A sessions with some of the artists involved in each project. Open TV describes itself as an "arts incubator in beta" which seeks to give queer, trans, and cis-women and people of color the platform that commercial television studios and networks often cannot provide. This vision came through at Tuesday's event, which presented clips from three of the platform's burgeoning series: Afternoon Snatch, Brown Girls, and BRUJOS.
The event was emceed by Aymar Jean Christian, an assistant professor of communication at Northwestern University who originally conceived Open TV as a research project. Christian aspires to use the research collected from Open TV to foster more inclusive practices for arts institutions in the era of digital media. The series and one-off projects cultivated by Open TV offer a wide range of content, themes, and stylistic formats, all created by a diverse and collaborative community of artists often marginalized by society and excluded—both implicitly and explicitly—from mainstream film and television production companies.
The first series showcased was Afternoon Snatch, a web comedy about heartbreak, queerness, and community that centers around a group of coworkers at the fictional local feminist magazine Snatch. Creators Kayla Ginsburg and Ruby Western represented the series at the event. The interplay of their two personalities—Ginsburg's bubbly pragmatism and Western's candid comedy—proved to be an excellent match for the Q&A session, which mirrored an iconic late night show format. Guided by questions from Christian, Ginsburg, and Western discussed the inception of their show, the creative writing process, and the experience of working on such intersectional material with an equally diverse cast and crew.
The next screened clip came from the series Brown Girls, a web series by poet Fatimah Asghar that follows the supportive friendship of two roommates: a queer South Asian–American writer and a sex-positive African-American musician. Series cinematographer Hannah Welever and supporting actress Minita Gandhi discussed their experiences of working on the show. Welever discussed the importance of women occupying skilled positions on production sets to both enhance the final artistic product and combat gender workplace stereotypes in the film and television industry. Minita added to this sentiment, noting how a creative community dominated by underrepresented peoples significantly—and positively—affected both production and experience.
The last screening was an episode from Open TV's radical web series BRUJOS, which follows a coven of four queer Latino Ph.D. candidates who lead double lives as budding witches who must battle a secret society of white, witch-hunting, heteronormative male descendants of the first New World colonizers. The show champions the television format as a medium for critical dialogue to address the progressive but insufficient landscape of mainstream television. It acts as a sort of dialectical solution for the shows depicting American families of color (i.e. Fresh off the Boat, Black-ish) or white gay men (i.e. Modern Family, Looking) that, while making advances in representation, fail to be politically challenging due to culturally dominant values and narratives. Director Reshmi Hazra Rustebakke and director/writer/creator Ricardo Gamboa represented the show at the event and engaged in a passionate discourse on relationality, radical intimacy, and [mis]representation of spirituality and the occult. Gamboa sardonically bolstered his zealously radical attitude with his attire—a casual ensemble that included an iconoclastic black kilt and a tucked white shirt that read, "The MCA is elitist."
BRUJOS and Gamboa's subversive tone arrived as a fitting conclusion to the evening, unifying the envelope-pushing elements of each series under the common enterprise of Open TV that rejects mainstream artistic modes of production and the complacent lack of representation that accompanies them.
Learn more at Open TV's website, and keep an eye out for further developments from Open TV, as its work may be closer to home than it sounds (one of the scenes from BRUJOS was filmed in Cobb Hall).