Demonstrators March to Show Solidarity for Immigrants, Minorities, and Women
Around 60 students and faculty took part.
Around 60 students and faculty took part in a "Solidarity March" around campus on February 10 to show their support for immigrants, minorities, and women.
The protesters marched from the main quad to the Reynolds Club courtyard, chanting slogans like "this is what America looks like" and listening to speeches of encouragement from community leaders involved in social justice work.
"The main purpose here was to show students who are especially vulnerable under Trump's presidency that there are students on campus who want to protect them and to resist the violence of this presidency," co-organizer and second–year Mary Blair said.
Third–year Shae Omonijo, one of the organizers of the event and a first-generation American, explained that the purpose of the march was to demonstrate unity and to emphasize the importance of civic engagement, rather than being an "anti-Trump" rally.
"This event came out of weeks of frustration with our current political climate," Omonijo said. "The things that we are seeing right now in politics allows people to fold into themselves and not find some sort of community or coping mechanism."
Blair said she wanted to organize a solidarity march long before Donald Trump was elected President, but that his recent anti-immigration executive orders catalyzed her immediate action.
Third-year Musaab Bashir said he joined the march because Trump's immigration ban directly impacts his Sudanese family.
"This march is important because it's all about bringing people together, showing us that we are not alone," Bashir said.
Speakers who addressed protesters in the courtyard included Kevin Lane, the campus programs manager for Barack Obama's initiative Organizing for Action, which supports community organizing in alignment with the former president's policies, such as immigration reform.
Lane said that during his first year of college, Obama was elected for the first time, resulting in a "joyful" and "hopeful" atmosphere on campus.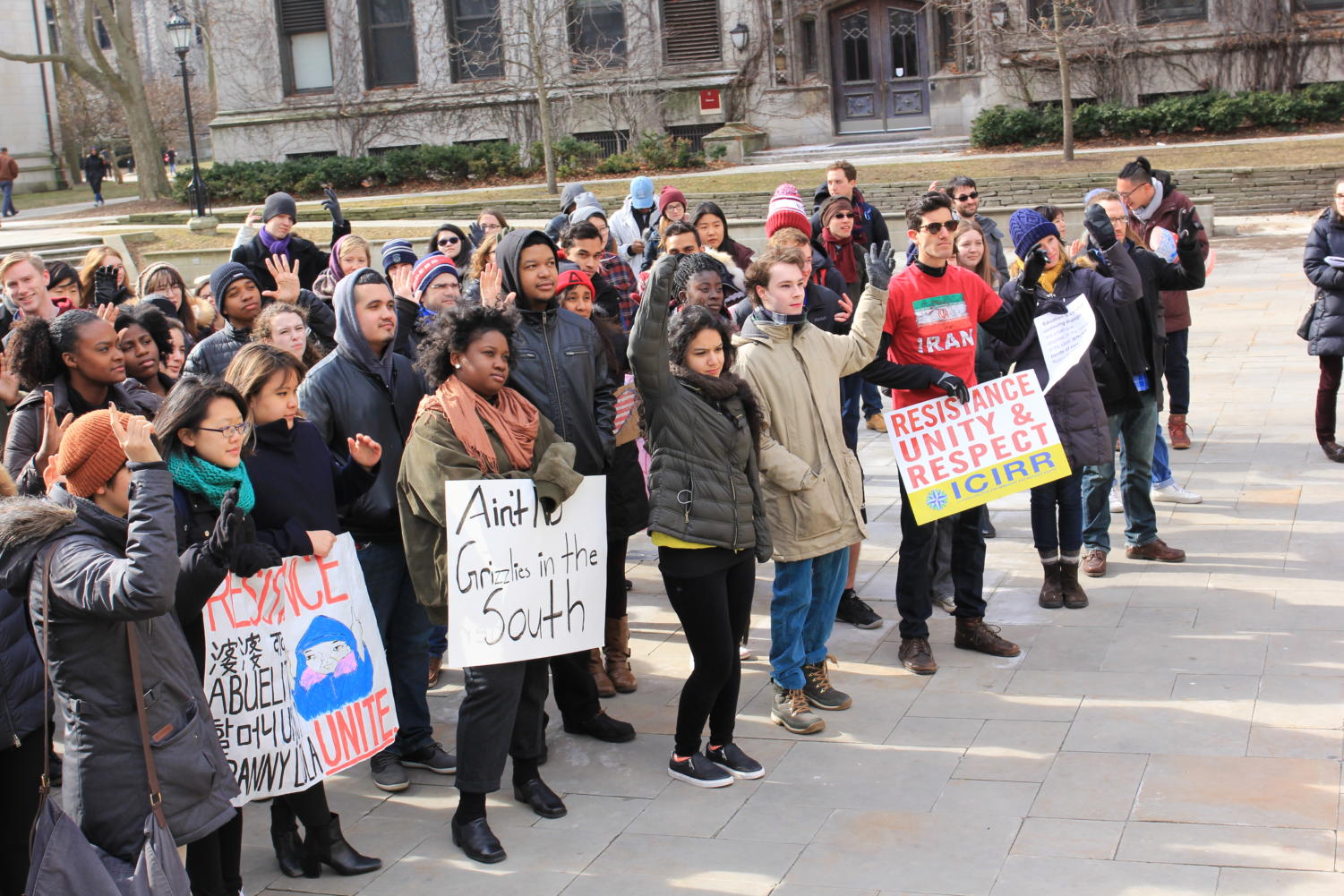 "Today, we are obviously in much more challenging times," Lane said. "But I am still hopeful because of the huge amount of people in action, in protest, in rallies all across the country."
Fifth-year Ph.D. student in sociology and leader of UofC Resists, a group opposing Trump, Jaclyn Wong spoke to the crowd protesters.
"We need to be coming together, because coming together makes us really powerful," Wong said. "When I look out and see this crowd, I feel confident that what we are doing will make a positive change for our community and for our country."
Senior Assistant Director for Social Innovation and Philanthropy Xavier Ramey encouraged students to reexamine the concept of community and their interactions within those communities.
"When we talk about diversity, when we talk about what it means to be community, we have to also understand that we must also reexamine and re-engage the way we relate to one another," Ramey said. "Let us be very clear: this is a culture war."
Groups which supported and attended the event include Organization of Black Students, African Caribbean Students Association, Muslim Students Association, Students for Justice in Palestine, MEChA, J Street, Leaders of Color Initiative at the Institute of Politics and the PanAsia Solidarity Coalition.