How CPS's Spending Freeze Hits White v. Non-White Students
A Maroon analysis found that CPS's recent budget freeze generally hits non-white students harder than white students.
This month, Chicago Public Schools (CPS) announced a $46 million spending freeze affecting all 516 district-operated schools in the city. For many schools, these cuts will come after budget decreases following the 2015-16 school year.
The spending freeze was criticized for disproportionately affecting minority schools. In response to widespread disapproval, CPS announced it would return $15 million to the hardest hit schools in an attempt to lessen the racial disparity.
In December of last year, Illinois Governor Bruce Rauner vetoed a bill that would have allocated $215 million to help Chicago Public Schools (CPS) fill its budget gaps, putting Mayor Rahm Emanuel's CPS in a bind. CPS says it has already cut what it can in terms of administrative costs, but any layoffs would provoke a response from the teachers union.
So CPS is freezing spending, but just how unevenly are the cuts distributed across schools?
The Maroon analyzed school-by-school budget data from the February spending freeze as well as the budget changes made in July to CPS's 2016-2017 Demographics report and its Limited English Proficiency, Special ED, and Low Income report in order to see if any correlation existed between the percent a school's budget was cut and the demographics of its student body. Each school is broken down into the percentage of Black, Hispanic, and White students in attendance. Any school with more than a 20% White student population was considered to have a "significant" White population in order to see the effect of having White students on budget cuts. The Maroon also looked at socioeconomic status of students, and deemed any schools with more than 80% of students considered to be economically disadvantaged by CPS to be an economically disadvantaged school.
---
Summer Budget Changes
Figure 1: School Summer Budget Changes by Student Body Race & Income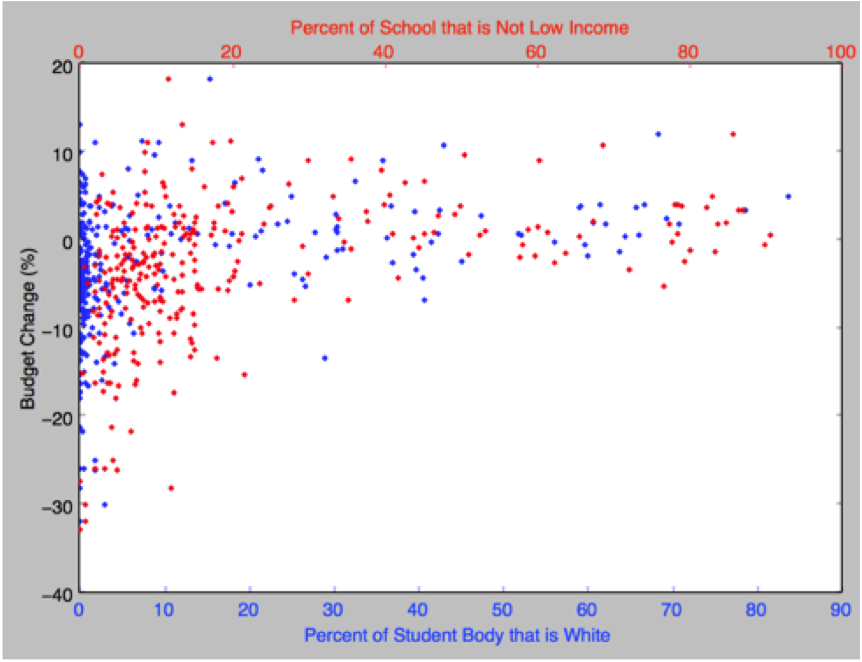 ---
---
These graphs show that while non-White schools received an average cut of 4.41%, White schools had their budgets increased by 1.02%. Enrollment at predominantly White schools increased by 1.56%, and while enrollment decreased by 3.98% for the average non-White school. However, because of how school funding is assessed, a linear relationship should not exist between enrollment and budget change because school funding depends on more than student enrollment numbers. Even more significantly, schools with at least 80% economically disadvantaged populations experienced a more than 5% decrease in their funding, compared with a 1.30% increase for schools with fewer economically disadvantaged students. Unfortunately, CPS could not be reached for comment by the time of publication to comment on these changes.
---
Midyear Budget Cuts
---
---
---
Unlike the previous budget changes, which included increases for some schools, the recent $46 million freeze reduced funding across the board, though non-White schools witnessed an average 1.69% budget cut while White schools were only cut by an average of 1.28%. Similarly, the budgets of economically disadvantaged schools were slashed .42% more than more advantaged schools.
For both this set of data and the previous one, The Maroon ran a T-test to determine the significance of the results. For the 2015-2016 changes, the p-value for the difference between White schools and non-White schools was 0.0000033, and for economic disadvantage the p-value was a thousand times smaller. For the midyear cuts, the racial differences had a p-value of 0.002218, and economic differences had a p-value of 0.0002387. These values indicate that the relationship between a school's average budget change and its demographics are positively correlated.
The trends from the budget data indicate that students of color experienced more significant negative impacts from all budget modifications in the past year than White students. Combined, eight Hyde Park schools are losing more than $664,000. Woodlawn schools like Wadsworth, which hosts both the UChicago Neighborhood Schools Program and the UChicago Jumpstart program is losing an additional $170,000 midyear. These cuts come after losing over $24,400 between school years despite a 1.0% enrollment increase. These cuts signal a freeze on all non-personnel expenses including field trips, textbooks, and after school programs. Additionally, CPS has announced four unpaid furlough days, and most recently, possibility of ending the school year three weeks early in order to save money, yielding less time in school for CPS students. These changes have serious implications for economically disadvantaged students who rely on school to provide them with free meals, school supplies, and after-school activities. They also affect the resources available to teachers working in high-need communities to reduce the achievement gap between their students and White students.
As of 2011, only one in nine Black students and one in seven Hispanic students between the third and eighth grades exceeded state standards on the Illinois Standards Achievement Test (ISAT). Moreover, a White student was found to be four times more likely to exceed on the ISAT than a Black student and three times more likely that a Hispanic student; according to the data, these gaps are growing (Chicago Public Schools 2011).