Activists Make a "Wall" in Front of Hull Gate to Protest Trump and Zimmer
"The narrative around Trump being similar to Zimmer came out really well."
Yesterday, a protest organized by Fair Budget UChicago (FBU) featured a satire comparing University President Robert Zimmer to President Donald Trump and student speakers who aired grievances with the University.
FBU advocates for a $15 minimum wage on campus, reform of Student Health and Counseling Services (SHCS), and making buildings on campus handicap accessible, according to FBU member and second-year Christopher Good.
About 40 students gathered in front of Hull Gate, chanting slogans like "Hey, hey, ho, ho, these corporate admins gotta go," "Wages, not walls," and "Focus on our mental health, not on growing corporate wealth."
First–year and emcee Elias Oakes said that Hull Gate is a symbol of opportunity that the University uses in promotional materials to represent the life of the mind.
"We are here today to expose the hypocrisy of an administration that is all too willing to dissemble behind props like Hull Gate, to claim students' intellectual work while constructing barriers to accessibility to students deemed unprofitable, and abandoning the students it claims to welcome," Oakes said.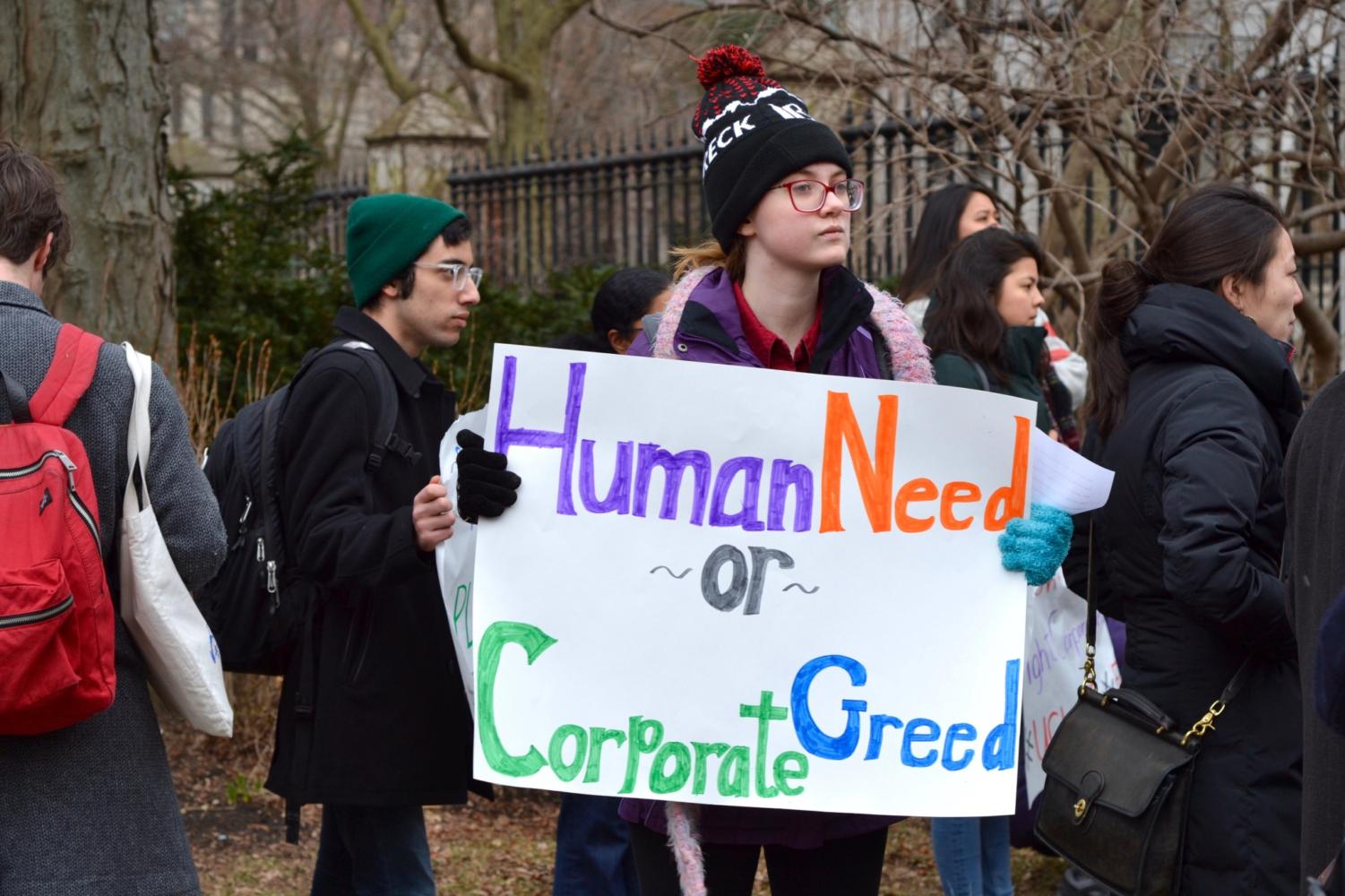 The satirical sketch compared Zimmer, played by fourth-year Calvin Woodard, to Trump, played by third-year Rubin Soodak.
"We can't keep immigrants off campus," said Woodard as Zimmer. "They supply valuable labor at a low cost, and it's a little too obvious. You have to be subtle—you have to starve students, workers, and faculty of the resources and decent wages that they need to survive."
Some students have criticized the University's explanation of its opposition to Trump's immigration order, saying that the University only talks about how the ban implicates the educational mission of the school.
Students who shared their frustrations with the administration included third-year Dan Lastres, who said he cannot receive the counseling he needs because of the cost and inconvenience of SHCS.
"I'm still relying on the privilege my parents gave me to pay for these services, for these essential resources which help me get through my schoolwork and my day-to-day life," Lastres said. "What does it say that our university does not provide that same kind of access to everybody?"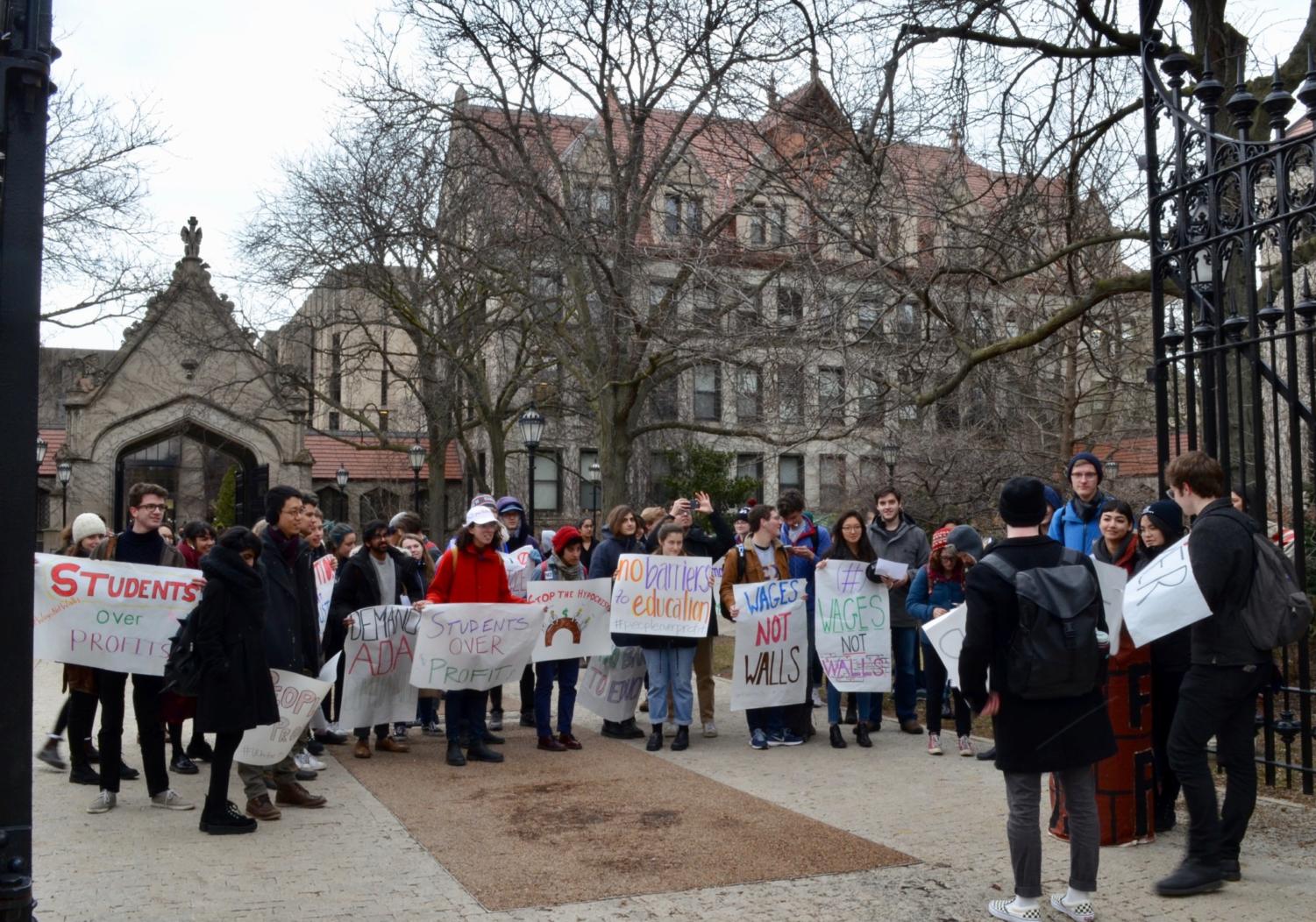 Third-year Michael Weinrib claimed that Student Disability Services (SDS) has been understaffed and underfunded since it was established in 2012 in response to a 2006 lawsuit against the University for noncompliance with the Americans with Disabilities Act.
"In two of the five years of its existence, SDS has managed all of its caseloads with only one full-time staff member," Weinrib said.
While Weinrib said SDS has made improvements by hiring three full-time staff members and by working to reduce wait times for students, he said the service remains "woefully inadequate."
A graduate student who said he is undocumented also said that the University's pro bono legal services were not enough to ensure his safety. He led the protesters in a chant of "Education, not deportation."
"Under Trump, the university has made repeated statements in support of international students and immigrants," Good said in an e-mail to The Maroon. "But even as it makes these sweeping declarations, the UofC refuses to make substantive changes to make this campus truly accessible and welcoming for all."