Man Arrested for Racist, Anti-Semitic Flyers is Also Responsible for Unwanted Posters in December, Police Say
The damages allegedly totaled more than $1,000. Bail was set at $20,000.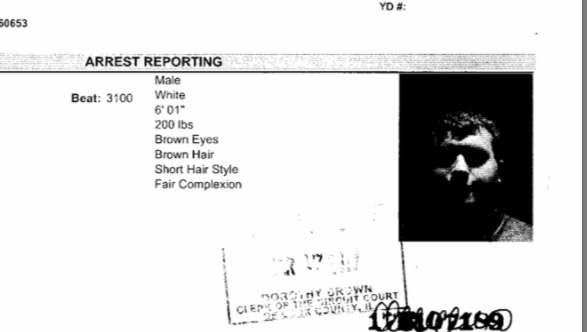 By Pete Grieve, Editor-in-Chief ('18–'19)
March 21, 2017
The man arrested and
charged
with property damage last week after affixing racist and anti-Semitic posters to University of Chicago buildings was also allegedly responsible for anti-Semitic posters found on campus in December, according to the arrest report.
Matthew Urbanik, 21, is from Schaumburg, IL. He appears to have allegiance to a militant neo-Nazi group that regularly puts up similar flyers on college campuses.
On December 5, the group of neo-Nazis, known as the Atomwaffen Division,
claimed responsibility
on its since-suspended Twitter account for anti-Semitic posters found around the UChicago campus.
When Urbanik was stopped by University of Chicago police on the evening of March 9 with flyers and a can of spray adhesive, he told police that he was posting the flyers for "publicity."
The group celebrates media coverage of its posters on a webpage titled "Trophy Thread," and a March 14 video posted on the Atomwaffen YouTube account includes a clip of TV news coverage of the December 4 posters at the University of Chicago.
The group has yet to take credit online for the most recent posters on campus, which include the Atomwaffen name and a link to the group's web forums.
A
statement
from the faculty directors of the Center for the Study of Race, Politics, and Culture and the Center for the Study of Gender and Sexuality questioned the University's response to the incident, noting that Urbanik was initially released by UCPD with a warning.
Provost Daniel Diermeier addressed the campus in an e-mail on March 11 saying that the administration supported taking action to "fullest extent of the law" against the suspect. On March 13, a Cook County judge signed a warrant for the UCPD to arrest Urbanik.
The UCPD arrested Urbanik on March 16, and charged him with criminal damage to property of more than $1,000. He allegedly used a spray adhesive to affix the posters, which cost around $80 each to remove. Video surveillance showed that at least 13 flyers were posted on University buildings, according to the arrest warrant.
The damages to Kent Hall and other buildings from the December posters, which were affixed with a "rolled adhesive," did not amount to more than $300, according to arrest documents.
Bail was fixed at $20,000, which Urbanik's father has since posted. Urbanik is set to appear in court on Thursday.