Composers Come Out in Full Force in Sinfonietta's Concert
Last week, the Chicago Sinfonietta presented "More Than a Letter," celebrating classical music's once-closted greats.
Shortly after marrying the man who would become her lifelong partner, actress Felicia Montealegre wrote him a letter stating the conditions of their marriage. Included was a startlingly clear-headed concession: "You are a homosexual and may never change—you don't admit to the possibility of a double life, but if your peace of mind, your health, your whole nervous system depend on a certain sexual pattern, what can you do?"
The year was 1951, and the addressee was Leonard Bernstein—composer of West Side Story, internationally renowned conductor and pianist, and advocate for classical music. Bernstein would eventually become one of the towering musical personalities of the 20th century, but was at the time still a young conductor-composer. Montealegre knew well, as did he, that his "outing" could spell the end of a promising career.
Now, more than a half-century later, the taboo of queerness in classical music has lessened somewhat. But, as the Chicago Sinfonietta's Monday-night concert at Symphony Center demonstrated, it's one thing to merely acknowledge classical music's once-closeted greats. What would it look like to actively celebrate them?
The Chicago Sinfonietta, founded in 1979 with a mission to spotlight marginalized voices in classical music, has long posed these questions. Its very existence demonstrates its necessity—for example, the fact that in 2017, it's considered radical for an ensemble to program multiple works by racial minorities or to demographically represent the city in which it performs (as the Sinfonietta does).
The Sinfonietta's concert, "More Than a Letter," used Bernstein as an axis to program three of his works (the Overture to Candide, and the Quintet and "Somewhere" from West Side Story, sung by Andersonville's Allegrezza Singers) and was led by a guest conductor who was Bernstein's one-time protégé: the Bay Area–based Michael Morgan, formerly assistant conductor of the Chicago Symphony Orchestra (CSO). Though short works by Samuel Barber, Jennifer Higdon, and David Conte rounded out the program, the centerpiece was Rachmaninoff's Rhapsody on a Theme by Paganini, as performed by Sara Davis Buechner, a pianist who was forced to pursue her concert career outside of the U.S. after coming out as transgender in 1998.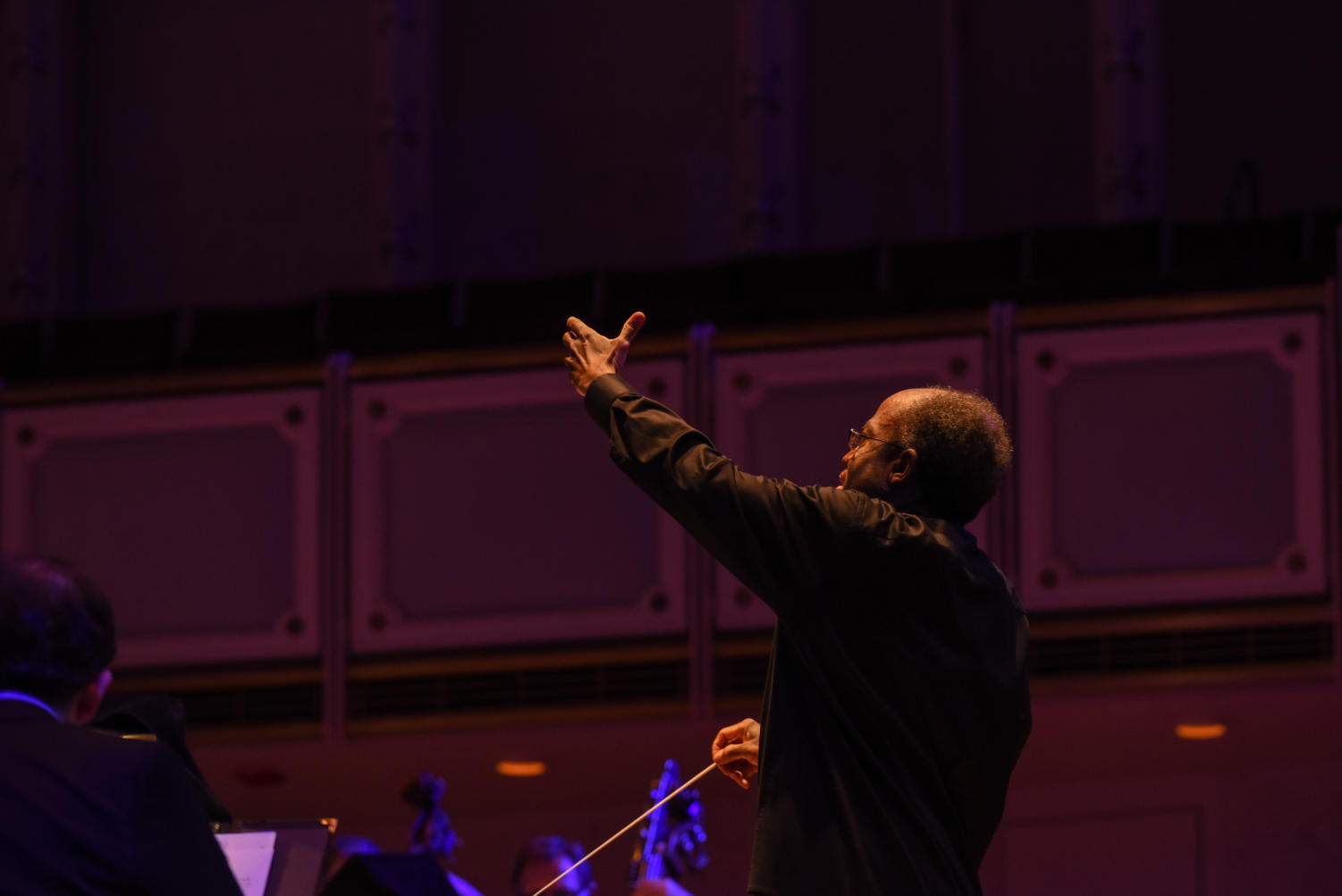 For better or for worse, the Sinfonietta tends to lay on the kitsch for its concerts, which draw a wider and more casual crowd than the CSO. Expect creative lighting effects and the occasional genre-crossing: for example, "Stand in the Light"—a single by The Voice winner Jordan Smith—opened the concert, sung by Musicality, a high school vocal ensemble from the Southwest Side and America's Got Talent finalists. Concerts are family-friendly, and usually include crafts and activities for all ages; Monday night's highlight was a handful of piano mats sprinkled around the venue, upon which patrons could stomp out recognizable themes from the evening.
The only lacking aspect of Monday night was, unfortunately, the musical one. While the Sinfonietta had assembled strong parts—the versatile Morgan, bombastic Buechner, solid local choruses, and an accomplished orchestra—they failed to cohere. The Candide overture, at its quick clip, left many of the strings sputtering out of sync. This was a recurring issue in Barber's rambunctious Overture to the School for Scandal and Higdon's similarly-demanding addition, "Peachtree Street," from her long-form orchestral work City Scape. As for Buechner, her powerful, blazing account of Rachmaninoff's Rhapsody sometimes seemed to burn too boldly; she and the Sinfonietta became noticeably unstuck from one another in the early variations. Ultimately, Buechner balanced her near-reckless ferocity with tenderness in the sweeter inner variations, especially the famous "Variation XVIII."
Though the concert ended with West Side Story crowd-pleasers, the unexpected highlight was David Conte's Elegy for Matthew, sung by the Allegrezza Singers and composed in memory of Matthew Shepard, a young gay man whose grisly 1998 murder became a symbol of the gay rights movement. Simple yet emotive, the two-movement piece arches heavenward in its trajectory, allaying forcefulness with tranquility. The concluding text by poet-librettist John Stirling Walker reads: "None have known/ The tenderness of youth…. Like one who gives it up…. To hatred's dark, malignant blows/ For nothing more/ (For nothing less)/ Than the thought/ Of love."
On "love," the singers landed on a resounding, sparkling major chord, triumphant, revelatory, after bars of tonal meandering and pain. Many of us in the room knew the feeling.
The Chicago Sinfonietta's next concert, "Rightness in the Rhythm," will conclude its 2016–17 season. Performances will be Friday, May 12 at 8 p.m. in Wentz Concert Hall at North Central College (Naperville) and Monday, May 15 at 7:30 p.m. at Symphony Center (220 S. Michigan Avenue, Chicago). Tickets available online.