Manual of Style: Wild Pair
The Maroon's fashion feature rigorously inquires: "Who are you wearing?"
SHERLOCK ZIAUDDIN / FOURTH-YEAR
I'm Sherlock Ziauddin. I'm a bio major and cinema and media studies minor. I use they/them pronouns and have been involved in theater. ​
Bohemian-punk-poet or rockstar Rimbaud is how I'd describe my style; or more eloquently, Percy Shelley after a drunken night out with Lord Byron. This version of Shelley is waking up the morning after with a killer hangover. Not so much destructive as decadent—like, the satin sheets are stained with wine and there's a 50-page manuscript I don't recall writing scattered at the foot of the bed. It's poetry, and it's damn beautiful.
"It's very capital 'R' Romantic."
In practice, my style is an eclectic mix of patterns and textures. I don't shop at stores anymore—they scare me, honestly. The reproducibility of fashion terrifies me a little bit; you go into a store and the racks have 50 of the same thing. Most of what I'm wearing came from donation bins and resale shops. I like light soft blouses and denim as a go-to. I wish I had more velvet. Rich colors and patterns like paisley and florals are also central to my style. I've heard my aesthetic described as the feeling of crocuses peeking through the mud in early spring—it's dark and dirty, but also very hopeful and bright and beautiful.
[photo id="49198″ digest="Suede loafers." align="right" /]
Expressing my gender identity through fashion used to be difficult. I place myself on the fem-masc spectrum rather than the femme-butch spectrum. When I was younger I wasn't sure how to incorporate prettiness or delicacy or elegance without losing the masculinity. A lot of being masc also has to do with how I carry myself, too: how I walk, how I sit. I'm wearing pants that make my legs look as straight as possible—I don't want curves, that's not masc. Youthful and boyish, generally androgynous. I won't usually wear dresses, but I will wear floral-print shirts. I'll wear a velvet blazer.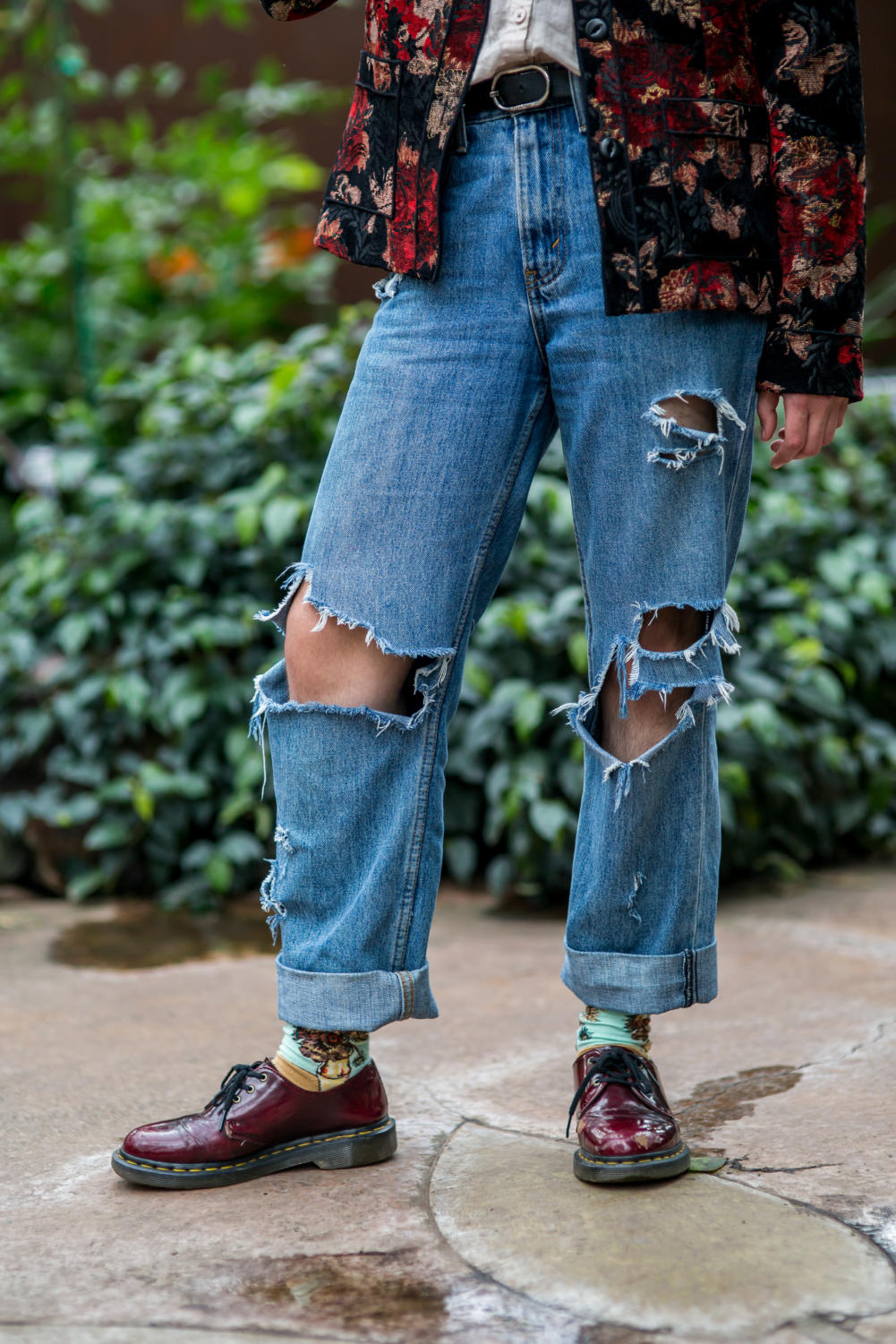 The look harkens back to an era of dandiness. It's very capital 'R' Romantic. My aesthetic and artistic sensibilities are very Romantic—I gravitate towards rich, dark colors, intricate prints, stuff that's gorgeous but also macabre. I have colors that I associate with the poetry of John Keats. Keats's poetry gradates from shades of gray to dark red to pale blush. I also think of teal when I think of Keats' poetry, but I think that's a different association. Gray and blush represent a fragility that I try to evoke. There's a stanza in La Belle Dame sans Merci: "I see a lily on thy brow/ With anguish moist and fever-dew./ And on thy cheeks a fading rose/ Fast withereth too." I've started wearing red eyeshadow lately—it's very "poet crawling out of an opium den after three days" or "poet dying of consumption." That's the Look.
"Shelley after a drunken night out with Lord Byron."
Something that I haven't spent enough time with is how my own sense of culture affects my dress. I'm predominantly informed by Western styles, but my dad's side of the family is Middle Eastern and I want to incorporate more of that.
I would be remiss if I didn't include Alex Turner in this review of my fashion sense. I draw a little bit less from him now, but he was definitely my masc inspo for a good three years. I built up to a point of being comfortably masc and started adding on elements of elegance and flamboyance by starting from the baseline of how Alex Turner dresses. And on the other hand, there's the school of Keats, Byron, Shelley, Rimbaud—hair disheveled, buttons undone, fingers smeared with ink. I lounge in dressing gowns when I'm at home. It's been cool to see these styles have created a more cohesive sense of fashion over the years. I think currently I'm at a Patti Smith-esque combination of everything, and that feels very comfortable to me.
To close it out I'll say—fuck man, I don't know, I think I look cool. —SHERLOCK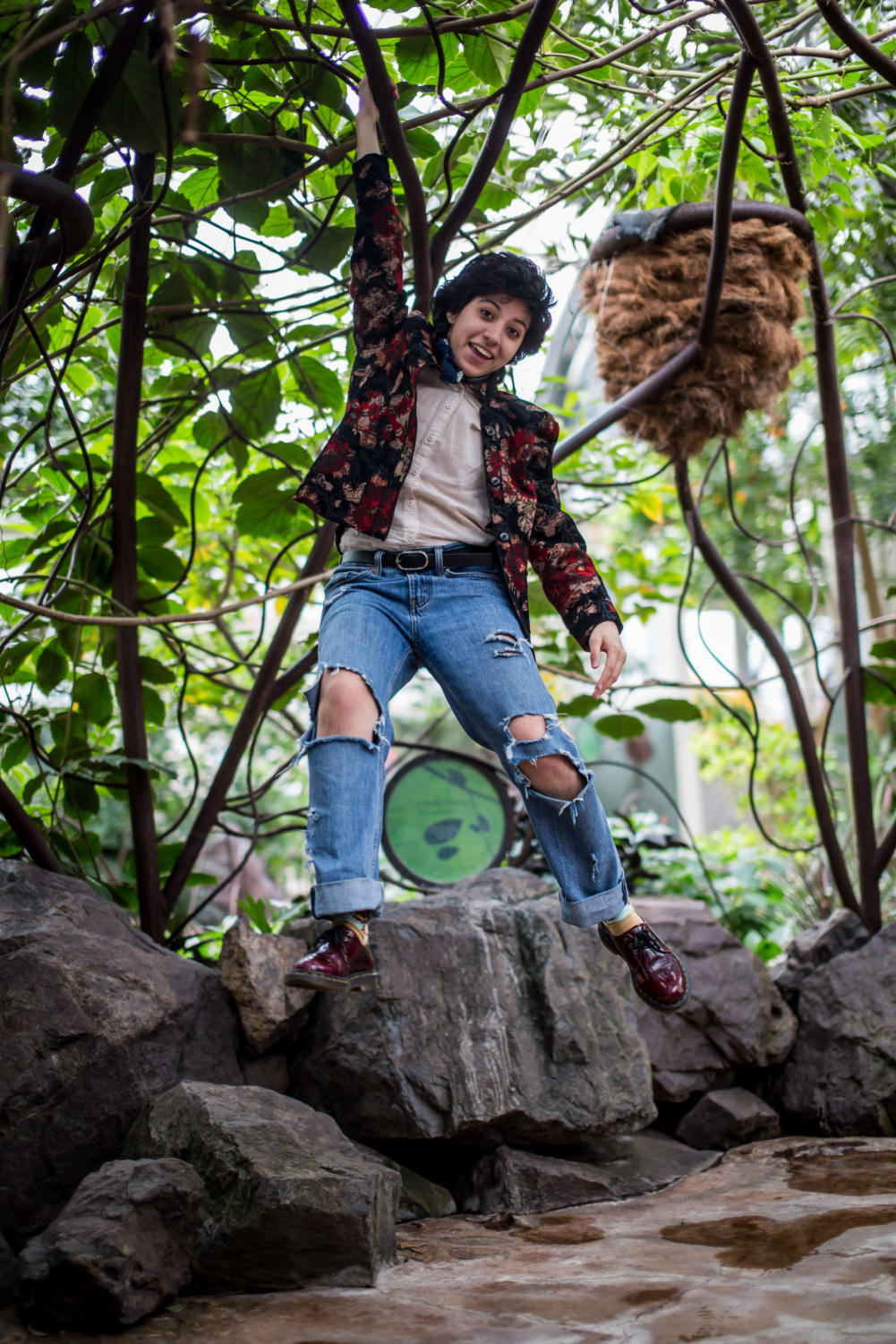 ---
ANNA YUAN / FOURTH-YEAR
My name is Anna Yuan. I'm a philosophy major from Shanghai, China. I am the membership chair of Women in Business and a sister in Pi Beta Phi.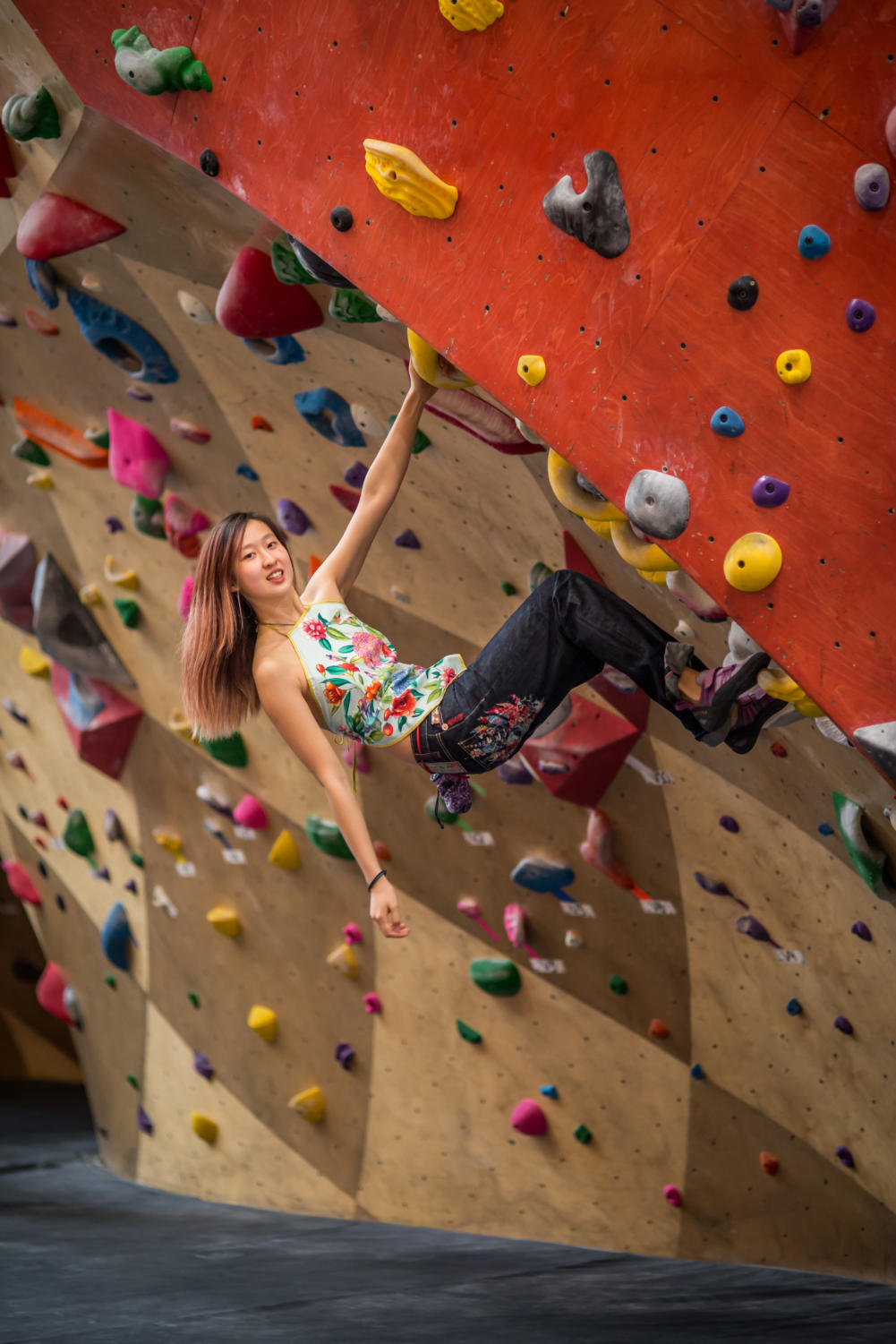 As I travel more, I've started buying cultural, usable items instead of souvenirs—like clothes. I went to a Senegalese fabric factory where they manufactured West African kimonos. I also got really cheap alpaca fur slippers from Peru, so it's nice to be able to mix and match all these styles from different cultures.
My style is, in a word: confused. In a few more words, it's centered on cultural and independent designers, statement pieces, and deliberately choosing brands that people here wouldn't commonly wear or look into. I don't follow any fashion accounts on social media, though, so most of my ideas are self-contained. My clothes come from all over—Zara and H&M, a random flea market in South America, or a village on an island off of West Africa. I have asked people where I can buy what they're wearing right in the street.
I love designing, and it's helpful because I can use some of my sister's resources if I need it. She's a fashion designer who started her own brand a year and a half ago, and one of my major fashion influences. She introduced me to a lot of the classic couture houses and independent designers online when I started getting into fashion not too long ago; sometimes I'll look at her designs for inspiration. I'll basically wear anything that's fabric if it works—even repurposed tablecloths!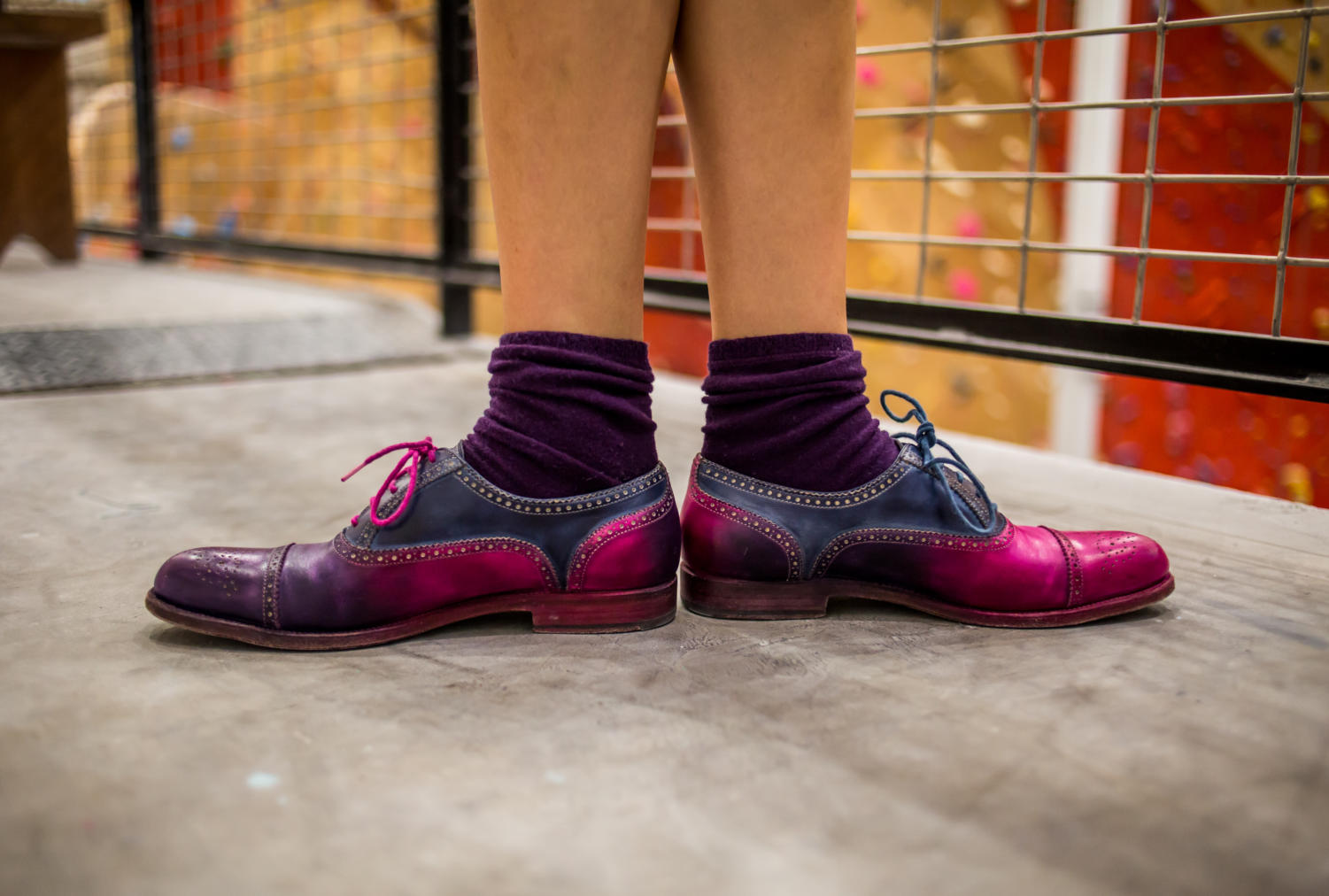 Fabric is the part of fashion that appeals to me the most. My sister and I have gone to fabric markets together before to buy textiles to work with from the source. We once went to an Italian fabric factory outside of Milan where we bought a stack of scrap fabric for like five bucks—we were really happy with that. I trimmed it to make scarves, and I plan on making more of these with other found fabrics.
Recently I'm wearing a lot of really loose, comfortable clothing. Usually I try to go with all-natural materials like cotton, silk, wool, linen, and sometimes cheap fur. It's quite hard to buy all-natural clothing in the States, though, so I sometimes wear synthetics as the technology behind them advances and they make more advanced fabrics. I'm always exploring new fabrics and new styles that don't necessarily conform with trends.
"My style is, in a word: confused."
Even though she inspires me a lot, my sister and I have very different styles. She used to think (and still does) that I'm a weirdo when I dress. It's true, I'd say I have a lot of crazy ideas: Right now I'm wearing a Moroccan *djellaba*, which is a traditional outer robe made of wool or cotton. I got it when I was studying and working abroad in Morocco last year. My sister on the other hand would never wear these things day to day. Her style is more New York—eveningwear, cocktail attire, classy, lots of black and white. Sometimes I dress that way when she gives me free clothes, but most of the time I like to try my own thing. —ANNA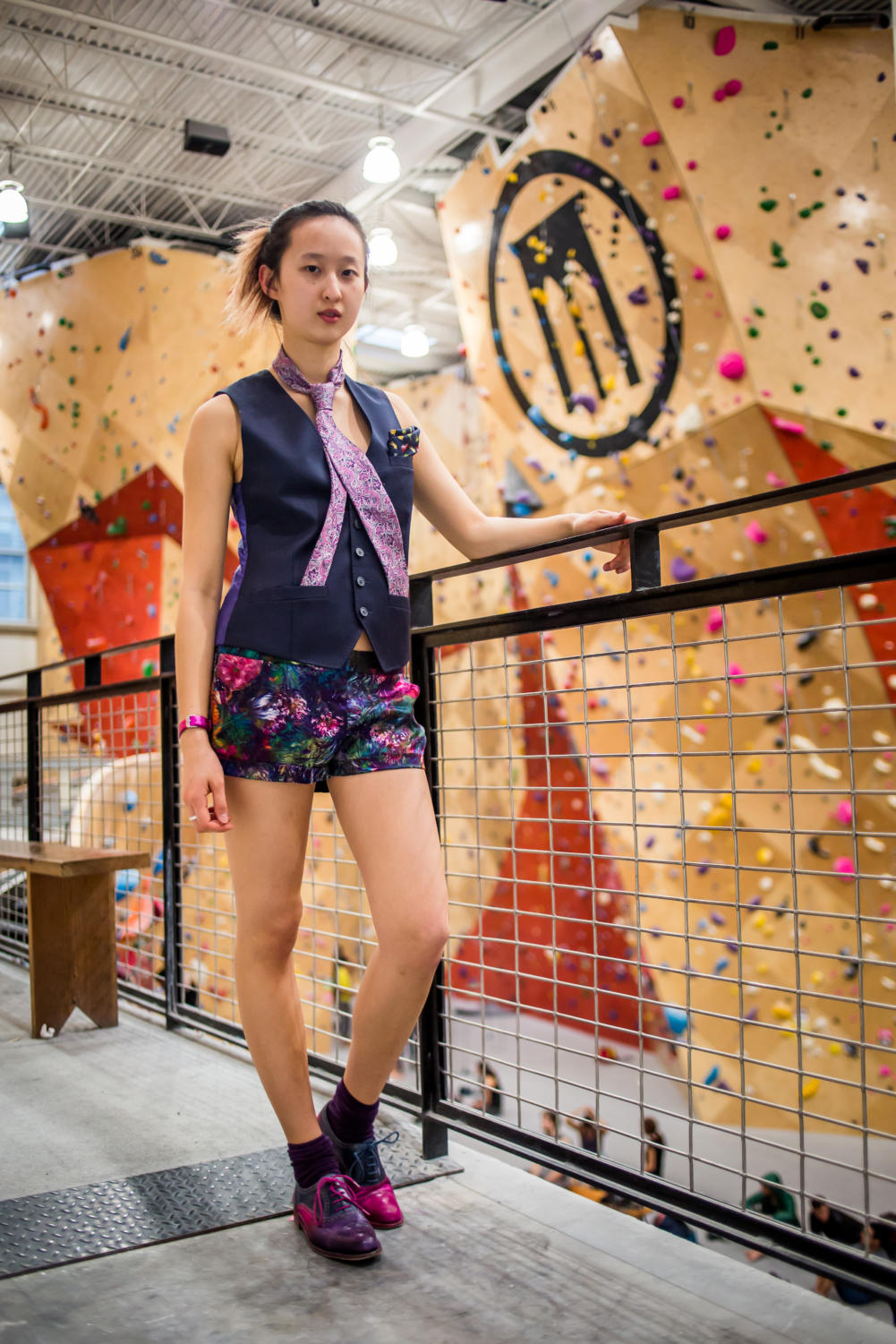 The Maroon thanks Brooklyn Boulders Chicago for use of their space at 100 South Morgan.