"Start:" Kick-starts Student Art in Hyde Park
For the first—but hopefully not the last—time, "Start:" showcased student art for sale at a pop-up show in Harper Court.
Anyone who has taken Econ 198 knows that investors quickly move to supply a potential market with unmet demand. In true Chicago-econ-major fashion, fourth-year Thomas Meerschwam saw an opportunity to run a pop-up show after noticing a lack of art galleries in Hyde Park while reading about art dealers buying student art at NYU and Columbia.
"I saw the work of some DoVA majors at the school, and I thought it was really great," said Meerschwam, an economics major and art history minor. "I was wondering if it was being sold at all, and it turns out it wasn't."
Start:, which displays the work of three student artists, opened last Thursday in Harper Court. The space is sleek and minimalist, with stark white walls and industrial cement floors. A back wall covered in graffiti is emblazoned with the word "Chicago" in giant bubble letters. A quiet buzz reached the high ceilings as students and Hyde Park residents contemplated the pieces and chatted with artists at the exhibition's opening reception. Curious passersby drifted in from the street.
"A large objective of this project was to bring people in the greater Hyde Park community together through sharing their experiences of viewing artwork," Meerschwam said. "The opening really seemed to reflect that."
Fourth-year visual arts major Juliet Eldred displayed a collection of digitally assembled collages, superimposing photos of buildings, streets, and living rooms onto one another, often incorporating silhouettes of people. One popular collage among viewers was a grainy black-and-white photo from the basement of Alpha Delta Phi that had a colorful painting and photo of a mural of Burton-Judson Courts inserted inside the shape of two men standing in the center.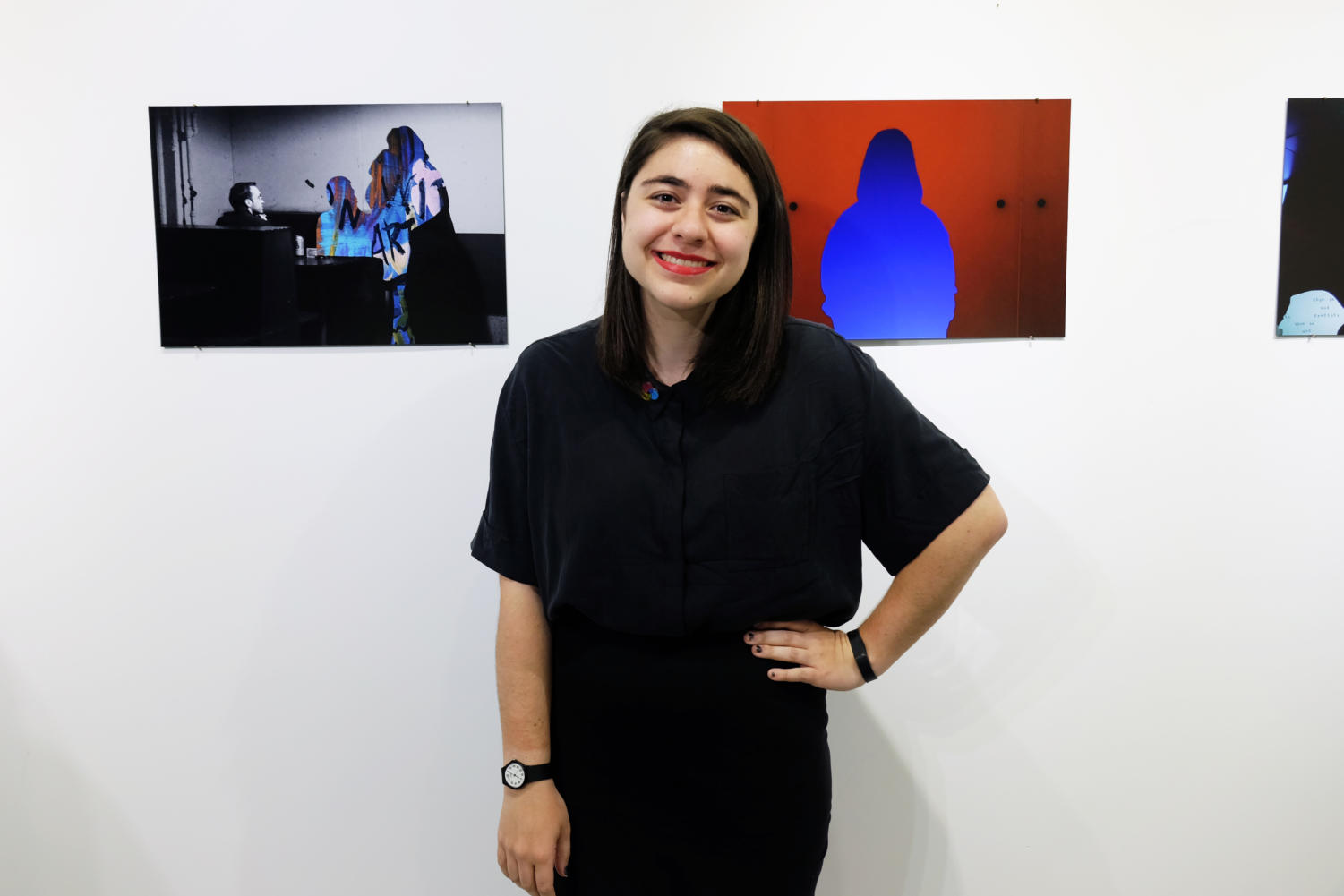 "I first like to cut out lots of silhouettes, then find textures that would work well with them," Eldred said about her creative process. "[Much] is determined by chance, which affects the kinds of collages I end up with. I like having a certain degree of randomness."
On another wall were floating baos on a dizzying disco background and a playfully cocked floating hand holding up a peace sign. Describing her style as "pop-surrealism," Ellen Ma, a fourth-year at the School of the Art Institute of Chicago (SAIC), straddles the line between familiar and unsettling in her work. It was distinctive for both its saccharine color palette and its depictions of disjointed images—picture a red, stiletto-clad foot jutting out of a cactus and bending backward.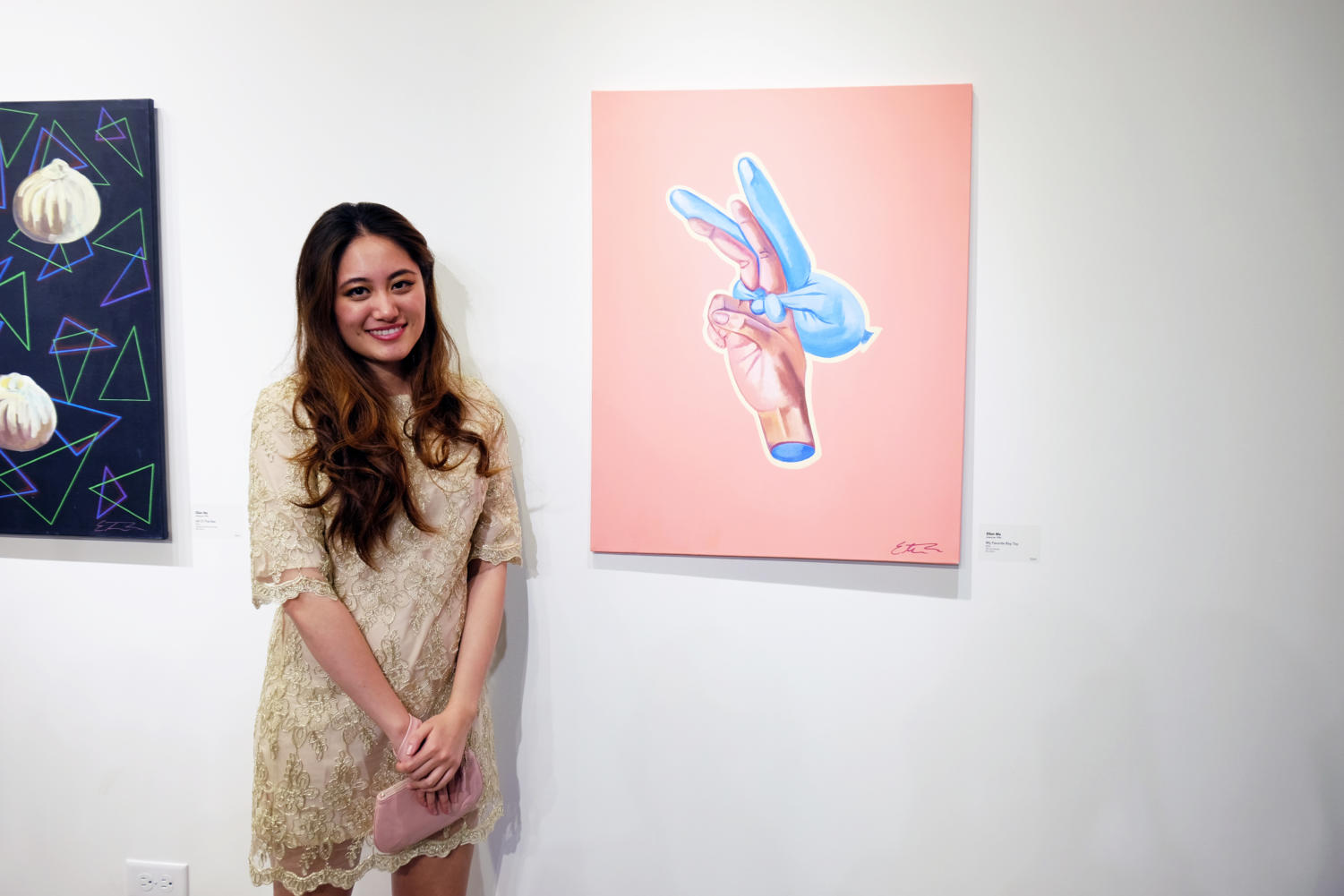 "The racial dynamic as an ABC, or American Born Chinese, has had an influence on my work," said Ma, whose parents lived through China's Cultural Revolution and endured a lot to move to America. "Growing up in an academic home with two research scientists as parents and my M.D. sister, I've always been surrounded by medical imagery—guts, viscera, cells, tubes," Ma said. "I've incorporated that into a bodily aesthetic…in my work."
Fourth-year Gabby Davis, whose B.A. thesis project was a performance installation, used paint as her primary medium.
"Paint is a very flexible material, both conceptually and physically," Davis said. "[It] can be as complex or simplistic as you want it to be." Pairing bright colors with sharp geometric shapes and thick, fluid paint strokes, Davis's collection was an exploration of the planned and the improvised. "When I make art, nothing is planned. Generally, I start with an idea or an attraction to an object or material, then I'll start making moves and responding to the reality of those choices."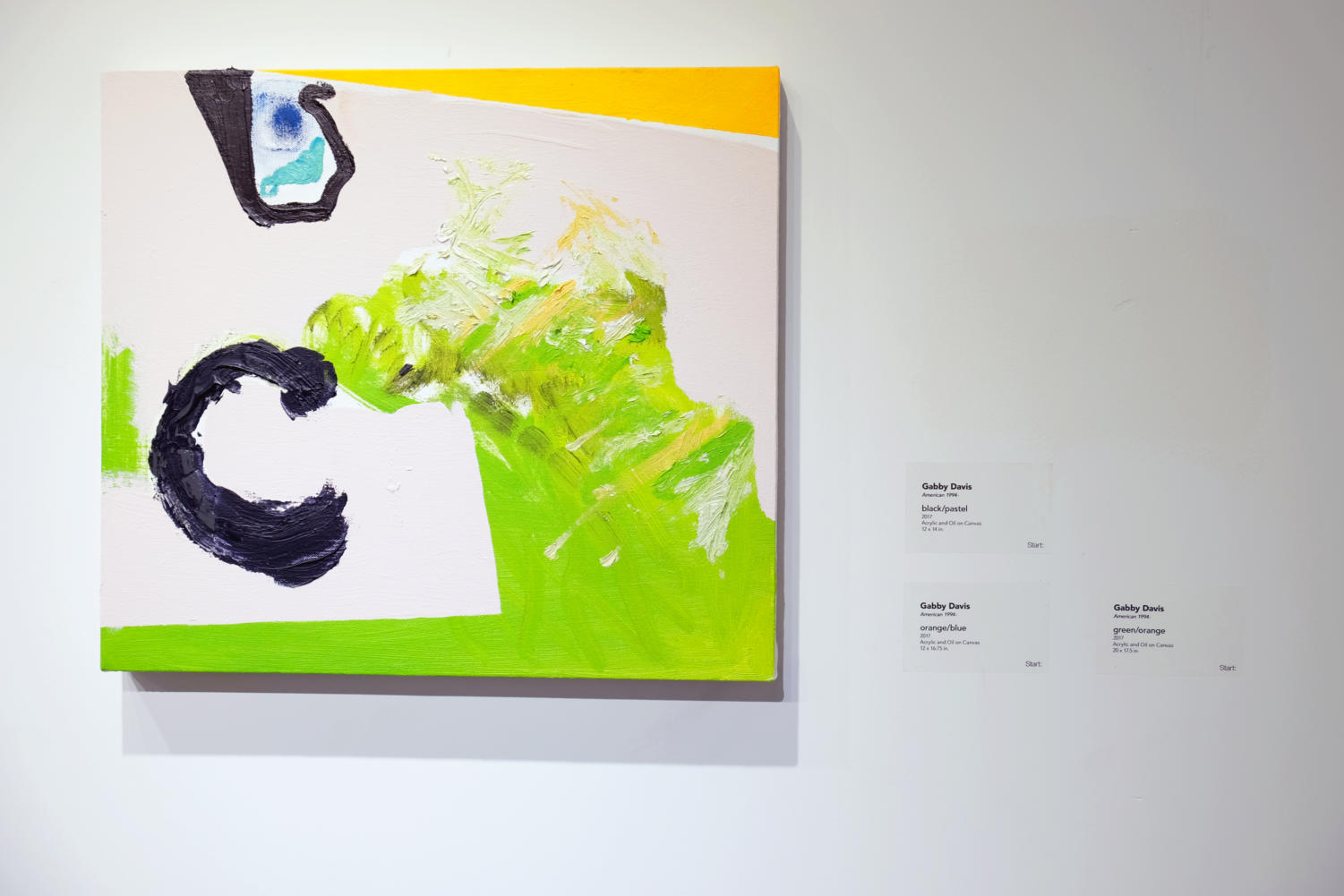 Her piece, green/orange speaks to this improvisational quality: an orange triangle at the top of the painting appears sharp and distinct while different shades of green blend and blur to create a different texture on the canvas.
The name Start: was inspired by the fact that Meerschwam and the artists featured in the exhibition are at the beginnings of their forays into the art world. Meerschwam will be working at an art brokerage firm after graduation, Davis plans to be a full-time artist, and Ma has collaborated with Chance the Rapper on a coloring book to accompany his album of the same name. Although Eldred will not be working in the art industry, she nonetheless hopes to continue making and exhibiting work.
"I'm really doing this because I want to increase visibility and increase awareness of the talent of our own undergraduate artists," Meerschwam said. "I think it's surprising how people don't realize how talented we are in that area."
For now, Start: remains a one-time event, but Meerschwam hopes that it will be the start of something new at the University.
Start: is located at 1520 South Harper Court and will run through May 20. There will be a conversation with the artists at the exhibition space on Friday, May 5, at 2 p.m. To reserve a seat, please contact Thomas Meerschwam at thomasmeerschwam@gmail.com