Manual of Style: The Right Fit
The Maroon's fashion feature rigorously inquires: "Who are you wearing?"
GEORGE FREYERMUTH / SECOND-YEAR
My name is George. I'm an economics major, born in Los Angeles but grew up in Berlin. On campus, I work in a materials science lab.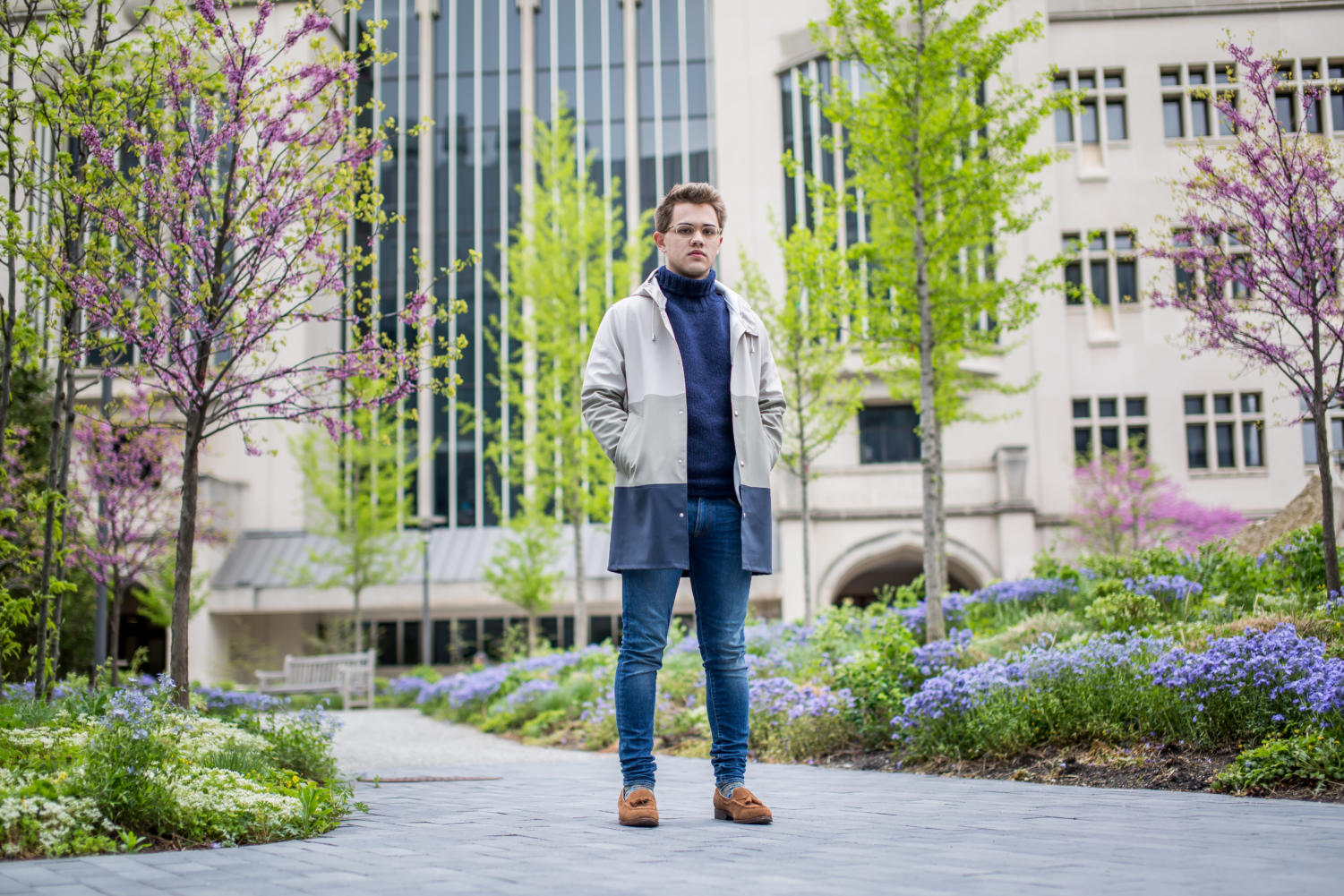 In middle school I was obsessed with dressing up. Not so much dressing well—I bought into the preppy look without having aged into it. Oxford shirts and khakis look pretty weird on seventh graders, right? As for high school, mine had a uniform, so I didn't have to put much thought into what I was wearing every day. I was able to wear whatever shoes I wanted, though. So high school made me realize the importance of shoes, and how they can make or sink an outfit. But I was still very fixated on aspiring to rather than embodying a look: One regrettable purchase was a pair of Banana Republic Oxfords [lace-up shoes] that never fit to begin with. That was pretty much an immediate capital loss!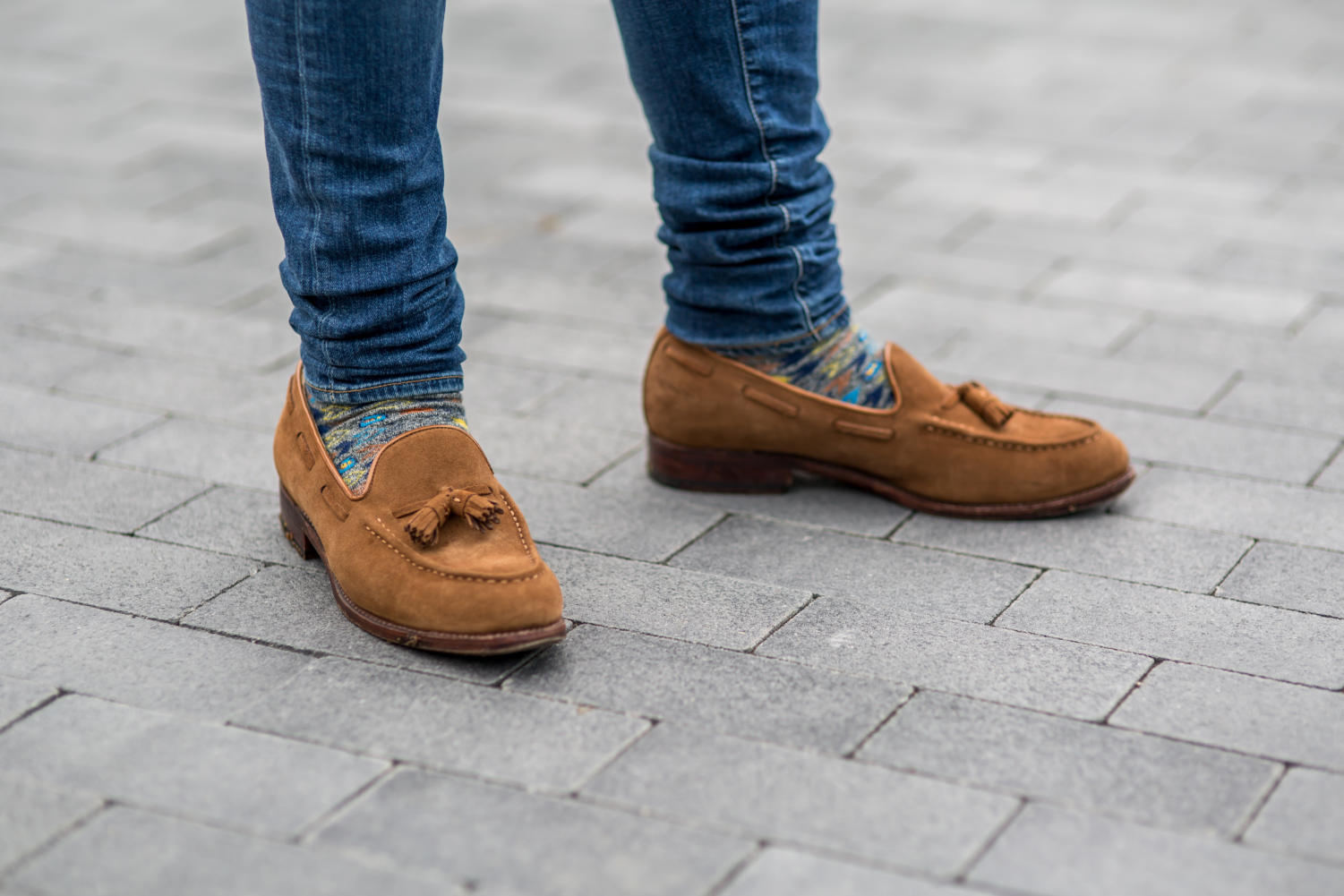 I think the turning point came when I learned how clothes fit properly on my body. Guys tend to size up because of an in-built machismo thing: They don't want to be the small guy, so they buy shirts in M or L. But that means it's impossible to have the proper fit, so they end up looking all wrong. It's also common with upsizing shoes—something about guys with big feet—which can become extremely uncomfortable. And the way their feet slide around in their shoes looks so silly.
"Guys tend to size up because of an in-built machismo thing."
Coming into college, I had a blank slate in terms of aesthetics that I was able to build on. I realized I don't like a lot of prep—it just doesn't sit well with me. I liked the sleekness of streetwear, the emphasis on quality. But I was a pre-med, and I'm an econ major now…. Streetwear isn't really appropriate for either career path. [An exchange between George and the editor: "Can you imagine if you walked into surgery and they were wearing Yeezys?" "Um, no. Full Rick Owens or go home." (George)] I like suiting, though.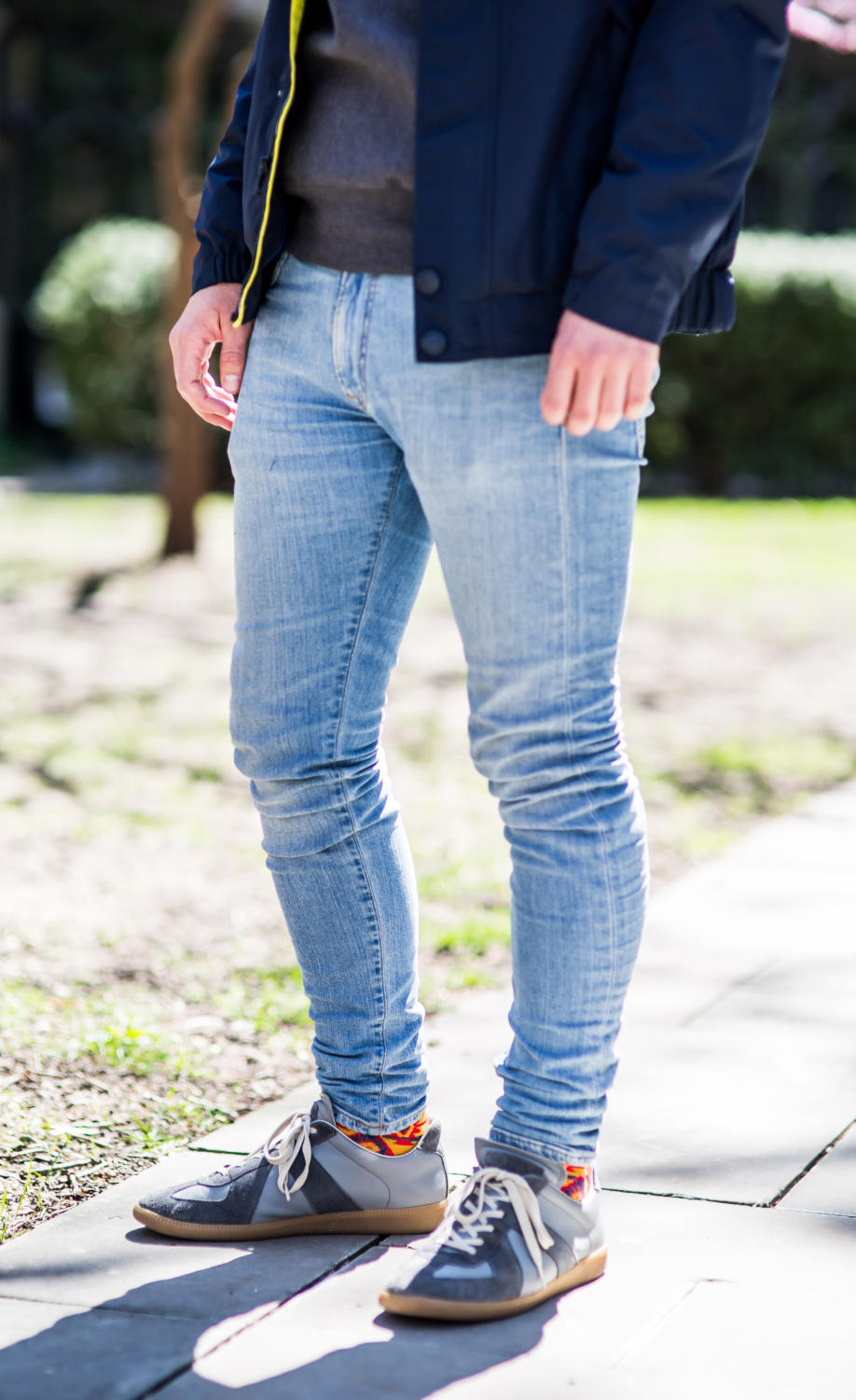 Suiting is all about inhabiting a very specific role. There is such a thing as a right context, particularly with suits—a jacket with jeans is not a suit. A blazer with khakis is not a suit. Separates are not suits. Going back to the problem with dressing up versus dressing well, I think "well" means "appropriate for the occasion." I'm not going to wear a jacket to a dive bar, or distressed jeans to a swanky lounge. You wear a good suit to the office; you don't mess around with that. People like to push the boundaries here and there—for example, pairing a suit with sneakers has been popular on the runway lately (it's a trend that needs to die)—but don't recognize that certain things have very specific roles.
That's not saying you can't mix or clash levels of formality. But I think there shouldn't be such a big gap: Suits and sneakers are on opposite extremes of the spectrum. One example of it working is pairing camel coats with sneakers. My Margiela sneakers lend well to that kind of contrast: It's a streetwear piece but feels sleek and lower profile.
"I think '[dressing] well' means 'appropriate for the occasion.'"
I like pieces like the Margielas that work in multiple contexts. I earn all the money I spend on clothing on my own—my parents don't pay for my shoes—so I can't afford two or three different wardrobes. I prefer to spend more on a few pieces that I feel comfortable in and are appropriate in different settings. Look at it this way: I wear these sneakers three, four times a week. That's over 150 times a year, and they'll last me three years, easy. The unit economics boil down to pennies per wear.
I guess the takeaway is less "you should buy $400 shoes," it's more about "don't shit on someone else for buying $400 shoes." I get a lot of utility from my shoes!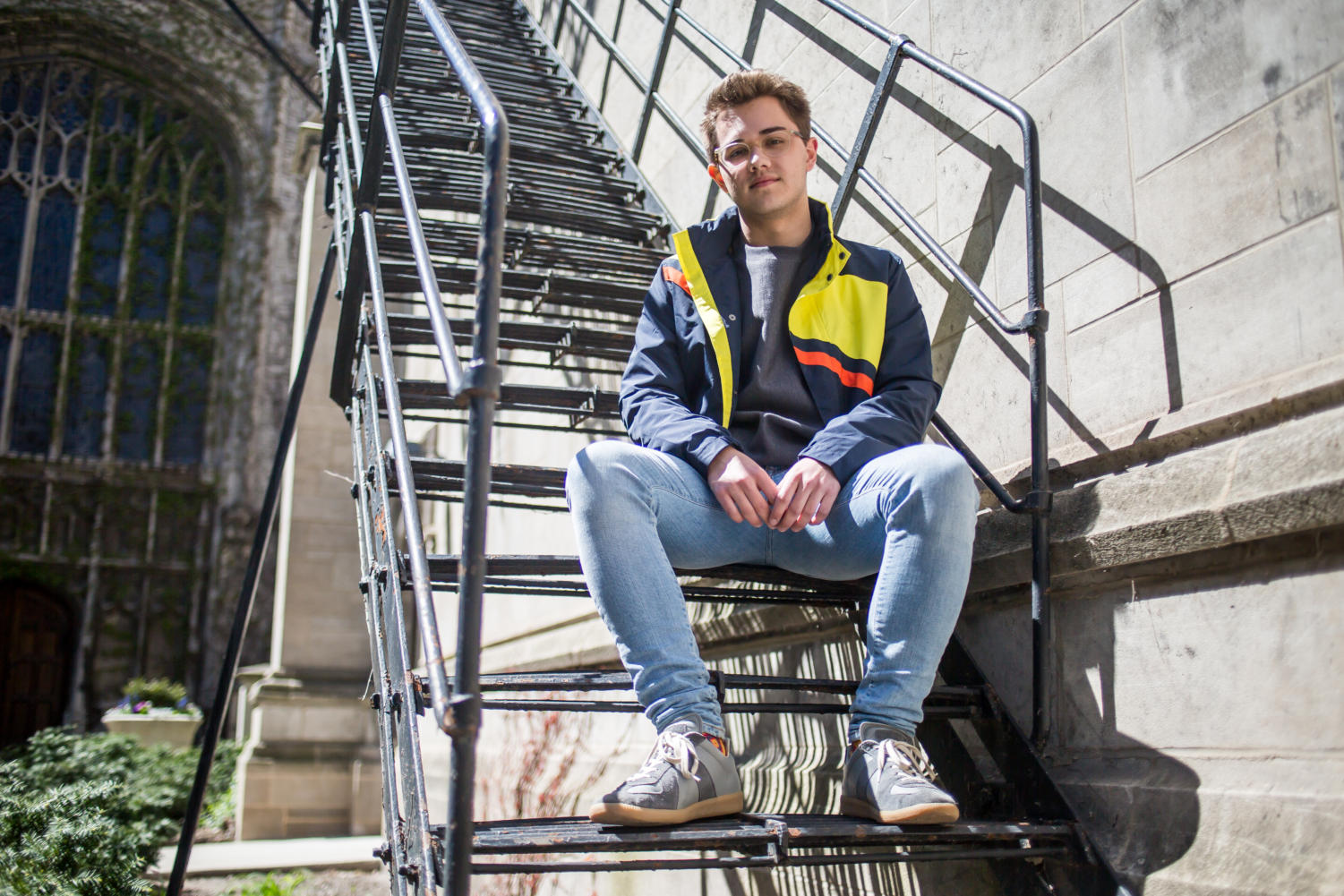 ---
LAURA RUTH TURNER / THIRD-YEAR
My name's Laura, I'm majoring in environmental studies with a minor in human rights. I work in the Admissions Office here on campus.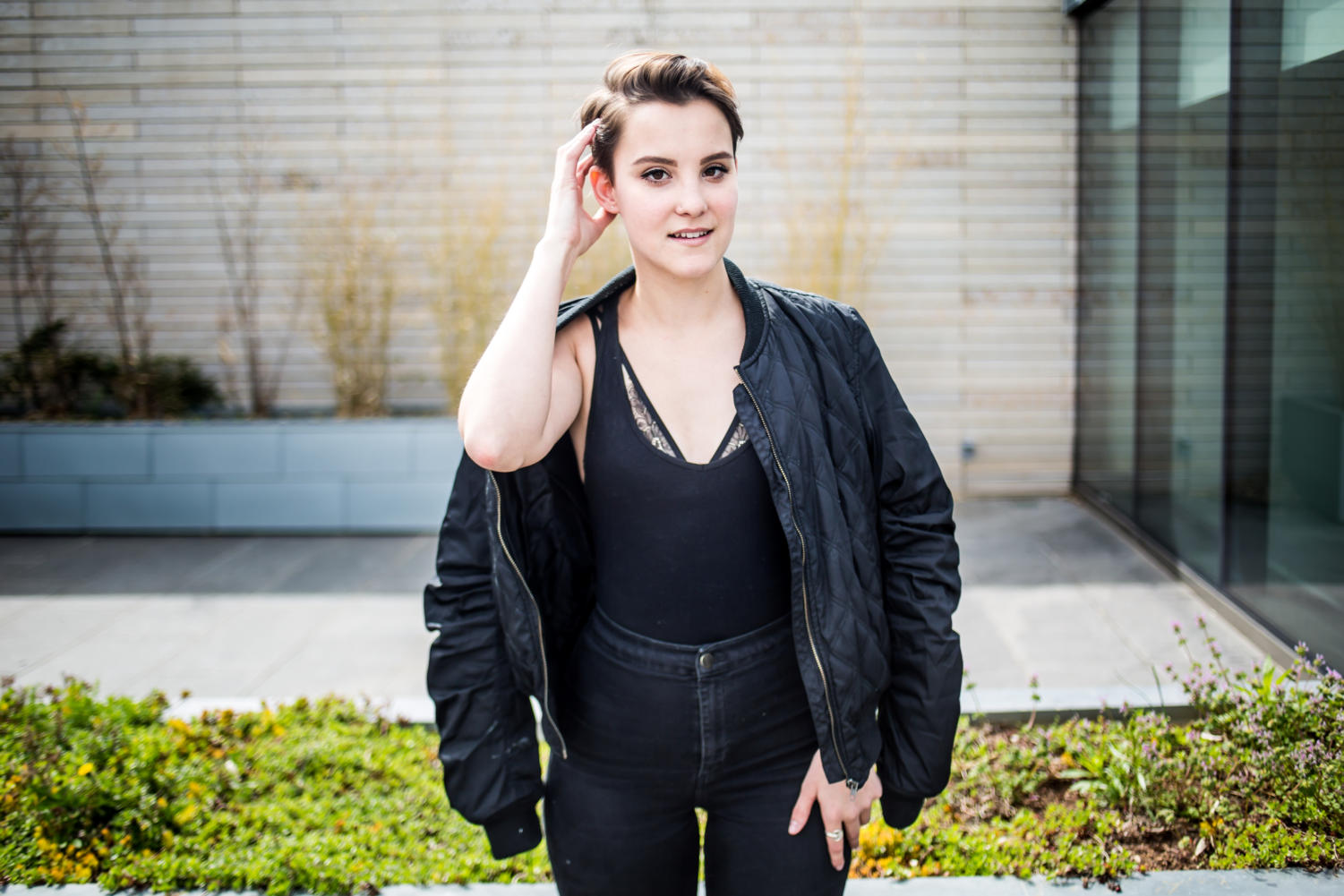 My style is very simple. It's very much a uniform: I wear very little color, mostly black, lots of gray scale. I don't even stray too crazy with textures. I like a good pair of jeans. I worry more about the functionality and the feel and the fit. Fit is the most important thing with my little uniform: I wear things that are cinched at the waist and very form fitting. My shirts, in general, are cropped. I don't like to wear skirts, for example, because it's hard fitting both my waist and hips in a skirt. I also don't like having to tuck clothes in—sometimes you get this stupid-looking duck tail when fabric untucks. I like cute shoes that I can get on and off and can run around in. It's the easiest look for me, low-maintenance and comfortable, but very flattering.
"Since my style is so simple, I like that it accentuates the funky haircut I have."
I like finding clothes that accentuate me and the parts of me that I like. People in general—but women especially—grow up with insecurities, and I think that finding your style means embracing the features that make you unique, even insecure. For a long time in high school, I was self-conscious about the fact I was pear-shaped. I like my hips now, but it wasn't always easy to like them. By dressing in a way to accentuate those parts of myself, I've come to embrace and embody what makes me unique.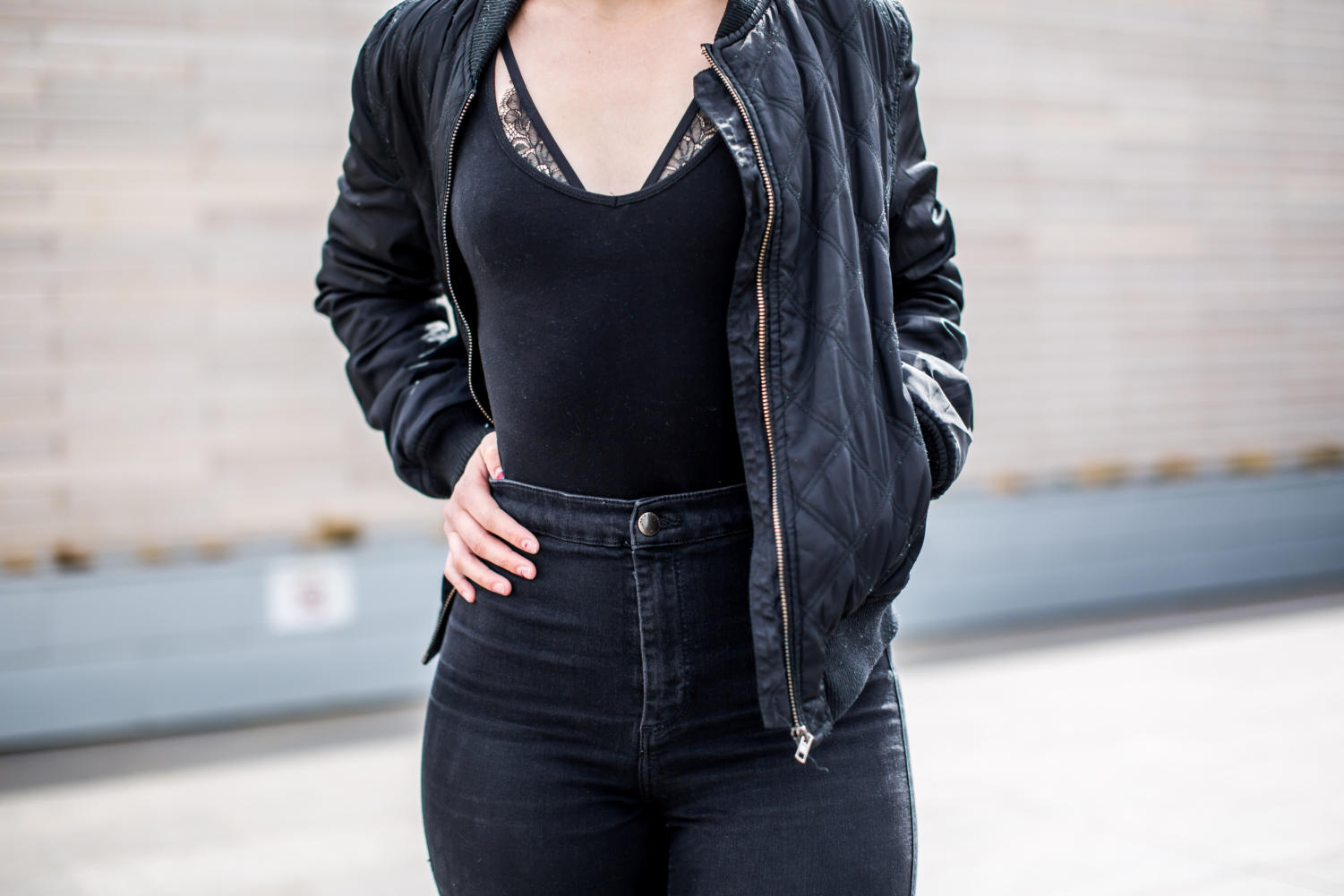 My stepdad was teasing me the other day: I complimented this girl as she walked by me and he quipped, "I know you like a '70s waistline." He's right! If the rise hits under my belly button I'm like, "Why are these pants so low cut?" The pixie cut as well—since my style is so simple, I like that it accentuates the funky haircut I have. Every time I get my hair cut I'm always a bit unsure about it—maybe it's too short, or something like that. But then I look up photos of Winona Ryder in the '90s for two minutes and I'm good.
My pixie cut has been a journey. I've always had a bob. I've never had long hair. When I was 12, I got a horrible set of highlights, and my mom convinced me to cut my hair short—my mom also has a pixie cut. But I didn't commit because I still wanted bangs; I thought bangs were super cool. Through most of middle school I had a rather tragic pixie cut that still tried to have bangs—that didn't work! I had a brief relapse last year, when I tried bangs again. I see pictures from back then and want to kick myself.
Twiggy's pixie cut and big, long lashes were a big influence. When I picture the '60s I always picture Twiggy—she's my makeup inspiration. Just wear egregious amounts of mascara and call it a day. I don't have the same pixie she does, but…I think there's a pixie that matches every face. People tell me they think I can rock a pixie better than most people. I don't think that's true. I think I just have a cut that flatters my face.
"I don't take a ton of fashion risks, but hey—maybe doing the same thing is a risk!"
It's all very low-maintenance and routine, which I like. I get up and shower in the morning—my pixie cut looks like a cockscomb when I wake up, it's all over the place. But I wear it the same way every day, pushed back behind my ears. Same with my uniform: I like knowing what I'm going to wear even though I haven't decided on a specific outfit. If it's cold out, I'll wear jeans, they're high-waisted, probably black. I like picking from one of a million crop tops. I don't take a ton of fashion risks, but hey—maybe doing the same thing is a risk!
Somehow, in finding my style, I totally gave up on the idea of color. People ask me if I'm dressed for a funeral all the time. This is so silly—Johnny Cash is my favorite, and there's a line in his biopic Walk the Line where someone says, "What's with the black? You look like you're going to a funeral." And he says, "Maybe I am." So I always say, "Maybe I am."