"'In this world, Elwood, you must be oh-so-smart or oh-so-pleasant.'"
That's the advice Harvey's protagonist, Elwood P. Dowd, recalls receiving from his late mother. Her death after 40 years of being "oh-so-smart"—and the mysterious appearance of a six-foot-tall rabbit named Harvey that only he can see—compels Elwood to shift his life from smart to pleasant and never look back. I wish I could say the same of the show itself. With one foot in genuine, pleasant observations about humanity and wonderful theatrical artistry and the other foot fumbling in 1940s "smarts" about psychiatry, the whole production nearly topples over.
I'll begin with the pleasant. Harvey, a Pulitzer Prize–winning play from 1944 that has garnered multiple screen adaptations, is an engaging piece of theater. Court Theatre captures our attention from the opening scene. Mother Veta Louise Simmons (Karen Janes Woditsch) and daughter Myrtle Mae (Sarah Price) are entertaining guests in their family home. Farcical energy arises when Elwood (Timothy Edward Kane), Veta's brother, arrives and begins to introduce his invisible rabbit companion, Harvey, to all the guests. This is the breaking point for social climber Veta who, despite great affection for her brother, has him committed to a sanitarium to save the family's reputation.
Court's remarkable set transforms from the Simmons' library to Dr. Chumley's sanitarium. The first scene change happens in the dark, and the reveal of the sanitarium was honestly one of my favorite moments of the show. The soaring bookshelves and draped curtains of Veta's home become a row of clinical doors, a new portrait appears above the mantel, and the tasteful salon furniture is skillfully rearranged to communicate a psychiatric waiting room. It's rare that I want to sit and watch an extensive scene transition, but for this show I actually stuck around during intermission to watch the choreography. Court's creative team knows how to maximize the beauty and functionality of their sets.
The sanitarium is also where Veta and Elwood shine. Veta reveals her complicated relationship with Harvey to psychiatrist Lyman Sanderson (Erik Hellman). Though she believes the rabbit figure to be a manifestation of her brother's mental illness, she has on rare occasion seen the creature herself. Sanderson and nurse Miss Kelly (Jennifer Latimore) drastically misread the situation and commit Veta to the institution instead of Elwood. Sanderson releases ever-amiable Elwood in a scene replete with comedic misunderstandings, creating a narrative full of twists and turns aptly followed by the actors. As familial tensions rise, so do questions about Harvey's true nature: Is the rabbit really Elwood's psychological delusion, or is it some magical spirit that influences them all?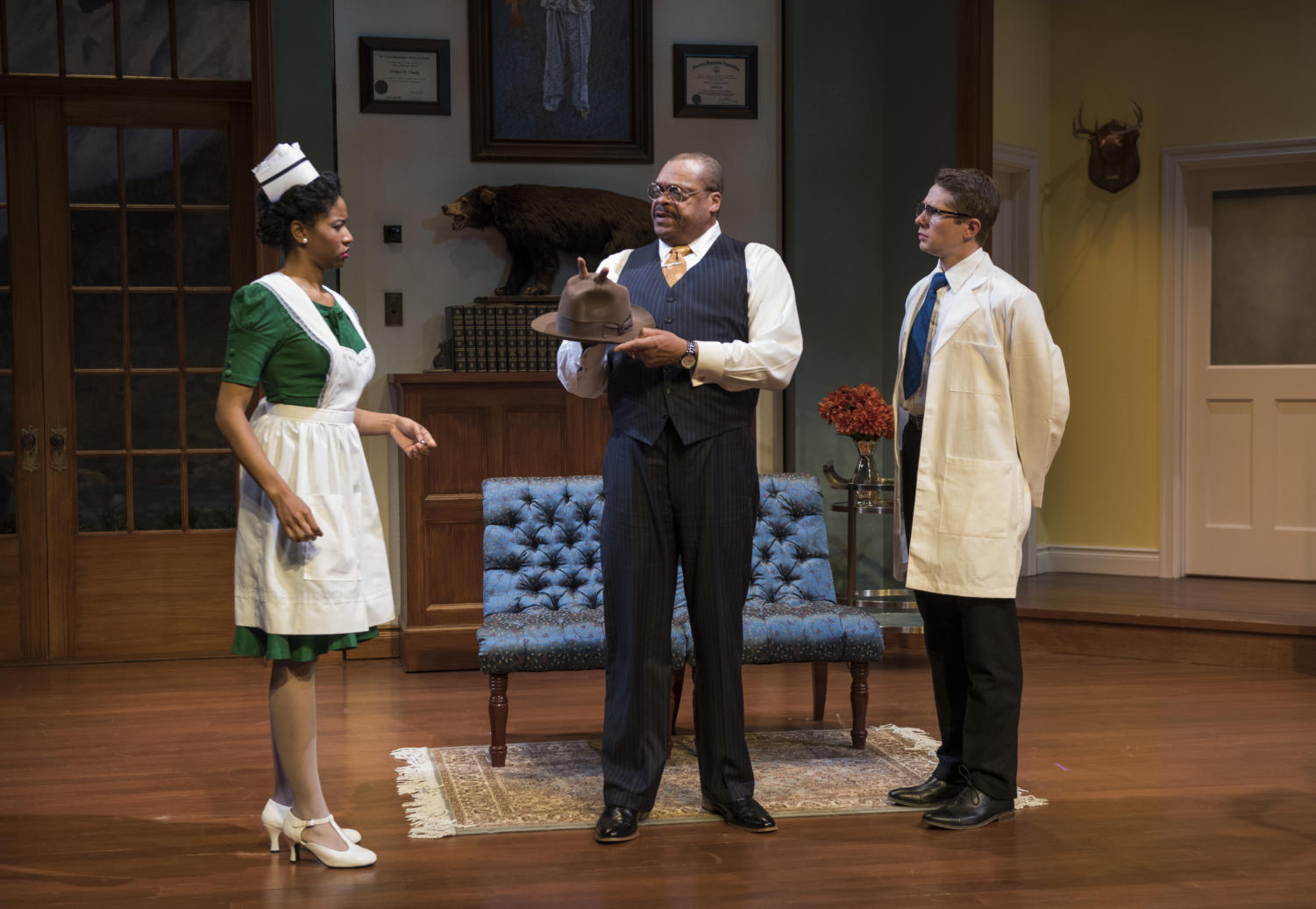 These questions should be enough to engage the audience through the entire play. Harvey, however, tries to get clever with its thematic elements, and that's where I had objections. Beneath all of the (very heterosexual) couplings that form during the show is an undercurrent of sexual violence. Mrs. Chumley (Amy Carle) appears once and heavily hints at abuse by her husband, head psychiatrist Dr. Chumley (A.C. Smith), but never returns to resolve this plot point. Veta describes her near-commitment to the sanitarium as a violent, sexual ordeal, but the lines are played off for laughs (the audience knows it to have been a misunderstanding). Meanwhile, Myrtle, her own daughter, is apparently turned all the way on by her mother's account of near rape. Actress Price jumps at the opportunity to make her otherwise flat character sexually precocious, serving only to make me squirm in my seat. Later in the play I realized that even elements of the set design invoke an obsession with brutality and violence. Both the library and sanitarium are covered with taxidermized animals: a small brown bear on Chumley's mantel, rows of antlers on his walls, some kind of weasel on display right next to Veta's Jane Austen novels. Without a doubt, the production maintained a consistent theme, but it was one that co-opted human cruelty for humor without properly condemning it.
Elwood's kind, gentle spirit is meant to provide contrast to the cruelty of his surroundings, and Kane is a delight to watch. That said, the character of Elwood raises questions about the show's treatment of mental illness. Even if we disregard the presence of Harvey, Elwood still bears many of the signs of mental illness or trauma. But the narrative portrays his many tics and almost infantile trust in others as moral perks, all while painting psychiatry as a dubious field that offers terrible solutions to cases like his. The production almost manages a satisfying, laughter-filled tale of familial love and acceptance but ultimately suffers in its outdated views on mental health.
So why choose this play? "Harvey is an American classic that is begging to be staged right now," says Court Theatre's Artistic Director Charles Newell. The witty script certainly allowed Court's company to show off its comedic prowess, but if it were my choice, Harvey's ultimate message would have stayed in the 20th century.
Harvey runs at the Court Theatre through June 11. $5 student rush tickets available one hour before curtain with ID, subject to availability. See courttheatre.org for more details.