"Elves Made Me Gay," and Other Queer Stories
LGBTQ+ variety show "Space" brought comedy, commentary, and comets to The Revival last Friday.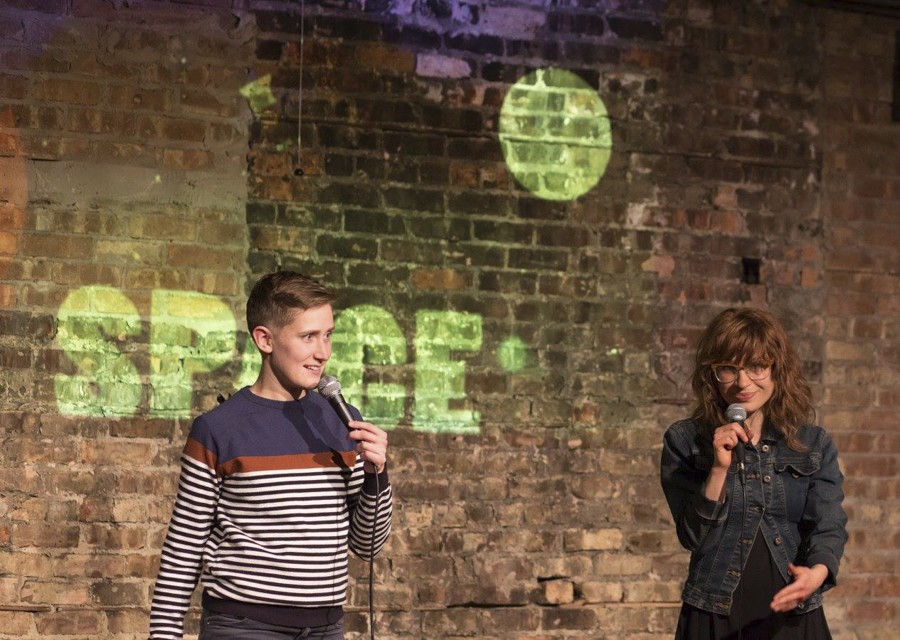 Purple curly wigs. Painted hearts on cheeks. Drag kings and queens, storytelling, singing and stand-up: the LGBTQ+ variety show Space returned to The Revival last Friday for another evening of performances about queer experience and, of course, space.
The evening began with an unconventional sort of coming out. Carly Ballerini, one of the two charming hosts, discussed her recent Facebook post outing herself as bald, a result of a medical condition known as alopecia. Though she does not shy away from speaking her truth (she hosts a gay comedy show), she finds it frustrating to be in public without a wig.
"The reason I started wearing hair was because too many people would tell me about their troubles…it was like being in an aggressive Lyft line."
Ballerini was not the only one to discuss her relationship with hair. Later on, drag king Chuck Nasty explained that his facial hair was snipped from the head of his onstage partner, The Dutchess. The two discussed hair in the context of their own relationships with gender roles: "My mom told me that if I grow my armpit hair I'd get a yeast infection under my arm!" Nasty said.
Both drag royalty use their onstage gender performances to embody alternative selves and embrace parts that they had formerly rejected.
"Chuck Nasty is 100% the disgusting human man I would be if I did have a dick." With his dapper outfit—a collared shirt, grey vest, and sunglasses (not to mention the killer facial hair)—Chuck exuded both poise and vulgarity. He found his persona in college when friends called him Chuck instead of his more feminine given name, Chelsea; "I was the most masculine out of all of us," he recalled.
The Duchess discovered her alter ego in a more roundabout way. "As a kid I was really uncomfortable with being feminine," she disclosed. "I felt like I was disappearing into what being a girl was supposed to be, so I wore clothes to kind of hide that and I disappeared a little bit. When I got into drag, though, you were seeing people totally fuck this norm. [With drag] you're fucking gender in all ways."
Providing a different assessment of gender, Dina Nina Martinez—producer of Lady Laughs Comedy—gave her definition of a trans woman: "Someone who will never be able to wear leggings." She expressed her insecurities with regard to her love life— "the worst part about being a heterosexual woman in dating is having a dick"—as well as her body: "Oh my God, I hate my inner thighs."
Though she vocalized these insecurities bluntly, her underlying hesitance regarding her audience reception was most striking. "I'm really sucking right now," she said at one point. Her reaction was understandable: the audience was small, so our enthusiasm was underwhelming.
But her set also spoke to the raw nature of the show. Though the night was filled with laughter and commotion, it had its unsure silences as well. The process of understanding the relationship between performer and audience takes time.
Despite insecurities, the performers braved the stage with personality and confidence. As hosts, Ballerini and Shannon Noll mentioned in the beginning of the show, queer content is not well received in many parts of the country. When Ballerini and Noll performed in Indiana, their audience was overjoyed by the sense of safety: "We're so glad to go to this show because usually we get eggs thrown at us."
Though the unfiltered self-expression might have been slightly jarring, the context of the evening was its most radical feature; comfort and safety in public is not easy to come by.
Furthermore, navigating a personal and professional life as a queer person can be frustrating. When her boss announced publicly that her sexuality was like a kitchen door, since she 'swings both ways,' comedian Clare Austen-Smith was enraged. "Whenever your sexuality is a furniture metaphor in your office, you should quit," she said.
These moments of exasperation were balanced by instances of humor and celebration. Singer and comedian Allison Reese began with a tune responding to people who inquire about her ethnicity. The chorus "I'm vaguely brown." She followed this with her impression of folk music, an elfish high-pitched voice reminiscent of 'Of Monsters and Men.'
Topping off the night was a campy act by Boys versus Girls, a one-man show by William Ramsey. In between vocal phrases, he pulled away from the microphone to integrate extravagant and expressive dance moves. He travelled through the audience as well, radiating a carefree character.
Moral of the night: the liberty of self-expression is not simple, nor is it accessible to all. But comedy can help us parse through its complexity. And if an easier approach sounds better, look to Smith's words of wisdom: "Elves made me gay!"