Inaugural Class Day Speaker Discusses Academics and Intimacy
David Brooks studied history as an undergraduate at UChicago and wrote for the Viewpoints section of The Maroon.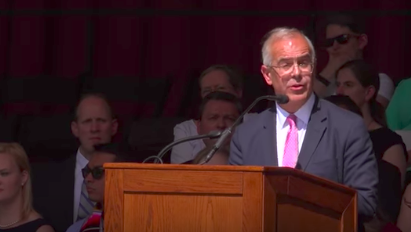 New York Times columnist David Brooks (A.B. '83) spoke to the graduating Class of 2017 on Friday, reminiscing about his experience with the Core and telling students they need to learn intimacy.
A conservative political pundit, Brooks worked for The Washington Times, The Wall Street Journal, and The Weekly Standard before joining The New York Times. At UChicago he majored in history and wrote for the Viewpoints section of The Maroon.
He began his speech by considering his invitation to speak at the College's inaugural Class Day. "I realized that I'm invited because Chicago is trying to be a normal school with a celebrity speaker, but of course they couldn't go for a big time celebrity right off the bat," he joked. "Chicago is a place where you lose your virginity slowly."
He then alluded to debates and protests on college campuses surrounding graduation speakers in recent years. When he realized why he was invited, he said, "I thought I would attempt to do what millennials at other schools are always doing. I decided I would feel 'triggered' and 'unsafe' and lead a campaign to get myself disinvited, all the historical traumas of being a lower, middle-range celebrity came back to me."
He went on to say that he would speak about what UChicago did and didn't give him, first speaking about his academic experience in the College. He explained that "Chicago gave me glimpses of the mountain ranges of human existence that I had never imagined before" and "a set of…higher desires than any I had had."
He said that because of his education here, "I longed to know how to see," and conjectured that "the whole disaster of the Trump presidency is because of a breakdown in intellectual virtue," and with it Americans' ability to see clearly, to which the audience applauded.
He then discussed what Chicago hadn't given him, namely an education in intimacy and how to relate to other people. He argued that that the College has improved immensely since he was an undergraduate, and that when he attended the College "the atmosphere of Chicago was emotionally avoidant from the top down."
"There wasn't enough dancing or drinking or any of the activities that make diffidence possible," he said.
He concluded with similar advice for the soon-to-be graduates, imploring them to master "the curriculum of intimacy" before the next day's Commencement. "Go to the Regenstein with a special friend in your life, find the spot deep in the stacks where Nietzsche's Death of Tragedy is found," he said referring to the spot where he said he first learned to think about the great books. "But don't open the book. Take off some of your clothes and fool around."
Brooks's speech was part of the University's inaugural Class Day ceremony. In addition to his speech, graduating students Liz Adetiba, Karyn Peyton, and Alex Morales spoke. This year's Quantrell Awards for Excellence in Undergraduate Teaching were then presented to Andrew Abbott (sociology), Agnes Callard (philosophy), Bana Jabri (biomedical sciences) and Scott Snyder (chemistry).