Welcome Blanket and Smart Museum Knit Fabric of Community
Blankets and letters will be distributed to new immigrants and refugees in December.
"I'll build a great, great wall on our southern border," declared President Donald Trump in June 2015, "and I will have Mexico pay for that wall. Mark my words."

Trump's infamous plan, which has since become one of his most publicized campaign promises, reflects an attitude toward immigrants that seems to many to be cold and unwelcoming.

Los Angeles–based artist Jayna Zweiman offers a warmer alternative in the form of Welcome Blanket, an activist art project that invites people from across the nation to knit over 3,000 blankets from 3,500,640 yards of yarn to match the 2,000-mile length of the US-Mexico border. Knitters are encouraged to enclose welcome notes with each blanket, which will be distributed to new immigrants after the the exhibition, hosted by the Smart Museum, closes in December.
Museum visitors have been welcome to knit in the gallery since Tuesday, July 18, although the official kickoff event for Welcome Blanket is scheduled for August 3. Knitters who want to support the project have the option to waive shipping costs when they mail their blankets to the Smart, which has turned its Robert and Joan Feitler Gallery into a receiving station for sorting blankets for distribution.

"Watching the gallery fill is [going to be] really exciting," Zweiman said. "Having a home for something to grow…is a really special thing."
Zweiman isn't your average knitter—she discovered sculptural knitting as a graduate student at Harvard, where she studied architecture. Although she joked about having yet to knit a sweater, her work has already made waves: Zweiman and designer Kat Coyle co-founded the 2015 Pussyhat Project, the initiative behind the pink hats that protesters knitted and wore during Women's Marches all over the world this January.
The connection between the concreteness of knitting and the abstract idea of distance has always fascinated Zweiman. "I always thought of knitting as something that involves a line that becomes a surface and becomes a thing," she said.
So, when President Trump declared his plan to build a wall, her first thought was, "Well, how long is that line, really?"

Immigration is a personal topic for Zweiman, who grew up listening to her grandparents talk about how grateful they were for their chance to immigrate to the U.S. (her grandfather waited eight years for a visa in Eastern Europe after escaping the Bolsheviks). But Welcome Blanket is meant to be a project for everyone, regardless of their history.

"Everyone knows at least one refugee," she said. "I just hope that if someone comes to this country after having to leave where they were that they are welcome. …[That they become] part of the fabric of the community."
Through Welcome Blanket, this fabric is literally being knitted by a community that aims to be as open as possible.

"Knitting is for everyone," she said. "You can be the worst knitter in the room and still be welcomed in." As an inclusive group that allows people to talk and listen to each other while being productive, the knitting community embodies the respectful dialogue that Zweiman hopes politicians will someday emulate.
Letter templates and instructions for knitting each "Come Together Blanket," designed by Coyle are available online. What is special about her 16-square pattern is that knitters can work collaboratively and create myriad color combinations. "Diversity is definitely welcome," Zweiman said, her words taking on a prescient double meaning. The collaborative nature of the quilts makes it accessible to novice knitters, and symbolic of the blankets' purpose.

"[The welcome blanket is] a symbol and a gesture, something very practical that people can give to each other and use as a form of connection," Zweiman explained. "[When new immigrants arrive], they'll know there's something else in the U.S. who's really happy they are there."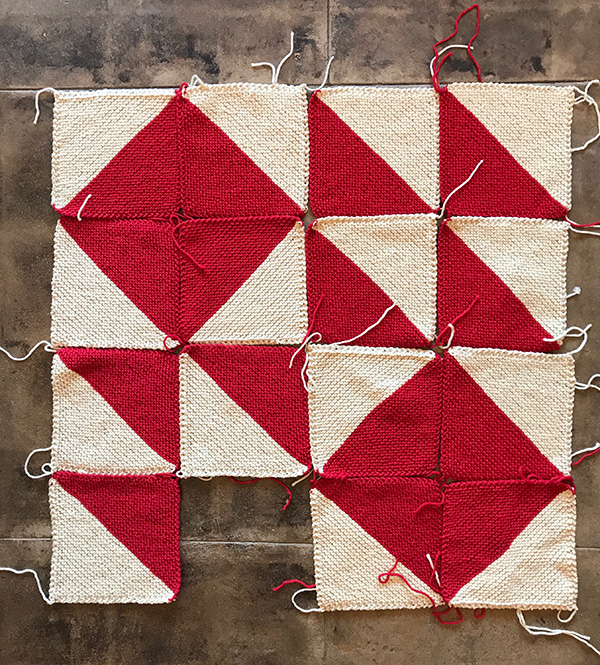 In the fall, the Smart will organize faculty panel discussions on the topic of immigration. Ali Gass, the museum's director, hopes that student groups on campus will reach out to her with ideas for collaboration. In October, she will participate in a public conversation with Zweiman and feminist artist Judy Chicago about the trajectory of feminist art.

"I really believe that university museums are kind of unique in the museum world," said Gass, saying that such museums—like the institutions that host them—should be spaces for the intellectual consideration of big issues, and can do so through the lens of art practice. "This is a museum that believes in the political impact of art." The University of Chicago, which both Zweiman and Gass recognize for its culture of debate and dialogue over difficult issues, makes a fitting home for Welcome Blanket.

Blankets and personal notes should be sent to the Smart by September 5, 2017 in order to be included in the project.