Subscribe here to receive the Maroon Newsletter in your email inbox.
Good morning.

The medical center is on edge as the Senate moves closer to repeal: Republicans are one step closer to repealing the Affordable Care Act (ACA) after 50 senators and Vice President Mike Pence voted "yes" to proceed to debate on a bill that would repeal major ACA provisions, and that's bad news for the University of Chicago Medicine (UCM). UCM said in a statement to the Maroon Tuesday afternoon: "While it remains unclear what the Senate and House may or may not ultimately approve, the University of Chicago Medicine is concerned about any proposal that would cut Medicaid, which would severely strain state budgets and negatively affect access to care for millions of Americans, including hundreds of thousands of Illinois residents."
Shortly after the election, President Zimmer told us: "We run a significant[ly] sized hospital. We have a lot of patients—a very high percentage of our patients compared to most other academic medical centers are government-insured rather than private-insured, which means that we are very much dependent on the ups and downs of this type of this kind of government policy."
** Related: U of C political science postdoc Daniel Nichanian (@Taniel) has one of the best Twitter feeds to follow for news and insight about repeal efforts.
New IOP executive director: Adrian Talbott, the current director of strategy, research initiatives, and development at the University, has been appointed to replace the outgoing Steve Edwards as the executive director of the Institute of Politics. Talbott received a bachelor's degree from Amherst College and worked as a legislative aide in the Senate. He will join the IOP on August 1.

ZBerry closing: The Hyde Park Herald reports that the 53rd Street frozen yogurt shop is closing after seven years in business. Owner Zenzile Powell gave the Herald a bleak comment about the closing: "It is very clear that the developments in Hyde Park are not for family owned and operated businesses but for big retailers, restaurants and LLCs, that have excessive capital to build out and operate under such conditions."

** Related: The Herald also reports that the bubble tea place in Campus North we first reported on earlier this month has a name: Te'Amo Boba Bar Cafe.

Ribbon cutting: At 11 a.m. the University of Chicago Health Lab and the Cook County Sheriff's Office, along with other collaborators, will announce the launch of a program that will provide services for individuals just released from the Cook County Jail. The facility, called the Supportive Release Center, will offer a "brief overnight stay and linkages to services in the community."
Note: Provost Daniel Diermeier will speak at the announcement.
Street photographer's prints donated to U of C: A collection of about 500 photographs taken by famous Chicago street photographer Vivian Maier have been donated to the library. "We would like to simply make the collection available to researchers," director of special collections at the library Daniel Meyer said in a Tribune article. "We are very interested in seeing what students and researchers are able to provide in the way of interpretation and analysis."

Breitbarted: "If you are allowed to abort a fetus that has a severe genetic defect, microcephaly, spina bifida, or so on, then why aren't you able to euthanize that same fetus just after it's born? I see no substantive difference that would make the former act moral and the latter immoral." That's the latest incredibly controversial take from a University of Chicago professor. Ecology and Evolution professor Jerry Coyne's blog post arguing that it "makes little sense to keep alive a suffering child who is doomed to die or suffer life in a vegetative or horribly painful state" has been picked up by a number of online news outlets and, now, by Breitbart News.
Strautmanis discusses Obama Center progress: On Monday the Obama Foundation's vice president of civic engagement, Michael Strautmanis, spokeon Chicago Tonight about the status of the Presidential Center. He said he hopes the Center will tell a story "that really is so much about Chicago," starting with Harold Washington, and including other leaders as well. He also spoke to the Foundation's opposition to a Community Benefits Agreement, a document outlining steps that the organization and the city would be legally obligated to take in order to ensure that existing community residents benefit from the new Center. "President Obama has decided to bring this center to the community that has given him so much in order to benefit that community," he said. "We don't believe that a community benefits agreement is the right tool for the progress and impact we know we can have." However, he says he will continue to meet with advocates of the agreement.

** Related: The Foundation announced Ralph Leslie as its Chief Financial Officer yesterday. Leslie formerly worked as CFO of Navy Pier.
---
IN ARTS
Deputy Editor-in-Chief Hannah Edgar writes in.
The same two-woman team behind the Pussy Hat has pieced together a collaborative response to President Donald Trump's anti-immigrant policies: a welcome blanket spanning the length of the U.S.–Mexico border. Co-creator Jayna Zweiman talked to The Maroon about the project, the ongoing showcase at the Smart, and how you (yes, you) can participate.
During this year's Pitchfork Music Festival, singer-songwriter Mitskionce again demonstrated why she and her music defy easy categorization.
---
Anxiety over South Side development: A community meeting at Woodlawn's Experimental Station last night expressed substantial concerns about development projects in the surrounding neighborhoods. The loosely structured event was opened to attendees by local journalist Jamie Kalven, who moderated. Heads of local community development groups, preservation advocates, and park supporters took turns at the mics along with longtime residents of Hyde Park, Woodlawn, and South Shore.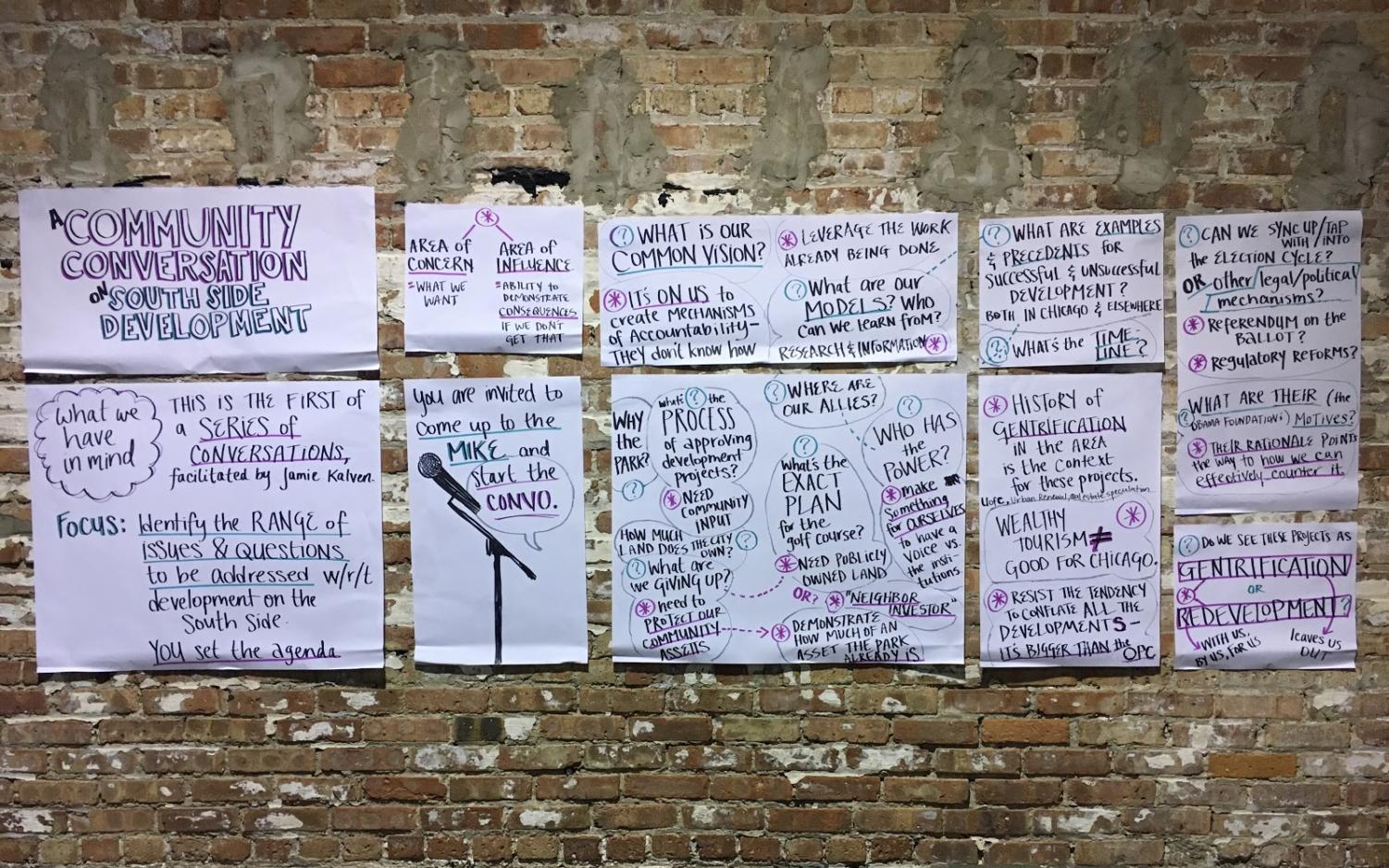 The changes brought to Jackson Park by the revamping of the Park's golf courses and the construction of the Obama library were a central issue for many of the attendees. The assembled crowd was not unanimous, providing different analyses of the problems posed by the projects and different prescriptions for confronting them. The meeting closed with an appeal from an eleven-year old resident, expressing gratitude for the library, which she hoped would provide a resource for her and other people her age. Video of the event was posted online.

CPD expands Crime Lab linked programs: The Chicago Police Department (CPD) announced on Tuesday that the department would expand tech-based initiatives, some of which are the brainchild of the University's famed Crime Lab. Data-gathering initiatives that are scheduled to be expanded include the ShotSpotter gun shot sensor program, which collected gunfire data that was used by the Crime Lab to direct officers to areas in need. The CPD credits these data-driven initiatives as one of the major reasons for why shootings have been down citywide by nearly 13 percent so far.

In Hyde Park-adjacent restaurant news: Daley's, a favorite diner of students living south of the Midway (it's located under the Cottage Grove Green Line stop) was used in the filming of the show Empire on Monday, according to DNAInfo. DNAInfo also reports that the Harold's Chicken at 64th Street and S Cottage Grove Avenue was demolished on Monday after a devastating July 15 fire.

U of C professor analyzes Polish crisis: Monika Nalepa, an associate professor of political science at the University, analyzes Poland's ruling Law and Justice party's (PiS) recent attempt to undermine judicial independence in an article for The Washington Post. While many in Poland agree that the judicial branch needs to be reformed, Nalepa argues that the ruling party's reform proposals, which would allow the executive branch to effectively fire supreme court judges, actually serve to consolidate PiS leader Jarosław Kaczyński's political power—explaining why demonstrations against PiS's proposals have broken out across the country. Perhaps in response to the protests, Polish president Andrzej Duda vetoed PiS's attempt to have absolute control over the supreme court earlier this week.
Feedback via e-mail to news@chicagomaroon.com