MFA Summer Projects Find Home at Logan Center
Adrienne Meyers, Shanna Zentner, and Jan Brugger give the Logan Center Gallery a makeover for the summer.
On the evening of July 20, three students in the University of Chicago's MFA program took over the Logan Center Gallery to exhibit their summer projects. Adrienne Meyers, Shanna Zentner, and Jan Brugger hung swathes of fabric, painted walls, and projected images to provide visitors with an interactive experience with their artwork.
Meyers, who designs and draws empty spaces, intentionally paints unusual interiors with doors and windows where they shouldn't be. When she was given the opportunity to exhibit her work at the Logan Center Gallery, she decided to build an environment for these paintings to coexist.
"The paintings came first, but the whole point of working in this room was to create a space for the objects and the light to interact with each other," she said.
Such an environment is unheimlich, which is defined as something familiar yet uncanny. Meyers aimed to create a domestic space that had "something off" about it: Speakers played a white noise track on loop, the lights were dim, and a pink hue was projected over penciled drawings on the wall. Two nearly identical paintings were put on display next to each other, allowing viewers to notice the subtle differences between them. A full-length mirror stood on fabric from an absurdly long curtain that hung from the wall and pooled on the floor.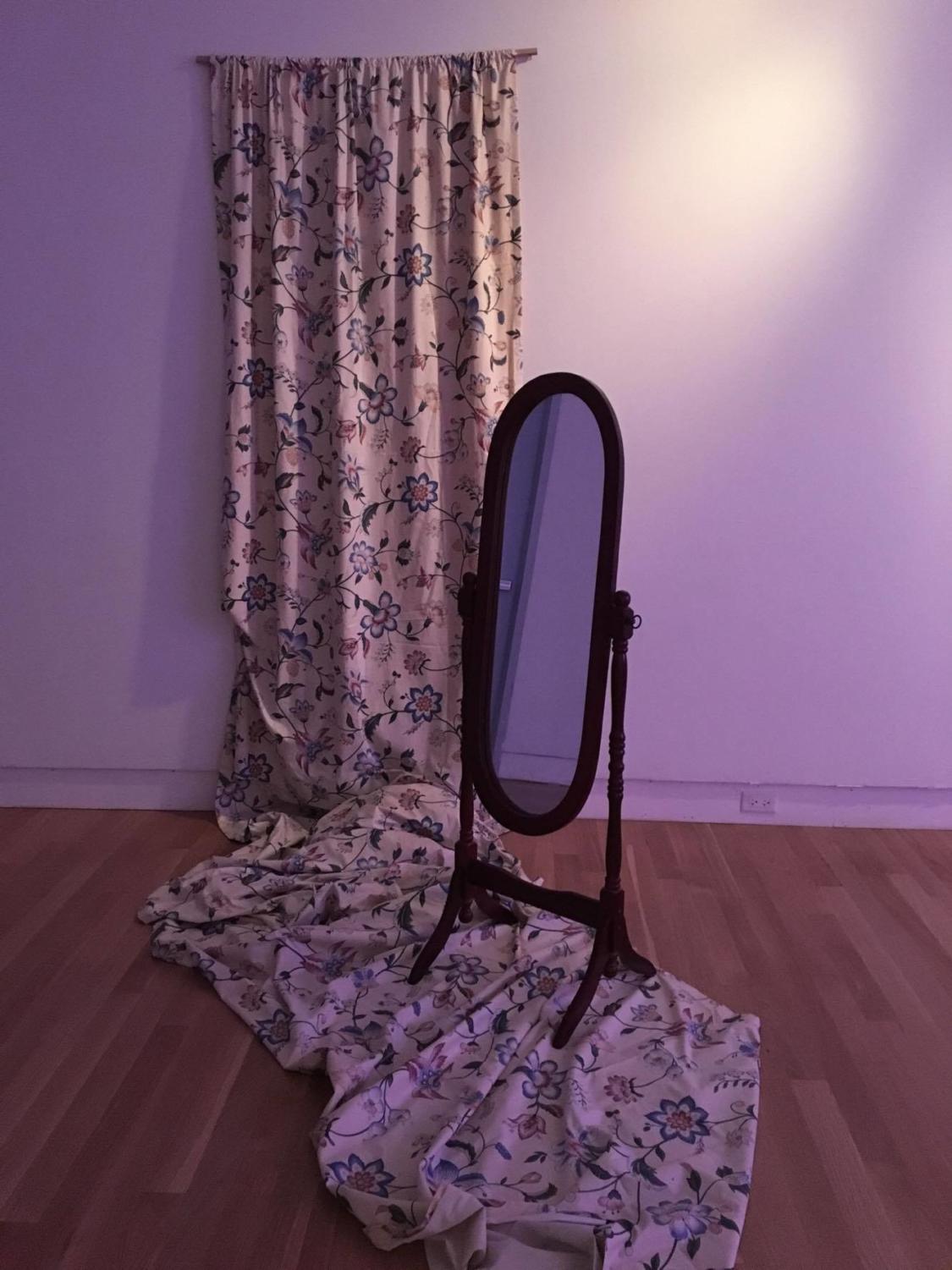 "You feel transported into another space," explained Meyers.
Zentner's exhibition also was centered around canvas paintings, but she painted on the walls behind the paintings instead of using lighting and sound to let her pieces "be in conversation" with each other. One painting that stood out was a black and white canvas juxtaposed against a green wallpaper background; the canvas was strategically torn in places so that viewers could see streaks of vibrant green popping out beneath the grayscale swirls of the painting.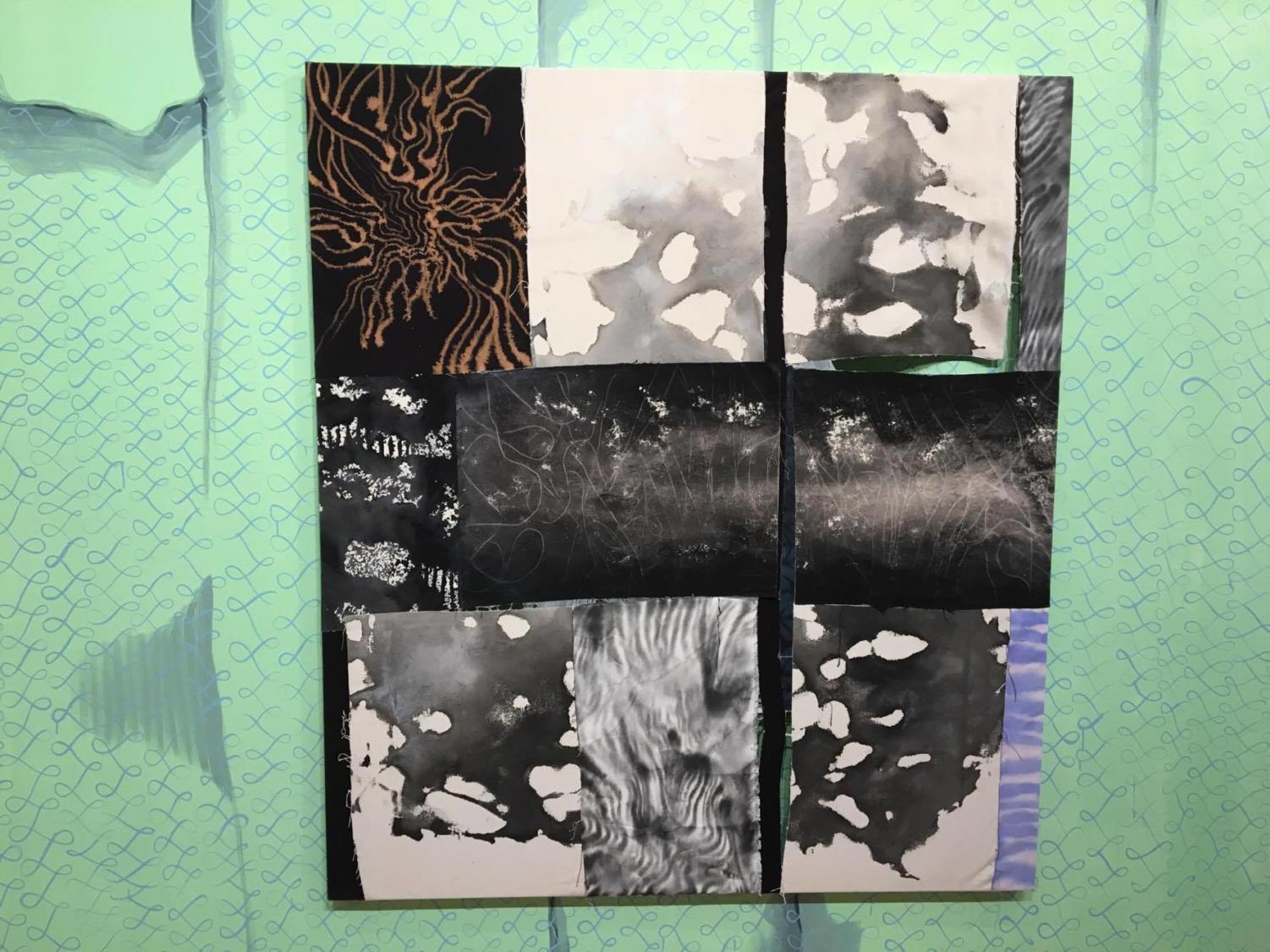 "I wanted to create a collection of surface treatment on the walls and hang the paintings in that atmosphere," she explained. The walls took a week and a half to paint, and many of her paintings had been completed before she began to set up the exhibit.
On one wall, Zentner hand-painted a vibrant stack of red blocks that balanced well with her green wallpaper. On the adjacent wall, the brick motif was replicated using a roller. The different textures these techniques created, according to Zentner, changed the relationship the walls had with her paintings even if they shared the same motifs.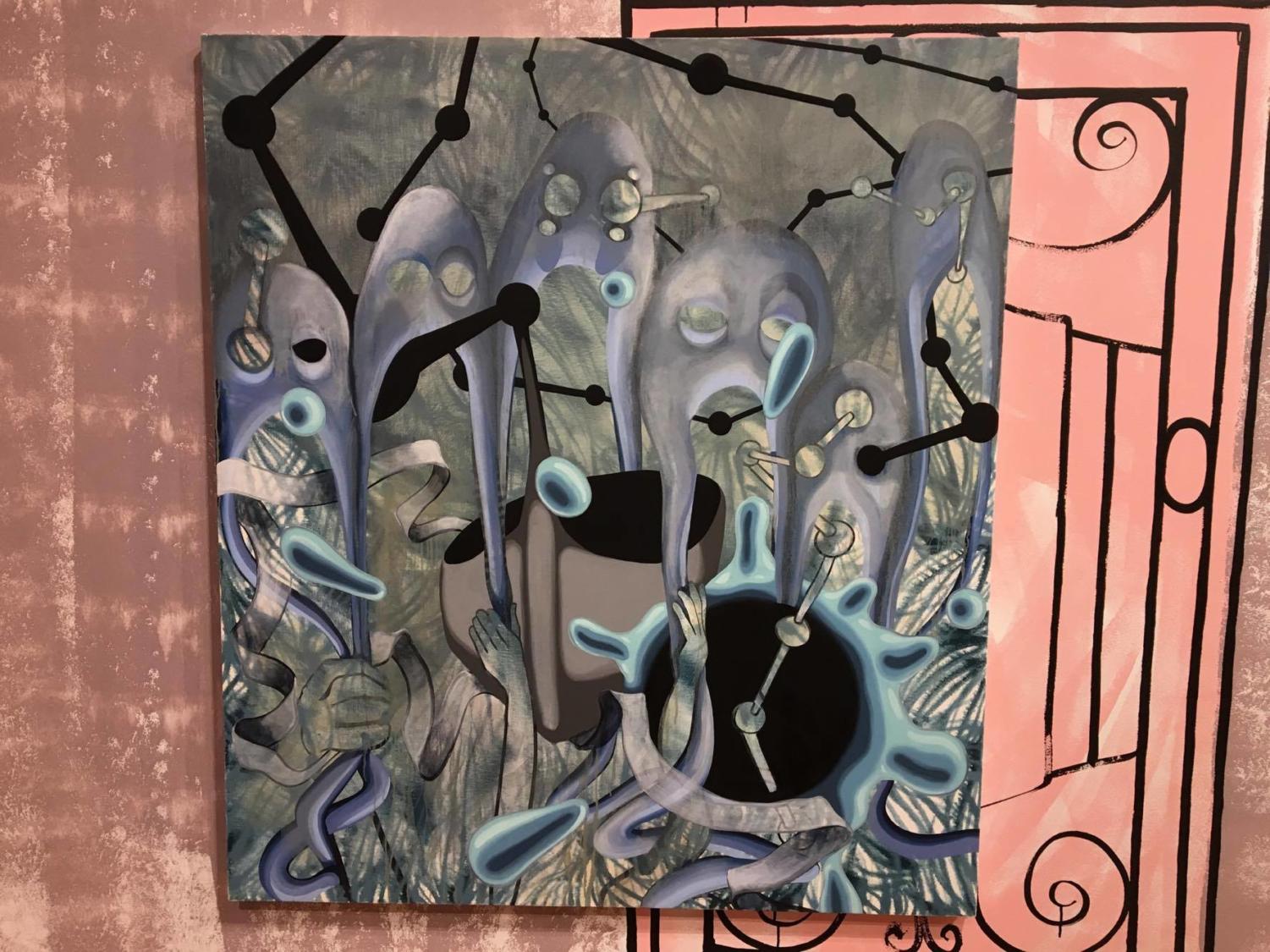 Brugger had perhaps the most three-dimensional exhibit, incorporating multimedia elements into her gallery space with projections, mounted objects, and sculptures carved out of Styrofoam that littered the floor. She explained that much of her inspiration came from the Grecian marble sculptures she saw in Athens when she travelled there last year.
"We're probably going to leave behind a bunch of Styrofoam instead," she laughed.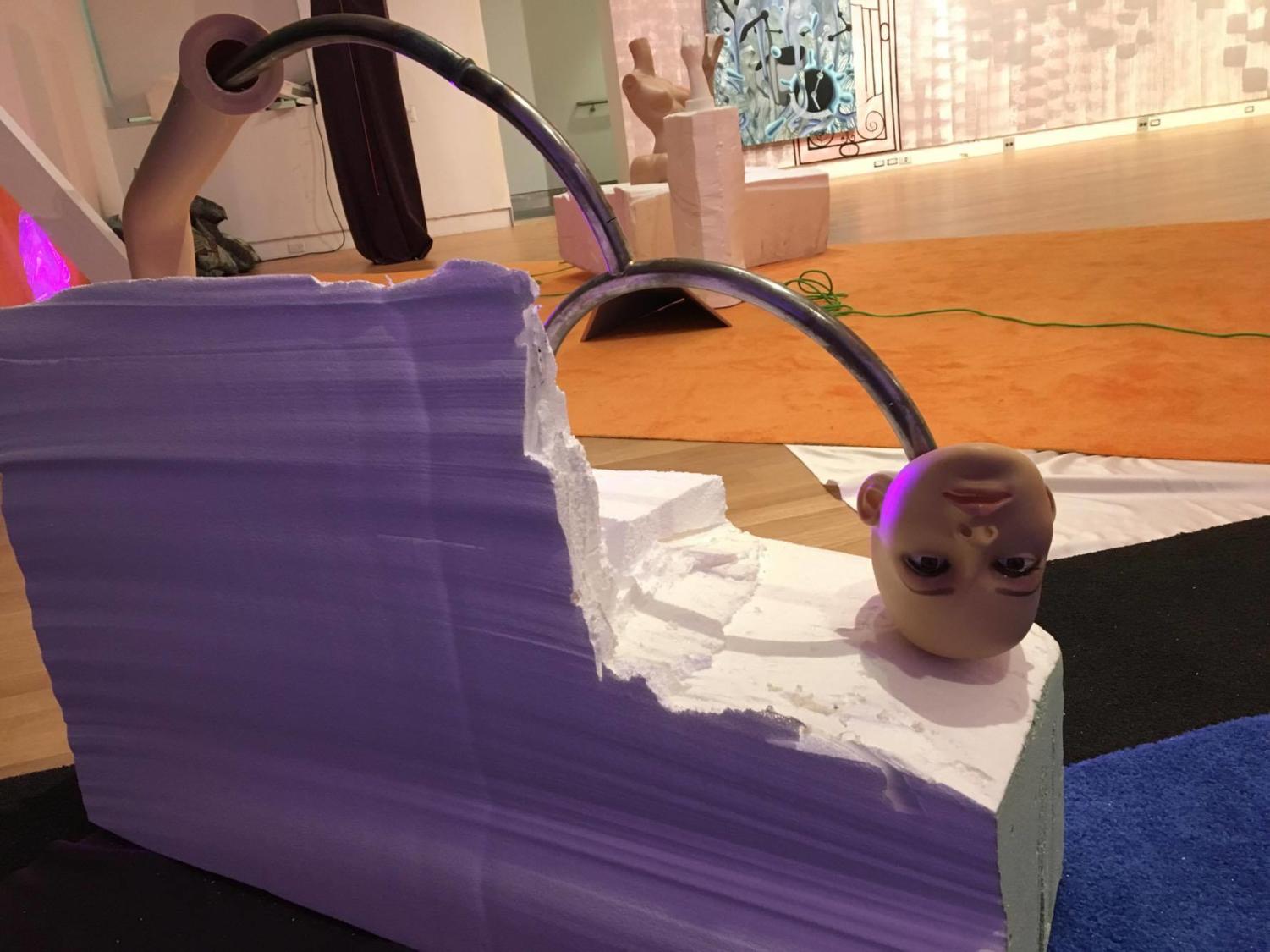 Brugger also explored the ties between Grecian and modern times through a video, replaying on an iPad suspended precariously in mid air, of a CGI Venus that would appear increasingly irritated as the video continuously glitched.
"I was trying to imagine the Greek goddess Venus trapped in our modern times, so created this video to demonstrate her sense of frustration at buffering and slow technology," explained Brugger.
She also noted her fascination with the way bodies seem trapped in time, almost like sculptures are, when people interact with a screen: a loading screen projected on the other side of her exhibit was populated with frozen mannequin figures in contorted positions, conveying how frustrations toward technology have a negative impact on the human body.
The Logan Center Gallery is usually fully reserved for exhibitions throughout the year, but the Center put out an application for artists to showcase their work for the summer upon realizing that there would an opening in the month of July. Meyers, Zentner, and Brugger's work ensure that, instead of walking into what could have been an empty gallery, you will instead be greeted by dimly lit spaces, blinking screens, vibrant walls, and more sights that engage and surprise.
Logan Center Gallery's Summer Projects will run until August 6.