Newsletter for September 20
UChicago challenges travel ban in joint amicus brief to SCOTUS; Swords drawn in Medieval studies fight; and Obama rejects CBA for presidential center
---
Good morning. It's O-Week.

Next week we're resuming the newsletter's normal publishing schedule, Tuesdays and Fridays at 8 a.m. CT.

Welcome to the Class of 2021. We have an information session on Tuesdayfor anyone interested in contributing to The Maroon. Our orientation issue is out on newsstands around campus, and you can read it online here. Here's the cover design, by second-year Amelia Frank: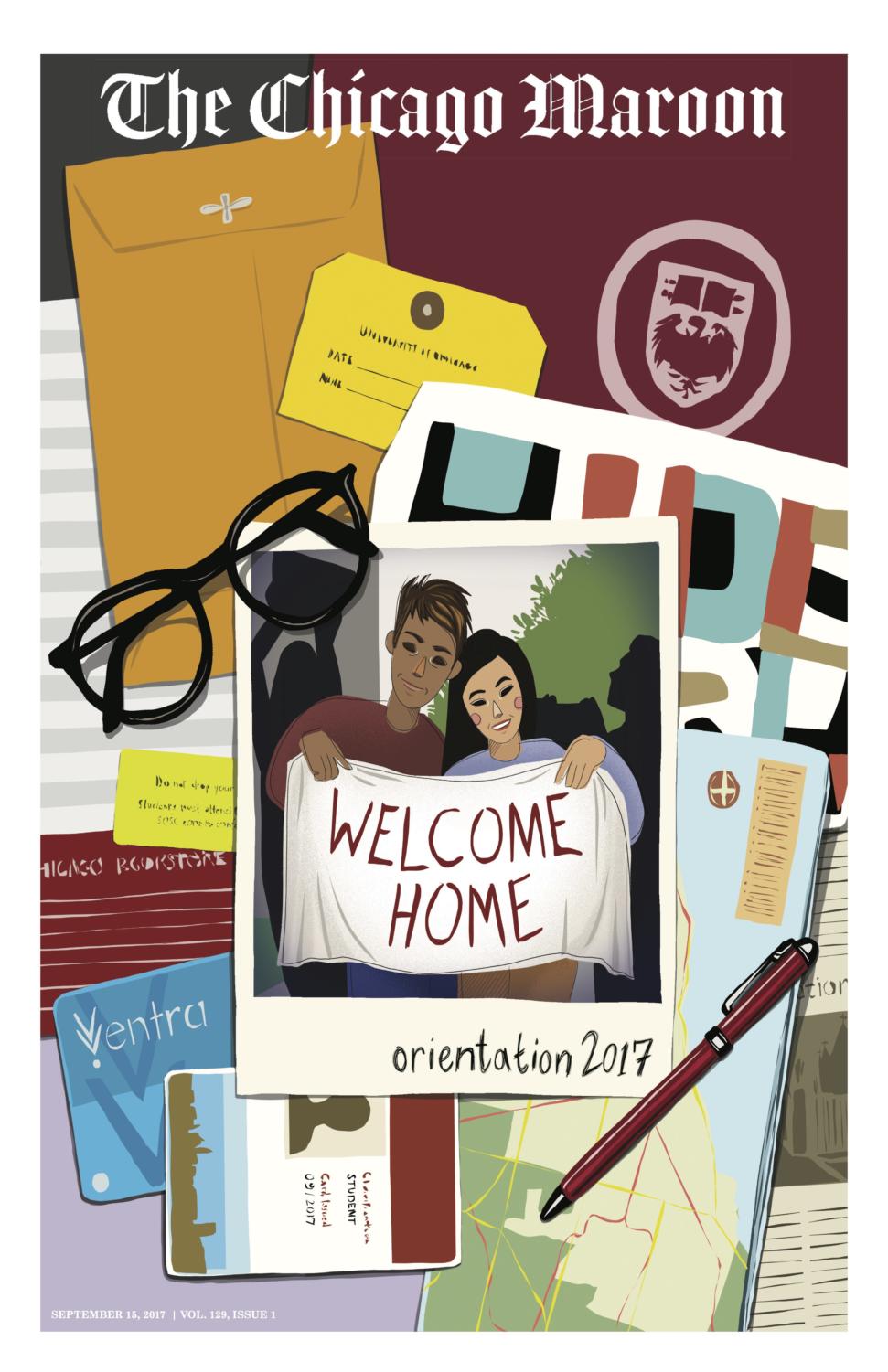 Obama rejects community benefits agreement: Barack Obama made an appearance via video conference at a community forum for his presidential center last week, and he was asked to respond to activists' calls for his foundation to sign an agreement that would legally bind them to providing benefits for communities surrounding the Jackson Park site. Here's what he said:
"The community benefits agreement (CBA) concept is actually one that I think can be a really useful tool if you have, let's say, a bunch of developers coming in who are wanting to build a high-rise or wanting to build some sort of for-profit enterprise in your neighborhood…. We're a nonprofit that [isn't] making money. We are just bringing money to the community…. The concern I have with respect to a community benefits agreement in this situation is that it's not inclusive enoughbecause I would then be signing with who? What particular organizations would end up speaking for everybody in that community?"
At the same event, the Obama Foundation's Vice President of Civic Engagement Michael Strautmanis said Obama "believes that this is more important and he will have more impact in this phase in his life than he did as president."
Strautmanis will moderate a discussion this afternoon with Valerie Jarrett, former senior adviser to Obama, for the Harris School's keynote event in its Welcome Week programming.
CBA advocates are gathering this evening at Hyde Park Academy High School to continue to call for a CBA.
---
---
Fighting against the travel ban: The University has joined 30 other colleges in an amicus brief filed on Monday to the Supreme Court (SCOTUS) that argues that President Donald Trump's revised order to block citizens from six Muslim-majority nations "both threatens American higher education and offends important, defining principles of our country."
The same 30 colleges filed a brief in March with the U.S. Court of Appeals for the Fourth Circuit and the Ninth Circuit in April. Both cases will be heard by SCOTUS, which is why the new brief was filed.
State rep. Barbara Flynn Currie (A.B. '68, M.A. '73), a Democrat from Hyde Park who represents the South Side's 25th District will not run for re-election, she said Thursday. Currie, who has been in office since 1979, is the first woman to be a majority leader of the Illinois General Assembly.

Trauma center: Five surgeons have joined the University of Chicago Medicine in advance of the May 2018 opening of the trauma center.

Swords drawn in Medieval studies fight: Rachel Fulton Brown, a Medieval studies professor at the University who drew national attention for her ardent defense of "alt-right" figure Milo Yiannopoulos, engaged in a bitter war of words with Vassar professor Dorothy Kim after the latter wrote in a blog post that "Medievalists need to take explicitly anti-racist positions."
Rachel Fulton Brown responded with a blog post of her own criticizing Kim's position. Brown later posted on Facebook about the conflict.
In the Facebook post, Brown tagged Yiannopoulos, who later published an article on his website condemning Kim titled "Lady With a Sword Beats Down Fake Scholar With Facts and Fury."
Kim's supporters protested that the article contained violent imagery and, because it included a photo of her, threatened Kim and her family personally.
For more on the far-right's adoption of Medieval symbology—and efforts by those in the field to push against it—check out our coverage of a student workshop from March.
Aims of Education: Professor Robert Rosner addressed the upcoming 75th anniversary of the first artificial nuclear reaction yesterday in the Aims of Education Address for the Class of 2021. The reaction took place on campus as part of the wartime research program that led to the creation and use of the world's first nuclear weapons. He drew attention to the University's decision to frame the events as a commemoration rather than a celebration, and recalled the post-detonation attempts of physicists and others at the University to restrain the use of the weapons they helped create. Rosner worked as the chief scientist and director of the Argonne National Laboratory, a legacy of the University's wartime nuclear research, and is currently a co-chair of the committee that sets the doomsday clock of the Bulletin of the Atomic Scientists. See the whole address here.
Events: Investigative journalist and provocateur Glenn Greenwald and author Moustafa Bayoumi discuss the consequences of the long war on terror for civil rights in Rockefeller Chapel on Tuesday, September 26 from 7:30–9 p.m. See more events on campus and add your own at chicagomaroon.com/events.

The University's Crime Lab will help measure the impact of a $40 million investment in the South and West sides of Chicago by JPMorgan Chase. Researchers will assess if participants in a violence reduction program are involved in fewer shootings than members of a control group.

Eight progressive campus groups are starting the year with a focus on racial justice. The coalition is holding a "teach-in" on Wednesday, September 27 "to create awareness and educate attendees about the university's place and historical responsibility in ongoing struggles for racial justice around the city of Chicago and the world at large." They will voice demands to the University at a rally on the quad on Friday, September 29. One of the scheduled speakers for the teach-in co-authored a recent paper titled, "A Case for Reparations at the University of Chicago."

Pete Souza, the chief official White House photographer of the Obama and Clinton administrations, will speak at an Institute of Politics and Seminary Co-Op event in order to promote his collection of photos that will hit stores this fall.

Nella Pizza and Pasta, the Italian restaurant in the base of Campus North, opened Friday just in time for O-Week drop-offs.

$250 Million for Div School Name: Per Crain's, new Divinity School Dean Laurie Zoloth is looking for a quarter of a billion dollar donation—and would reciprocate by renaming the University's oldest professional school. The money from this and other large donations would go to ending tuition for graduate students at the school and expanding its academic programs.

Chess star may become U of C student: Hou Yifan, the world's highest ranked female chess player, was accepted to the University's social work master's program. She has, however, decided to defer her enrollment by one year to continue to compete competitively.
Sonya Malunda, a University administrator who established the school's employer-assisted housing program and helped create a plan to revamp the Midway Plaisance is leaving the University to assume her new role as the president of a coalition of Midwestern liberal arts colleges on October 2.

Clery reports: Complaints to the Department of Education that colleges are failing to properly report crimes on campus (sometimes called Clery complaints) are being resolved more quickly, Politico reports. A change in tempo in the Trump-era department has raised concerns that less rigorous scrutiny is being applied, though a department spokesperson told Politico their policy had not changed.

Another Chicago Council of Economic Advisors connection: Richard Burkhauser (Ph.D. '76), a professor emeritus at Cornell University's Department of Policy Analysis, has been named the newest and final member of Trump's Council of Economic Advisors (CEA). According to a bio on his Cornell University profile, his "research focuses on how public policies affect the economic behavior and well-being of vulnerable populations." Tomas Philipson,a professor at the Harris School, was also appointed to the CEA in August.
Feedback via e-mail to news@chicagomaroon.com