Trauma Center Head Advocates for Treating Violence as a Disease
"We often hear narratives about gang bangers, about bad people. There's a moral failure component," Rogers said. "But what if it's a learned behavior?"
Dr. Selwyn Rogers, head of the new University of Chicago trauma center, argued that intentional violence is a disease rather than a moral failing at a talk on Wednesday.
The talk was the first of several planned lectures that will address "Ethical Issues in Violence, Trauma, and Trauma Surgery." The annual lecture series, now in its 36th year, is sponsored by the MacLean Center for Clinical Medical Ethics.
In his talk, Rogers framed violence as a "complex disease" and argued for an ethical approach to violence prevention in Chicago and nationwide.
According to Rogers, the medical establishment has largely accepted the idea that violent crime is caused by individual bad actors. Violence prevention is therefore seen as outside the medical realm.
"We often hear narratives about gang bangers, about bad people. There's a moral failure component," Rogers said. "That leads to a framework where…this [violence] is intractable, unsolvable, just the way it is. But what if it's a learned behavior?"
Factors including racism, educational disparities, lack of economic opportunity, the availability of guns, social networks, and policing can all impact violent behavior, according to Rogers. "The distribution of health-slash-wellness is not random," he said.
As evidence, he pointed to the average life expectancies in different Chicago neighborhoods. A Loop resident can expect to reach age 85, while those living in Washington Park only live to age 67 on average. The violent crime rate in Washington Park is nearly twice that of the Loop, according to the Chicago Tribune.
"That's 16 years, 8 miles, in a great city called Chicago. Today." Rogers said.
Rogers believes that medical professionals have a duty to tackle this disparity. "My challenge to all [in] this room and beyond is that our proximity is our call to action," he said. "Within 10 miles of us, a disproportional amount of intentional violence, of gun violence, happens every day."
Little of that gun violence occurs in Hyde Park, which is among the 15 Chicago neighborhoods that see the least violent crime. However, nearby Washington Park and Englewood rank in the top 10 most violent neighborhoods.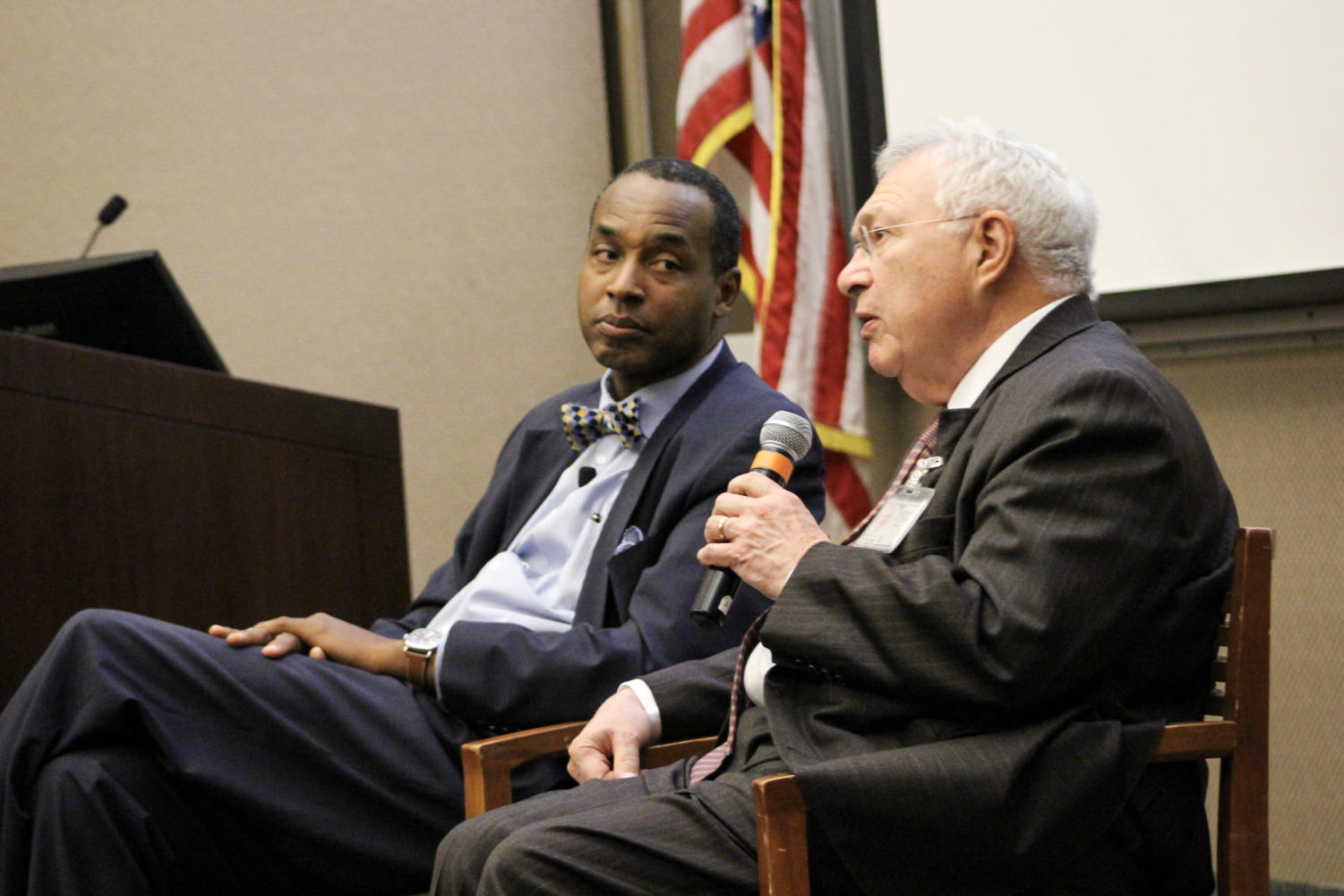 As the head of the University of Chicago Medicine's new trauma center, which is scheduled to open on May 1, 2018, Rogers plans to partner with community organizations to improve the safety of these and other surrounding neighborhoods.
If people don't feel safe, they cannot be healthy, Rogers said. He added that when doctors see a trauma patient, part of the treatment process should include asking, "Are you safe? Can we help you find a safe place to be?"
To drive home the importance of social intervention, Rogers shared the story of a 17-year-old patient who came to Rogers with a bullet wound in the neck.
The wound was not serious, but the boy reminded Rogers of his two teenage sons. "I just didn't feel right sending this kid home, even though he was physiologically fine," Rogers said. However, there was no protocol in place for next steps to take, so Rogers discharged the patient.
Six weeks later, Rogers saw the boy again. He was in the hospital with a new injury.
"In those intervening 6 weeks, he had been shot again in the abdomen, in the liver, in the small bowel, at high velocity," Rogers said. "And I asked myself, 'have I done anything?'"
Trauma surgeons, Rogers said, "can weather a lot of people through a lot of really hard stuff. But this stuff, healing the mind and the spirit after the trauma, we don't know how to do this. Or at least we don't know how to do it well."
Rogers hopes to change this. When the trauma center opens in May, post-trauma care will be offered starting day one.
"Through shared working together, we're going to make an impact," Rogers said.
The MacLean lecture series will continue through May 2018.