Polls Open: What You Need to Know About Graduate Student Unionization
Unionization supporters say that graduate students would be able to negotiate better pay and working conditions in a union, while the arguments against GSU generally focus on the burden of union dues.
Starting this morning, about 2,500 graduate students can cast votes in an election to determine if they will be represented for collective bargaining by Graduate Students United (GSU).
GSU members are fired up after rallying on the quad yesterday and receiving endorsements from a number of high-profile progressives in the last several days, including Senators Bernie Sanders (I-VT) (A.B. '64), Tammy Duckworth (D-IL), and Dick Durbin (D-IL).
The administration continued to mount its opposition in the lead up to the vote, attempting to make the case to graduate students that unionizing would be against their best interests and contesting their right to unionize through its attorneys.
Though GSU has had a significantly more organized and vocal presence in the weeks before the vote, an anti-union group called Stop and Think maintains a website with anti-unionization information. (Stop and Think could not be reached for comment Monday.)
Unionization supporters say that graduate students would be able to negotiate better pay and working conditions in a union, while the arguments against GSU generally focus on the burden of union dues.
University e-mails in the days before the vote discouraged graduate students from voting to be represented by GSU, cautioning that a union would introduce a "third party" into the relationships between graduate students and the University.
Administrators also stressed that the proposed bargaining unit includes students in the sciences, which administrators say would lack precedent at a peer institution—though GSU notes that some unions at public universities include students in the sciences.
Organizations of graduate students at schools across the country have been pushing to unionize since the National Labor Relations Board (NLRB) ruled last year in a Columbia University case that graduate students can unionize and are workers under federal labor law.
Just last week, Graduate Workers of Columbia filed a motion in the University of Chicago NLRB case requesting to file a motion to ask for the recusal of Marvin Kaplan, a Trump-appointed NLRB member whose wife is employed at Columbia.
The pro-union group at Columbia wants Kaplan to be recused from the University of Chicago case because the UChicago administration has a pending request for review that argues the Columbia decision should be overturned.
The administration filed a motion yesterday opposing the Columbia students' request to intervene in the UChicago NLRB case.
Eleven universities have seen similar unionization votes since the NLRB opened the possibility last year, with mixed results: at four schools, the administration accepted a vote in favor of unionization and advanced to contract negotiations; at two schools, prospective unions withdrew their bids in face of indifferent results.
The other cases are stalled by legal challenges, some of which question the legality of graduate students unionizing. With a new Republican majority on the NLRB, a reconsideration of that issue could be in the offing.
How to vote
Polls will be open today and tomorrow from 9:00 a.m. to 9:00 p.m. at four locations on campus: Regenstein Library (Room A11), Hinds Laboratory (Room 176), Kent Laboratory (Room 114), and Stuart Hall (Cox Lounge).
Students are required to show a state-issued photo ID or a University student ID at the polling location assigned to them based on last name. According to NLRB rules, any votes submitted outside of the assigned polling locations are subject to challenge in order to avoid duplicate voting.
The ballots will be counted at the NLRB's regional office downtown on Thursday morning at 10 a.m.
Science students in the spotlight
Executive Vice Provost David Nirenberg encouraged graduate students in an e-mail on Sunday to consider the fact that some graduate student unions at other universities do not include the sciences in their bargaining units.
He cautioned of the introduction of a "third party" with the creation of the union, referring to GSU's affiliations with the American Federation of Teachers (AFT), the Illinois Federation of Teachers (IFT), and the American Association of University Professors (AAUP).
"Yet the proposed UChicago bargaining unit that the AFT-AAUP seeks to represent would specifically include graduate student researchers in the sciences," he continued. "One important question at stake in this vote is: should a third party, especially one whose values are not primarily concerned with research, play such an important role in determining something as vital as when and for how long you and your colleagues can pursue your scholarship?"
GSU responded in a statement to The Maroon on Monday: "We are aware of several grad student unions that include researchers in the sciences. These are UC Berkeley, Rutgers, SUNY, Oregon State, the University of Oregon, and others."
Nirenberg's email followed two very similarly written messages to graduate students from the deans for graduate affairs in the Biological Science division and the Physical Sciences division.
A letter signed by a number of professors posted to the AAUP website responded to these deans.
"In several communications, [deans] raised the spectre of a shady 'third party' that will come into the picture if a graduate student worker union is formed. That is a very strange thing to say for an institution like the University of Chicago, which has teams of lawyers and consultants who are not academics, and is headed by a board of trustees with no representatives from faculty or students. It is also difficult to understand what might be meant by saying that the union would be 'without (apparent) experience in research,'" it reads.
"The union would be made up of graduate students. It would be assisted by the resources of the American Federation of Teachers and the American Association of University Professors … Do our administrators really believe that these groups have no experience in research?"
"Energy is high among GSU supporters"
Despite feeling that the University has resisted their efforts to unionize at every turn, GSU says it is confident about its prospects going into the first day of voting.
Approximately 70 people attended a rally on the steps of Levi Hall on Monday, chanting, singing, and holding signs saying "Recognize Us Now" and "Research is Work."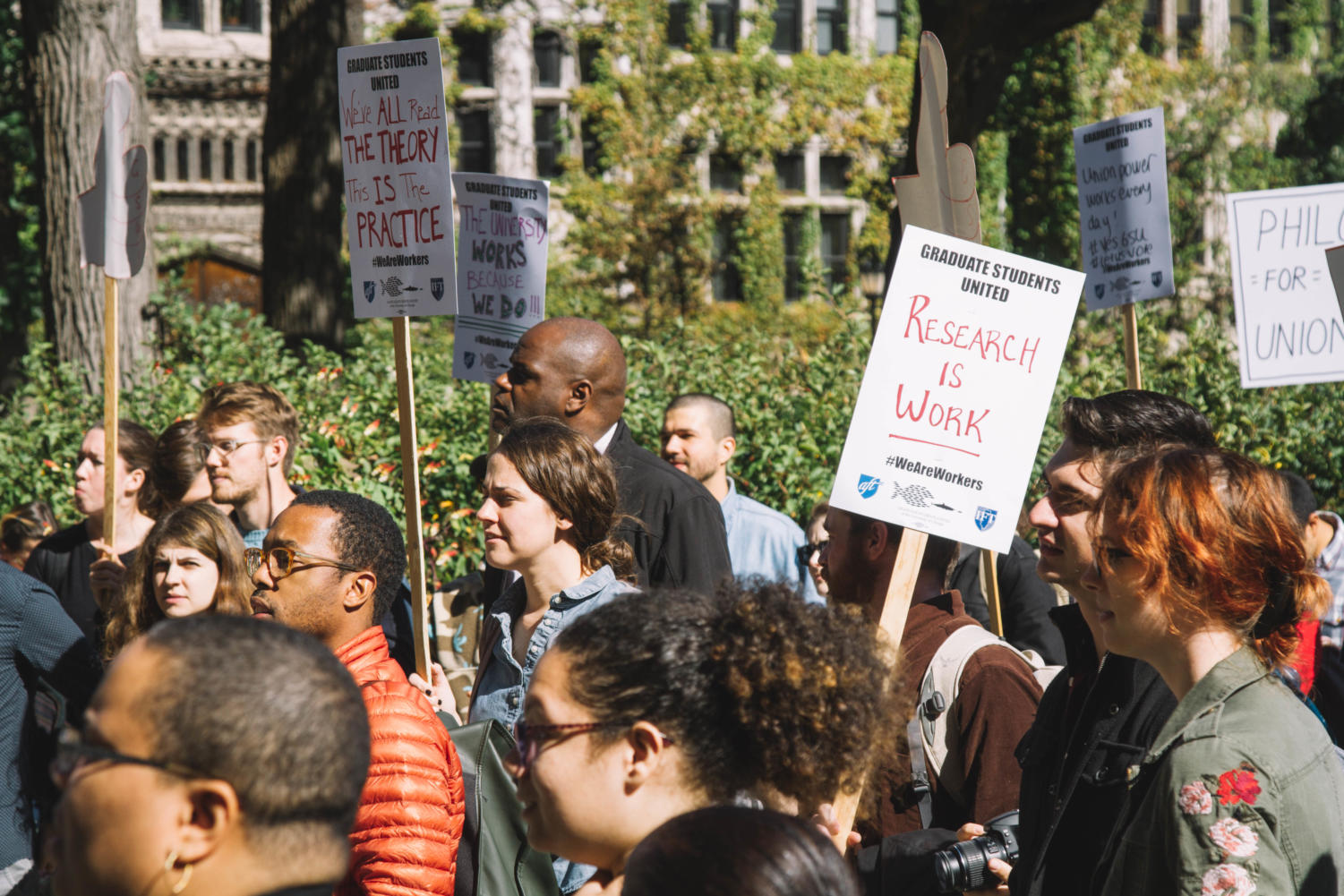 "We've been in touch with our supporters and our members throughout this process as we've met with new information," Daniela Palmer, a sixth-year Ph.D. candidate in evolutionary biology told The Maroon at the rally. "We're confident that their commitment will hopefully overcome any of these [issues]."
"This is an incredibly exciting and rewarding moment for all of us," said Chaz Lee, a seventh-year Ph.D. candidate in music history. "I'm really proud to be standing with [other students] today and to go to the polls with them."
At a Monday afternoon meeting downtown, Illinois Federation of Teachers president Dan Montgomery told The Maroon, "I think for them it's going to be an affirmation…that their faith in each other and belief that they can make their institution better and collectively have a more professional voice is going to pay off."
"Once we get together after the election and we have a representative sample of the bargaining unit, we will go forward based on whatever decisions we feel we want to make," Caine Jordan, a second-year history Ph.D. candidate and GSU member, said in an interview.
"I'm hoping we will have a say, which we have not had since I've been here," philosophy Ph.D. candidate Amos Browne told The Maroon. Browne, a preceptor in the Master of Arts Program in the Humanities, has worked in various capacities at the University for 8 years. "I am cautiously optimistic the vote will be a success."
"Energy is high among GSU supporters on campus, and beyond," GSU said in a statement to The Maroon.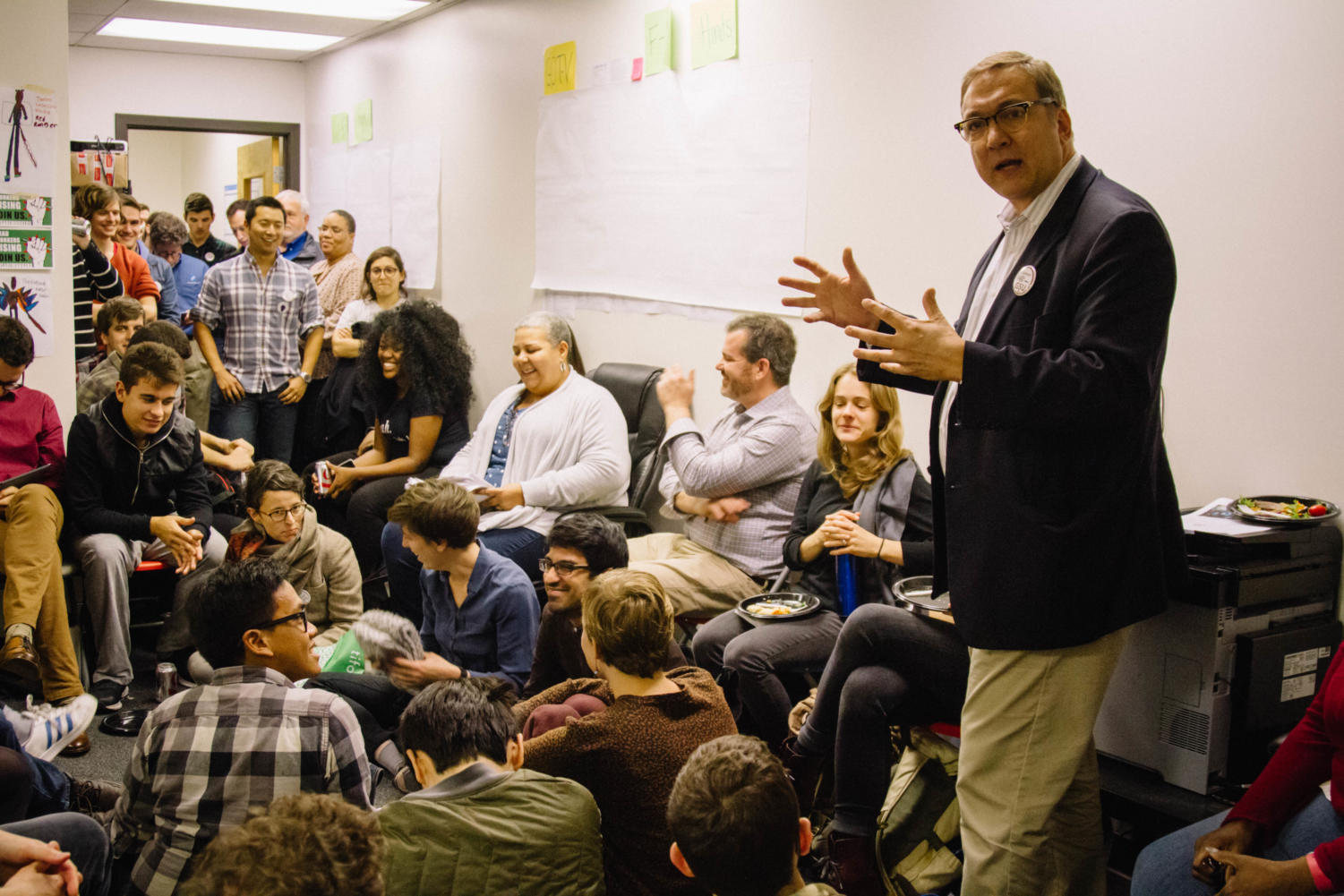 GSU Endorsements
GSU has recently received a number of notable statement of support from high-profile progressives like Sanders, Duckworth, Durbin, Noam Chomsky, Glenn Greenwald, Alice Walker, and Chelsea Manning.
"I understand this fall you will be voting in an election to determine whether Graduate Student employees at the University of Chicago will have the right to union representation," Sanders wrote in his letter to graduate students. "I respect the critical work you do every day, and wish you the very best in your efforts to create a democratic workplace where your voice can really be heard."
Who would pay dues
Nirenberg argued in his e-mail that the involuntary nature of unions would force students to "support [AFT's] interests, even if they opposed the union or did not vote in the election," adding that an AFT partnership may support "distinct interests" separate from the issues GSU focuses on.
In a statement sent to the Maroon, Nirenberg elaborated on his argument. "Dues help support the union and its local and national agenda, including its lobbying efforts and support for preferred elected officials. If a graduate student union is approved, it is likely that the union would require invidivual graduate students to support it through mandatory dues or agency fees, and individuals in the bargaining unit could not choose to "opt out" of being represented by the union in negotiations over the terms and conditions of employment. This is true even if individuals disagree with the objectives of the local or national organization," the email states.
An agency fee is charged to non-members to compensate for the benefits of union bargaining.
Asked about fees for non-members, GSU said in a statement that it is "focused on building a fully democratic, member-driven organization, and that is what students are prepared to vote for."
Adam Thorp, Pete Grieve, and Lauren Pankin contributed reporting.
Update: This article has been updated with a comment from the University, endorsements from Duckworth and Durbin, and a comment from Browne.