Jennifer Packer Exhibits Body of Work at Renaissance Society
Jennifer Packer explores the politics of cultural narratives through painting black bodies.
There is a certain vulnerability to Jennifer Packer's first solo institutional exhibition in the Renaissance Society, which is only fitting given that the exhibition is named Tenderheaded.
In Tenderheaded, Packer makes observations on the everyday through her artwork, which ranges from portraitures to still life. She paints the funereal and the mundane, the contemplative and the chaotic.
Though notable, distinct, and varied, the pieces operate together as a continued narrative bonded through tenderness.
These cultural narratives can be seen through how Packer views the idea of being "tenderheaded" not just as an emotional idea, but also a political one, as tenderheaded is a word often used to describe black women.
In an interview with the Observer, Packer maintained that being tenderheaded is "an assessment of not only physical sensitivity, but also an emotional sensitivity, perhaps bordering on weakness. But the weakness isn't necessarily a fault—it's more of way of noting the need to take extra care of that person."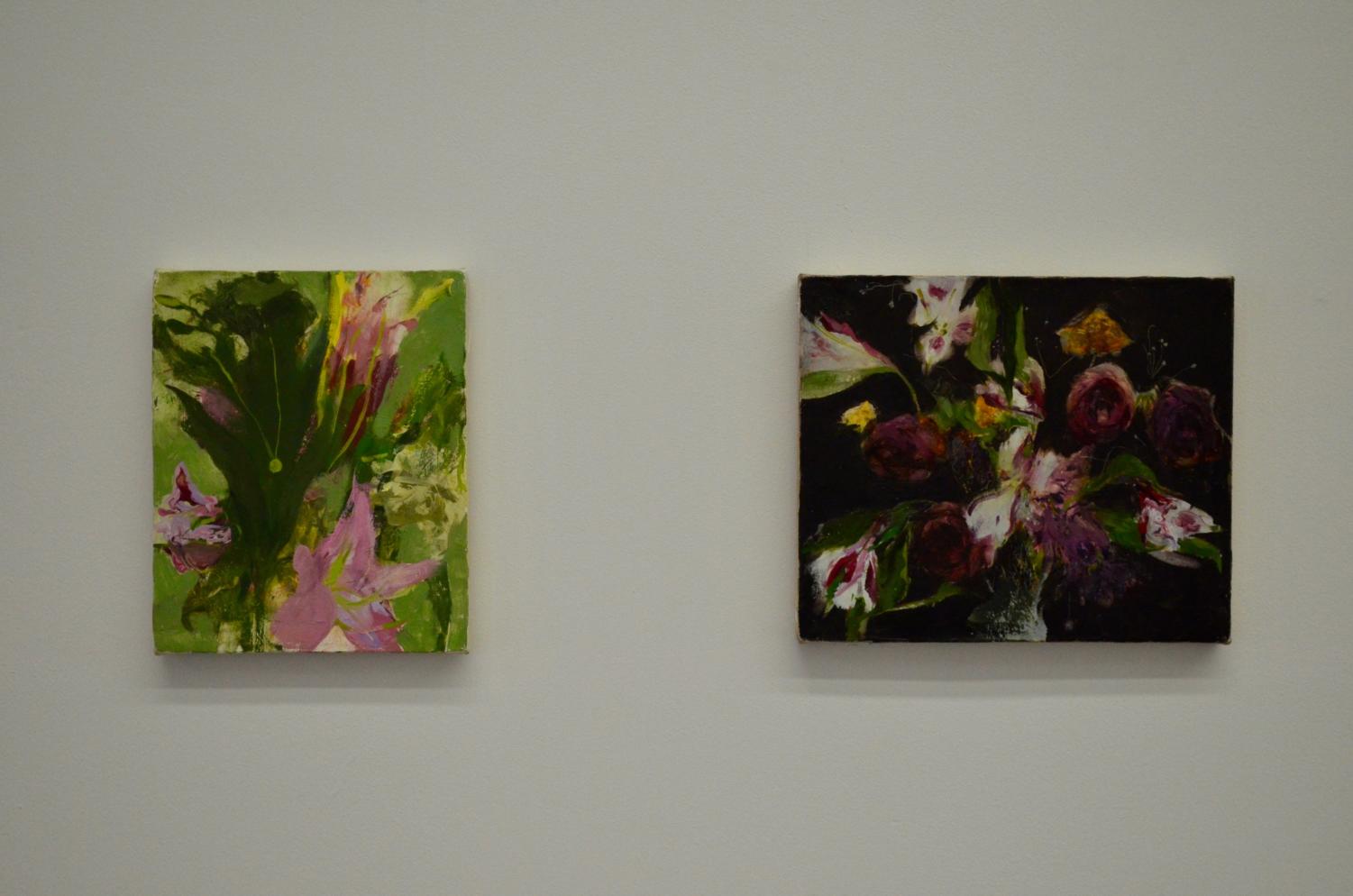 Packer puts her heart on her canvases. Her willingness to be so open in her artwork invites our attentions, creating waves of emotions. Each piece evokes different feelings. Grace, with all its red hues, speaks of a dull passion. An Exercise in Tenderness, painted almost entirely in blue, is regal yet fragile. Untitled (numbered six in the exhibition) has a rough sort of vibrancy to it, whereas Untitled (numbered seven in the exhibition) screams of heartache and despair, though they both depict bouquets.
Although she mainly utilizes a minimalistic palette, Packer provides visual breaks in the form of vibrant hues, inviting the question of why. Ain't I is dominated by an almost-dirty yellow, but is complemented by two dashes of green. The figure in Tia is hazy, but has distinct, brightly colored shoes. In For James III, the subject's brilliant blue eyes immediately beg for attention; they seem to stare right at you. These visual breaks are jarring and unexpected, but entice the viewer.
Packer also plays with form and perception. She paints mostly in loose strokes, but occasionally focuses on specific details. In April, Restless, the subject is barely outlined, and Packer's loose, yellow strokes extend beyond the outline of the subject to the environment they are in. The typewriter and flowers in the upper left-hand corner of the painting, however, are incredibly precise. In such a way, Packer's paintings appear to be works-in-progress, yet simultaneously seem complete.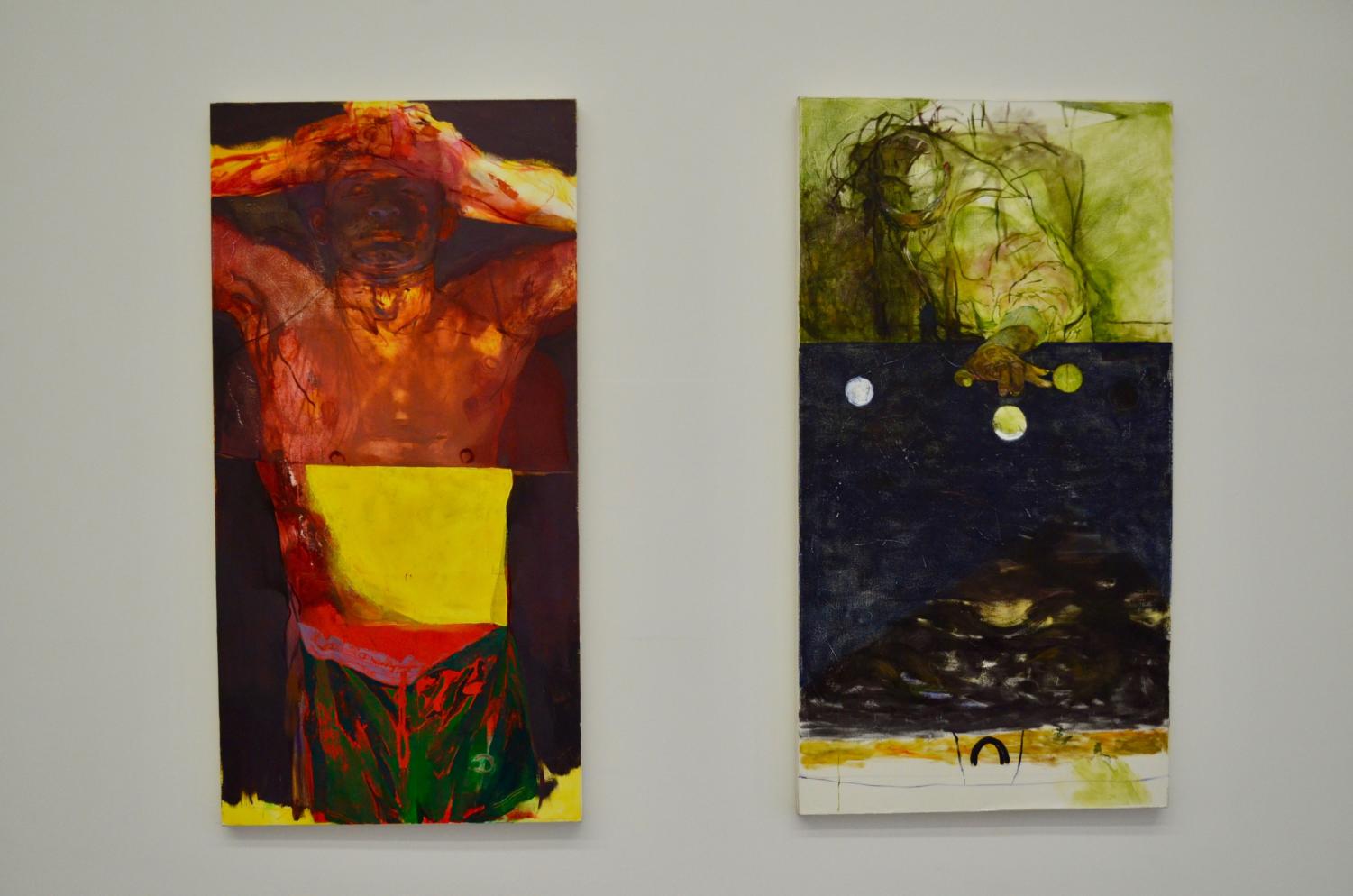 In an interview with Art Critical, Packer maintained that this sense of partial completion is for the sake of protecting the subjects of her artwork: "I want to know how to present a personal relationship without damaging the individual or putting them in harm's way."
However, omitting these details enhances the emotion. Although most of the figures are merely outlined and seem to exist in a cloud of color, this very lack of definition blurs the subjects and their environments. This heightened complexity and vulnerability highlights the often-confusing relationships people have with their environments, both physical and cultural.
In an interview with Callaloo, Packer emphasized the political nature of her art: "My inclination to paint bodies, especially from life, is a completely political one. We belong here. We deserve to be seen and acknowledged in real time. We deserve to be heard and to be imaged with shameless generosity and accuracy."
By painting black bodies in everyday environments, Packer expands a prevailing sense of vulnerability encapsulating the unapologetic strength of a culture.
Tenderheaded will be on display in the Renaissance Society (Cobb Hall, fourth floor) through November 5.