Blues and Jazz Bring Suits With Pizazz
"I think if it wasn't for the blues, there wouldn't be no jazz." –T-Bone Walker
Blues found its home in Chicago during the "Great Migration" of the 20th century, as African Americans left the rural South for the urban North. The South Side soon became a hub for the Chicago blues, hosting greats such as Muddy Waters, Howlin' Wolf, and Willie Dixon in blues clubs there.
Last weekend, the Logan Center Bluesfest celebrated this rich cultural legacy. This three-day festival featured concerts, workshops, films, food, and conversation with local and national musicians.
"I've been careful not to say we're 'bringing blues back to the South Side,'" said Leigh Fagin, associate director of UChicago Arts. Instead, she hopes to "keep the conversation about the blues alive on the South Side."

The festival told the stories of artists, featured musicians who reflect the diverse history of the blues tradition, and hoped to inspire the next generation of blues musicians and aficionados.

Bluesfest kicked off on Friday night with a pre-show conversation with Dick Shurman, a record producer and a 2014 inductee into the Blues Hall of Fame, and Elvin Bishop, a blues and rock musician and a 2016 inductee into the Blues Hall of Fame.
Known today for featuring "Fooled Around and Fell in Love" on Guardians of the Galaxy's Awesome Mix Vol.1, Bishop was a member of the Paul Butterfield Blues Band, a group he formed with his friend Mark Naftalin while they were studying at UChicago together. Bishop and Naftalin performed weekly at "twist parties" in Ida Noyes Hall. Bishop matriculated as a physics major, although he later admitted that education was really a guise to explore the blues. The Butterfield band would go on to record some of the most celebrated blues albums of the century and was inducted into the Rock & Roll Hall of Fame in 2015.
"I was from Tulsa, Oklahoma, and I wanted to go somewhere where things were a little bit cooler," Bishop said in a statement to UChicago News. "UChicago was an island in the middle of the South Side, and the South Side was really cool in those days. Within a week, I was at Pepper's Lounge checking out Muddy Waters. It was pretty amazing."
The opening performance at Bluesfest kicked off with a loud, electrifying performance by Wee Willie Walker and Terrie Odabi with The Anthony Paule Soul Orchestra. In true blues spirit, Wee Willie Walker was unapologetically soulful, performing in perfect sync with the Soul Orchestra's exhilarating beats and riffs, in color-coordinated red suits. Wee Willie Walker and the powerful Terrie Odabi alternated on vocals and sometimes performed duets. Likewise, their pieces similarly alternated from slow Ray Charles throwbacks to funky social statements such as "Gentrification Blues."
Next was Elvin Bishop's Big Fun Trio, a band consisting of Bishop and his friends Willy Jordan and Bobby Welsh. The trio occupied the stage with such a calm yet seasoned presence—cracking jokes with the audience and tugging their heartstrings (and funnybones) with lyrics like, "Don't send me no email, send me a female…." At times, Bishop looked like he was battling his guitar, pulling faces mid-guitar riff. He dedicated his performance to Chicago blues, playing tunes that made members of the audience stand from their seats and the production crew dance. The night concluded with Bishop inviting Wee Willie Walker and Terrie Odabi with The Anthony Paule Soul Orchestra back onstage for a joint Sam Cooke cover that garnered a standing ovation.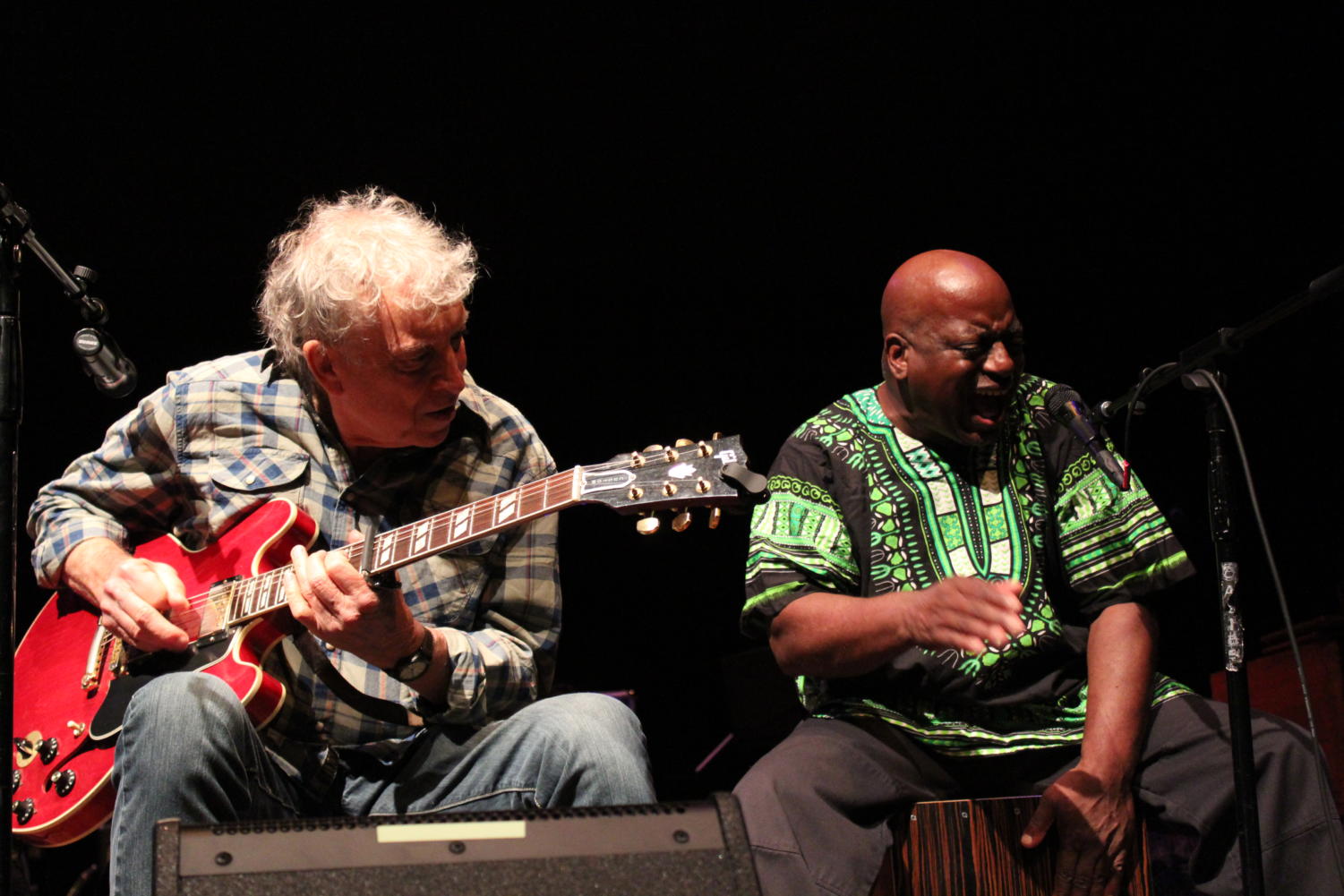 Saturday night's headlining set "Bringing the Blues Back to the South Side" was playful and optimistic, but also deeply serious and reflective. The set's star-studded cast included Billy Branch and his band, Sons of Blues, with features from Eddy Clearwater, Corky Siegel, Lil' Ed, Melody Angel, and Jimmy Johnson. The set opened with a performance from Melody Angel who somehow managed to sing, play guitar, and operate two pedals (one for hitting a tambourine, the other for hitting an instrument case) at the same time. The combination of her powerful voice and moving lyrics made for an excellent introduction. It was a clean, easy-to-understand primer for the blues adventure we were about to go on.
Next, Billy Branch and Sons of Blues took the stage. The ensemble featured two guitarists (including Branch), a bassist, a drummer, and a keyboardist. After introductions and a few thank yous, their set began. In addition to being a talented guitarist and vocalist, Branch was an incredible band leader. His communication on stage during the performance was especially missed when Corky Siegel took over. It was clear that the band was familiar with each other, and the success of their set was in no small part due to Branch's leadership.
The first featured artist was Lil' Ed, whose on-stage character was phenomenal. Between his over-the-top facial expressions and his metaphor involving dipsticks and oil tanks, Lil' Ed was able to elicit consistent laughter from the audience. This set up Eddy "The Chief" Clearwater's arrival. Though less mobile than Lil' Ed, Clearwater was no less exciting. His performance of "I Came Up The Hard Way" was the counterpoint to Lil' Ed's humor. Just when the set was getting settled, out came Corky Siegel. Despite a few miscommunications, Siegel gave a passionate performance. At one point, Siegel jumped off the stage and into the aisle, all while displaying an unrivaled technical mastery of the jazz harmonica. Siegel left the stage with electricity in the air. The final feature was living legend Jimmy Johnson, still performing at 89 years old. Age hasn't slowed Johnson yet. He played classics as if he were 20 years younger. For the final song, everyone rejoined the stage for what was a crazy combination of styles, color, and personality. It was the perfect closure to such a great evening.
"A lot of my formative career was spent on the South Side with the Sons of Blues," said Billy Branch in a statement to the Chicago Tribune. "Hopefully [the Bluesfest] will stir some interest in getting the blues on the South Side and encourage young people to see what the blues are all about."
The Logan Bluesfest painted a vivid and poignant picture of the blues in Chicago, speaking to those who care about music on the South Side.