The Smiths Revive "The Queen Is Dead" for 30th Anniversary
The reissue contains unreleased demos, live recordings, remastered songs, and the timeless emotional power of the original.
Since 1987, English rock band The Smiths has been mostly inactive. The band refuses to organize a full reunion and its members rarely appear together, leaving a dedicated and multigenerational fan base awaiting updates from their favorite band. But last summer, the band announced that they would be rereleasing their seminal third album, The Queen Is Dead. On October 20, the album—famous for its shocking title and groundbreaking music—was reissued, marking the 30th anniversary of its original debut.

The cover photo on this reissue is a remake of its original iconic look. The original pink font is now white, and the new album art features actor Alain Delon from a different, more intimate angle.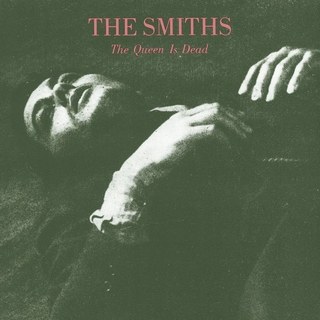 The Smiths are popular not just for their music, but also for their aesthetic. They are an English alternative rock band from the '80s featuring Steven Morrissey (known simply as "Morrissey") on vocals, Johnny Marr on guitar, Andy Rourke on bass guitar, and Mike Joyce on drums. They never made it into the American mainstream, but topped music charts in the United Kingdom.  

Along with a new cover, this re-issued boxset contains unreleased demos, live recordings, and remastered versions of old classics. The remastering, which gives the songs a fuller sound, doesn't stray too far from the beloved classics, except for a couple of small difference in the lyrics and verses. On the demo of "I Know It's Over," the beginning line—"Oh mother, I can feel the soil falling over my head"—is cut out, changing the entire mood of the song.
The reissue continues with the transition of Morrissey's painfully realistic and morbid descriptions of ordinary life and feelings. With lyrics like,  "It's so easy to laugh, it's so easy to hate, it takes strength to be kind," their messages have remained universal.

The album mixes brutally honest lyrics and metaphors in a melodic blend. Lead singer Morrissey spares no details in his raw outpouring of emotions while guitarist Johnny Marr connects the mournful lyrics with a gentle yet driving guitar. Morrissey's criticisms are beautifully poetic, and his complaints resemble deep realizations. With this combination, the album weaves its way around concepts of love, death, politics, and social criticism, topics that are timeless to this day.