"Lysistrata Jones" Slam Dunks the Patriarchy Through Song
Refuge Theatre Project delivers a "delightful, provocative, and masterfully performed" version of the collegiate, musical retelling of Aristophanes's comedy "Lysistrata."
Closing out the Refuge Theatre Project's 2016–17 season is Lysistrata Jones, Douglas Carter Beane's Broadway musical that puts a modern, mirthful spin on the ancient Greek tale by transporting it to an American college. Aristophanes's comedy Lysistrata follows a woman named Lysistrata who endeavors to end the Peloponnesian War by denying the men of Greece sex and persuading other women to follow suit; in Beane's version, Lysistrata Jones is a transfer student who, disappointed by a basketball team with a 30-year losing streak, convinces other girls involved with the basketball players to stop "giving it up" until their counterparts stop giving up on the game. The show debuted in 2011, but still feels completely relevant in 2017.
At Unity Lutheran Church on Balmoral Avenue, Refuge Theatre Project's chosen venue maintains the original setting: a gymnasium. The show is clearly made for such a place; Lysistrata Jones, which would be thrilling from any distance, is positively face-melting at such close proximity. Any show that allows the audience such a privileged perspective runs the risk of being, à la Cher Horowitz of Clueless, a "full-on Monet" (okay from far away, but blurry and unclear up close). But Beane's production delivered. Directed and choreographed by Broadway veteran couple Justin Brill and Shanna VanDerwerker, the musical's outrageous choreography and boisterous antics are thrilling in such an intimate venue, and it keeps with the practice of staging in site-specific venues typical of its three-year-old production company, the Refuge Theater Project.
The vibrant orange and blue set employs a not-so-subtle Greek motif and humorous faux championship banners illustrating the team's saga of defeat: "participated, 2015." The small but high-spirited four-piece band also coordinated with the set color scheme, making the production feel cohesive and deliberate even before the opening number.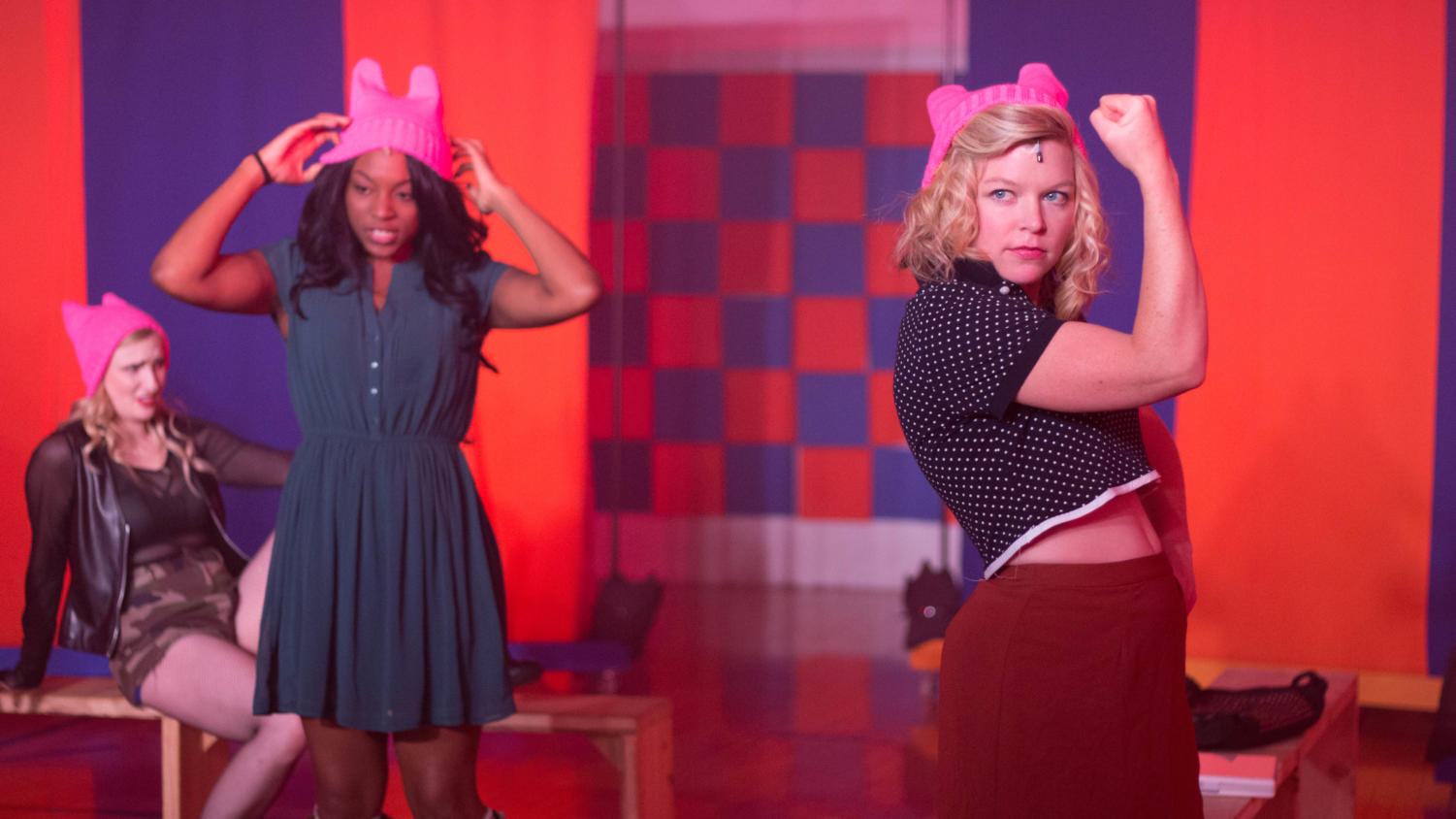 Admittedly, the small venue and High School Musical-esque premise could lead someone unfamiliar with the Refuge Theater Project to anticipate an amateur production, but that is far from the truth. VanDerwerker's choreography is audacious, spunky, and expertly carried out by the company. The casting is excellent, and every single performer contributes bountiful energy and character to their roles. Mary-Margaret Roberts is a knockout as the plucky Lysistrata Jones, delivering stunning vocals in "Where Am I Now?" and leaving the audience with goosebumps at the end of the first act. Collin Sanderson is hilarious and hunky as Michelangelo "Mick" Jackson, Lysistrata's boyfriend. Jayla Williams-Craig stuns as Myhrrine Moore, delivering perhaps one of the most fiery and vivacious solo performances in "Don't Judge a Book." Although every performer was memorable and animated, Gina Francesca stole the show as Hetaira, the mystical goddess narrator who also appears as a local prostitute. Francesca was hilarious and brilliant, delivering every punchline with a raised eyebrow and a knowing, wry smile. From the outset of the opening number, "Right Now," she was both a mesmerizing ringleader and a casual observer, somehow breaking the fourth wall while simultaneously sustaining the illusion of this romp of a tale.
Lysistrata Jones is delicious and invigorating. Like other teen musicals such as Grease and Hairspray, the show portrays young people as sometimes lively and peppy and other times sweet and bumbling, rather than serving up the brooding pensioners-in-disguise image that Hollywood seems inclined to depict these days. The savory junk-food quality of its raunchy jabs and irresistible soundtrack are sure to satisfy a craving you might not know you had.
Aristophanes wrote Lysistrata as a comedy, but it presents a salient point about the power of female sexuality. Lysistrata Jones modernizes the story, but we still see a young woman who takes back her sexuality and inspires other women to wield their own power. But forget the deep stuff. Refuge Theatre Project's Lysistrata Jones is delightful, provocative, and masterfully performed.
The Refugee Theatre Project will be showing at the Unity Lutheran Church gymnasium at 1212 West Balmoral Avenue through November 19. Refugee Theatre Project offers a $10 student discount on Thursday performances with code STUDENT.