Indie Drama "Lady Bird" Soars
"I want you to be the very best version of yourself that you can be." "What if this is the best version?"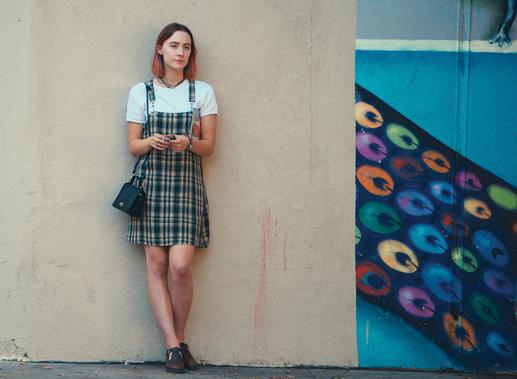 Lady Bird opens with a defining shot: As the protagonist Christine "Lady Bird" McPherson (Saoirse Ronan) and her mother (Laurie Metcalf) are driving back from a college road trip, their conversation becomes so intense that Lady Bird throws herself out of the moving vehicle. As Lady Bird ejects herself from the car, the narrative is immediately jolted into its given context: Lady Bird, a senior at her Catholic high school, is on a quest to understand herself as she grapples with both the superficial and the profound stresses that accompany that time in her life.
As a student watching this film, Lady Bird's anxiety is all too familiar. Supported only by her father, she meets with college counselors, teachers, and even parents who express skepticism about her ability to achieve her goals. In addition to external pressure surrounding college applications and school, Lady Bird reckons with an internal identity struggle: Who is she in relation to the people she cares about, and who are those people?
One emphasized plot point that asserts Lady Bird's desire for individualism is her self-assigned name. As she states, the name Lady Bird is entirely her own: "I gave it to myself. It's given to me by me."
The biggest looming question surrounding any movie set in high school is: How can this movie stand out from hundreds of other Hollywood teen comedies? From American Graffiti to The Breakfast Club to Juno to The Edge of Seventeen, the high school dramedy genre has reached a saturation point that nearly rivals World War II and superhero movies. Yet, Lady Bird has all the necessary charm to survive and even thrive in this cluttered landscape.
Greta Gerwig's role as writer and director is a major contributing factor to the film's success. Known in the indie scene for her work with Noah Baumbach on films like Greenberg, Frances Ha, and Mistress America, Gerwig pioneered the mumblecore subgenre, creating naturalistic 20-something characters in low-budget films. Drawing from the character development of her previous works, Gerwig's Lady Bird brings the best elements of mumblecore—natural, unfussy dialogue; messy yet relatable characters; tender moments—for a refreshing take on an overdone genre.
Gerwig's presence introduces an additional layer of authenticity. Inspired in part by her childhood in Sacramento, the dialogue feels based on real-life organic conversations. Like so much of the current critically applauded media, the dialogue frequently addresses the existential identity crises with which young people grapple. Fortunately, for its own sake, the film does not restrict this emotional complexity to Lady Bird. Unlike most teen films whose adolescent characters are whiny, self-absorbed, and clueless, one of Lady Bird's main challenges is in realizing that those closest to her are dealing with problems greater than she could fathom. These moments of self-awareness make her a more realistically perceptive and nuanced character than the characters in other coming-of-age dramas.
One of the most appealing moments in this movie is when Lady Bird realizes her subconscious love for her hometown, a place to which that she has never felt particularly attached. In its ability to communicate a nostalgia and beauty in seemingly mundane moments, Lady Bird is truly able to distinguish itself from the tired tropes of its genre.