Hyde Park Bar Crawl
The Maroon profiles just a few of the bars Hyde Park has to offer.
Alumni fondly recall some of their best conversations as undergrads happening not in the seminar room, but in the darkened cocoons of Hyde Park's bars—and with plenty to choose from, students are at no loss for options. Here, for those newly 21 or just new to the neighborhood, we profile a few of Hyde Park's watering holes, from the new to the old, the trendy to the sticky-floored.
---
Woodlawn Tap: Located at the corner of Woodlawn and 55th Street, Woodlawn Tap, better known simply as Jimmy's, has long been a staple of both Hyde Park and the University of Chicago since 1948. The bar's nickname comes from its former owner who ran it for decades before passing away in 1999. While much of the area surrounding the University has been overturned during the past two decades, Jimmy's has maintained its dive-bar, hole-in-the-wall personality so revered by Chicago locals and University students alike. The food is simple and cheap, and beer is a couple dollars cheaper than any of Jimmy's competitors. That being said, don't go here looking for a Budweiser, or any other Anheuser-Busch product for that matter, as they won't have any due to an alleged contract dispute that has worked its way into Chicago lore.
On any given night, one can find the bar full of students, professors, and Hyde Park locals. On Sunday nights, Jimmy's hosts blues and jazz bands for live performances. A bar steeped in tradition, Jimmy's remains unapologetically itself, operating exclusively as a cash-only business. It's a bar with dim lighting and decades-old furniture that sticks out like a sore thumb in contrast to the next-door Starbucks, but it doesn't really care. As an additional edge over its competitors, Jimmy's is open until at least 2 a.m. on any given night of the week.
1172 E. 55th Street. Open Sunday–Monday 11 a.m.–2 a.m., Tuesday–Friday 10:30 a.m.–2 a.m., Saturday 11 a.m.–3 a.m. Cash only.
The Pub: Owned and operated by the same family that has run The Medici since the early 1980s, The Pub is tucked away in the basement of Ida Noyes Hall, oh-so-conveniently next to the Maroon office (which this writer quite enjoys). On just about every night, The Pub is crowded with people, usually with even more waiting to get in. With a couple pool tables, televisions, as well as standard booths and bars, it has been a great spot for students and professors alike to escape the overwhelming pressures of university life. As such, The Pub is a private club that offers memberships exclusively to those affiliated with the University, although guests of members are welcome, granted they pay the $3 entrance fee.
The food menu borrows its offerings from the Med menu, so quality is a guarantee. Drinks range from cheap beer and simple mixed drinks all the way to more expensive whiskeys, so there is something for everyone (and everyone's wallet). Just like most things affiliated with the University, The Pub has their own well-known tradition: Trivia Nights every Tuesday at 8 p.m., with both money and personal pride on the line.
Ida Noyes Hall. Open Monday, Thursday–Friday 4 p.m. –1 a.m., Tuesday–Wednesday, Saturday 4 p.m.–midnight, closed on Sunday.
Seven Ten Lanes: A large establishment with much to offer, Seven Ten has a bar, restaurant, bowling lanes, and billiard tables in a sprawling set of rooms located on 55th Street underneath the Ellis Street parking garage. With a large range of drinks and an even larger food menu, Seven Ten is as great a place to get drinks and play pool with your friends as it is to get dinner with your family.
The prices here are not as cheap as what one might find down the street at Jimmy's, but they are very much standard and nothing to complain about, especially with consistently fast service. With a large number of televisions, Seven Ten is equal parts sports bar and bowling alley. Perhaps the most flexible and diverse of all the Hyde Park bars, Seven Ten attracts the widest range of people or age groups on any given night.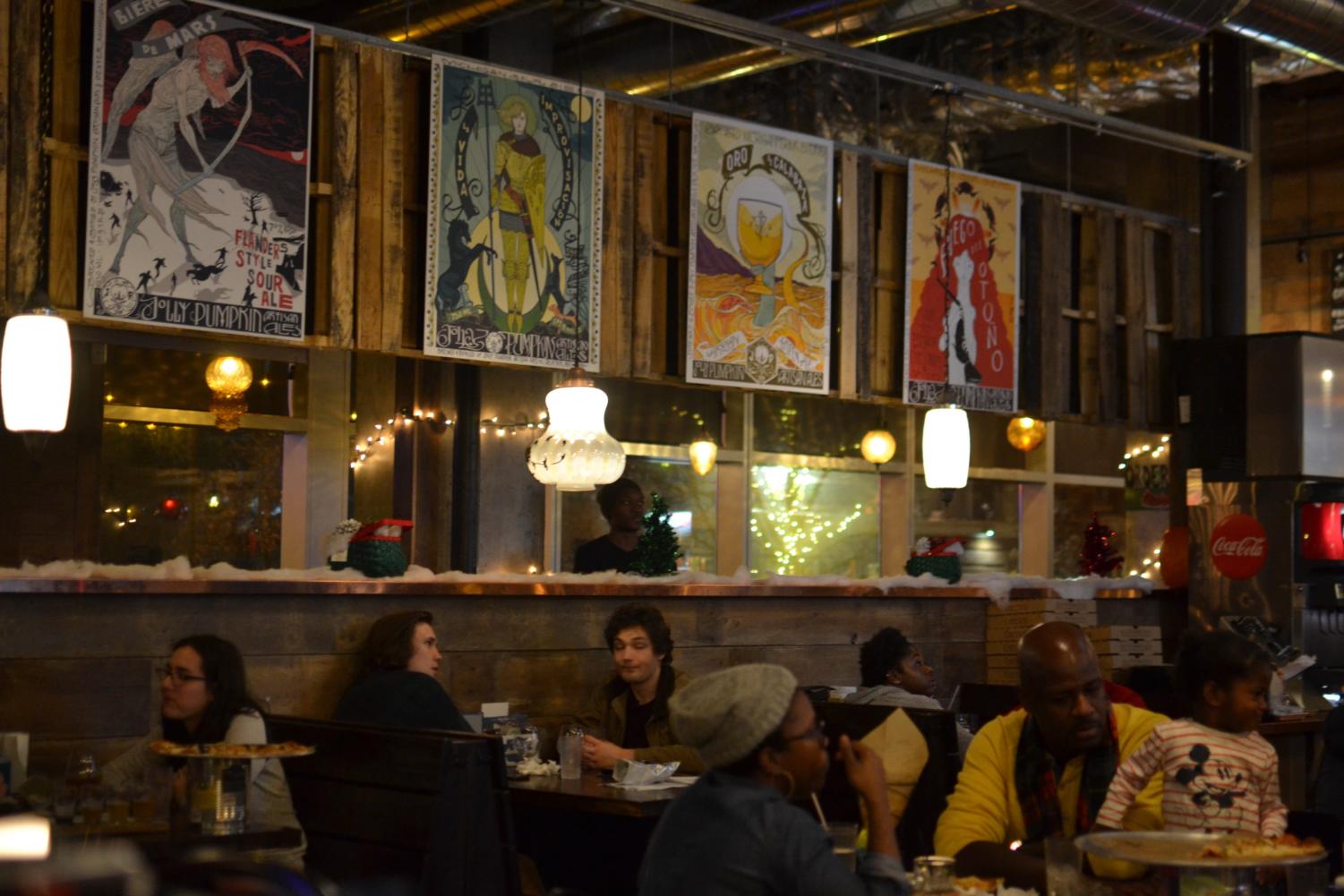 1055 E. 55th Street. Open Sunday–Tuesday 11:30 a.m.–midnight, Wednesday–Thursday 11:30 a.m.–1 a.m., Friday–Saturday 11:30 a.m.–2 a.m.
Jolly Pumpkin: The newest addition to the Hyde Park bar scene, Jolly Pumpkin fills a niche that had been previously untapped with its array of craft beers in a casual, open setting. The bar recently opened on Harper Avenue just north of 53rd Street. Don't ask these bartenders for a Bud Light: Jolly Pumpkin serves exclusively crafts (and these bartenders probably wouldn't want to serve you a Bud Light regardless).
Calling Jolly Pumpkin's food offerings "bar food" would be a gross misnomer. Their menu is filled with unique, gourmet riffs on bar classics; their pizzas in particular are a must-try. The crowd here is much different from Jimmy's, The Pub, or even Seven Ten: Jolly Pumpkin mostly draws a mix of yuppies and Hyde Parkers, with the odd student group or two thrown in.
5215 S. Harper Avenue. Open Monday–Thursday 11 a.m. –11 p.m., Friday–Saturday 11 a.m.–1 a.m., Sunday 11 a.m.–10 p.m.
Bar Louie: Located a little further from campus on South Shore Drive, Bar Louie is a national chain with locations all over the United States. A very classic bar, Bar Louie has a more modern feel than most other Hyde Park competitors. Again, it features a standard bar food menu, closer to Seven Ten than Jimmy's. With an outside patio and rotating bar deals, highlighted by one-dollar burgers every Tuesday night, Bar Louie is well worth venturing beyond the immediate University bubble for.
5500 S. Shore Drive. Open Monday –Friday 11 a.m.–2 a.m., Saturday 10 a.m.–3 a.m., Sunday 10 a.m.–2 a.m.