Former Top Obama Advisor Valerie Jarrett to Join Law School
Valerie Jarrett will be a Distinguished Senior Fellow at the Law School.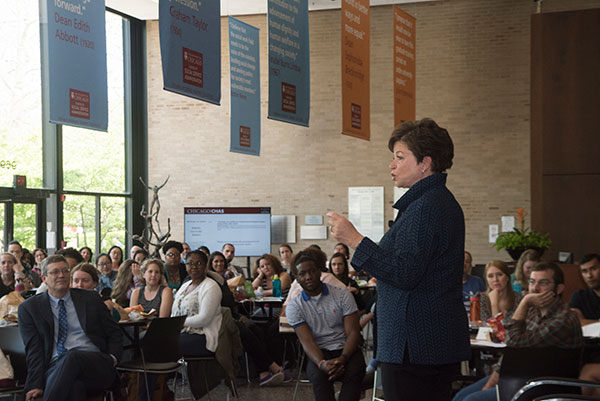 Former top Obama adviser Valerie Jarrett will join the University of Chicago Law School as a Distinguished Senior Fellow, according to a Monday announcement.
The appointment is believed to be the first of its kind in the Law School's history, as Jarrett's position will not focus on academics but is instead "intended to be about engagement with our community," law school Associate Dean for Communications Marsha Ferziger Nagorsky told Crain's. While Jarrett's appointment is at the Law School, she will work throughout the University.
Jarrett currently serves on the boards of Ariel Capital Management Holdings, Lyft, and 2U. Previously, she served as White House Senior Advisor, Assistant to the President for the Office of Public Engagement and Intergovernmental Affairs from 2009–17, director of the Federal Reserve Bank of Chicago and of Navigant Consulting, and as CEO of the Habitat Company. She began her work in politics in 1987 as Deputy Corporation Counsel for Finance and Development for then-mayor Harold Washington.
Jarrett's family has deep ties to the University. Her father, the late James Bowman, was a professor emeritus in pathology and medicine, and her mother, Barbara Bowman (A.M. '52), taught at the Laboratory Schools. Jarrett herself attended the Laboratory Schools and served as Vice Chair of the University's Board of Trustees and Chair of the Board of Trustees at the University's Medical Center before leaving to join the Obama administration. In a recent tweet, she stated that she was "thrilled to return to UChicago."
"There's no place like home," she wrote.