Dearborn and Dearly Worn, New Denim Store Opens on 53rd Street
Dearborn Denim prides itself on sourcing American-made materials and practicing sustainability.
Dearborn Denim does not stand out among the storefronts populating 53rd Street, but something about the recently opened apparel shop feels refreshingly different. Earthy tones and ambient music pervade an airy space cozily confined by denim-displaying walls, quite in contrast with the cramped labyrinths of many two-story mall retailers. With amicable staff ready to help, one starts to believe in the "stress-free, care-free, easy-livin', easy-shoppin' experience" store manager Kaleb Sullivan hopes to create.
Dearborn Denim was founded by Rob McMillan, who graduated from Kenyon College in 2008 and worked as a bond trader until 2012, when he realized finance was not his calling. With a background in apparel limited to a T-shirt company he started in high school, McMillan had a long hemline to stitch. However, motivated by the lack of "reasonably priced American-made goods," he spent nearly a year darning the gaps in his knowledge of everything stitches, seams, and sewing machines, before going on to establish a factory. What started as a team of three grew into a family of 20, divided between the Garfield Park laundromat, where the products are manufactured, and the Hyde Park store where they are sold.
"People deserve access to a great product, made the right way, and sold at a great price," reads the company's website. And for its founders, what makes the products great are their Chicago roots—the company's namesake is Fort Dearborn, represented by one of the stars on the Chicago flag. This single star is visible on every pair of jeans they sell.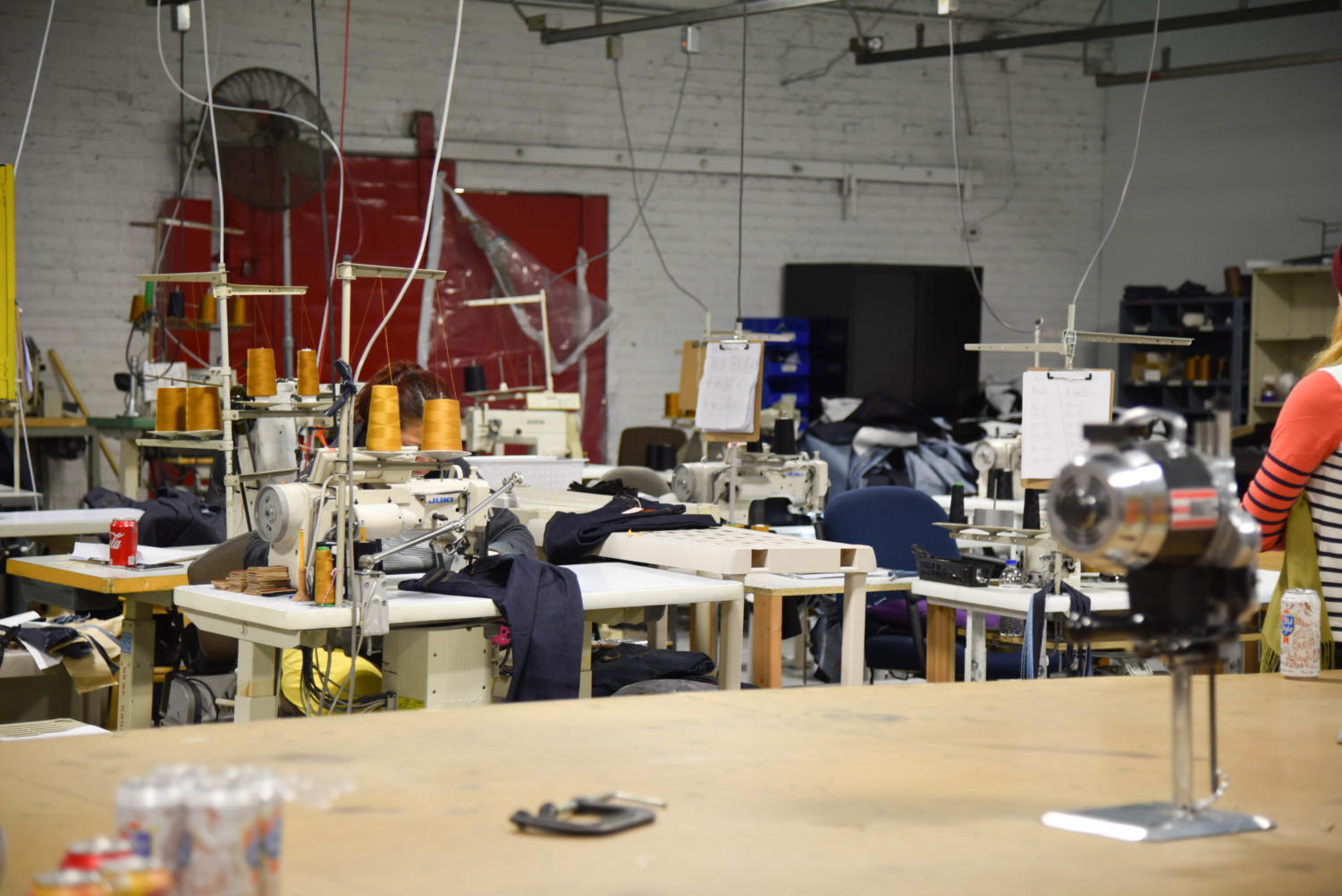 "We're all about the history of Chicago," explained Kaleb Sullivan, who also manages retail and brand development at Dearborn Denim. "I like to say that the history is still happening, that we are making it and will continue to make it.… We're part of a bigger Chicago history that is being molded right now and that a lot of people are taking notice of." Indeed, there is a historicity to the jeans being produced and sourced in this city.
"If you go back to the 1920s, 25 percent of the apparel consumed in the United States was made in Chicago," explained McMillan. "[But] now, in 2018… only 2 percent of apparel consumed in the United States is made here."
Despite Chicago's higher taxes and wages, McMillan cited his love for the city as his primary reason to eschew outsourcing.
"[I hope] the small part we do, which is sourcing American-made materials…can somewhat alleviate [the unhealthy income inequality resulting from the way American capitalism operates nowadays]," explained McMillan, who was keen to point out that Dearborn Denim employees are paid 15 dollars per hour—notably above the minimum wage. For him, starting the company has always been about producing domestically sourced materials in a "morally sound way" and providing something that "people can be proud is operating in their city."
As such, Dearborn Denim also aims to be "a 100 percent waste-free manufacturer," and to reuse fabric scraps in sustainable ways.
"We are trying to get a hold of some quilters to turn…[our fabric scraps] into quilts," said McMillan, who plans on using the excess fabric from hemmed jeans as pillow stuffing. "Our leather scraps [could be repurposed] into various home-good items."
Naturally, it wouldn't be unreasonable to assume that Dearborn Denim—like other brands made in America—is on the pricier side of the spectrum. However, their current jeans prices range from $59 to $63, while other retailers' denims are "on average probably double our price or higher," as Sullivan asserted. To top that, they offer an in-store discount for students with IDs. "If the jeans cost $25–30, we all know how they were made, who's making them, and why that's wrong," Sullivan added.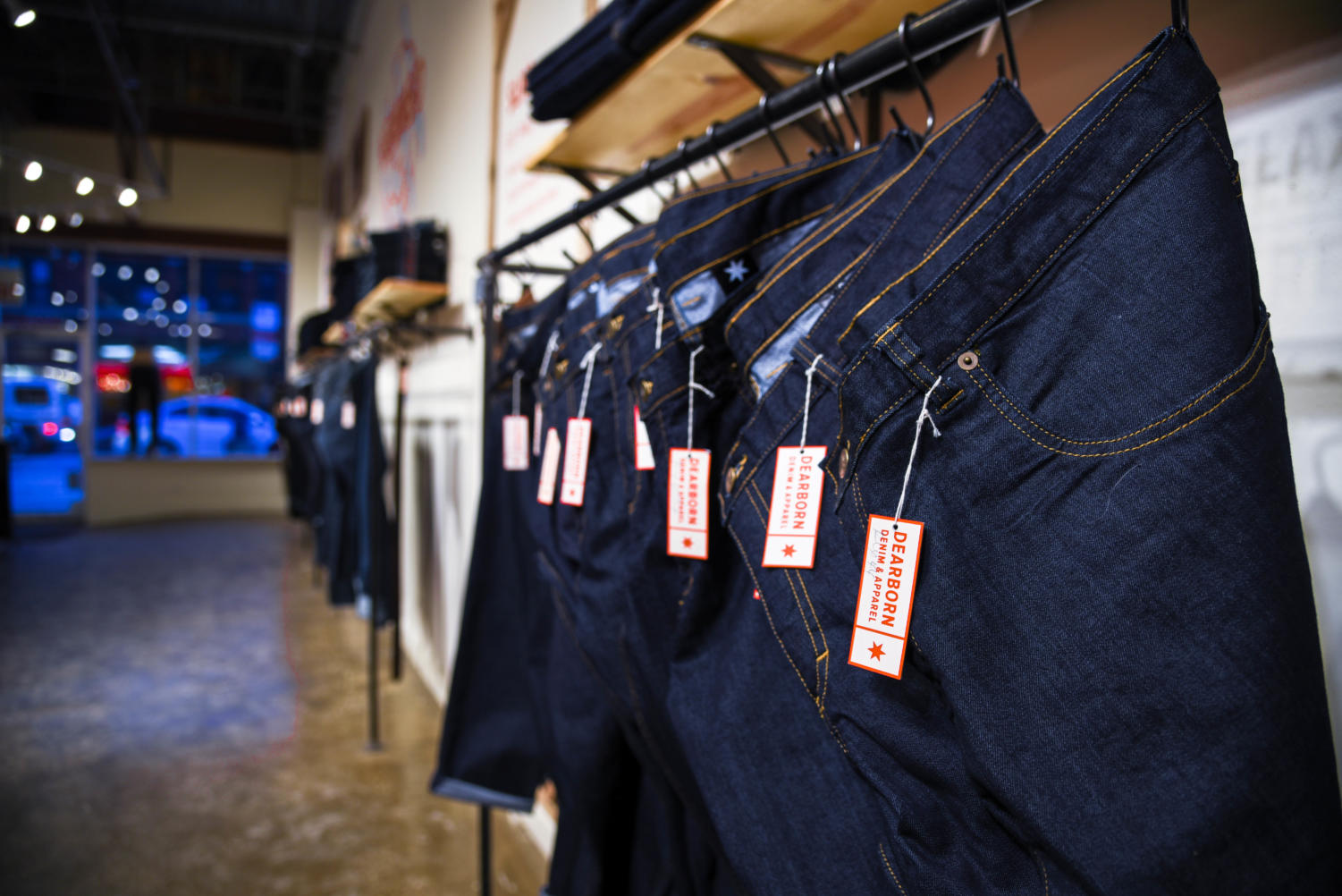 Last weekend, along with a few dozen other people, I visited the company's Garfield Park factory to attend one of three monthly tours hosted by McMillan. With refreshments in hand and denim everywhere else, visitors listened as McMillan shared the process of producing the jeans. Made with long-staple west Texas cotton that was loomed at the centuries-old Mount Vernon Mills in Georgia, the jeans, McMillan claimed, should be comfortable to wear and difficult to stretch. Dearborn Denim also offers custom sizes. One customer at the tour, who was there to buy his second pair, expressed great satisfaction in the denim's performance and in the wide range of available sizes. "No one else sells [size] 35!" he rejoiced.
The company's greatest current struggle is attracting new customers, but McMillan has faith in persistence. "Everything takes hard work, just like anything else in life that's worth having," he said, advising students looking to start their own business to "stop talking about it and do it." "The worst that can happen is that it fails, and then you go back to doing what everybody else is doing."
Although McMillan does not foresee future collaborations with large retailers, Dearborn Denim is building relationships with smaller boutiques, who order merchandise in volumes Dearborn can accommodate. The possibility of opening one or two more stores in addition to the one on 53rd Street also looms on their business horizon.
"The growth I'd like to see is becoming as big as we can possibly be without losing our message and ethics and goals and aspirations," said Sullivan. "Remaining who we are, but on a bigger scale."
Though still a growing enterprise, Dearborn Denim is more than meager business patchwork. In a fashion industry riddled with sexist advertisements and offshore sweatshops, the proudly Chicagoan company is on a path toward setting a new standard for ethical apparel consumerism and even—as reporter Jay Shefsky described in a feature filmed at the factory—"stitching together an American revolution."