Dorothy Butler Gilliam Gives Keynote Address at Annual MLK Celebration
Gilliam was the first African American female reporter at the Washington Post.
The University of Chicago hosted its 28th annual Martin Luther King Jr. Celebration in Rockefeller Chapel on Tuesday, with a keynote address given by Dorothy Butler Gilliam.
Gilliam was the first black female reporter at The Washington Post, and is known for her civil rights reporting. During her career as a journalist, she covered history-making events, such as the integration of schools in Little Rock and the University of Mississippi.
The evening included a welcome by fourth-year Claire Moore, performances by the Chicago Children's Choir, a reading from King's "If I Had Sneezed" speech, and remarks by University President Robert Zimmer, who announced the recipients of diversity awards for faculty, alumni, and staff and introduced Gilliam's address.
Gilliam's speech focused on her career as a pioneering black journalist, starting from her days as a budding reporter in the segregated South. After graduating from the historically black Lincoln University in Jefferson City, Missouri, Gilliam was denied positions at several all-white daily papers. Instead, she took a position at a black weekly newspaper, the Tri-State Defender.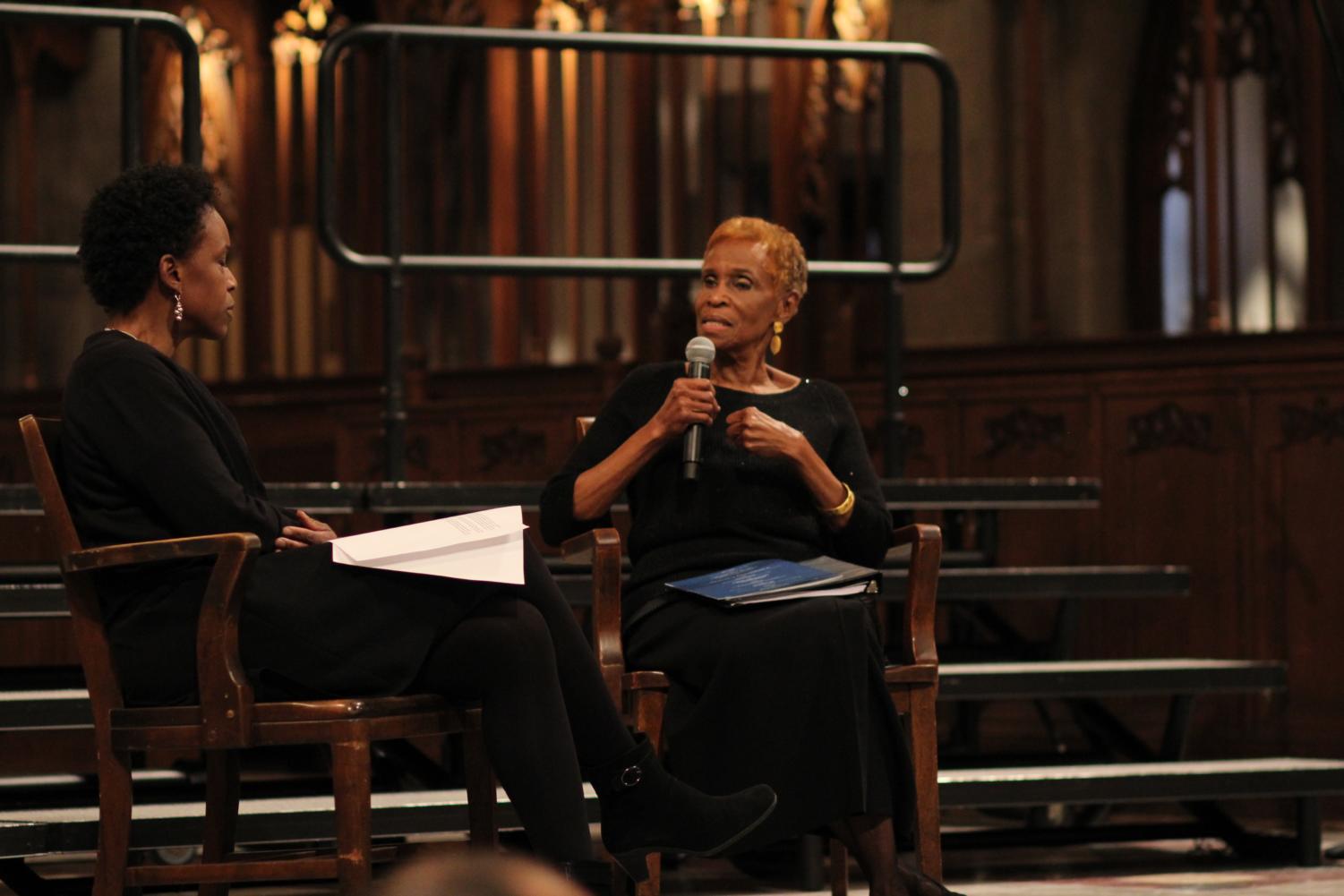 Although Gilliam's boss at the Defender, L. Alex Wilson, was supportive of her, Wilson felt it was too dangerous for her, as a woman, to cover the South's violent integration processes—where even male black reporters were being harassed or attacked.
After Gilliam witnessed Wilson getting beaten with a brick on television while he was covering school integration in Little Rock, Arkansas, she called a photographer she knew and decided to go to Little Rock herself.
While making a name for herself covering integration at schools, Gilliam decided to go to graduate school for journalism. Although she was initially rejected from Columbia University's School of Journalism because her education at Lincoln University did not meet Columbia's prerequisites, she managed to gain admission after a friend helped her get the credits she needed at a different institution.
After graduating from Columbia, Gilliam spent a summer reporting in Nigeria and other countries on the continent. Throughout her time in Africa, she wrote articles and sent clips to The Washington Post, which hired her upon her return.
"There were only a handful of black reporters at daily newspapers at that time…. Washington, D.C., was also a very segregated Southern city…. I knew that if I failed, it would be tougher for the next black woman to be hired at a major daily newspaper."
While covering the integration of the University of Mississippi campus, Gilliam faced further hardships due to her race. Because hotels were segregated, black reporters had nowhere to stay, and Butler would spend the night wherever she was able to find a bed. Sometimes, she would resort to staying the night at a local black funeral home.
While working at The Washington Post, Gilliam wrote a popular weekly column on politics. She went on to become the president of the National Association of Black Journalists, founded the Young Journalists Development Program, and created a journalism mentorship program for underserved youth.
Near the end of her speech, Gilliam touched on how debilitating poverty can be in achieving one's goals and how it especially devastates communities of color. She discussed the need to support youth facing poverty.
"A good ecosystem is like a multifaceted, holistic environment around students that promotes success by alleviating the pressures and issues, primarily poverty, that hold students back."
After her talk, Gilliam sat down for a conversation with her daughter, Melissa Gilliam, the Vice Provost for Academic Leadership, Advancement, and Diversity at the University. Melissa Gilliam asked a range of questions on journalism and the media. When asked if she would recommend people go into journalism, Dorothy Gilliam said yes.
"I would not discourage someone who really, strongly wanted a career in journalism because it is still so important to try and be a truth-teller…. We have a lot of bloggers, but bloggers don't have the training so that they can really separate truth from lie. It takes a lot of training and development of expertise to really write in a way that impacts people, impacts history."