Hyde Park Alderman Criticizes Tax Deal for Anti-Abortion Health System
Keep track of your elected officials in this week's Citizen Bulletin.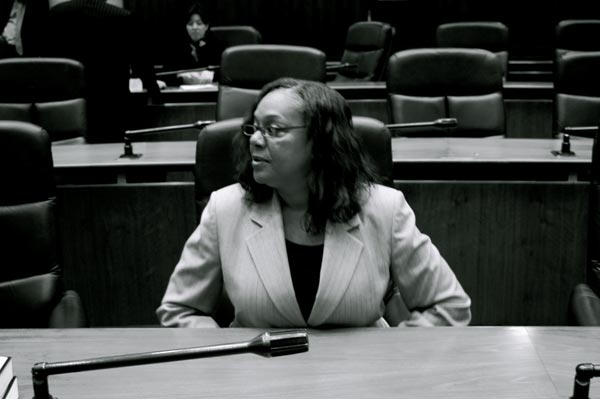 UCDI's Citizen Bulletin for January 15–21
Subscribe here.
Good morning. Our highlights from this week include: Mayor Rahm Emanuel reaffirmed his commitment to convince Amazon to open their second headquarters in Chicago after it was announced that Chicago is on the shortlist of potential locations for the new headquarters; Democratic congressmen criticized congressional Republicans and President Trump for the government shutdown and called for a deal on DACA; President Trump announced that his administration would rescind Obama-era guidance that made it more difficult for states to defund Planned Parenthood.
CHICAGO CITY GOVERNMENT
Alderman Leslie Hairston (5th Ward) ~ call your alderman! (773) 324-5555
Jan 17—Criticized Mayor Rahm Emanuel for proposing subsidies for Catholic healthcare provider Presence Health over the objections of "right to choose" campaigners
Alderman Willie Cochran (20th Ward) ~ call your alderman! (773) 955-5610
Mayor Rahm Emanuel (D) ~ call your mayor! (312) 744-3300
COOK COUNTY BOARD
President Toni Preckwinkle ~ call your Cook County board president! (312) 603-6400
ILLINOIS STATE GOVERNMENT
Representative Barbara Flynn Currie (D–District 25) ~ call your state rep! (773)-667-0550
Senator Kwame Raoul (D–District 13) ~ call your state senator! (773) 363-1996
Governor Bruce Rauner (R–IL) ~ call your governor! (312)-814-2121
Jan 18—Signed an executive order preventing lawmakers from from appealing state tax assessments on behalf of constituents
U.S. FEDERAL GOVERNMENT
Representative Bobby Rush (D–IL1) ~ call your representative! (773) 779-2400
Jan 19—Introduced the Child Marriage Prevention Act, which would "clarify" federal child marriage laws
Jan 19—Introduced legislation directing the Department of the Interior to conduct a study on the possibility of Fort Pillow becoming a national park
Jan 20—Issued press statements blaming President Trump and GOP congressional leaders for the government shutdown, calling for a deal on DACA
Senator Tammy Duckworth (D–IL) ~ call your senator! (312) 886-3506
Jan 16—Warned, in accordance with past support of legislation restricting presidential access to nuclear warheads, against the potential costs of war with North Korea
Jan 19—Criticized DHS for its long delay in releasing a report detailing an investigation on the constitutionality of the implementation of the President's first travel ban, in which DHS allegedly violated multiple court orders
Jan 20—Called out the President for Friday's government shutdown, citing, among other problems, potential danger to deployed military personnel
Senator Richard Durbin (D–IL) ~ call your senator! (312) 353-4952
Jan 16—Questioned DHS Secretary about the President's plans for Dreamers, as well as for her apparent denial of his "vulgar" comments about African nations last week
Jan 19—Criticized Senate Majority Leader Mitch McConnell and other Senate Republicans for refusing to vote on the bipartisan DREAM Act
President Donald Trump (R) ~ call your president! (202) 456-1414
*Our research process involves searching for press releases from the elected representatives, Google News stories, and any Twitter and Facebook posts. If no information is displayed in the Citizen Bulletin, then our research process turned up nothing new from this past week.
The Citizen Bulletin is a product of the University of Chicago Democracy Initiative (UCDI). UCDI is proudly supported by Andrew Goodman Foundation's nonpartisan Vote Everywhere project. In addition to the UCDI website, you can find past versions of the bulletin here. For news closer to campus, subscribe to the twice weekly newsletter produced by our partners at the Chicago Maroon.
To learn more about the UChicago Democracy Initiative, please visit ucdemocracy.weebly.com.
Get the news highlights by following us on twitter or liking our facebook page
Feedback? Tell us here.