UChicago Students Join Second Chicago Women's March In Numbers
Marchers heard from speakers, including Cook County State's Attorney Kim Foxx, about the importance of voting in the upcoming congressional midterm elections.
An estimated 300,000 people gathered in Grant Park on Saturday for the second annual Women's March Chicago, topping the 2017 Chicago march's total of 250,000.
The crowd in Chicago grew so large last year that organizers cancelled the official march due to safety concerns. Scores of marchers nevertheless proceeded through the streets of downtown Chicago, chanting and holding signs.
For both the 2017 and 2018 marches, huge crowds also gathered in New York City, Los Angeles, and Washington D.C., as well as in major cities around the world.
Titled "March to the Polls," this year's organizers called the event an opportunity "to celebrate the spirit of the resistance efforts over the past year and unite to focus on the 2018 elections and beyond." At a rally before the march, a series of speakers, including Illinois Attorney General Lisa Madigan and Cook County State's Attorney Kim Foxx, encouraged marchers to make their voices heard in the 2018 midterm elections.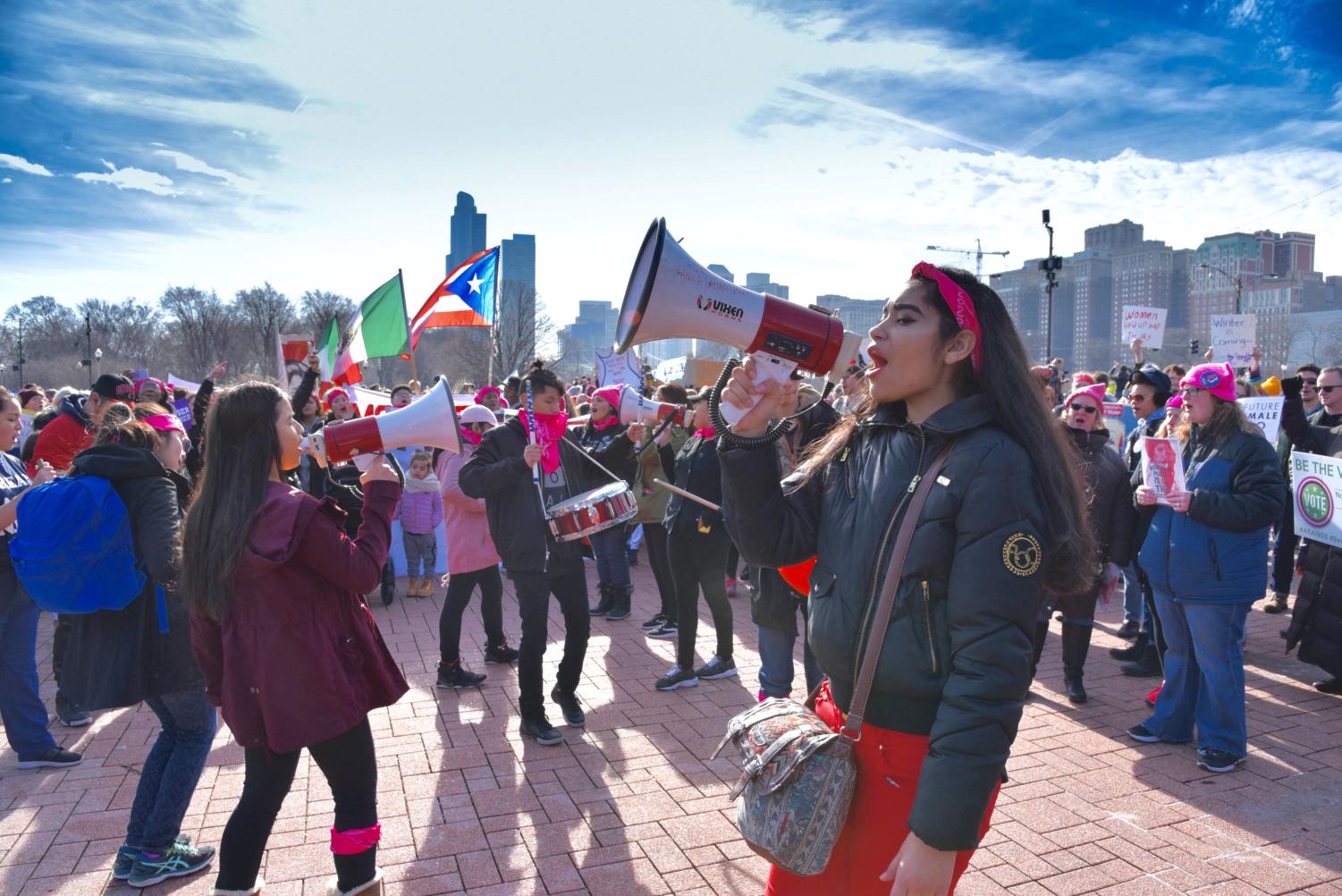 Crowds surged in part due to increased attention on sexual assault. In late 2017, a wave of revelations about sexual assault swept through the media and Hollywood. Many took to Twitter and Facebook using the hashtag #MeToo to share their experiences with sexual assault and harassment.
Just before this year's Golden Globe Awards, over 300 actresses and other women in the entertainment industry announced the Time's Up campaign, which "will be seeding a legal fund to help survivors of sexual assault and harassment across all industries challenge those responsible for the harm against them."
Second-year Amara Balan, who attended the march on Saturday, was moved by the revelations. "With the stuff that's been going on in Hollywood with the #MeToo and Time's Up movements, it's really important that we have women and everyone standing together in the hope that one day there will be equality for everyone," she said.
Frustrations with Congress and President Donald Trump further fueled protesters, as thousands of federal government employees were furloughed at midnight on Friday when lawmakers failed to reach a deal to continue funding the government.
"There's no collaboration in Washington," Nicole Robinson, a South Side resident, told The Maroon. "How odd is it that on the day that we're out here marching there's no government because lawmakers can't work together?"
Two Illinois Congressional Representatives scheduled to speak, Bill Foster and Raja Krishnamoorthi, did not make it to the rally because of the government shutdown.
Frustration with the government was a frequent theme at the march, as speakers called for Congress to end the shutdown. Many protesters turned their sights directly on Trump, chanting "Donald Trump has got to go" as they marched.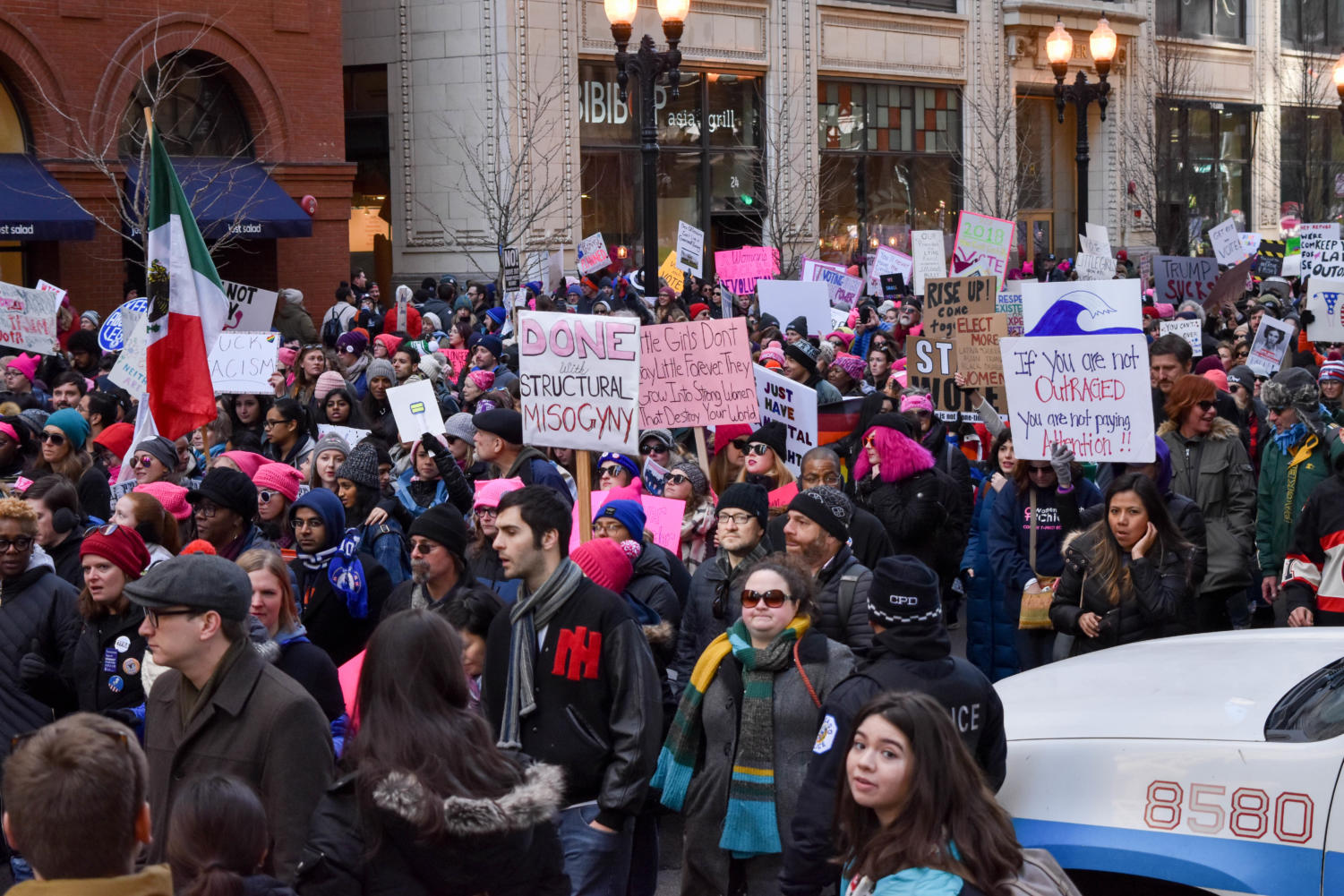 Saturday's marches drew a response from the President, who tweeted: "[A] perfect day for all Women to March. Get out there now to celebrate the historic milestones and unprecedented economic success and wealth creation that has taken place over the last 12 months."
Trump's tweet surprised marchers, many of whom protested because of the president's own sexual assault and harassment accusations.
"While we have the spotlight, we need to get everything in," said Corinne DiFrancesco, a third-year who attended the march. "We need to talk about women of color, we need to talk about rape culture, we need to talk about poverty, we need to talk about all sorts of women's issues."
Second-year Comparative Human Development major Rebecca Koppel echoed this idea, saying, "Feminism isn't only about women, it's intersectional."
Similar messages of inclusivity resounded through several of the speeches, chants, and signs at Saturday's march. Emcee Fawzia Mirza, a Pakistani-Canadian comedian, producer, writer, and actress, said, "This year is about channeling all that beautiful power and putting the power in the polls."