Steve Bannon Accepts Invitation to Speak at the University of Chicago
Booth professor Luigi Zingales, who is interested in populism, confirmed to The Maroon that Bannon accepted his invitation.
Steve Bannon has accepted an invitation from Booth professor Luigi Zingales to come speak at the University of Chicago, Zingales told The Maroon.
The former White House chief strategist has not spoken at a public event since his departure from Breitbart.
Zingales told The Maroon that Bannon could provide some insight into the current political and economic climate in the United States.
"Whether you like his views or not, he seems to have understood something about America that I'm curious to learn more about," he said. Zingales commented further in a Facebook post.
The University of Chicago released a statement Thursday.
Professor Luigi Zingales of the Booth School of Business is planning an event with the tentative format of a debate on subjects including the economic benefits of globalization and immigration, and has invited Steve Bannon, former chief strategist and senior adviser in the Trump administration, to debate an expert in the field, with Zingales serving as moderator. More details will be available soon from the Booth School of Business.
A representative for Bannon did not immediately return a request for comment.
According to a faculty member, Provost Daniel Diermeier had told professor Bruce Lincoln, who inquired about the event, that he was not aware of plans for Bannon to speak. The Provost affirmed the University's policy that members of the University of Chicago can invite anyone they please to come speak.
Rumors of the event have been circulating in faculty circles. Political science professor Cathy Cohen, one of the professors who became aware of the event, objected to Zingales's position that Bannon may have something valuable to say.
"With Bannon we have someone who has trafficked in white supremacist ideologies," she said, adding that Bannon does not have reasonable or evidenced-based beliefs. "It is unclear what he brings to any conversation.… The question has to be: At what point does free speech turn into hate speech?"
Cohen said she hopes the conversation about this invitation won't be reduced to a debate on the University's speaker policy, though she is angry that tuition-paying students of color have to "pay the cost for this pursuit of free speech."
She hopes the University administration will speak out against Bannon, and she expects students, faculty, staff and administrators to do the same.
"It's not just about the President and his views on speakers," she said. "It's a collective moment for many of us to think about what should be the response here."
Student organizers quickly organized a demonstration for 8:30 a.m. on Thursday, January 25 at Booth to demand the University rescind Steve Bannon's invitation. The organizers are UChicago YDSA, UChicago Student Action, UChicago Socialists, and Students Working Against Prisons.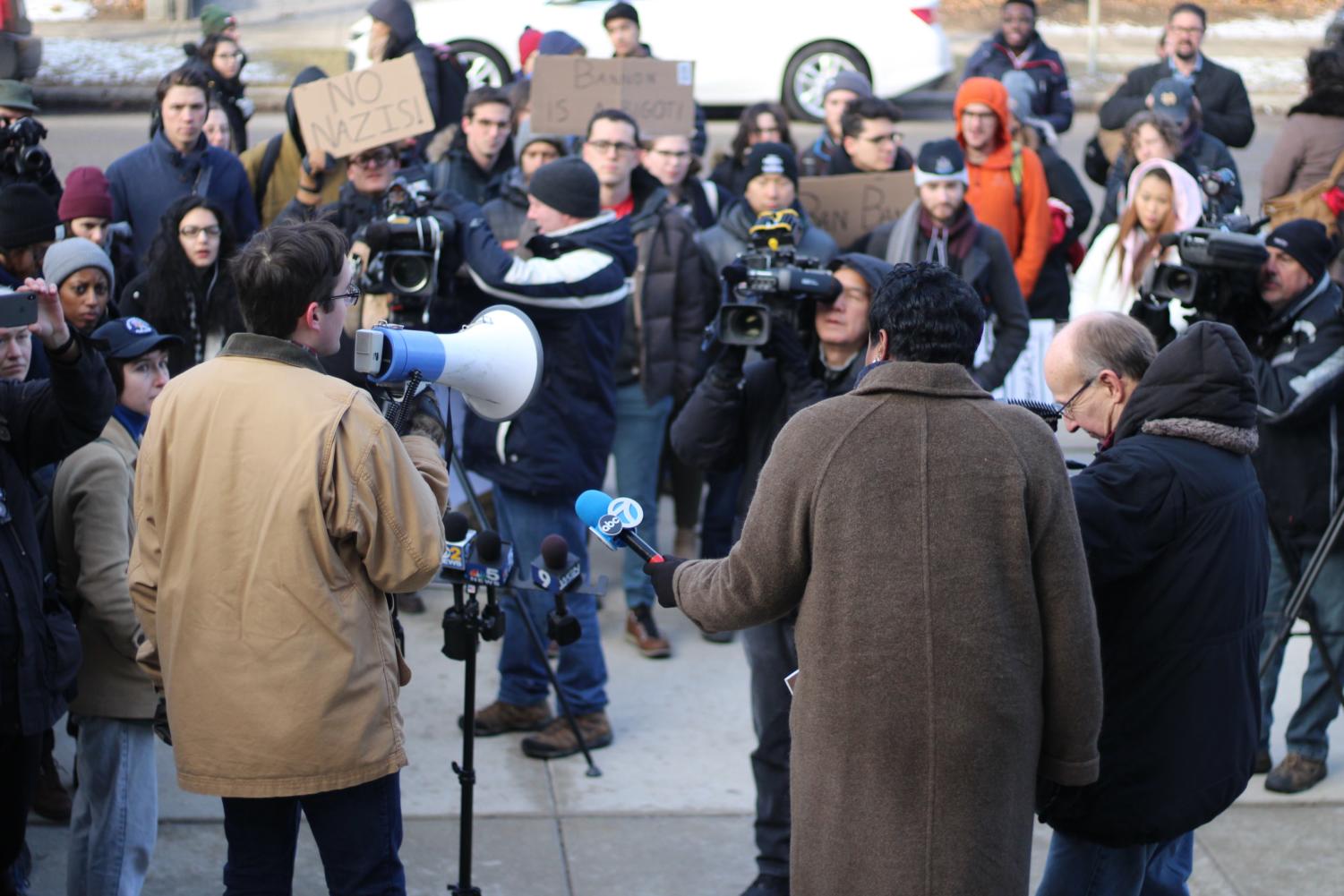 Faculty members are signing an open public letter to the President and Provost of the University stating their opposition to Bannon's invitation. The letter reads in part:
Bannon traffics in hate speech, promoting white supremacist ideologies meant to demean and dehumanize those most marginalized, often people of color. His presence on campus sends a chilling message not only to students, staff and faculty at the University, but also to the young people who attend the University of Chicago Charter School and Laboratory School and to the primarily black neighbors who surround the university. Specifically, when speakers who question the intellect and full humanity of people of color are invited to campus to "debate" their worthiness as citizens and people, the message is clear that the University's commitment to freedom of expression will come at the expense of those most vulnerable in our community. We, therefore, believe that having Bannon on campus stands in fundamental opposition to the diverse and inclusive community the University professes to want to build.
The University administration has generally not had to respond to invitations of the sort of controversial and high-profile right-wing figures who have prompted calls for disinvitation on other campuses. Two former Trump aides, ex-press secretary Sean Spicer and early campaign manager Corey Lewandowski, did attract protests when they spoke on campus last year.
Zingales authored the popular 2012 book A Capitalism for the People: Recapturing the Lost Genius of American Prosperity, where he argues that some of the fundamental pillars of American capitalism are crumbling due to a betrayal by pro-business elites.
More recently, during the 2016 election campaign, he published op-eds in the Chicago Tribune and The New York Times calling then-candidate Donald Trump a crony capitalist and comparing him to Silvio Berlusconi, the Italian billionaire who served as Prime Minister of Italy for nearly a decade.
After Trump's election, Zingales suggested in another Times op-ed that Democrats should offer to cooperate on populist elements of the then President-elect's platform, in order to "reveal whether his populism is empty language or a real position."
The date of the event has not yet been set.