Playing with Paint: Lewis Achenbach Tells a Sonic Story
Painter Lewis Achenbach interprets jazz music through visual art.
Most engage with music by playing or listening to it, but Chicago-based artist Lewis Achenbach has made a vocation out of painting it. He sets up an easel and canvas at live venues to paint jazz and the people who play it, capturing both the music and its moment of creation in brushstrokes.
Achenbach has painted Willie and Bethany Pickens at the Hyde Park Jazz Festival, Twin Talk at the Museum of Contemporary Art, George Freeman at the Chicago Jazz Festival, and more. His 2014 series "Jazz Occurrences" saw the artist on stage painting beside the musicians themselves so that music and art could come into being concurrently. The 13th installment of the series took place last December, and featured seven musicians and Achenbach painting on plexiglass panels. Today, 87 of his pieces are on display at Café Logan. Titled The Sonic Story, the exhibition tells a vibrant story of sound, color, and history.
"My process is about listening and letting the art become what it wants to be," explained Achenbach, who calls his process "creative skydiving" because he often does not know what to expect. "I respond emotionally, and that tells me how to paint. Music has a dramatic storytelling way about it, especially jazz and improvised music."
The Sonic Story, which opened last Tuesday, gave attendees of the Hyde Park Jazz Society's monthly Third Tuesday Jazz Series an opportunity to see sonic storytelling live as Achenbach painted to the music of the Ari Brown Duo. The moment the band began to play, Achenbach rolled a layer of white paint onto the canvas. Soon, he added a yellow rim, then red paint, then more bold shapes. Before long, the piece had evolved into a portrait of the drummer, Avreeayl Ra.
"I often 'conceive' what I might do at a performance, based on having painted the band before," said Achenbach. "[But] I do think of the art as a completed work shortly into the future, and my job is to just be there, with hands and paint to facilitate an existing piece."
Later in the night, the musicians began a more somber piano piece, and Achenbach's artistic vision followed suit. He outlined Ari Brown and the piano in purple and blue paint, putting aside the bold colors he had used earlier. But as the piece picked up energy, with drums reentering the scene, Achenbach added splashes of gold, and even flipped the canvas upside down to paint lines. Watching paint drip down the canvas added to the impression that we were watching artwork unfold in real time. And true to the improvisational nature of jazz, Achenbach would turn around in the middle of working on his piece to dab other canvases, those hanging on the wall next to him, with paint.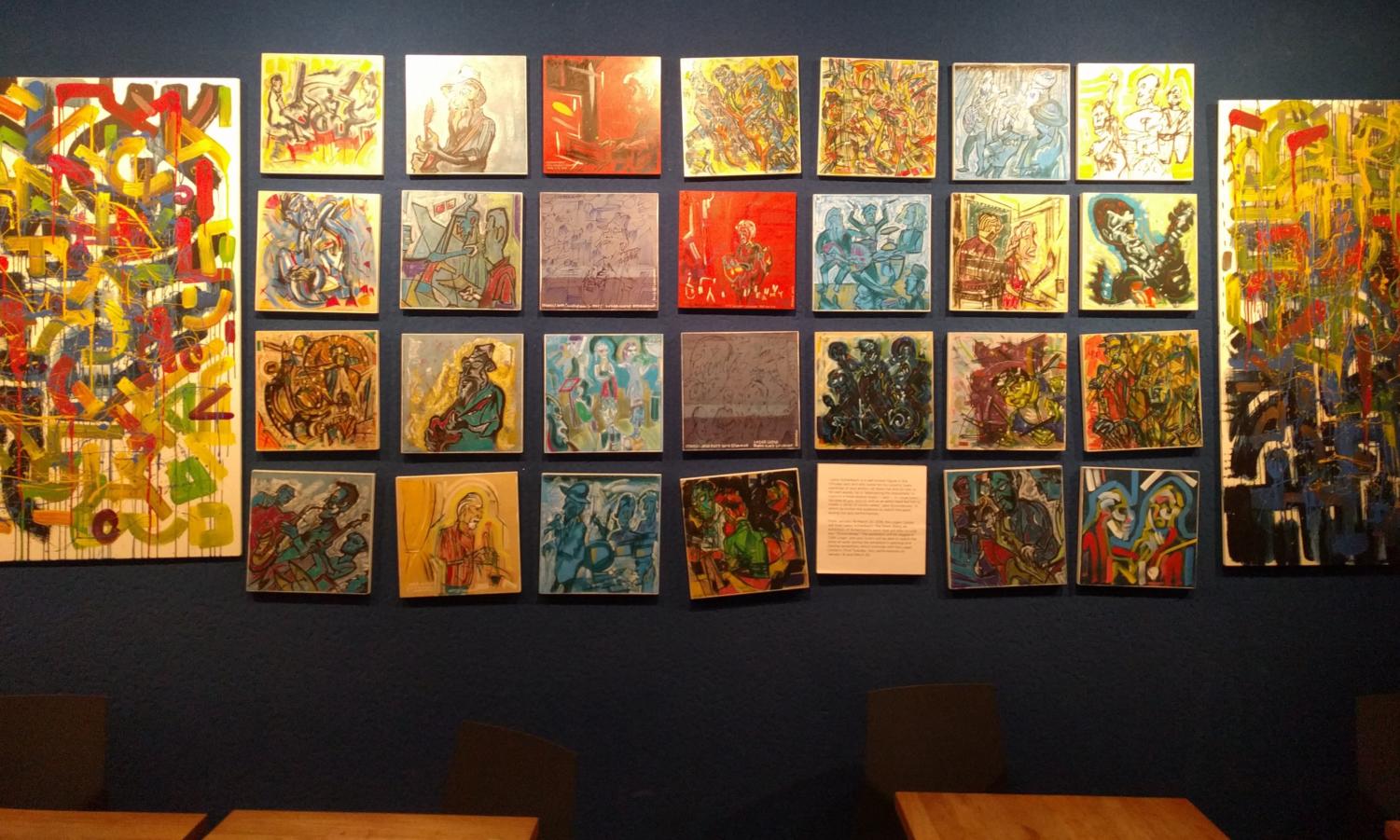 "I can't help myself," he explained later. During the intermission, Achenbach also used his purple paintbrush to spontaneously dab the first painting of the drummer he completed that night.
In addition to its spontaneity, though, there is also a documentative quality to Achenbach's work, which he grounds in his feelings about the music and the venue.
"Jazz and blues grow here," he said of Chicago's South Side. "The legacy of the music is alive. … [The Sonic Story] is about people and people listening to each other tell other stories."
Collaboration of that sort is central to Achenbach's project. Whether painting to jazz, contemporary classical, or even dark pop, he considers the band, venue, and community around him as vital to artistic creation.
It was, after all, this kind of support that got him started in the first place. Five years ago, Achenbach was invited to paint live alongside the Vincent Davis Experience in Chicago. The bandleader—initially reluctant to welcome him on board—told him afterwards, "you paint like I play." This encouragement, along with the support he received from other musicians, motivated Achenbach to pursue his art.
The paintings on the walls of Café Logan tell a story, therefore, of not only sound, but also community. Achenbach demonstrates the transmutive power of art across people and mediums; the long-lasting legacy of jazz in this city; and the truth that behind every sound is a story worth telling.